Giving the outside of your home the festive curb appeal it deserves is a great way to get into the holiday spirit. And, the most stylish Christmas porch decorating ideas can help set the tone for the rest of your home's holiday vibe also.
The happy tradition of giving your porch a festive upgrade not only provides a warm welcome for your arrival home each day, but it's sure to make guests and neighbors smile also. If you're ready to dust down your front step, hang foliage from your front door and light up your banister, you'll need all the outdoor Christmas decor ideas you can get.
Christmas porch ideas that set a festive holiday tone
Think wreaths, decorative cushions for your swing seat and perhaps a little nod to Santa too, igniting that joyful Christmas spirit is something the whole family can help out with. Plus, you don't have to spend a fortune or be a crafting expert to decorate a porch for the winter season.
Christmas is a time for friends and family to come together and celebrate. A cozy, festive porch gives guests such a warm welcome.
1. Go big on greenery for a statement entrance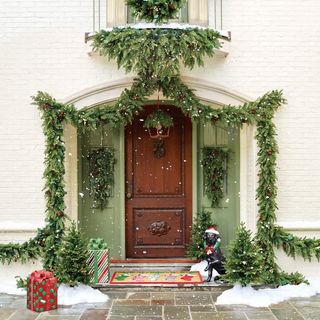 Is there anything more striking than an oversized Christmas foliage garland? This grand display from Frontgate frames the front door in style with plenty of greenery, not to mention beautifully wrapped gift ornaments and a welcoming dog complete with Santa hat and festive collar of course. There's plenty of symmetry at play here along with the seasonal additions that give a glimpse into the fun and quirky personality that resides within.
2. Add a very welcoming, welcome mat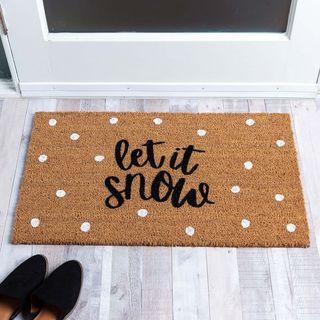 Switch up your regular door mat for one with a cute festive message to bring some distinctly witty personality. Almost too good to wipe your feet on, these fun additions give your porch an immediate boost and help to ring in the changes. Saint Nic will be sure to stop by here.
Shop the West Elm hand-painted doormat.
3. Jingle your bells with these dandy door decorations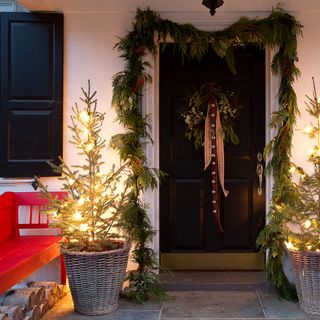 Sleigh bells ring, are you listening... If you're hankering after some DIY Christmas decorations Rudolf would be proud of, how about this gorgeous door decal. Hand-tied silver bells are set against a sturdy leather strap and complete with a leather loop for hanging. Adored with a wreath these make a striking and musical note for your front porch area. Outdoor decs and lights help illuminate the pathway as well as provide a festive warm glow.
4. Add a wreath for an impactful door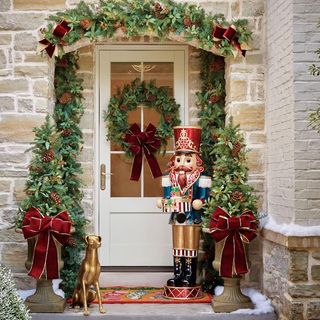 The perfect addition to your door, whatever the time of year, has to be a Christmas wreath. These seasonal beauties always look good but at Christmas time they really come into their own and pack a punch of holiday season styling to your door. Whether you choose to go fresh or faux, they can be embellished with add-ons such as a string of lights, a bow or plus pine cones for that forestry feel. Remember to stick to a color theme and use throughout the decorations so keep the look feeling together.
Shop this look here at Frontgate
5. Embrace a candy cane palette for your doorstep scheme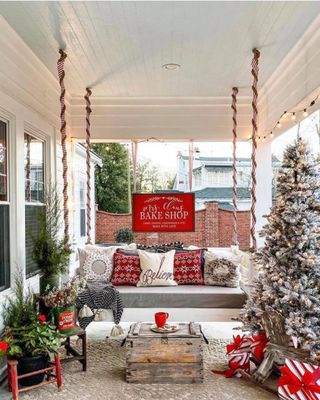 Mrs Claus would definitely approve of this cozy front porch area. Full of Christmas cheer it would brighten anyones day who happened to be walking by, or be lucky enough to sit out and enjoy a cheeky cocktail or two. Create your own winter themed haven with some candy cane inspired seasonal touches in red and white and don't be shy with soft furnishings. The more cushions, the merrier.
Get the look by hanging this rustic wooden sign from Etsy
6. A seasonal swag could be just the thing for your door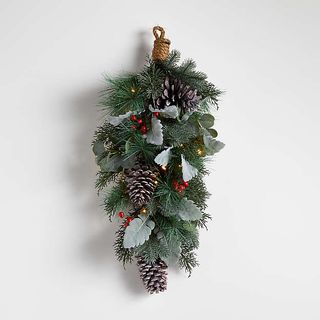 A festive foliage swag is a perfect way to add some winter landscaping to your front door. Go small or large with one of these shapely drops of evergreen sophistication. This pre-lit version boasts real pine cones and silver dollar eucalyptus not to mention berries in all their glory. Go for a shop bought one like this one from Crate&Barrel, or try making a Christmas wreath and just using part of it, with some carefully chosen branches and fix with a beautiful ribbon.
7. Lean into festive signage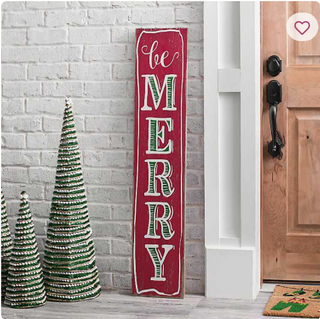 It's a sign of the times, seasonal times that is. This rustic wooden Be Merry porch board will enhance your Christmas decor ideas inside and out, bringing holiday spirit to your doorstep with its jolly message and cheery bold color. Lean against a wall or bench and adorn with a holly sprig or two to complete the look and get ready for all the ho, ho, ho's. Shop the look online.
8. Pile on the pinecones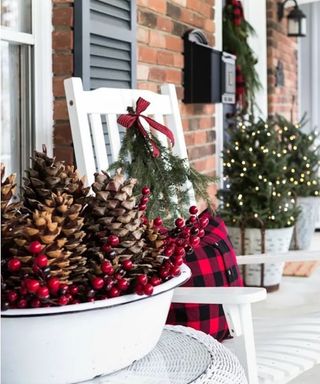 What could be simpler than this beautiful display of pinecones and berries? And, it won't cost a cent. Just collect some pretty pinecones and some punchy red berries and arrange them artfully in a bowl. The result is so effortless and classy. Genius!
You could try adding evergreen branches, fairy lights, ribbons, baubles or candy canes, or just keep it simple. Marco Bizzley of housegrail.com says of his porch pictured, 'I love the red ... It grabs your attention.'
9. Adorn your windows with fresh foliage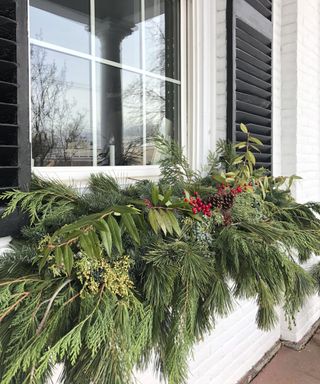 Don't forget about those Christmas front windows too. This festive festoon made with foraged foliage, berries and pine cones is so gorgeous and it doesn't cost a thing. You can start from scratch if you have the expertise or purchase an inexpensive garland from the dollar store and fill it out with evergreen branches you find outside. The candle in the window is a great touch too.
Mary Maloney of Bee's Knees Interior Design says, 'Less is more and fresh is best! We are blessed to live in an environment where we can cut much of what we need right in our backyard. Winterberry is lovely for a pop of red. Add in pinecones for texture. Evergreen clippings are long lasting and add such a lovely fragrance. Sometimes we will use faux greens as a filler but they have to look like the real deal.'
No time to go foraging for foliage? You can always purchase a fresh garland, like this 25 ft. Fresh Cut Mixed Garland with Fragrant Red Cedar, Noble Fir, and Douglas Fir from The Home Depot.
10. Or swathe your entire porch in a garland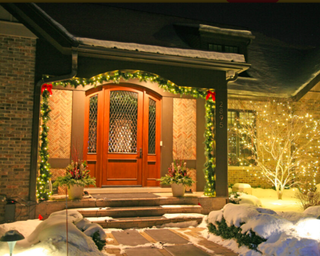 Why stop at a garland around the door? Go all out and put one around your entire entrance. It opens up the space and makes it feel so welcoming. Add a couple of potted evergreens and some warm string lights to complete the look.
Yaz Quiles, founder + CEO at POP! By Yaz says, 'If there was only one item I could buy for outdoor decorating, it would be garlands. Garlands not only are beautiful, but also provide lots of versatility in their functionality. You can drape garlands over door frames, wrap them around porch rails, trim window boxes and even create custom wreaths to whatever size is needed. Stores such as Hobby Lobby offer an assortment of pre-decorated garlands to fit any theme or undecorated versions which can be enhanced with additional décor.'
11. Create a curtain of warm light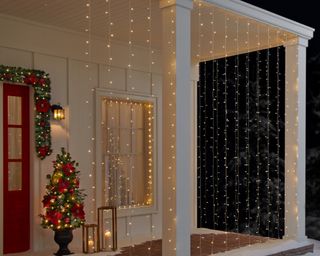 As the evenings grow darker brighten up your porch with warm, welcoming lights. This lovely cascading curtain of lights makes this porch look so much more inviting. Add a cute Christmas tree and some lanterns with pillar candles and you are sure to impress your guests.
We love these lights pictured from Home Depot.
12. Use understated, muted colors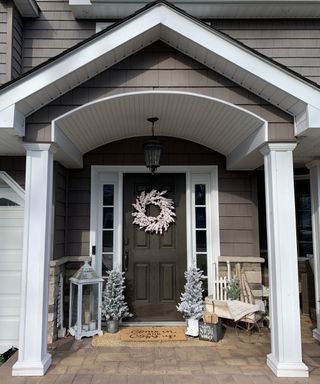 We love the natural, light wooden cart, sled and logs teamed with classic, snow-white wreath, grey lantern and snowy Christmas trees on this lovely porch (pictured). Neutral tones are great year-round and muted tones are very on-trend this year. Rather than going all out with bright, colorful lights, just add a few white festive touches to complement the snow outside. You'll create an understated, modern masterpiece that will have the neighbors in awe.
13. Get creative with your Christmas lanterns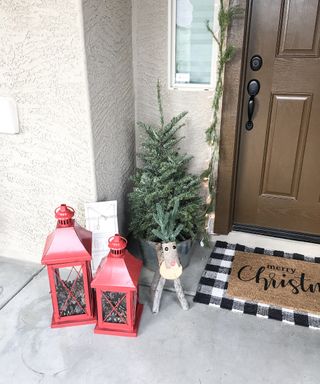 Red lanterns are a Christmas porch decor classic. These beautiful red lanterns filled with pinecones bring a unique, handmade twist to this festive porch staple. You can find inexpensive red lanterns at Target, then forage for the best-looking pinecones around and chuck them in. It's so simple and effective. If you can't find any pinecones, you can use ornaments, candy canes or Christmas fairy lights. Or, your quintessential candle still looks great in a lantern.
Add a small Christmas tree, garland, festive doormat and little wooden reindeer and your Christmas porch is complete.
14. Layer on festive pillows and throws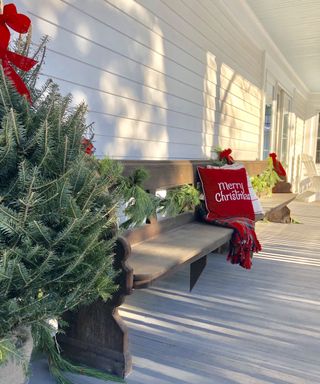 This minimalist porch decor is super simple and effective. Add a minimally decorated Christmas tree and cozy up your bench with a garland, throws and festive pillows for a look that is understated chic. If you live in cooler climes, we would layer on a couple more blankets and cushions and pop a few candles out, so you can make the most of this space throughout the Winter.
Check out this cute set of four Christmas Holiday Throw Pillow Covers from Walmart.
15. Get nostalgic with a hot chocolate bar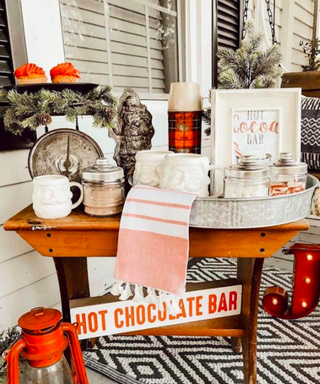 We can't get enough of this cute Christmas hot chocolate bar. What could be more welcoming than a cup of hot cocoa? If you're expecting guests, don't forget to add cute Christmas mason jars and bowls with marshmallows, whipped cream and choccy sprinkles to go on top.
Add some festive pillows, seasonal signage, candles and throws and you've got yourself some serious holiday curb appeal.
16. Rock jingle bells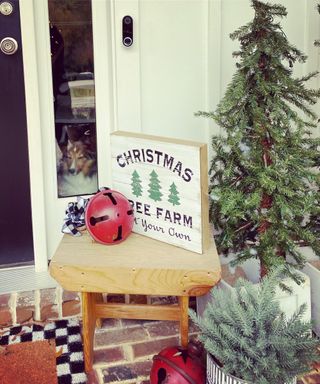 We love adding something a little more original to our porch. These jumbo red jingle bells create a unique and eye-catching Christmas display. They are very tactile and make a holiday jingle when your guests inevitably play with them. The best decorations not only look good but get our other senses involved too.
They are available in different colors, shapes and sizes to suit your holiday decor theme. If you have time, you can make your jingle bells extra original and update them each year with a fresh lick of paint, ribbons, greenery or berries.
If you're not feeling crafty, you can always purchase a jingle bell or three that is good to go. We like this rust-colored Treasured Holiday Bell from Wayfair. It comes in three sizes and, if you have the budget, we would recommend teaming up all three to give your display some depth.
Bonus points if you can get a pic with your furry friend in the window like in the photo above. Cute!
17. Craft some Christmas mason jar candles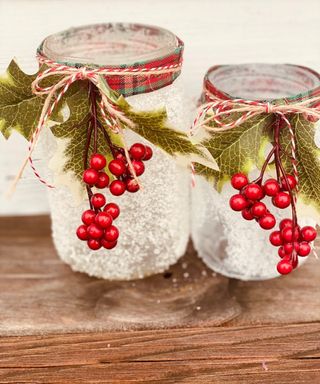 The right Christmas lighting ideas will add a perfect cozy glow to your porch that is warm and inviting. These lovely homemade mason jar Christmas candles from HeatherLynneDesign on Etsy will make a beautiful addition to your porch decor. You can purchase them as a craft kit with everything you need to make them yourself if you're feeling crafty. Or, if you're feeling crafty, you can DIY your own. You can try out different foliage, ribbons and berries or stencil some seasonal messaging onto your jars.
How can I create a Christmas Porch on a budget?
Always take inspiration from nature and the great outdoors for your Christmas porch decor. You can often find amazing foliage, pinecones, leaves and berries right on your doorstep for free. Marco Bizzley of housegrail.com agrees, 'You can typically find greenery and pinecones outside of your home. The dollar store will have almost anything else you should need. They have inexpensive lights you can hang on your porch, glass bulbs, and all sorts of other things that would work. If you're crafty, you could make your wreath too, with something outside plus some fake holly strung through it for color.'
How can I make my porch look festive?
As always, we recommend taking inspiration from outside for your porch decor. Use branches, pinecones and berries you can find out in nature for free. Jen Gregor of afiremanswife.com, creator of porch number seven, agrees. She says, 'I think the best way to make a porch look festive is by adding lots of greenery from trees, wreaths, and garlands. Adding pops of red, fun pillows, a cute doormat, pine cones, birch logs, and lights also help add to the festive feel.'