Decking out your space with Christmas decorations is one of the most magical parts of the season. Without a glimmer of gold or a little spruce here and there, it wouldn't quite feel like the holidays. For the eco-warriors out there, you might have a complex relationship with decorating for Christmas. It often means buying new Christmas decorations — many of which only last a year or two.
In this day and age, we are better than that. There are a ton of sustainable decoration ideas that will look amazing in a studio apartment or small house that won't impact our planet in a big way.
From drying out oranges in your air fryer for the cutest earth-friendly Christmas decor to reusing wrapping paper, the eco-friendly Christmas you've been dreaming of is possible. You're likely to save a few bucks in the process, too. Plus it's always more fun when the end result is super festive and kinder to the earth.
1. Make your own Christmas wreath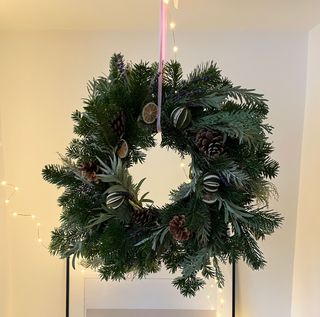 Making your own Christmas wreath is not only fun and rewarding, but it's much more sustainable than getting a store-bought one. You can make wreaths out of lots of elements that can be found outside, such as foliage and flowers, birch branches, holly, and ivy.
Simply make a round shape out of any material you have at home (like cardboard boxes) or pick up a moss wreath and arrange your chosen decorations as you please, using either glue or string to piece them together.
2. Display sustainably wrapped Christmas presents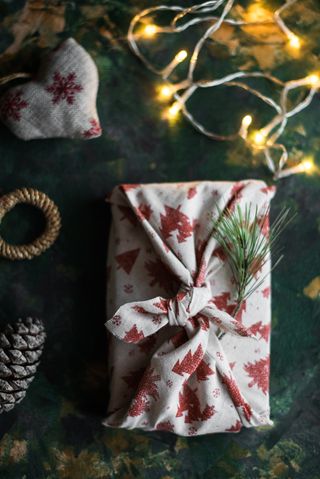 You got your eco-friendly gifts down, but how do you package them up in a super cute way?
There's no question about it, beautifully wrapped Christmas presents under a tree are decorative in themselves. Make it sustainable by choosing recyclable wrapping paper, or even brown crafting paper, to create stunning looks that will give your entire home festive appeal.
Home design experts (and high school sweetheart millennials) of ahousewebuilt note how they "love using wrapped Christmas presents as holiday decor around our home," and say that gorgeous gifts shouldn't just be reserved for under the Christmas tree.
"We wait to put them under the tree until Christmas Eve and for the rest of the holiday season, we get to enjoy them displayed on various shelves like my home office."
We love this next tip on re-using ribbon; because you are bound to have some left over from festive crafts or last year's Christmas gifts. "I also always prefer to use recyclable wrapping paper and will often save and reuse favorite ribbons for many years in an effort to be as sustainable as possible. Since my preference is to go with neutral colors, this works out perfectly! (Cat cameo by Matcha)."
Alternatively, you can also wrap your gifts in fabric using the Furoshiki technique, which looks great and is reusable.
3. Craft your own Christmas decorations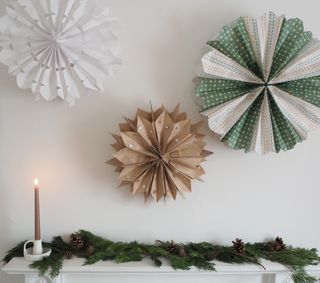 Making your own Christmas decs gives you way more freedom on what materials you use. Plus, you'll be able to choose designs that will last beyond Christmas! This star paper bag DIY is cheap and (surprisingly) easy to make. If you want to keep it even simpler, you can always go for the classic Christmas paper garland we all know and love.
4. Refresh old decorations with leftover paint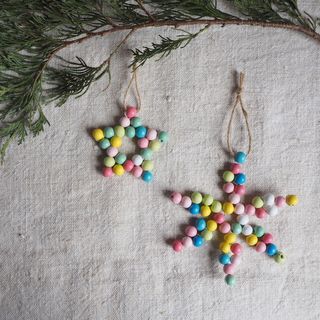 If last year you were all into completely natural finishes and this year you want much more color to reflect the most festive Christmas vibes yet, keep your carbon footprint down by using up leftover craft paint to revamp old Christmas decorations. Whether they're wooden, metal, or plastic (we're all guilty), a quick lick of acrylic paint (craft or household) will add a fresh finish and perfect your Christmas tree theme or holiday mantel.
5. Tablescape with cool and reusable elements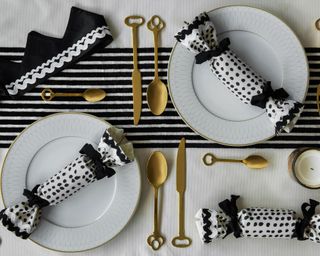 From cute colorful napkins to the classic British Christmas crackers, decorative objects like these are an integral part of any Christmas table setting. They don't need to go to waste after this year's feast is over either.
Swap out single-use paper napkins for beautiful linen pieces, which not only add a lot of personality and elegance to your table but will also last you a lifetime. Go for classic Christmas-inspired colors, neutral and Scandi shades, monochrome and minimal tones, or bright colors for a full-on maximalist finish.
6. Keep Christmas sparkle biodegradable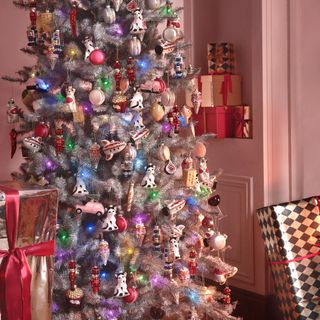 Glitter is kind of essential for the holidays, and if your idea of upgrading old ornaments and paper garlands is with a LOT of sparkles, keep it colorful but biodegradable. It goes without saying that you should try to reuse your decorations year after year, too. Updated baubles also make for cute gifts.
7. Decorate with fragrant dried fruits and greenery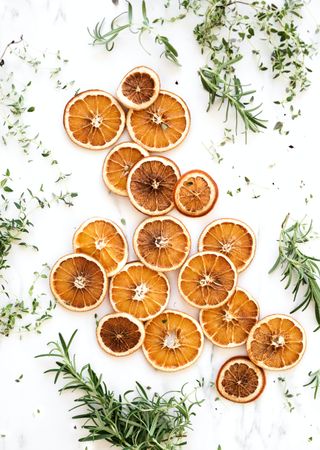 Add an extra pop of festive color and a gorgeous Christmas scent to your home by making your own dried orange wreath or other citrus fruit decorations. It's an awesome activity that is fun for roomies and friends. You can actually dry fruit out in an air fryer for even more sustainability points vs. switching the oven on, so go ahead and use up that old fruit that was headed for the trash can.
Natura elements such as dried eucalyptus — not just reserved for Christmas either — and even offcuts of your Christmas tree will also add a flavor of Christmas to your space in an earth-friendly way.
8. Choose festive houseplants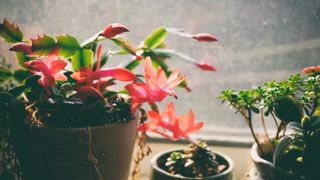 One of the best ways to add some pizzazz to your home during the winter holidays without impacting our planet is by opting for seasonal indoor plants and other natural elements that will brighten up and add a touch of coziness to every nook.
Christmas cacti are super cute succulents that can last for years with minimal care, while even flowers and winter elements like pinecones from your local park can work to jazz up a Christmas coffee table or even your bathroom for the holidays.
For a quick Christmas centerpiece, gather pinecones, cinnamon sticks, star anise, and dried citrus fruit in a thrifted bowl and you are guaranteed to impress guests.
9. Let conscious candles do the talking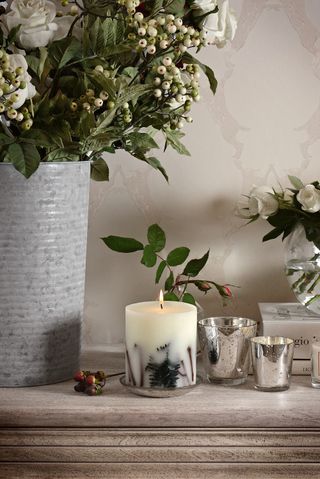 Scented candles are a great way to curate a lovely atmosphere at home during the festive season, as you can invoke all sorts of festive memories and make your house smell like Christmas by picking wintery scents such as pumpkin spice, cranberry and fig, and pinewood. Opt for eco-friendly brands like HouseOfLilah London. The brand hand-makes its candles from soy. We are big fans of the Slow Motion soy candle, which has notes of leather, dark woods, and amber which is gorgeous at any time of year. Loving Kindness has notes of orange and cinnamon and is perfect for Christmas, too. Be sure to reuse your candle jar after the holidays as well and you'll be golden.
10. Change up the classic tree look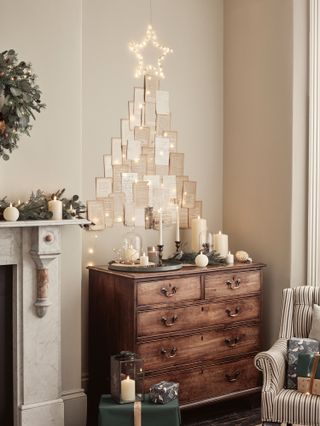 If you want to skip the traditional real Christmas tree and try something different, the awesome news is that alternatives tend to be earth (and small space) friendly. DIY a different kind of Christmas tree using leftover paper, leaves, or whatever you have around to create a cool display that doesn't create more waste for one-off Christmas festivities.
How to outdo your Christmas decor display in a sustainable way?
The key to decorating your home for the holidays in a sustainable way is to get really creative and to think super resourcefully. Before you head towards the trash can or even recycling bin with an old decoration — for Christmas or not — think about whether it can have a second life at being something else, or if it would just need rehoming to your friend or roommate slacking on the Christmas decor front.
Have leftovers from wrapping gifts? Keep hold of them and whether you make Christmas paper star garlands next year or feel like doing a last-minute paper star craft to hang above a mantel, you'll be able to repurpose what seems like trash.
It's all about choosing items that are natural or even just a little closer to nature too (like foraging for greenery). Focus on investment buys as well so that anything new you add to your collection will last for many more Christmases to come! It goes without saying that any packaging from ordering crafting essentials online will want recycling and where you can, choose local.