Finding the best outdoor Christmas lights as actually not as simple as it sounds. You'd be surprised how long we have taken in the past to find the perfect 'warm white light', the ideal shape of bulb, the best way to power our lights – but fear not because we are sharing the best of what we have found right here.
The main thing to think about before you buy, have a think about how the outdoor fairy lights you like are powered. If there's no mains or USB source nearby, look for battery- or solar-powered lights – but consider whether the sunlight will reach the solar-panel easily or whether the battery pack will be protected from the elements and easy to reach when you want to change batteries?
Where outdoor fairy lights will be strung up will affact cable length if you are going for mains-powered lights – will yours be long enough to reach a socket without an extension lead? Finally, think bulb colour: do you want a cool, white glow, a warmer, yellower light or multi-coloured?
Keep scrolling for the best outdoor Christmas light and for more Christmas fairy light ideas (for inside and out), don't miss our gorgeous gallery.
The best outdoor Christmas lights Black Friday deals
Why you can trust Real Homes Our expert reviewers spend hours testing and comparing products and services so you can choose the best for you. Find out more about how we test.
Before we get onto our round up of the best outdoor Christmas lights, we've found some great Black Friday deals that you won't want to miss: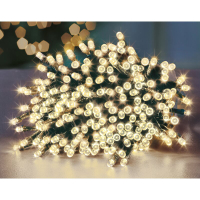 720 Multi Action Supabright String Lights |£32.99 £26.99 (save £7.00) at Wayfair
Super bright and available in four gorgeous lighting styles: warm white (our fave), white, multicoloured and both white + warm white, these make the perfect festive addition to every Christmas tree and are a bargain with this deal of for Black Friday.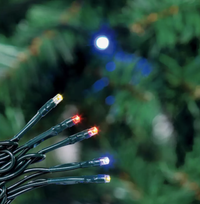 Multicoloured Multi-Function LED Lights - 33m | £25.00 £18.75 (save £6.25) at Argos
It's hard to resist multicoloured Christmas lights, they just have such a nostalgia out them – and for 480 of them this is a winning product, at an epic price right now for Black Friday.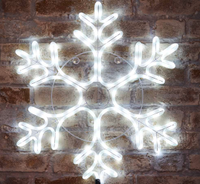 Wilko Rope Light Snowflake | £20 £30 (save £10) at Wilko
A great option for smaller homes – flats, bungalows – with limited empty wall space, this colour-changing light can be used indoors or out, and it as a 13.4metre cord. Subtle, easy and affordable.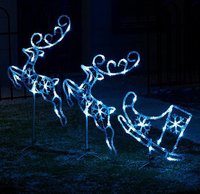 LED Acrylic Reindeer and Sleigh | £34.99 £21.99 at Studio
Check out these LED light-up reindeer which come complete with a sleigh, ready to be displayed on your front garden. Choose from a blue set or one that lights up all different colours. The kids will love it!
Lights4fun is our first point of call for the best outdoor Christmas lights. They make great quality lights that are the perfect warm white for us – plus despite being warm they are always super bright too. Our pick of the best for this year, is the Osby star lights, they are super delicate looking and just add a bit more sparkle than your average string lights.
You get size star per set and each star is 10cm wide and lit by lots of glowy LEDs. You get plenty of lead wire to get your lights strung up in the eaves or above a window and there's a timer too.
Festoon lights look gorgeous no matter what the time of year – we love them to add a festive glow to a doorway at Christmas but they are also perfect to string up above an outdoor dining table to enjoy in the summer.
These Garden Trading ones are also classic as festoon lights come – the thick black wire and iconic shaped bulbs will give a relaxed, festival vibe to any garden. They come in two lengths – 10 bulbs and 20 bulbs, so you can pick between depending on where you want to use them. We love how simple they are to sting up too, because above each bulb is a hole so they can easily be hung off poles or branches.
The light they give is so warm and glowing because each bulb contains a cluster of five tiny LED lights on a copper wire so you don't get that harsh light of a single bulb.
If you, like us, are constantly on the hunt for the perfect warm white fairy lights, you can stop looking, we've done it, we've found them. These Light4fun fairy lights give off the most gorgeous warm glow and the cram on so many bulbs that over all look is just stunning.
We have long sung the praises of Lights4fun, their products are great quality and they have so many different price points too. These lights start at just £25 for 10m and go up to 100m(!). You can also pick different colours if you are after something other than warm white and choose between a clear cable or a green one.
Want your home to look like Harrods at Christmas time? These Fenvella fairy curtain lights tick every box.
Waterproof and able to withstand extreme temperatures ranging 70ºC, they are perfect for outdoor use. Powered by a USB plug, they're compatible with USB ports, power banks, even your laptop. The lights can be controlled by remote control from up to 10m away.
These are super pretty and extravagant whilst also giving off a soft, warm light. They have eight different modes and a timer, so you can change how they look from evening to evening (or hour to hour if that takes your fancy). The timer function means the lights will stay on for six hours and go off for 18 hours, and then restart automatically. The bulbs have a 50,000 hour lifespan.
They offer you a warm and inviting shine, help to create a nice ambiance atmosphere. The vertical end of the curtain can even be cut to length. Clever!
When you think of fairy lights, you think of petite, twinkling bulbs glittering like little stars – and this is what you get from the Koopower Waterproof Fairy Lights.
The clear, plastic string is flexible which means that this design is super easy to bend and blend into a scene and has a subtle charm. The adjustable brightness feature adds to this effect and ensures a cosy ambiance with the warm lighting tone.
Also, of course they're waterproof so these are well worth consideration for outdoors. Drape, hang or wrap them wherever you fancy, inside or out.
There are 100 warm LEDs. The battery box (note: although the lights are waterproof, you will have to put the battery pack in a plastic bag if this is to sit outside to protect it from water) has three modes: steady, flash and off.
These Dee Banna Christmas Snowflake String Lights are not only great looking with their decorative snowflake design, they're also energy efficient: they have low power consumption and low heat paired with a bright light (although, we would note that they won't light up your entire garden on their own).
There are 80 snowflake lights on each 5m string. The lights are operated by three AA batteries so can go anywhere. Again, the lights are waterproof, but the battery pack isn't, so will need protecting.