Whether you're looking for ideas for your cottage living room or just love cottage accessories, it's easy to bring a pretty, rustic touch to your home with this traditional look. Need inspiration? Browse the pretty real cottage living rooms below. And don't miss our expert advice to gather all the elements you need to achieve the perfect scheme. So, pour yourself a cup of tea, settle into your sofa and take a look through our favourite ultra-cosy cottage living rooms.
If you are after more living room ideas, make sure you check out our ultimate gallery too.
1. CHOOSE A PLUSH, CLASSIC SOFA for your cottage living room
Whether you love robust Chesterfields or dream of a high-backed armchair next to the fireplace, it's all about picking furniture with a classic curvaceous design in upholstery that suits country cottage style. So, look for traditional seating designs, teamed with soft and comforting materials – soft tweeds, warm wools, classic checks, linens and tickings are all good options to create a rustic cottage living room.
A traditional style sofa bed is a good buy for a cottage with few bedrooms. Find the best in our pick. And don't miss our guide to choosing upholstery for useful advice on picking armchairs and sofas.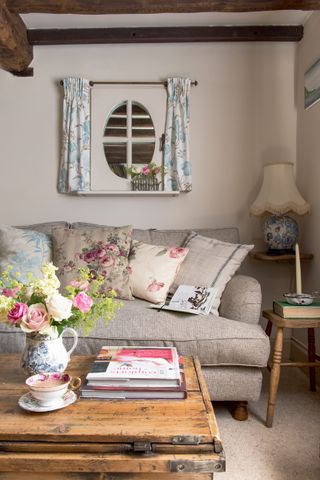 2. Layer up on cosy BLANKETS, CUSHIONS AND THROWS
To make a cottage living room feel like a welcoming, comfortable sanctuary, you need to pile on the layers. Tartans, checks and rich-toned fabrics are the perfect materials for cushions, while a thick knitted or woollen blanket and a faux fur throw work excellently together to add a warmth and rich character. Love cosy? Browse our cosy Scandi living room design ideas for more inspiration.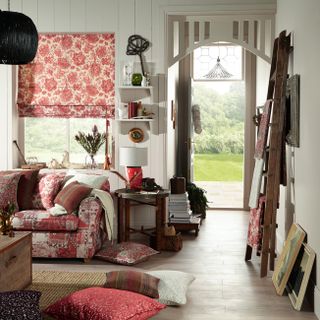 3. PICK A warm-toned rug to soften hard floors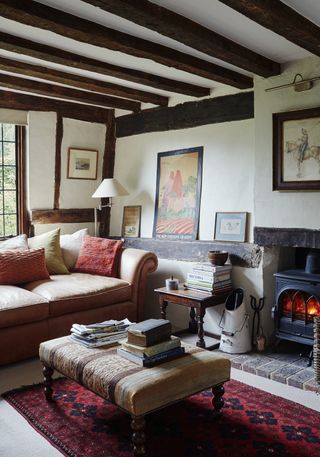 Usually stone, slate or aged wood, cottage living room flooring is not known for its warmth, meaning that a rug is vital. Choose one with rich, comforting tones and detailed patterns, as it will not only add texture to the room, but will also better withstand the wear and tear of daily life. Opting for rug will also prevent any heavy furniture causing damage to the original floors. Get some inspiration with our highlights of the best living room rugs. And if your original flooring needs restoration, see our guides:
4. Display over-sized artwork for impact
You might be tempted to pick small pictures to display on your walls, but doing so can make a small cottage living room feel fussy and cluttered. Hanging larger works of art will create impact, add colour to make the room feel cosy, and allow you to keep walls an easy to maintain, light-enhancing white. To find out more about how to display pictures and photos, see our guide.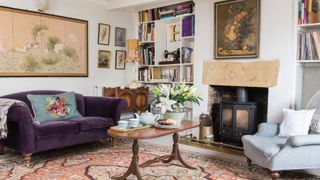 5. Choose a pale colour scheme to brighten a dark cottage living room
Cream, seashell, and ivory are all perfect shades when it comes to painting your cottage living room walls. Light, neutral walls and ceilings help to capture and bounce around the light and help make the small cottage dimensions feel larger. Team pale walls with exposed architectural features such as brick fireplaces, stone walls or wooden beams to mark them as a focal point in the room, emphasising the rustic feel of the room. Use our guide to find out more ways to make a small room feel bigger – and don't miss our feature on how to design a north-facing room; you can apply all the tips within it to make a dark cottage living room feel brighter. For more advice and inspiration, check out our guide on how to choose paint to decorate a period home.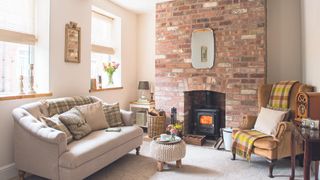 6. Add interest with texture and pattern
Muted tones also create the perfect base for the room, meaning you can introduce a whole range of textures and patterns through fabrics and furnishings to curate an elegant yet cosy effect. If you know that your cottage living room has beautiful stone walls beneath a layer of damaged plaster, it will be worth considering exposing it to bring the beauty of the stone into the room, too.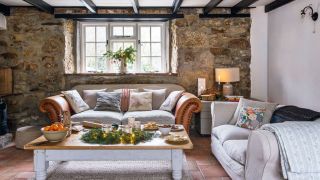 7. Pick FLORAL TEXTILES TO CREATE A HOMELY COTTAGE living room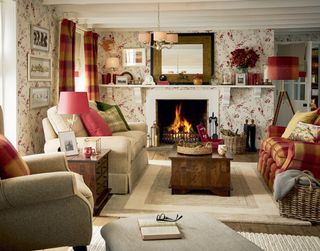 Wildflowers, rosehips and cornflowers are all synonymous with the countryside. Bring these gorgeous flowers into your home with floral textiles, wallpapers and fabrics. Since large floral patterns can be overwhelming opt for delicate designs, such as this wallpaper (above), which brings out the warm tones in the room.
In the room below, curtains that match the wallpaper heighten the effect. Find more floral room design ideas in our guide.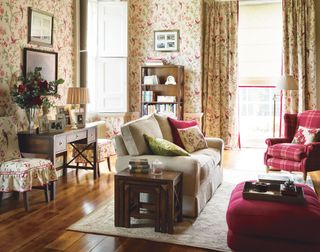 8. TURN UP THE HEAT WITH A ROARING FIRE
While the idea of snuggling up next to a open fire is the country cottage living room dream, in reality, 90 per of the heat gets lost up the chimney. Instead, a classic cast iron stove not only fits perfectly into any traditional fireplace, but also radiates a lot more heat into the room, meaning that you can be cosy while watching the roaring flames dance. For more inspiration check out the best 10 traditional fireplace designs. For practical advice, see our essential guide to choosing a stove, and don't miss our selection of the best stoves: woodburning and multi-fuel.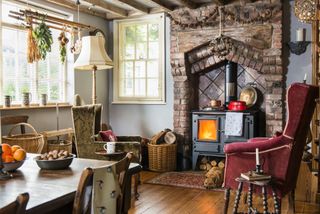 9. CHOOSE Solid wood FURNITURE FOR A COTTAGE LIVING ROOM
Cottage living room design is all about getting back to basics and embracing natural materials, so add texture and character by opting for solid wood furniture. Pick authentic pieces that match the period of the cottage, and choose wood with rich tones that add a warmth and depth to the room, helping to create a comforting hub of the house. Use our guide to how to choose the best living room furniture to ensure you find quality pieces.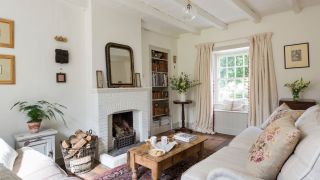 10. BRING NATURE INSIDE WITH WOODLAND PRINTS
Whether you live in the middle of the countryside or in the heart of the city, celebrate the beauty of nature with woodland-inspired prints. Add cushions in a forest print fabric, like Pinecones in Briarwood & Cream, £49 from Sanderson (below), to subtly introduce the theme.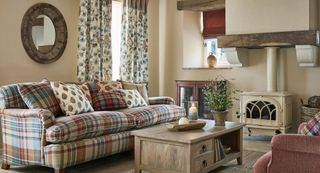 For a bolder statement, go all out with forest fir curtains (above: Owlswick, £59, Sanderson) or upholster an armchair with a woodland animal print fabric (below: Squirrel & Hedgehog in Walnut/Linen, £59, Sanderson).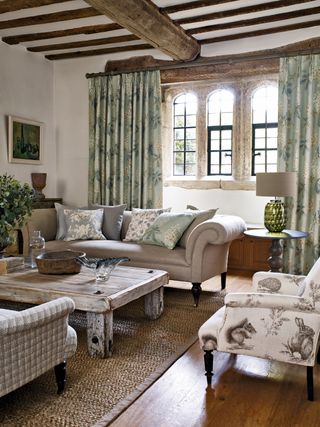 11. FINISH your cottage living room WITH VINTAGE STORAGE SOLUTIONS
Storage is always a vital component of any room. Selecting an open Welsh dresser or display cabinet creates a focal point in the room on which you can display all manner of trinkets, from antique books to decorative plates. If you don't know where to start, take a look at how to display collections in your home for some design inspiration.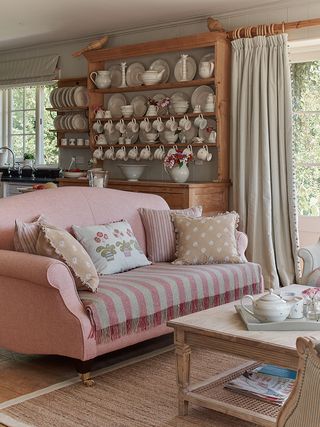 MORE COTTAGE INSPIRATION: