The Hana Reynolds rule of house-buying is simple. 'I only buy pretty homes,' she says. 'The first time I saw this cottage was from the car and I knew it was going to be the house we ended up living in. I still get that feeling when I walk up the path now.'
THE STORY
Owners: Hana Reynolds, an upholsterer, and Mark Hincks, a sales director, live here with their two-year-old son Hector and their pug George
Property: A two-bedroom, semi-detached Grade II-listed weaver's cottage in Somerset, built in around 1750 from Hamstone
What they did: The couple replastered and rewired, put in a new kitchen, and updated the bathroom
She and Hincks – 'no one calls him Mark,' she says – knew the type of house they wanted when they started their search in 2013. 'Something old, because I've never lived in a new house, and something we could do some work on,' she adds. The location was less important than the type of property, so they searched in Wiltshire, Dorset and Somerset. 'My mother had moved here nine years ago, so we knew the area,' says Hana.
When Hana and Hincks found the property, originally two weavers' cottages that had been long since knocked into one, they knew their househunting was over. At the front was a pair of large, square reception rooms, leading to a kitchen at the back and replicated upstairs with two front-facing bedrooms and a bathroom off the landing to the rear.
Subscribe to Period Living magazine to enjoy beautiful period homes and gardens every month.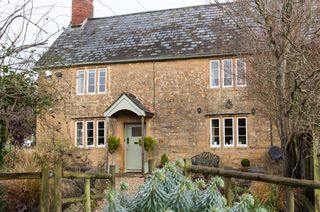 The pretty two-bedroom home was originally two weavers' cottages, built in around 1750 from Somerset's distinctive golden Hamstone. Hana painted the front door in Farrow & Ball's Lichen
'A lady called Molly lived here and the house had a lovely, warm feel to it,' says Hana. 'We later found out that its original name was 'Be Sociable' – it was carved above the doorway, and I think that sentiment has been ingrained here; it's the kind of house that captures you.'
Indeed, the couple were so taken with the property that they were prepared to overlook its many quirks, preferring to work with them rather than against them. They decided not to extend or make dramatic alterations. 'I liked the layout and it would have been more hassle to change things because of the listing,' says Hana. So they had the property rewired, put in a damp-proof course and fitted a new kitchen and bathroom.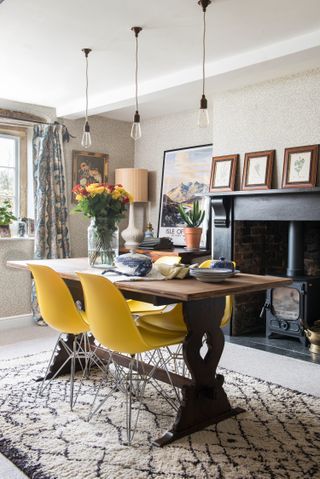 The front door opens straight into the dining room, where Hana has used William Morris' Willow wallpaper to disguise the wonky walls.
Yellow chairs: Vitra Eames DSR chairs from John Lewis
Rug: La Redoute
For similar bare-bulb pendant lights: try Olive & the Fox
Their first purchase was a baby blue electric Aga. 'I've always liked that colour because it goes with anything, and I knew I could get a Smeg fridge to match,' says Hana. However, when it came to the rest of the kitchen they encountered one of their home's major eccentricities.
'I didn't want a fitted kitchen so we hired a carpenter, and although everything looks straight now, the wall behind the Aga is so bowed,' says Hana. 'The template for the worktops shows it's nearly 30cm out in places.'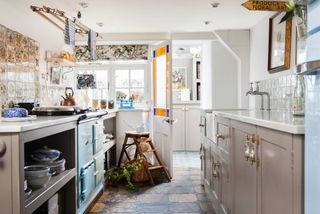 A local carpenter built the kitchen to Hana's design. The colours in the vintage fireplace tiles, used as a splashback, complement the slate flooring.
Cooker: Electric, baby-blue Aga
Tiles: try Victorian Fireplace Store for similar
Clothes airer: try Sheila Maid
Kitchen cupboards: painted in Farrow & Ball's Charleston Gray
Hana's upholstery business and love of all things vintage can be traced back to her childhood. 'We always had old sofas, which would go and then come back reupholstered a different colour, and I continued that in my career and here,' she says.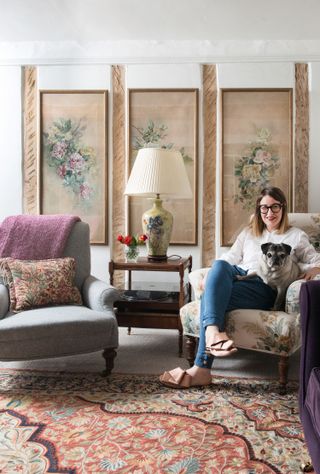 This trio of panels started life as a screen before Hana decided they would look better in individual frames and hung on the walls in her living room.
Victorian armchairs: Hana & George, re-covered in a grey wool fabric from Moon, and vintage Sanderson linen union
Working from her garden studio with pug George at her side – 'I named the company after us!' – she has reupholstered a succession of Victorian and Edwardian chairs, sofas and footstools, using some of her vast collection of vintage – and mainly floral – fabrics. 'I'm a bit of a vintage rummager,' she confesses. 'It drives Hincks mad, but I think he's come round to it.'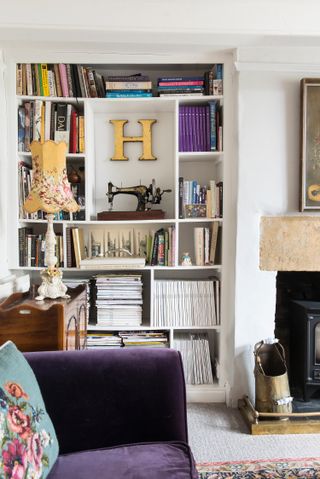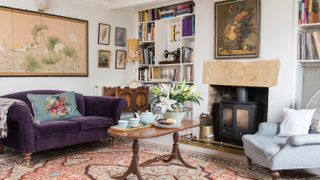 Behind the sofa is a section of an antique screen that Hana bought from a nearby auction. Complemented by the bright antique rug in the living room this creates a cosy sitting space round the Hamstone fireplace and stove
Purple velvet sofa: Sofa.com Hana made the sofa's floral tapestry cushion
Woodburning stove: Charnwood's Country 6 is a similar option.
Armchair: Hana & George
He must have done, because curtains and cushions burst with the soft, elegant colours of aged Sanderson and GP & J Baker fabrics against a mainly neutral background, although Hana's favourite colour, yellow, can be seen in flashes, in the dining room and Hector's bedroom.
'I'm a real wallpaper person but most rooms here can't take it because the walls are so uneven,' she says. 'The only places I could paper were the stairwell and dining room.'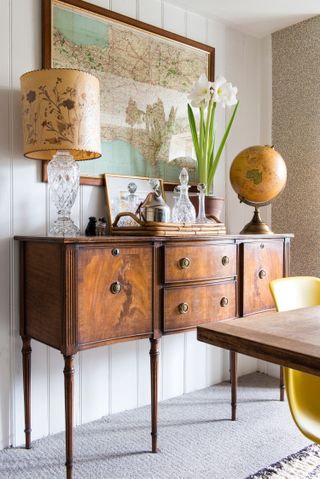 Hana enjoys mixing styles and eras in her dining room, pairing this Georgian-style sideboard with a 1910 vintage map of Somerset she bought for Hincks. The walls are a combination of painted tongue-and-groove and William Morris wallpaper. The floral lampshade cost just £2 from a charity shop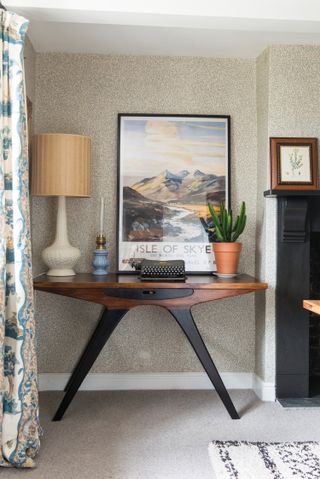 The stunning Odyssey console in the dining room alcove is from Graham & Green. Hana loves its 20th-century vibe and silky Sheesham wood surface. The Isle of Skye print is a reminder of the couple's first holiday together – for similar, try Travel Posters Online. The typewriter was found at Bridport Vintage Market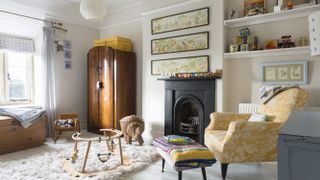 Hector's nursery is filled with vintage finds, such as a chair upholstered by Hana in Mark Herald's Harvest Hare fabric. The blanket was made by Hana's grandma
Rug: try the Polar rug at Wayfair for a similar design
Elephant rattan basket: Zara Home
Walnut Art Deco wardrobe: try Pamono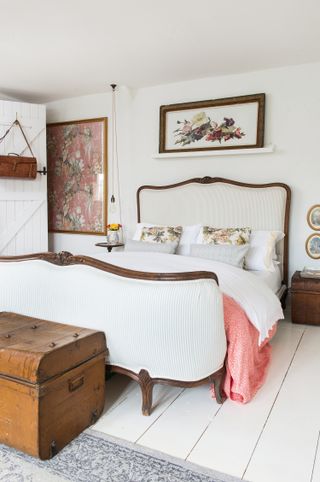 Hana reupholstered the vintage French bed in Clarke & Clarke's Sutton ticking fabric in Duck Egg Blue. The pink fabric on the wall is one of her earliest vintage purchases, which Hincks had framed for her. Hana made the duvet cover, and the small cushions are from The White Company
The walls played tricks again when it came to the finishing touches. 'We found our bedroom still had its old horsehair plaster, so putting up pictures was a nightmare – you can't hammer in a nail in some places, so the house kind of picks where the picture will go, not you,' she says.
Hanging curtains became difficult, too, which is why, in some rooms, the rails are suspended from the supporting beams and not a wall-mounted bar.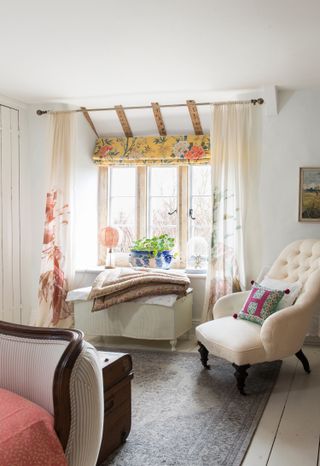 Hana has indulged her love of vintage in the main bedroom with retro voile curtains and a blind she made from GP & J Baker fabric. The Victorian chair is from Hana & George; the cushion came from M&S and was a gift
None of this bothers Hana. 'When you live in old houses like this that's the beauty; they dictate where everything should go because they don't always like modern things,' she says. 'But I don't mind because, really, I think this house has almost spoilt us with its loveliness.'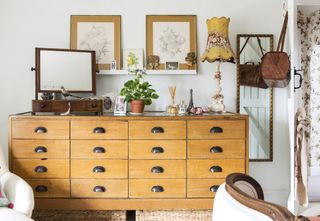 The couple have also retained the home's characterful feel in the upstairs bathroom. 'The cast-iron tub had been here for around 80 years and we knew a previous owner had it re-enamelled so that's what we did,' she says. 'I wanted to keep it because it's part of the house and I love the way you can see into the garden while you're lying in it.'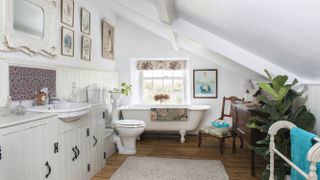 Arranging the WC and sink under the highest part of the ceiling allows Hana and Hincks to use the lower side for storage. For a similar cast-iron bath, try Drummonds. The mirror was a gift from Hana's mother – Dunelm's white Ormolu design is similar. The chair is by Hana & George.
Hana decided the bathroom was large enough for her to decorate it 'like a proper room' with wood panelling and a chair to sit on so she or Hincks can keep an eye on Hector in the bath. They fitted a shower in an old cupboard space under the eaves and created a splashback from vintage-style tiles.