Aragon linen two-seater sofa in Green, £1,399, Marks & Spencer
Buying upholstery can be a bewildering experience. Most of us spend more time sitting down each day than we do in bed, which makes comfort just as crucial as style – but while we are often tempted by the look of a sofa or armchair, the "sit" can be disappointing.
Luckily, there is a wealth of choice on offer from British manufacturers, so if you persevere, you will find a settee to satisfy your tastes in terms of both comfort and looks.
This article contains everything you need to know about buying a new sofa or armchair, with a particular focus on designs that will complement a period home or traditional-style décor.
Get expert renovation advice and home inspiration to your inbox every week by signing up for the Period Living newsletter.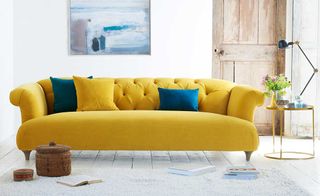 Dixie sofa in Bumblebee Clever velvet, from £1,395 for a small two-seater, Loaf
Where should I start when buying upholstery?
Don't order a settee or armchair online without first trying it out in person, as you need to check it is comfortable and will also be able to see the full range of fabrics in store. 'For such an important purchase, it's essential to shop around and review all your options,' advises Sarah Massouh, founder of Willow & Hall. 'Focus on companies that value craftsmanship and offer at least a 10-year frame guarantee.'
Before you go shopping, gather together any 
paint or fabric swatches that reflect the design of your room, and take measurements of the space. Use your current upholstery as an indicator of size (width/length, depth and height) and to help you visualise the proportions.
How much should I pay for a sofa or armchair?
You can spend as little as £500 on a new settee, or less than £200 for an armchair, but if you intend to keep it for a number of years, and would be keen to have it reupholstered in the future, then you will need to spend at least twice as much. Cheaper designs may suit if you like to change your furniture regularly, but they won't offer the quality of those made using traditional methods and the fillings will quickly flatten.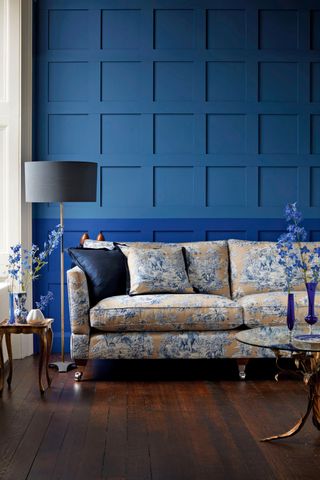 Ambassador extra-large sofa in Manuel Canovas Bengale fabric in Saphir, £4,241, Delcor
What are the different sofa styles?
Fixed back – the rear frame of the sofa is sprung and upholstered, with no back cushions, offering a more structured finish. This type of settee may be buttoned, as seen on Chesterfield designs.
Cushioned back – a more relaxed-style couch with two or three squared cushions resting across the back.
Scatter back – several loose cushions, which may be in varying sizes or colours, are 'scattered' against the sofa's back frame for a relaxed look.
Fixed seats – the seat is sprung and upholstered for a streamlined finish, with no loose cushions to plump.
Cushioned seats – has removable cushions, filled with feathers or manmade materials, that are usually reversible.
T-cushion – the seat cushions protrude around the sofa arms for a snug fit.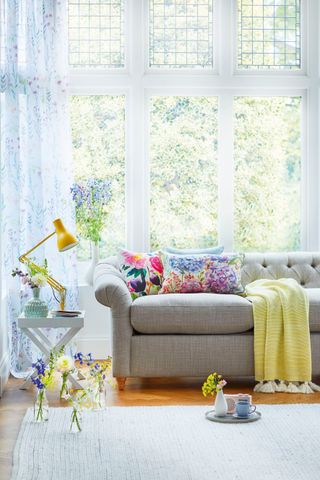 Kittisford sofa in Vintage Grey House Linen, £1,247, Willow & Hall
How is the best quality upholstery made?
The following tips from Kate Tansley, creative director at Multiyork, will help you choose quality craftsmanship:
Look for something handcrafted using traditional methods
Choose a hardwood frame (such as beech)
Cheaper sofas are made using softer woods such as pine, cedar and redwood, which are more likely to warp
The frame must be joined with dowlings and screws, not just glue
Cheaper couches may be made from particleboard
High tensile steel springs are preferable
Once the frame has been built, the back and base are either webbed, with a series of coil springs added to the web, or, more commonly these days, fully sprung using serpentine springs, which from a continuous zig-zag pattern. 'Webbing or mesh can sag over time and put unnecessary strain on the frame,' adds Kate.
The piece is then padded to create the finished shape, and covered in fabric. Materials used for padding can include wool fleece, wool felt and horsehair, layered with interlinings and canvas.
Braemar armchair in Raspberry Check Harris Tweed, from £1,195, Tetrad
How can I check that a sofa or armchair is good quality?
A well-made piece of upholstery should be heavy – to test it, try to lift it at the corner – and it shouldn't rock or bend. Press lightly along the arms and under the cushion, around the seat and backs – these should be well padded and you shouldn't be able to easily feel the wooden rails.
Also examine the finish of the cover – the fabric should be pattern matched and the valance and back panels hand sewn.
What difference do the springs make?
The springs control how firm or soft the seat is, and the best way to discover your preference is to try 
out the different options. Paul Staden, CEO of 
Sofa Workshop, advises: 'For a softer sit, look for coil-sprung seats and fishmouth edges, which offer comfort and support right up to the edge of the seat, while for more upright pieces, choose heavy gauge serpentine springs.'
Dart two-seater sofa, from £1,431, Balmain & Balmain
Which sofa filling should I opt for?
How upholstery is filled has a big impact on both the way it feels and the support it offers. The different options each have their pros and cons, but overall the choice of filling really comes down to which you find the most comfortable.
Feathers
'A high-
grade duck feather cushion is one of the most comfortable options; the naturally curved feathers mould around the body and offer a sumptuous feel for a sofa or armchair you can just sink into,' says Multiyork's Kate Tansley.
'Duck feather-filled cushions do require a little more aftercare than other options, however, as they need regular plumping and turning to keep their shape.'
Lower-grade feather cushions can clump with use, so some designs are mixed with man-made fibres to reduce the problem.
Fibre
Fibre-filled cushions tend to be a cheaper option than feathers and still offer a soft feel but with more support. They consist of man-made hollow-core fibres, pumped full of air for fluffiness.
To keep the couch looking its best, the cushions will need regular plumping and turning, but usually not as frequently as with feathers.
The cheapest fibre-filled cushions have a reputation for flattening quickly and requiring ever more plumping over time, but many manufacturers are now using high-quality fibre, which offers much greater longevity.
Foam
For a more structured sofa or armchair style and maximum support, opt for foam. There are a number of different options available, including hybrid cushions, which are wrapped in feathers or fibre for a softer look and feel.
Be wary of the cheapest polyurethane foams, however, which can flatten over time.
'For a very supportive and quite firm sit, opt for reflex foam, which keeps its shape well and needs little maintenance – just a simple turn every two to three months,' says Willow & Hall's Sarah Massouh.
New England Hampton leather four-seater pillow-back sofa, £3,065, Furniture Village
Choosing an upholstery design
Upholstered furniture comes in a range of well-known traditional styles, from button-back Chesterfield couches to low-armed Howard sofas and tall-sided Knole settees, as well as countless classic shapes more loosely inspired by historic designs.
In general, curvy sofas and armchairs feel more traditional while seats with squared edges can lend a modern edge to a period home. Designs with a bigger gap between the floor and the base tend to look more sophisticated, while loose cover sofas with skirts suit relaxed country-style schemes.
Your choice of arms will make a big difference to both looks and comfort. Scroll or swan-neck arms are great for leaning on and lend an elegant look, while pea arms are a neat solution that help save space in small rooms, but don't offer much support to lean against.
While a sofa is a style statement that will be in position for many years, a single chair can be moved around easily from room to room if you fancy a change, and offers the ideal opportunity to make a statement with a quirky design or bold colour.
It is easier to be a little more extravagant with chairs – perhaps an indulgent velvet chair that can work for the bedroom or living room. Armchairs should be constructed with the same considerations as sofas.
What should I look for in an upholstery fabric?
There are plenty of hardwearing fabrics to choose from, whether traditional jacquard weaves, damasks, crushed velvets or leathers that improve with age.
'How a fabric wears depends on the sort of fibre it is made from, how tightly the yarn is spun and how closely the yarns are packed in the weave,' says John Kitching, director of Northcroft Fabrics.
'Silks are satisfactory for drawing rooms where they receive light wear but wool, cotton or synthetics will give much harder wear for everyday living. As long as they are tightly woven, most kinds of velvet are very durable as the wear is taken on the end of the pile tuft.'
'Check the fabric's capabilities,' adds Sofa Workshop's Paul Staden. 'All fabrics have these noted in the swatch books, along with composition and rub tests. Upholstery fabrics for domestic use must hit minimum 10,000 rubs, but most come with at least 20,000 rub counts.'
In addition, an upholstered item should have a ticket that displays its fire resistance. Upholstered furniture for domestic use must pass the cigarette and the match test or, if it is made from more than 70% natural fibre, can be used with a fire retardant lining so long as it passes the cigarette test. Other fabrics can be backcoated with fire retardant chemicals.
Isabelle two-seater sofa in Bombay Teal, £1,974, Parker Knoll
Should I go for a plain or patterned fabric?
When it comes to choosing upholstered furniture, make sure it is in a design you genuinely love and feel you can live with for a long time, as fashions change regularly. Plain colours are more versatile, but pattern wears stains and damage better.
If pattern is your preference, be sure that the print you choose suits the piece it is covering. For example, traditional fabrics will look better on classic pieces, while neutral fabrics work well on contemporary designs.
You should also consider the scale of the pattern – a big, bold print will go better in a large room, while delicate designs are more suited to smaller spaces.
'Fabrics are a great way to capture the character of a period home, and archive prints from companies such as Sanderson or Morris & Co will add colour and pattern without throwing your decorating scheme out of line,' says Multiyork's Kate Tansley.
'In addiiton, many contemporary patterns contain traditional motifs, so you can reference a style era without recreating it.'
Pet-friendly fabrics
If you have pets, you will need your fabric to be particularly hard-wearing. Thick leather is ideal as pet hair and light dirt can be wiped off. However, many companies offer a stain guard treatment for fabrics, which repels stains, as an optional extra.
If you have cats, you may want to avoid fabrics with an open weave, such as linen, as they can get their claws into it. They are unlikely to pluck velvet, but it will pick up their fur so you'll need to keep a lint roller to hand.
Wool is a hard-wearing fabric choice, but pet hair can really bed into it, making it difficult to remove with a lint roller.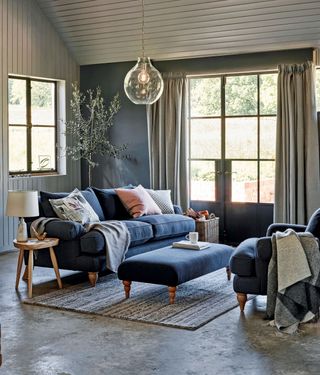 Croft Findon three-seater sofa in Sophie Mist, £1,779, John Lewis
Are fixed or removable covers best?
When upholstery is described as 'loose cover' it means that all of the fabric can be taken off for cleaning or replacing. On a 'fixed cover' settee or armchair, the frame will be tightly covered with fabric that can't be removed. Loose cushion covers can usually still be removed, however.
'What's best for you depends on your lifestyle and the look you 
want – if you prefer a relaxed feel and have young children or pets, then removable washable covers may be better. But a more formal-style piece really needs to be tight covered,' says Sofa Workshop's Paul Staden.
'Removable covers offer more design flexibility, though,' adds Janus Cooper, managing director of Tetrad. 'They are a great option if you are likely to want to change the look of your couch over time.'
Grosvenor three-seater Chesterfield sofa, available in over 110 different leathers, from £1,999, Sofas by Saxon
Does sofa size matter?
Consider the height as well as the length and depth of the furniture as this will have an impact on the way your room looks. High backed seating tends to feel larger and looks better in rooms with tall ceilings while low backed furniture helps to give a smaller room a spacious feel.
When you find an armchair or sofa you like, make a template of its footprint and place it in position on the living room floor so you can check that it fits easily, doesn't encroach on nearby furniture and allows enough space for people to move around it and open doors.
If your chosen furniture is not quite the right size remember that some couch designs are available in two or three sizes and makers of hand-built furniture will often resize chairs and sofas to order. You should also look at designs with slender arms and upright backs.
Some sofas have an extra deep seat which is perfect if you like to sprawl but for good back support, you should be able to sit back in the seat with your feet flat on the floor.
David Herbert, director of David Seyfried, says: 'Don't go for anything too deep, although you do want enough seat depth to have room for small cushions as these are very useful for bringing colour schemes together'.
How should I arrange my seating?
If you're furnishing your living room from scratch with upholstered furniture, start by deciding what seating arrangement you want. There are several permutations for seating groups but mapping out a plan of your sitting room and marking the positions of the windows, doors and fireplace and the number of people you need to accommodate is a good way to find out what will work best for you.
David Herbert of David Seyfried says: 'A sofa plus a pair of chairs of a different design always looks good. Try putting a settee with a cushioned back together with chairs with fixed backs or vice versa.'
For a more relaxed look that creates the impression that the room has grown up over the years you could team a couch with two non-matching chairs or, for a neat, symmetrical effect, choose two matching sofas and add an occasional chair for visual contrast.
Wainwright chair in Bizet Hot Pink, from £1,789, John Sankey
Caring for upholstery
'You can extend the life of your upholstery and maintain its quality and comfort with some simple regular maintenance,' says Clive Kenyon-Brown, chief executive at Duresta.
'All cushions should be turned and interchanged regularly to distribute wear. Feather or fibre cushions especially should be plumped up daily and their position interchanged to maintain their appearance and allow the fillings to recover.'
'As well as plumping cushions to keep them in shape, it's important to vacuum the fabric regularly to remove dust, as if left it can become ingrained and rot the fibres,' advises Sofa Workshop's Paul Staden.
'A weekly brushing stimulates the pile and helps prevent pressure marks and shading through everyday use, particularly on velvets, which should be brushed in the direction of the pile. You should also have upholstery cleaned every year to 18 months, dependent on use.'
Tetrad's Janus Cooper adds: 'Many loose-cover settees and armchairs are washable, but for fixed covers I recommend dry clean only.' Having cushions dry-cleaned separately can result in a slight mismatch of colour on the furniture. Any cleaning should be done to the whole piece to balance the effect.
'For leather pieces, you should avoid vacuum cleaning,' adds Janus. 'Instead, dusting furniture regularly with a soft cloth or brush will stop the dust and dirt that causes premature wear from accumulating.'
To keep your couch looking like new, position it out of prolonged direct sunlight, as the fabric colour will fade. Some fabrics do "pill" easily, but tend to settle down over time.
Cleaning tips
'If you have a spillage, act quickly,' says Duresta's Clive Kenyon-Brown. 'Do not rub or soak the material or allow the stain to set. Absorb the spillage using white kitchen roll or a white absorbent cloth, and scrape up solids with a blunt knife or spatula, being careful not to spread the stain.
'For wine, spirits or coffee, treat the area with distilled water only, using soap or shampoo as a last resort. For oil marks, use a proprietary cleaning fluid — it may be prudent to buy some and store it safely for future use.
'Some stains respond better to removal while still wet, but first do a test with the cleaning fluid on an unexposed part of the fabric to ensure that no further damage is caused; some can affect the dye in fabrics, causing ringing or smudging.'
If in doubt, seek professional help to clean your settee or armchair.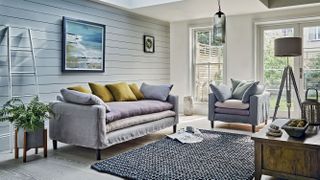 Pablo loose-cover linen three-seater sofa, £2,239; Pablo loose-cover linen armchair, £1,649; Barker & Stonehouse
Options for reupholstering
The frame of quality upholstered pieces often outlasts the fabric and fillings by many years. For this reason, some manufacturers offer a renovation service for their own designs and may even guarantee the price of refurbishment at the time of original purchase.
Not all manufacturers offer a re-upholstery service, but there are many small firms around the country who update sofas and armchairs, so check local directories and contact two or three for quotes.
As well as updating the fabric, the upholsterer can repair any damage to the frame and springs, and refresh the filling to make your settee or armchair as good as new.
Expect to pay around £300-500 for a simple armchair or small sofa, up to and over £1,000 for a larger couch or more intricate design.
Feature by Melanie Griffiths with additional copy by Elizabeth Bailey and Maggie Stevenson