Built as part of a row of seven farmworker's dwellings, this mid-17th-century cottage hadn't been lived in since the 1980s, and the main section had almost completely collapsed.
Project notes
Owner: Neil Mckay, an architect, and his fiancée Helen Davison, a graphic designer, live here.
Property: A part-thatched cottage, built in the mid-17th century
Essential repairs: The main section of the cottage, containing the kitchen and dining room, had collapsed and required rebuilding; the other side of the cottage was extensively renovated. Neil used modern equivalents of authentic materials and installed a ground-source heat pump, underfloor heating, and insulated the ceilings and outside walls.
Layout: With a kitchen, central dining room and living room on the ground floor, an original bedroom is reached by a cupboard staircase, while a new staircase gives access to two further bedrooms and a bathroom. There is also a wet room on the ground floor.
It was basically just a wooden shack with a crinkly tin roof. This part of the cottage required reconstruction, whereas the other part of the cottage, comprising the living room, third bedroom and a bathroom, required a simpler renovation.
It was important to architect-owner Neil to preserve the humble character of the cottage. Equally important was to make a distinction between the rebuilt section and the renovated part. This is most obvious in the roofing materials, Cotswold stone tiles for the rebuild and thatch for the renovated section.
Related articles: 11 charming cottage homes | How much does renovating cost? | How to buy an old house | 9 gorgeous country farmhouses
The front door to the cottage was a salvage yard find, framed by typical cottage garden planting
The front door leads straight into the dining room. With its Victorian range lit, it's a cosy room on winter evenings. Salvaged beams give character to this rebuilt section of the property
A homely display of old enamel coffee pots and accessories on the restored and fully functional range set the scene in the dining room
In the dining room, a further salvaged door leads to the kitchen, and another to the staircase. Neil used reclaimed flagstones for the floor, first installing underfloor heating
The beauty of the oak frame is clearly visible at this end of the dining room, with a further door to the back garden
Neil built the kitchen cupboards and the door was a salvage find, along with the characterful shelves and table. The elm worktops and shutters were created from trees that perished in the UK's famous 1987 storms. Vintage Woods ware supplied by The Fourteas tearoom in Stratford-upon-Avon
Double stable doors open onto the back garden and bring extra light into the kitchen. Antique filing drawers provide a useful extra worksurface under the pretty wall-mounted shelving, found on Ebay
Open shelving in the kitchen is used to display both decorative and useful objects
Mid-century modern meets 17th-century simple in the living room, with Ercol sofas and flagstone floors, lifted to fit underfloor heating, and lime plastered and limewashed walls. Homemade linseed oil tempera was used for the door. The patterned cushions and wool rug are by Vanessa Arbuthnott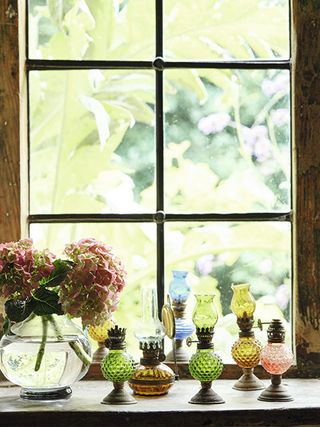 This humble cottage may well have had oil cloths at its windows, rather than glass. Here, a collection of miniature oil lamps catches the light
Behind a 1970s fireplace, the original inglenook was found intact, complete with salt shelf and bread oven, now restored by Neil. Above it are the front door keys. A box staircase leads to one of the bedrooms. Originally there would have been a simple ladder to the upper floor
In the original beam above the inglenook, it's just possible to make out what are believed to be witch marks – thought to prevent demons from coming down the chimney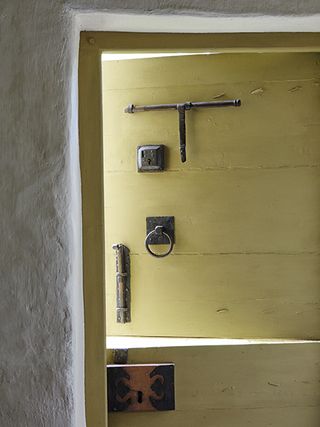 The cottage's interior and exterior woodwork is painted in Neil's home-mixed linseed oil tempera
The new master bedroom features a dormer window. The cushions are from Vanessa Arbuthnott
In the preserved section of the home, a second bedroom showcases the simplicity of the textured lime plaster finish
Contemporary fixtures and fittings from UK Bathroom Warehouse and Ikea create a contrast with authentic detailing elsewhere in the property. For similar blue and white tiles, try Topps Tiles. The grey hammam towels are from Salt House Interiors
The central section of the 17th-century cottage had crumbled to sill level and had to be rebuilt. A Cotswold-tiled roof on the newly built section marks the difference between that and the original thatched part of the cottage, on the left of this picture