If you are a consummate cook and a generous host, a luxury kitchen is a worthwhile investment. If creating a luxurious space is a priority when designing your kitchen, there are several things to consider. Read our guide to luxury kitchens for ideas on everything from luxury kitchen islands to painted kitchens and luxury kitchen storage, and even luxury retro-style kitchen designs.
1. Invest in luxury kitchen storage
All kitchens need ample storage – in a luxury kitchen, you can get a bit more creative with your storage options. From fitted cabinets to unusual shelving, you can integrate your storage solutions into the design of your kitchen, to a stunning effect.
This kitchen by Hub Kitchens has an ultra-modern suspended shelving design which integrates effortlessly into the minimalist design scheme. It is practical, too, with all the cooking essentials located within easy reach.
And for lovers of traditional kitchen designs, a dresser or open shelving is a great way to add a homely, lived-in touch to your luxury kitchen.
This farmhouse-style kitchen by Neptune cleverly combines fitted shelving units painted in a deep midnight blue with atmospheric kitchen lighting.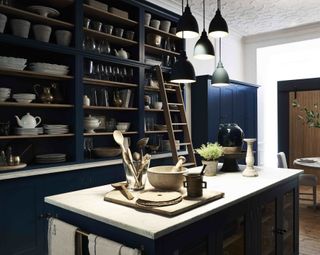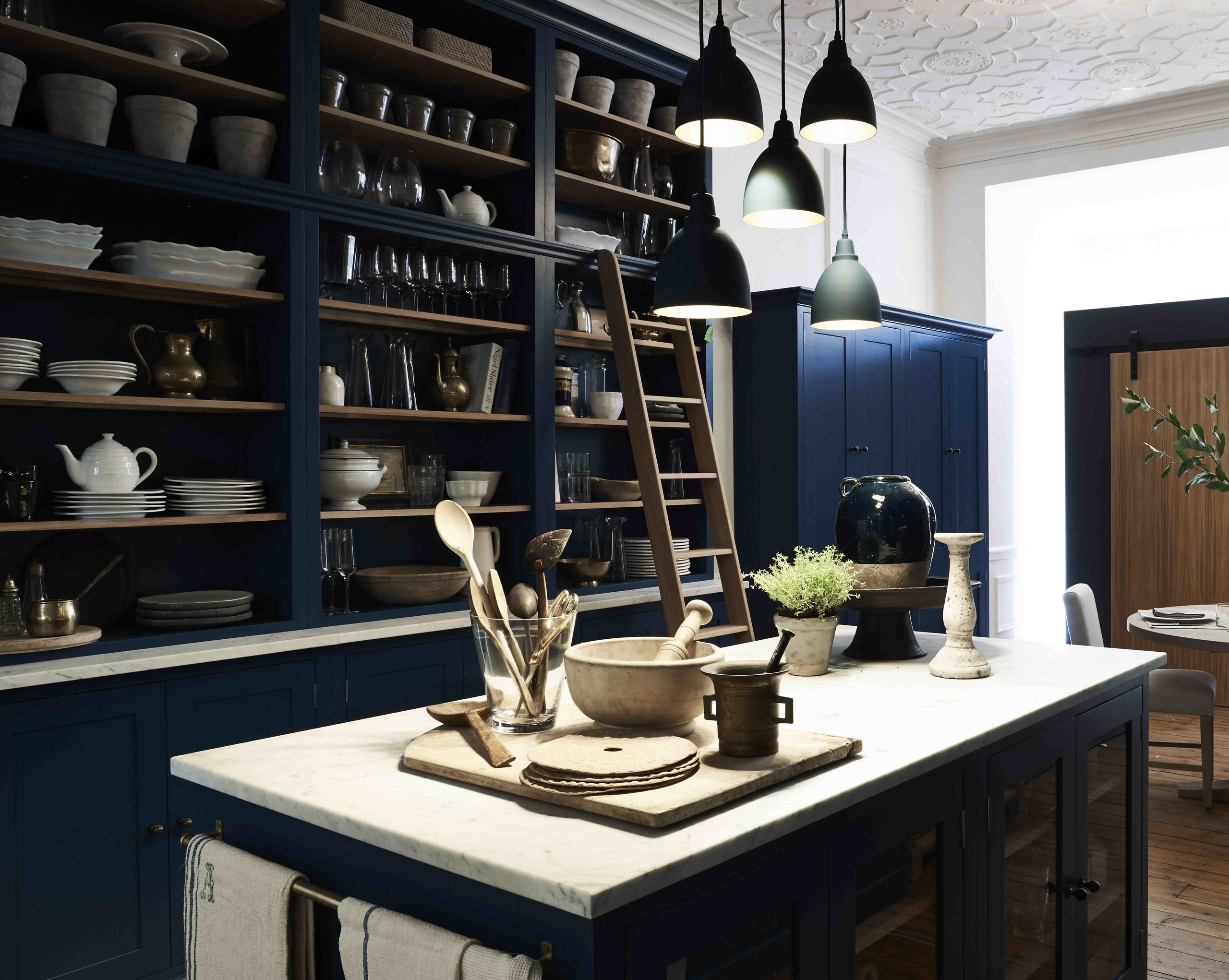 2. Enjoy a serene, clutter-free minimalist kitchen
A minimalist design is a failsafe choice for a luxury kitchen. By keeping kitchen furniture to a minimum, you can really focus on investing into quality surfaces, high-end appliances, and seamless fitted cabinets.
The Seamless Kitchen by Life Kitchens showcases the high quality of the worktop material – by using it as decorative splashback panelling.
This minimalist kitchen from Mowlem & Co's Purity range combines cleverly organised storage with a sleekly modern design. Using a combination of white Parapan and light grey oak, the handleless cabinetry and banks of smart appliances create a sophisticated, streamlined finish, while the ultra-functional island works equally well for family use and informal entertaining.
3. Choose a modern take on the Shaker kitchen
To achieve timeless elegance and relaxed luxury in your kitchen, why not go for a modern version of a classic Shaker kitchen? Shaker kitchens are all about craftsmanship, so opt for well built, simply designed wooden kitchen furniture, pick a classic paint scheme (creams, greys, and blues are firm staples of this look), and avoid excessive decoration. Enjoy a look that is as understated as it is luxurious.
The Real Shaker Kitchen from deVOL comes in a variety of configurations and finishes to suit your requirements.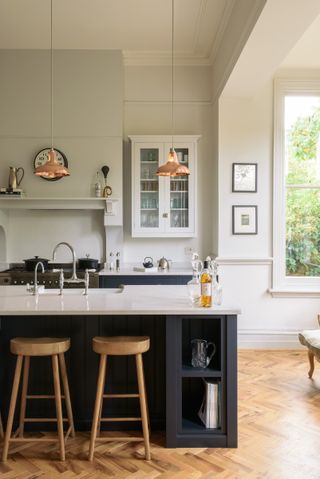 Blending a classic Shaker style with a contemporary painted finish, the Moderne from Fired Earth features modern frosted glazed panels along the width of one storage wall. Made from oak and maple in Glass Samphire, the style includes quartzite worktops in White Fantasy and is finished sleek integrated appliances, slim stainless steel handles, and matching sink and tap for a cohesive, minimal scheme. Scandinavian-inspired bar stools complete the look.
4. Go open plan
If you have a substantial garden or outdoor area, and your kitchen faces it, why not open up your kitchen to create a seamless outdoor living area or outdoor dining area? Open plan kitchens are all about connecting and unifying the indoor and outdoor spaces in your home – think sliding doors and continuous flooring. Now you are ready for some impressively organised entertaining.
This bespoke Surrey kitchen by Hub Kitchens opens into an attractive poolside garden area, perfect for summer dining or lounging after dinner.
5. Combine painted cabinets with wood flooring
For a classic luxury kitchen design with a vintage twist, look no further than luxury painted cabinets combined with high-quality wood flooring.
This fitted kitchen by John Lewis works with the colour and texture of wood, creating a slightly rustic, luxurious look.
For an even more creative approach to your kitchen design, consider a two-tone colour scheme, as in this grey and blue kitchen by Martin Moore.
6. Invest in a luxurious kitchen island
Kitchen islands are a key item in a luxury kitchen – they make cooking easier, add extra kitchen storage, and enhance the look of any kitchen. Choose one that has it all – the looks, the storage, and a high-quality worktop.
The Antique worktop by Lundhs is made from Anorthosite, a natural volcanic rock from Norway.
This Stoneham Strata black walnut kitchen by Kitchens International is made from a walnut veneer, with a Corian Bone worktop, which overhangs the central island for a contrasting finish. The extra-large island provides space for preparing food, cooking and washing up, plus room for dining at one end where a walnut breakfast bar has been installed, complete with bar stools from Atlantic Shopping.
7. Make a statement with colour
A luxury kitchen needn't be all-white, or even neutral to look chic. Choose a single, bold colour, or experiment with multiple shades of a base colour, as in this blue kitchen (shown below) by Martin Moore.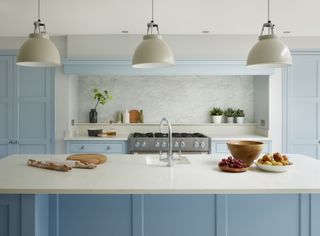 8. Be different with a luxury retro design
Retro-style kitchens are back – and some of the retro designs out there are very luxurious indeed. Whether you fancy a modern twist on an English Rose kitchen, or a glamorous 1920s design, there are ways of retro styling your kitchen without sacrificing on quality or style.
This Creme de la Creme kitchen by John Lewis of Hungerford offers a chic twist on a 1950s kitchen, styled with an antique mirror and black accessories for an eclectic, period fusion effect.
The gorgeous New Deco kitchen by Martin Moore is an all-modern take on a 1920s kitchen design. It pays tribute to Deco design and materials – marble, vervet, gold trimming – but also has floating furniture and a clever kitchen island seating arrangement.
Read more: