From the chocolate box thatches of England, to the crofts of Scotland, smallholdings of Ireland and miners' dwellings of Wales – the UK is not short of historic cottages. Though they might be small in size, they make a big impression with their exposed beams, inglenook fireplaces and period windows.
So, whether you are looking to up the charm of your home, or preserve the character of a cottage you are renovating, here are some ways to recreate the cottage look.
Lead image: this beautifully restored Georgian cottage has been sympathetically restored
1. Simple seating
Forget fancy dining chairs, a basic Windsor dining seat can be just as beautiful. Pick a set in your favourite colour, or mix and match for an eclectic look. Accessorise with patterned cushions for added comfort. The Natterbox chair by Loaf comes in a choice of colours, such as Inky Blue, Calm White, Good Yellow (seen here) or Oak.
2. A bootroom
Whether an ante-room to the kitchen, or a corner of the hallway, a space to kick off muddy boots and hang soggy coats is essential in a country cottage. A few hooks, a shoe bench and baskets for umbrellas, bags and dog leads will do the job.
3. Loveseat
If you're short on space a loveseat might be the perfect choice. Their proportions mean they won't overwhelm the room, but they are just big enough for a (cosy) seat for two. So grab a throw, take a seat and snuggle up by the fire on the Bluebell Loveseat in House Basket Weave from Sofa.com. It comes in a range of fabrics and colours, including Pumice, shown here.
4. Fresh flowers
A bunch, plucked from the nearest meadow would be lovely, but who has time for that when the likes of Bloom & Wild can do it for you, and deliver straight to your door. Nothing says country cottage like some beautiful blooms and this, hand-tied bouquet is just so.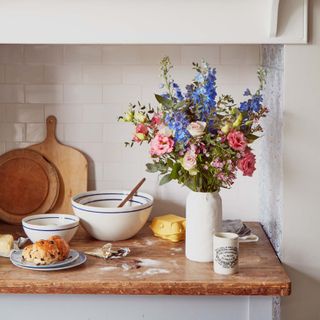 5. Farmhouse kitchen table
A large farmhouse kitchen table might be the stuff of dreams, but an extending dining table with a similar feel is a more realistic choice in a smaller home. The Genoa dining table from Willis & Gambier combines modern practicality, with rustic style.
6. Country cushion
Bring the outside in with prints that illustrate typical country landscapes. The Running Hare Scene linen cushion by Sam Wilson represents a bucolic snapshot in a modern palette of grey and yellow.
7. A handy basket
Perfect for grabbing a few bits from the bakery, or to use for storage around the home, you'll be stretched to find a country cottage that doesn't house a basket of some kind. The Bembridge Market rattan basket from Garden Trading will be carrying your picnic, stashing your knitting and holding logs by your fire for years to come.
Or, choose from one of the picnic baskets in our buying guide.