For the ultimate in relaxation, our bedrooms need to tick quite a few boxes, and storage is the key to creating a space that works.
Firstly, have a big clear out and send unwanted items and unworn clothes to the charity shop – because that old saying, 'less is more' really counts especially if your bedroom is on the small side. Then consider what type of storage you'd like. Do you want to 'see' it or do you want to be streamlined and minimalist and have it all hidden from view? Or maybe you'd like to have storage that enables you to display favourite bits and bobs.
Read through our great guide to bedroom storage solutions so you can create the ultimate organised bedroom.
1. Upholstered ottoman
Ottomans are a great way to hide away bedding and blankets whilst retaining a look of elegance. Pop one at the end of the bed and use it as an extra seat too.
The Ascot from Brissi, £389, comes in a beautiful dusky pink velvet with tufted detailing. It has a hinged top and generous interior space.
2. Wardrobe interiors
Invest in a wardrobe that has fantastic internal extras, it will help you keep more organised especially for the early morning dash! The Tuscany from Willis & Gambier is a beautifully crafted premium double wardrobe and has a shoe rack, full size mirror, hanging rail, shelf, cufflink tray and tie (or scarf) rack.
3. Bedroom storage baskets
Forever useful, baskets have become a popular choice for storing everything from magazines and books, to spare throws and scarves. We particularly love this raffia basket in natural and white, £85, from Ross & Brown. It's lovely squidgy shape has a charming appeal and the generous size makes it a good choice for bedroom bits and bobs.
4. Nesting tables
Although more often seen in living rooms, table nests can be a very useful addition to a bedroom for adding a surface as and when you need it. Use them instead of a bedside table and pull out the smaller one for lazy weekend mornings – perfect for tea and toast! The Worthing nest of tables is a set of two made from solid oak with smooth triangular tops, £269, Mood Collections.
5. Stacking bedside table
A bedside table with drawers, cupboards or some kind of storage is perfect for hiding away odds and ends like reading glasses or medication.
For lovers of modern style the Cairn pink bedside table, £199, from Made is perfect, and this design is really clever. It's made from three stackable, modular storage trays which enables you to create the height and amount of space you like and add or remove them as you wish. Seen here in pink, it also comes in grey.
6. Wide chest of drawers
Every bedroom needs a good sized chest of drawers, and the Azalas five-drawer wide chest from Barker & Stonehouse certainly ticks the boxes. It also has a lovely real wood veneer top which is perfect for displaying a pretty vase of flowers, or your favourite perfumes, lotions and potions. It is part of a wider range which includes wardrobes.
7. Stylish desk
With more and more of us working from home, the bedroom can often be the place that doubles up as mini-office space. This stunning Treviso desk by Matthew Hilton for Ercol, £1,595, could even be used as a dressing table, it has two handy drawers and plenty of work space. Seen here in oak with a clear matt finish, you can also purchase it in a walnut.
8. Hanging rail
If you're into minimal style and are great at keeping tidy then why not opt for Soak & Sleep's Clerkenwell solid oak hanging rail? Its multi-purpose rail means you can hang things from the two rails at the top: one for hangers, the other for scarves and ties. The handy shelf is ideal for shoes or neatly folded jumpers.
9. Storage bed
One of the best ways to keep unsightly bits and bobs hidden is to invest in a bed that has storage underneath, especially if you have a small room with few storage options. The Bencatel ottoman bed from Wayfair has easy lift up storage that will give you oodles of space elsewhere. Use it for duvets, bedding, pillows, cushions and seasonal clothes.
10. Contemporary storage trunk
If you love to display your items yet keep them dust free take a look at this super modern transparent Treasure Trunk from The French Bedroom Company. Made from clear acrylic, it's perfect for storing your favourite shoes in, or those beautiful coffee table books you like to read in bed. And not to mention it also makes a great alternative to a bedside table, pop a lamp on it and you're away!
11. Shelf ladder
Shelf ladder's are becoming increasingly popular and can look great in most rooms, especially the bedroom. They're a very versatile piece and can store anything from books and plants, objets d'art, potions and lotions, make-up shoes, hats and clothes. Crafted from spruce, the Aldsworth is a great alternative storage choice, £165, Grace & Grey.
12. Tall bedroom storage chest
If space is of a premium then a tall boy is a great option. Slim enough to fit into the smallest corner, they often come with different depth drawers which is really handy. This design from Neptune is called the Larsson, it is hand-finished with intricate carving and comes in a wide choice of lovely colours, seen here is the antique salt.
13. Space-saving bed
This unique and rather fantastic Vox 4YOU 4 poster king-size bed has a fabulous amount of storage and super stylish to boot! It has an enclosed space behind the head, shelves above the bed and around the frame and a closed container in the lower part of the shelving unit for blankets and pillows. There's also an option to have a raised mattress solution for storing items underneath.
14. Smart shelving
A great tip for keeping tidy is to have everything off the floor. Shelves are obviously ideal for this and these curvy PUNCHed white shelves from Anthology Five look great with plants and books on them. Hang them next to the bed for easy reach. They're made from high quality aluminium with a satin powder-coated finish, other colour choices include orange and yellow, and they're made to order.
15. Makeup desk
Who knew you could actually get a purpose built make-up desk? This compact design has four compartments for storing makeup, accessories and jewellery and a good sized mirror for applying it every morning. It comes in white with a contemporary design ideal for modern style lovers. White makeup desk with mirror, £79.99, Sue Ryder.
16. Shoe storage solution
We all have too many pairs of shoes, so why not keep your favourites in this YAMAZAKI white tower steel shoe rack. It has five tiers and the advantage is you can quickly find which ones you want when rushing to get ready. It's slim profile means it can fit into small spaces and there's a handle so you can move it around. It costs £67, from Black By Design.
17. Console table
Another useful piece that works in other rooms is the good old console table. You can use them for displaying your favourite pieces – table lamp, books and picture frames for example – and their narrow depth means they work well in smaller spaces. The Eva Aqua gloss console from Danetti will add a splash of colour to a tired scheme and is priced at £99.
18. Glass bedroom storage cabinet
Cabinets like Loaf's Flummery cupboard are very versatile. You could use them as a wardrobe if you have super neat tendencies and are great at folding, or for storing your favourite bedlinens, quilts and cushions when not in use. Or, use one to display your favourite shoes and bags while keeping them dust-free.
This design is made of solid reclaimed fir recovered from old buildings and has brushed white finish, the interior is painted in a lovely inky blue, £895.
19. Handy armchair
The humble armchair is much underrated in a bedroom, but is actually a piece of furniture that we all use quite a lot! They can be used to lay out tomorrow's clothes on or keep that extra throw draped over the back for those nights when it gets chilly. An armchair is also the perfect spot to place all of your throw cushions if you don't like them in the way when you go to bed. Rose armchair in High Tea deepest velvet, from £440, Perch & Parrow.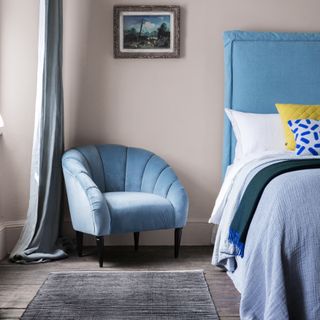 20. Freestanding jewellery storage
This clever Beautify armoire has so many great elements. It's slim for a start, so great if your room is small, it has an illuminating mirror and a touchscreen dimmer. You can hang all your jewellery in it, from necklaces to earrings, and there are four shelves for makeup, nail varnish and skincare pots. It also has a single drawer that's large enough to hold a hair-dryer, £92.99, Domu.
21. Behind the bed
Make the most of every inch by having a built in area behind your bed. It keeps the look streamlined and you can match the units to your existing scheme. You can even create wardrobe hanging space as well as hidden shelves and lights can be integrated so it's a great option to consider. Seen here is the Contemporary Willow bedroom from Neville Johnson, prices start from £3,000 for fitted furniture.
22. Window seat bedroom storage bench
Window seats are now definitely worth considering if you want to maximise the space you have. They give you extra storage space as well as somewhere to sit and read or use the top to keep neatly folded throws on. Go for a made-to-measure fitted option, or find a suitable storage bench that fits the space.
This window seat is a bespoke option that's offered within the The Shaker range at Sharps, prices start from £2,000 for a fully fitted bedroom.
23. Under eaves storage
Maximise what is usually wasted space in your loft with by opting for bespoke fitted storage under the eaves. Cupboards are an easy fit, but drawers or shelving can help make the most of the space.
Shoe storage and drawers are the best use of space in this loft bedroom by Barbara Genda Bespoke Furniture.
24. Bedroom storage bags
If you have space under your bed or at the bottom of the wardrobe then use these handy vacuum storage totes from Lakeland to keep chunky bedding and clothes clean and dust-free. They have a handle at one end so you can easily pick them up and the clear plastic sides mean you can quickly see what's in each. Once filled and the inner bag is sealed, vacuum out the air and zip up the outer bag to ensure they only use minimal space.
25. Open plan storage
The appeal of open plan storage storage is that you can 'see' everything straight away. The downside is that you need to keep it tidy!
Ikea's ELVARLI system has some great elements and you can mix and match them to create the kind of storage that suits you and your needs, prices start from £366 for two sections.