We're big fans of paint, with painted kitchens the top of our wishlist – and for good reason: they create a bespoke look that needn't cost a fortune. Whether revamping an old kitchen or starting from scratch with ready-to-paint replacement doors or kitchen units, painting kitchen cabinets is well within the capabilities of DIYers. Or, if budget allows, you can shop for a ready-painted kitchen, with many manufacturers allowing you to specify the exact paint shade to suit your scheme. Kitchen cabinets already in? Transform your kitchen quickly with a new wall colour. Our favourite paint colours for kitchens are below – and don't miss our kitchen paint tips below, too.
1. Mix one colour tones for a cohesive kitchen scheme
One bold colour all over can lack interest, so why not try picking a few shades of the same colour to use in one room? Put the darker shade on the cabinetry and the lighter on the walls for a fresh, bright finish.
This lovely fresh blue-based Mt. Rainier Gray (2129-60) on the cooker wall is a great choice for a light and airy kitchen and the deeper shade of the Normandy (2129-40) painted units perfectly complements the colour scheme. The hallway wall is painted in a pretty sky blue shade called Breath of Fresh Air (806). The white gloss floor adds balance and gives the room a spacious feel.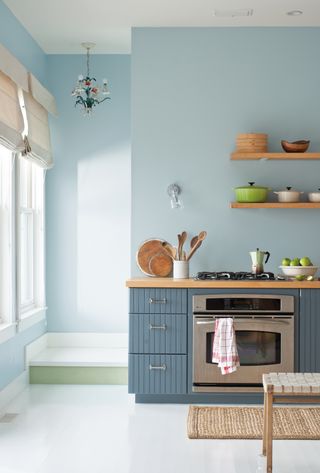 2. Pair two colours of the same hue for a calm kitchen
Struggling to choose between two colours? Then, why not have them both? The key is to find a feature the colours have in common - in this case, they share the same tone (in other words, light value). Putting the warmer colour on the walls - which have a greater surface area than the cabinets - will create a more inviting feel.
The pink is called Light Peachblossom 3 and the cupboards are painted in Grey Teal 226, both from Little Greene. The beautiful tiles tie in both colours and add a decorative element; for similar try Bert & May.
3. Follow the trend for inky shades in your kitchen
Deep, dramatic alternatives to grey - green, burgundy and blue - are very popular for kitchens, creating an elegant appeal, an effect doubled if used on both cabinetry and walls.
Kitchens with good light and high ceilings can take the darkest of paint colours, such as Farrow & Ball's Stiffkey Blue Modern emulsion (shown here on the walls and floor); an eggshell finish in the same colour has been used on the units. Keep the finish sophisticated with a smart, contrasting white – Wimborne White is the perfect choice - and add a pop of colour in accessories to lift and modernise the scheme instantly.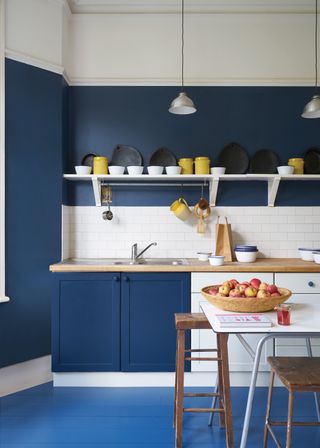 4. Choose a calming tone for your kitchen
Although they are a hive of activity, our kitchens are increasingly becoming spaces we relax and socialise in. However you use yours, colour can aid the serene atmosphere of this space.
This peaceful, barely-there grey paint colour on the walls is called Brushed Buckle by Dulux. It has a warming tones to make it welcoming but is light enough to create an illusion of space – ideal if your kitchen is small and on the dark side. The units trim is called Rail Cloth and adds an extra interesting element to the scheme, while the middle section is painted in Pure Brilliant White.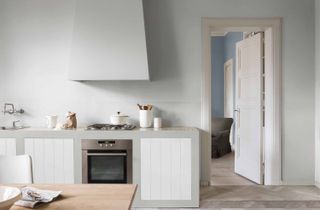 5. Let the cabinets take centre stage
Traditional style cabinetry suits the painted look perfectly. Shaker-style units lend themselves to a splash of colour just as well as very contemporary, high-gloss cupboards, so don't be afraid to embrace a new shade.
When you invest in a Neptune kitchen you get the fabulous option of choosing from their range of 28 original paint colours. They are ecologically-friendly and water based, with a choice of matt emulsion or eggshell finishes. Shown here is their classic pared-back Suffolk kitchen that's hand-painted in Sage – a calming green that has a fresh, timeless feel.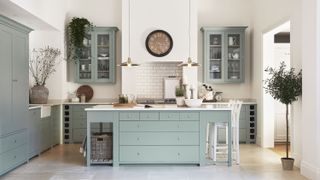 6. Keep it simple with white paint
You can't beat an all-white scheme – bright and crisp, it acts as a blank canvas for the rest of the scheme, enabling you to add and swap out accent colours quickly with accessories. It also means the kitchen will be far easier to update and match to new utensils, appliances or dinnerware.
Here, Fired Earth's Apres Ski looks fabulous in this modern kitchen, with the walnut-style worktops adding warmth and texture. Team with white bowls, other wooden accessories and hand-thrown pots to recreate this contemporary look.
7. Be bold with orange paint on the walls
Give a north-facing kitchen a warm glow with one of the many paint shades in orange. Whether you choose zingy, citrus tones (best for contemporary kitchens), or earthier colours like the ubiquitous burnt sienna (suits traditional style rooms), it's best limited to walls or splash backs.
The bold and beautiful Clementine Crème X65R126C shade is from Valspar. It's available in their Blend v500 kitchen and bathroom paint range which is a mould resistant and scrubbable emulsion that gives a flawless and long-lasting finish. Priced at £27 for 2.5 litres, it's available at B&Q.
8. Make the cabinetry the focal point with red paint
Glossy, apple reds are making way for a new team of more muted reds – think plum, oxblood and vermillion. Paired with sleek, contemporary units, they offer a demure, but modern alternative to anything high-shine or in your face.
This Linear design from Harvey Jones has a modern look with steamlined units. You can choose any paint colour you like, and they will hand-paint it on for you; shown here is Fired Earth's eggshell Dragon's Blood. One advantage of doing this is that if you get tired of the colour after a few years you can give your units a new lease of life by re-painting them.
9. Use warm tones to brighten a white kitchen
If your units are modern and white, choosing hotter shades for the walls will visually warm up the space. This allows you to embrace the modern look (and easy-to-clean nature) of minimalist white cabinets, without being left with a clinical feel.
On the right wall Toffee Apple adds warmth, while Spice Jar is a unifying, neutral option. Both paint colours are from Crown's specially formulated kitchen paint range and have an anti-bacterial element that kills 99.9 per cent of household germs on the paint surface, as well as it being wipeable and steam resistant.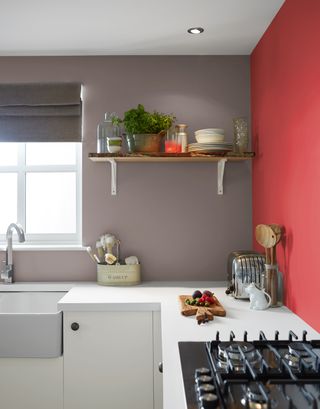 10. Create a blackboard wall in your kitchen
A really fun element to add to a family kitchen is to have a wall of blackboard paint. It might keep the kids amused under your watchful eye, or can be used to leave notes and shopping lists.
Use blackboard paint on a plain wall or fit these Uddevalla storage units from Ikea, which have a blackboard finish. For a similar green wall paint colour, try Earthborn's Cricket clay paint, a lovely chalky summer green colour that has the same finish as chalkboard paint.
Which paint colour to choose for your kitchen?
Dark colours, including grey and black, are popular, with wall colours often contrasting to add impact. If you would rather keep your cupboards light and neutral, a pop of colour on the walls will be much easier to update, should you wish. And if you're painting your kitchen cabinetry a bold colour, consider limiting it to a short run of units or a kitchen island, with a more neutral shade on the other cabinets; this will be ultimately easier to live with – and change in the future if you want a new paint colour.
Which paint to use for kitchen cabinets?
Looking for the best paint for kitchen cabinets? A good eggshell will be tough enough for units, while modern emulsions will work for walls, ensuring that they are still wipeable. However, there are some fabulous speciality paints for kitchens on the market which can be a good option if you have a young family. Both Crown and Dulux have good ranges if you want wipeable, grease-resistant paints.
Read more