Clever storage ideas for small bedrooms are the key to making your space work. There is obviously that catch-22 thing that goes along with small bedrooms and storage – the hardest thing to find space for in small bedroom is storage, but the most important thing to make a small bedroom feel less small is storage. It's a tricky balance to get right. But fear not – with a little bit of creativity (and a fair bit of space saving bedroom furniture), even the smallest of bedrooms can become a cosy, clutter-free haven.
Our comprehensive guide to small bedroom storage ideas covers everything from storage benches to clever small bedroom furniture, and has something for everyone, whether you are on a budget, move house a lot, or are ready to invest in a more permanent solution.
Don't miss our bedroom ideas page for all the inspiration you could ask for and if it's specifically bedroom design you are after we have a feature for that too.
1. Big small bedroom storage idea: pick out a storage bed
Let's face it: the bed takes up by far the most room in a small bedroom, especially if you have a double or king sized one. So, it makes sense to let a storage bed – take a look at our pick of the best beds with storage – do the hard work of storing bulky bedding, pillows, and duvets; moreover, if you opt for storing most of your things in the bed, you can keep the rest of your bedroom furniture minimalist and dainty.
2. Ditch the wardrobe for a streamlined small bedroom storage idea
A wardrobe is a must-have, but it also tends to be the bulkiest, and the least forgiving of small bedroom storage. So why not go without? Your bedroom needn't be messy, especially if you don't own tons of clothes – a cute clothing rail may well do the trick, if you only use it for your most worn items. We love this rustic rail made using a birch branch.
3. Enhance space with a mirrored door wardrobe
If you need storage ideas for small bedrooms that are more substantial than a standalone clothing rail, a wardrobe with sliding mirrored doors will not only provide proper clothes storage, but also visually enhance your space, plus you don't need to factor in floor space for when the doors are opened. Pair with neutral-coloured soft furnishings for an even more space-enhancing effect.
For more clothes storage ideas head over to our feature.
4. Explore the full storage potential of a bedside table
Looking for storage ideas for small bedrooms that won't break the bank? Think bedside tables. Not all bedside tables are created equal. Many are small (though still take up floor space) and decorative, but don't earn their keep in the storage stakes. Opt for a bedside table that has drawers, shelves or both.
5. Choose a bed frame with headboard storage
The key to successful storage ideas for small bedrooms is never passing up an opportunity for more: if it occupies space, why shouldn't it have storage? A headboard is no exception; many headboards come with shelving, such the one below by Loaf. A single shelf will accommodate your bedtime reads and lamp, but there are headboards with multiple shelves that could be used as storage for clothing or small items. Find all our the best storage headboards in our buyer's guide.
6. Experiment with decorative wall storage in a small bedroom
Storage can be dull and unattractive – but it doesn't have to be. Especially in a small bedroom, where you tend to notice the tiniest thing, good-looking storage options are a huge bonus. Wall storage, for example, can be made to look very smart if it is made up of cute, rustic peg rails.
7. Add a mirror in too
This mirror with shelf and hooks is a great small bedroom storage idea. It's a good looking mirror, but it's also a handy place for storing makeup, hanging accessories, bags or even jewellery, saving you space elsewhere. Plus, we all know how a well placed mirror can make any room feel so much bigger, storage or no storage.
8. Maximise the space behind and above the bed
Why only have headboard storage, when you could also have wall shelving to match?This is often a neglected storage opportunity so, in a small bedroom, make sure you max it out. You can use it to decorate your room too, pop a few books and some faux houseplants on them for a cute feature.
9. Sit and store with an ottoman
Want seating and storage ideas for small bedrooms? Putting seating in a bedroom is practical but also creates a feeling of comfort. But where to stash it in a small bedroom? This is where ottomans and blanket boxes come in handy: bags of storage space for spare bedding or out of season clothes, and somewhere to perch.
For more ottomans take a look at our buying. guide for the best ottomans.
10. Stash shoes and accessories in DIY bedroom storage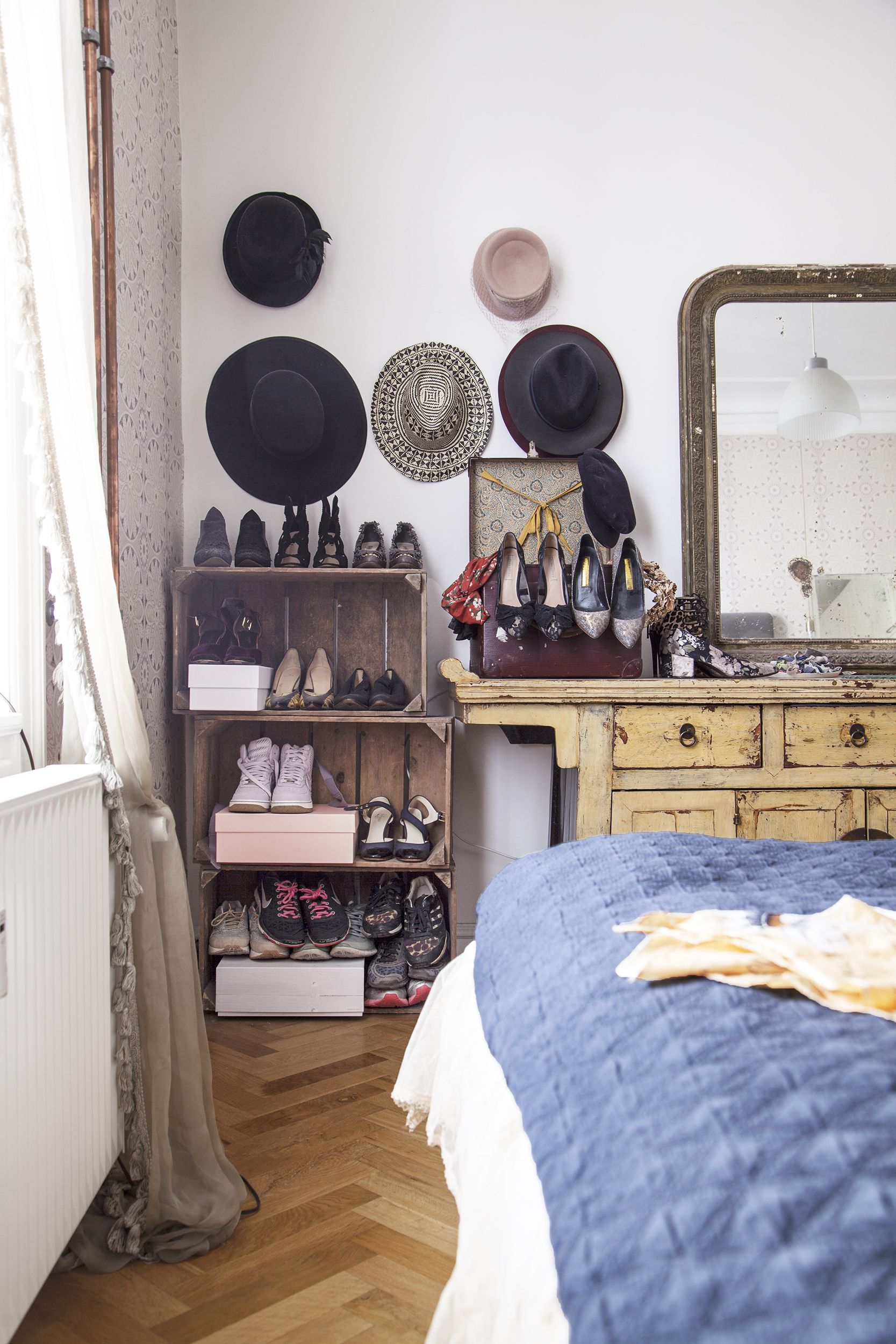 Looking for tiny bedroom storage ideas that are pretty as well as practical? We love this idea of turning old crates into shoe storage. Looks cute but also provides a handy space to keep shoes that would other wise end up sprawled across the hallway or jammed into a wardrobe.
11. Utilise the dead space under the bed
If your bed frame has space beneath it, make the most of it with clothes' storage boxes or crates. They will need to be low enough to fit under the bed, so the ones made specifically for the purpose are best, and if they have lids, the contents will remain dust-free.
Our pick of under bed storage ideas for small bedrooms are the Romskog boxes from Ikea – they hold loads but, at just 19cm tall, they will easily slide into a narrow gap. However, if you can't face the crowds, order these boxes below online.
12. Fill a narrow gap with a coat storage stand
If your room is tight on space, storage ideas for small bedrooms should include those that are tall and narrow will be useful for storing jewellery, hanging an outfit you've just taken off (or will put on first thing) and storing makeup.
The clever Zuiver Kandy Coat Stand from Cuckooland comes with a mirror and a very useful shelf; it's the ideal place to store everything you need for the day ahead.
13. Use every inch with a fitted storage solution
The smartest move you can make is to invest in customised, fitted storage ideas for small bedrooms that efficiently use every nook and cranny in a practical way. Going down this route? Plan the unit carefully so that your storage needs are catered to, right to the last detail, whether with hanging space, shelves drawers or hooks.
We like the smart, customisable Pembroke range from Neptune.
14. Like an easy small bedroom storage option? Go to town on baskets
Whether you like a laid back look, are renting or are looking for small bedroom storage ideas in a hurry, baskets are a flexible, affordable option. Ideal for sifting belts from shoes from dirty clothes from scarves and hats, invest in a selection of shapes, sizes and styles for an eclectic look.
15. Choose a compact wardrobe
Genuinely have no space for a wardrobe, but miss the elegant look and the ability to hang stuff up? Go for a wardrobe-like compact storage unit that will have doors and drawers. Even if it doesn't fit in everything, it will instantly make your bedroom feel more organised.
The French Wardrobe from The Dormy House has a hanging compartment, shelving, and a top storage drawer. Impressive, given it's only 45cm wide.
16. Make a cute wall feature with pratical hooks
Small but mighty, hooks can add a load of storage to a small bedroom. But don't just think about hiding them on the backs of doors or away in your wardrobe, use some cute hooks as a decorative feature. Anthropologie have loads of gorgeous designs that would work for small items like jewellery to large items like clothes and bags.
We love the pastel colours of these Mimi hooks but check out all of Anthropologie's hooks for more lovely designs.
17. Use floating shelves as bedside tables
Think you don't have room for a bedside table? Think again. You don't need a cumbersome bedside table taking up a load of precious floor space; instead, why not turn some floating shelves into bedside storage? You can really easily (and cheaply) DIY these yourself too. Just get yourself some wooden planks – places like B&Q, Wickes and Homebase will do pieces of planed timber – saw them to size and wall mount them next to your bed using some stylish shelf brackets.
If you need a guide on how to install a shelf with brackets, check out our step-by-step guide.
18. Add storage to even the most awkward of spaces
In a small bedroom you really have to make the most of every inch of space, even if that space is a bit awkward. This is particularly tricky in loft bedrooms when you will be dealing with slanting walls, but check out this idea! Pop a bed in the eaves and wall mount your bedside table to save space.
19. DIY a walk-in wardrobe to max your space
Always dreamt of a walk-in wardrobe? Oh, hasn't everyone. While we could waffle on in Carrie Bradshaw quotes for a paragraph or two, let's just cut straight to it – you can have a walk-in wardrobe (of sorts), no matter how small your bedroom, with this amazing IKEA hack. This ingenious idea is just about being really clever with your space, buying the right storage, and then covering it all over with a super cute curtain.
Find out how to recreate the look over in our step-by step guide to how to make a walk in wardrobe.
20. Make use of the iconic Ikea stool
You must recognise this stool! The Ikea Bekvam stool is everywhere, hiding in the corner of every page in the Ikea catalogue, and we get why, it's such a handy piece of furniture to have. Here it's being used a handy small bedside table – you can pop a basket on the lower step if you want some closed storage, plus you can paint it any colour you like to fit with you bedroom colour scheme.
Read more: