Looking for ideas for outdoor living spaces? If you like to spend lots of time in your garden, why not make it as comfortable and inviting as your living room? Creating an outdoor living space takes more than just a shopping trip: the styling that makes your indoor and outdoor living spaces merge into one larger, connected space – whether yours is a big garden or a tiny balcony – is all important. Read on to discover all the tricks you need to create the perfect outdoor living space. 
Then, find more garden ideas at our dedicated page.
1. Choose the best indoor outdoor furniture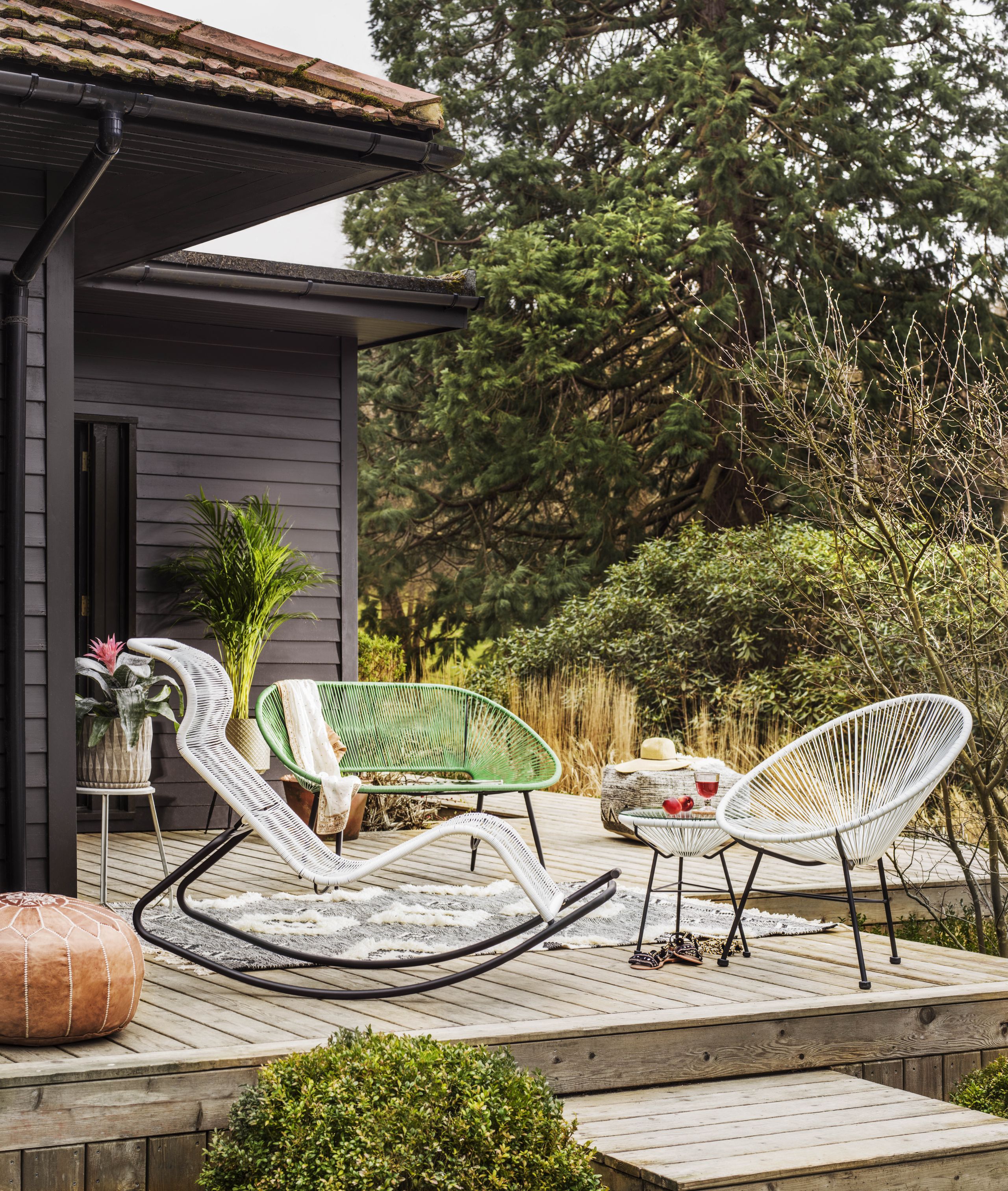 To create the perfect outdoor living decking area, start by choosing lovely garden chairs. Choose stylish pieces for outside living that aren't overly bulky and wouldn't be out of place in a conservatory or living room. Group them around an outdoor rug, add a side table, and you've got the perfect, sociable living room set-up, only outdoors.
For a similar chair, try John Lewis.
2. Design a covered outdoor living space
If you love to chill out on a sun lounger, but don't want to burn, designing a covered indoor outdoor living area really is the way to go. You can build a pergola – DIY store options are the most affordable – or trail fast-growing climbers such as clematis or wisteria across taut wires supported on a basic frame. 
For comfort and quality, lie back and enjoy on a padded sun lounger. 
3. Pick indoor outdoor plants
Link living rooms and kitchens to balconies and patios with plants that look and feel as good outdoors as they do indoors. Place large-leafed house plants by French doors or windows overlooking gardens and put garden plants in complementing pots just outside to create a seamless connection between indoors and out.  
Learn everything you need to know about house plants in our guide.
This small balcony has been visually linked to the living room with the help of a plant stand from Ikea. 
We have more ideas for small garden terraces and balconies.
4. Create a focal point in an indoor outdoor living space
An indoor outdoor living space is all about the pose. In other words, it has to look good to cut the mustard. One easy way to achieve this is to introduce one statement piece – in this case an eye-catching (to say the least) garden daybed. A love seat, arbour or garden bench could have just as much impact. 
The very sumptuous Chevron 2-Seat Double Garden Sofa Pod is from John Lewis. It comes with comfortable padded seating, and is weatherproof.
5. Find outdoor planters that could be indoor sculptures
Swap run-of-the-mill pots and planters for more decorative ones that would look just as at home in an indoor living space to effortlessly blend the lines between your living room and outdoor living areas. Display them on the ground and on tables to add interest at different levels.
We love these elegant and unusual Serenity Swan Planters from Graham & Green. They have a realistic stone finish, but are actually made from lightweight resin and will not damage your furniture or decking. 
Take a look at our pick of the best planters for indoors and out.
6. Include an outdoor dining table
Just as you approached your indoor outdoor living space, so you should consider your indoor outdoor dining area. On a budget? Choose garden dining furniture that would look just as good indoors. Budget permitting, why not have a covered or semi-covered area built – and perhaps even a faux outdoor fireplace to create that instant room you're after? 
We like the Duhrer Extending Dining Table from John Lewis.
Find out how to create an outdoor dining area in our guide.
7. Up the comfort factor in an outdoor living space
Not all hanging seats are created equal. Choose a garden chair that is good enough to use indoors during colder weather, paying attention to quality, shape, and finish, or one that can be left outside all year round without it suffering. Think something that will be inviting enough to spend hours curled up in reading or napping, and layer up with lots of stylish (if supermarket bought) soft furnishings – from cushions to throws. 
Our pick is the stunning Double Indoor/Outdoor Hanging Seat from Cox & Cox. It comes with a soft cream seat cushion and matching headrest cushions. 
8. No outdoor fireplace? Warm up with a firepit
There is nothing like a fire for conjuring up a convivial atmosphere in your outdoor living area and extending its use beyond the summer months. Fire pits are a popular garden feature that help create a cosy space to rival your living room. Choosing one that will double up as a coffee table when not in use will make it handier still.
The Halo Elevated Fire Pit from Solus Decor is more expensive than many other fire pits, but its robust design and 25 year warranty make it an attractive investment piece for a patio. 
Alternatively, go for a chimenea. We have the best chimeneas to heat up your outdoor space.
9. Maximise on soft furnishings and accessories  
Secluded or covered garden areas will particularly benefit from having lots of soft furnishings if you want to create an outdoor living space, but if your outdoor area is exposed, choose shower-resistant fabrics or put them away in a garden storage bench. Mix and match cushions, padded seats, and outdoor rugs. And, of course, accessorise with plenty of planters and vases. 
Try the Dante sofa from John Lewis for a similar look.
10. Pick lights for an indoor outdoor space
Creating a successful outdoor dining area is about more than just having a dining set. Be creative, let your imagination take the lead, and create a romantic, inviting space with intimate garden lighting (think candles and fairy lights), a boho lamp, and quality table linen that could easily grace your indoor dinner table, too. 
A fine dining table, like the Cheltenham six-seater from Neptune, will bring the look together. 
Get more advice on how to plan your garden lighting.
11. Create a streamlined look with indoor/outdoor flooring 
Make stepping out into the sunshine effortless – and not requiring outdoor shoes – by laying the same flooring outdoors as the one indoors. Floor tiles are best, since they can withstand fluctuations in temperature and are easy to clean. Artificial grass is another solution to indoor outdoor flooring – forget cutting and mowing, while enjoying the outdoorsy vibe of greenery underfoot. 
The Windermere Artificial Grass by Carpetright is realistic and very soft, thanks to its tufted construction. 
12. Outdoor living space on a budget? Choose furniture for outdoors that can live inside, too
An outdoor living area that isn't covered will realistically need to be seasonal, with furniture stored indoors during winter. This is easier to do if it's made from a lightweight material – and is good-looking enough to sit in your conservatory or even living room during colder months. 
The bamboo furniture from Rockett St George is sophisticated and portable, and will work both indoors and outdoors.
13. Soften the look and feel of a decking area
If your outdoor living space is decked, including the seating, you will want to soften it up with padded seating and some scatter cushions. An outdoor rug is also a good idea, though may not be practical for decks that are exposed and get soaked in the rain. 
Read more: