Outdoor rooms are ideal additions to gardens of all shapes and sizes. Not to be confused with the solid proportions of a garden room, and much more substantial than a pergola, an outdoor room is a sheltered outdoor living space with indoor styling very much at the heart of its features.
When the weather's good, an outdoor room can become a seamless extension of your living space, perfect for entertaining and relaxing in; when the weather's not so good, sheltered areas will allow you to still enjoy your garden; and when you'd rather not venture outside at all, an outside room makes for a gorgeous view from inside.
All it takes to design an outdoor room is well-chosen furniture, selective planting and thoughtful planning to transform your outdoor area, into another room. Follow our clever planning suggestions below to get yours right. 
Rethinking your garden from scratch? Find more garden ideas at our page. 
Where to position your outdoor room
Before you start making any plans or purchases, take a good look at your garden – its position, orientation and outlook – because this will determine how you make use of the outdoor room. 
Familiarise yourself with where the sun and daylight fall in different parts of the garden at various times of the day as this should be a major guiding factor in any outdoor room plan. Then have a think about exactly what you intend to use your outside room for – is it chiefly for entertaining (a dining area is often better in shade or dappled shade); for sunbathing (choose the sunniest spot for lounge furniture) or relaxing (again, dappled shade)? Or perhaps it's for an outdoor home cinema, in which case you'll need to angle seating towards a shaded expanse of wall. 
Are you planning to incorporate existing architectural features such as fences, walls, hedges or trees? Do you want to create something that is very permanent, or draw together plants, furniture and accessories which can be moved around relatively easily? Is your garden overlooked from any angle? 
If you're interested in adding a garden room too be sure to check out our page.
Creating shelter for your outdoor room
An outdoor room – or outroom – needn't be a solid structure, although, of course, you can plan a garden room around its design. Instead, think of your outdoor room as either totally open to the sky, but with tall boundaries to shelter it, or shaded by an open-fronted summerhouse-type structure, a pergola or gazebo. 
There are few better ways to bring back the memories of lazy Mediterranean holidays spent eating and drinking than to include a pergola as part of your outroom plan. What could be more relaxing than eating lunch outside on a hot, sunny day, sheltered by the foliage on your pergola, with the sun filtering through the leaves? Or sitting beneath some twinkling lights when the sun has gone down? In addition to bringing elegance to your outroom, if your garden is overlooked, a pergola covered by a grape vine or climbing plant will give an extra bit of privacy.  
Pergolas are usually made of wood and can be lean-to or stand alone, consisting of a frame structure, but no solid roofs or sides. A lean-to pergola is designed to be attached to your house or a wall in your garden, while the stand- alone type can go anywhere in the garden where you have a flat surface that is big enough to comfortably take its dimensions. Before you spend your money, check that it can be placed in the optimum conditions in which your pergola plants will thrive, as well as in a way that enhances the look of your outside room.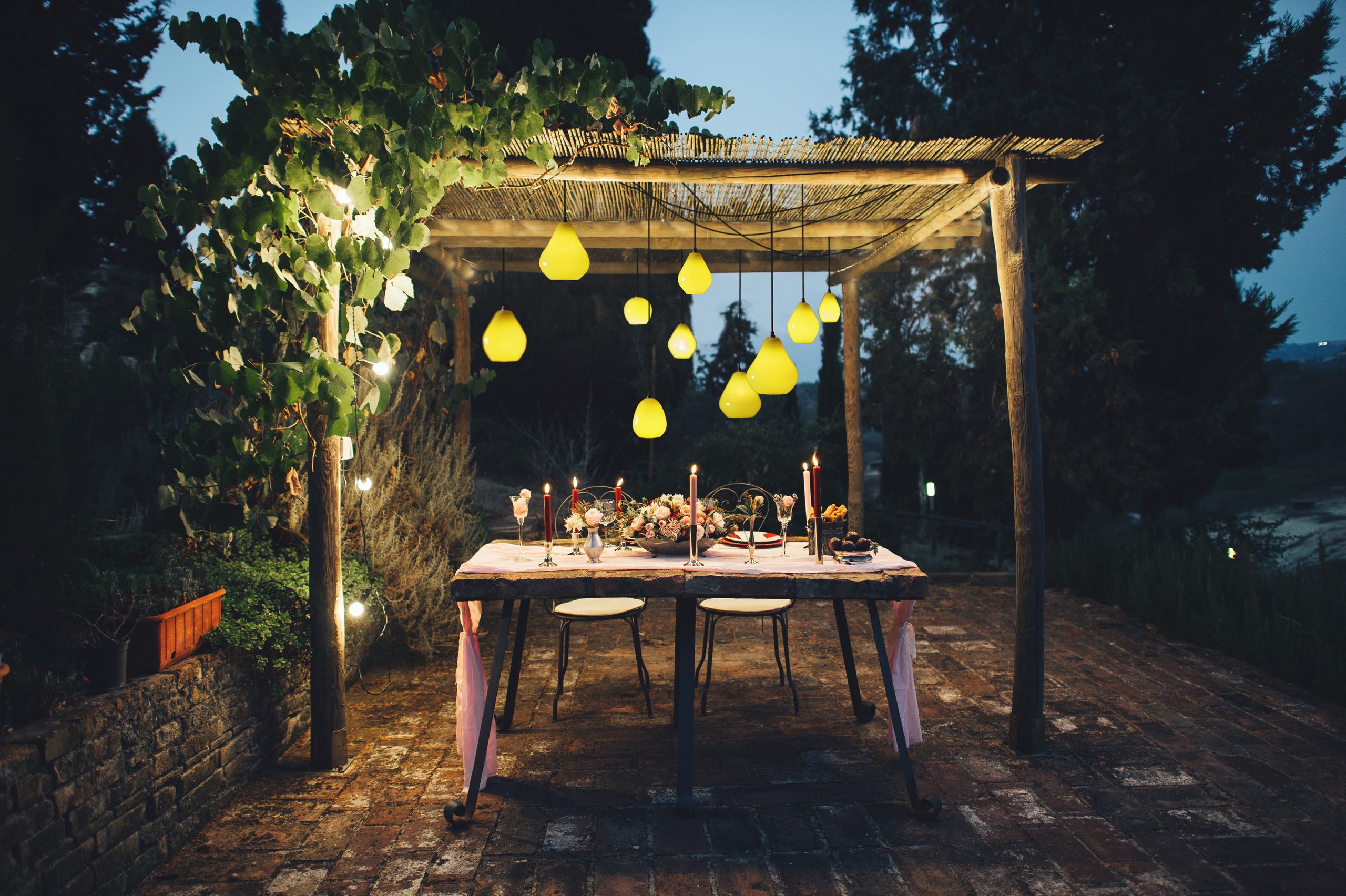 Pergolas are available to buy as softwood or hardwood models and there is a choice of fixing systems: concrete, bolt-down or spike.  You can keep costs down by buying a ready-made pergola and putting it up yourself, but make sure that you have prepared the area correctly and that you have knowledgeable assistance. If you would prefer the reassurance of experts, you can buy a ready-made model from a company who will come and do the job for you. For a bigger budget, a bespoke model is an option. A timber frame is not considered a permanent building or structure, but to make sure that you don't infringe any of the guidelines of the Outdoor Garden Design Act 2008, it's always worth calling your council, because local planning departments sometimes differ in their interpretation of it.
Use our guide to building a pergola to get an idea of what's involved.
Compact gardens might be more suited to a small, neat gazebo - a stand-alone structure with sides and a roof. They are often hexagonal or octagonal in shape and can come with lattice-work sides and built-in seating, making them feel snug and enclosed. Place your gazebo so that it looks out on the prettiest part of the garden or the views beyond.  Some subtle lighting, cushions and a couple of throws will make your gazebo a cosy evening destination.
How to treat the boundaries of an outdoor room
The boundaries of your garden need to look as good and well-maintained as the contents. Keep fences treated – or painted – and looking smart, and trim your hedges regularly to really show off an outside room.  
Fence panelling used horizontally can bring stylish definition and demarcation, as well as providing shade and privacy – you can find out how to make your garden more private in our guide.
Don't forget, though, that walls and fences can be kept clear so that you can use them for creating an outdoor cinema, like in Instagrammer Lisa Dawson's garden, below. What do you need? A good quality outdoor projector (find one in our buyer's guide) and some outdoor speakers (again, we've got a buyer's guide for those).
Picking flooring for an outdoor room
Select your outside room floor surface very carefully because it can provide a strong design direction for the rest of the furniture and plants. Take into consideration the lines of your garden and the amount of space available to make the surface work as a harmonious part of the overall effect.  
If your outdoor area is uneven or on a slope (check our sloping garden ideas page for tips), decking might be the problem-solving choice because it is built on a structure and can level out awkward dips and bumps. You can also introduce split levels and steps to your design. You will need to make a choice between softwood, hardwood, composite and anti-slip.  
Use our guides to find out how to design a deck, picking the best decking material, and get inspiration in our amazing decking ideas feature.
If you live in a particularly rainy part of the country or are planning to install a hot tub, you might want to put down some anti-slip decking. Full anti-slip boards have large inserts of rubbery material that covers most of the board to make them waterproof and slip resistant. They have the best grip but can be unattractive.  For a slightly lesser degree of safety but better style content, go for decking which has built-in anti-slip strips which is more subtle and far less noticeable, the strips themselves looking like a shadowed groove rather than a safety feature.  Finally, it is possible to buy anti-slip strips to stick on to decking which you have already laid. 
If you don't have a massive area to cover and you love the idea of little or no maintenance, you could consider artificial turf. It is best suited to flat surfaces because it is tricky to anchor strongly enough on an incline and any sand base beneath it will end up at the bottom of your slope.  However, for a small, flat area it has many advantages over real grass – it won't get muddy in the winter, it's quite hard wearing, won't go bald and is easy to clean up after pets and kids have used it.  
Paving is another practical choice for your outdoor room. Think carefully about the way in which you are going to lay it and the colour you choose because it will provide a strong design direction for the rest of your furniture and plants. 
Natural stone – sandstone, limestone, slate, granite and travertine – can be the more expensive option – but all these materials their own colours and characteristics, which will add an extra layer of interest. For an English country garden look, choose stone paving in buff, honey or golden shades and arrange them randomly for extra character. Reclaimed stone will add a further dash of antiquity. Alternatively, grey or black paving arranged in a more regular, symmetrical scheme will show off modern furniture and create the impression of a townie style space – even if you live in the country. Grey or white stone laid in an irregular pattern and flanked by pots of lavender and rosemary will help you conjure up the feel of rural France.     
Find out how to design the perfect patio in our guide, and use our feature on choosing the right paving to pick the best material when designing an outdoor room.
How to heat and light your outdoor room
Considering how to heat and light an outdoor room early on in your planning is important; get it right and you'll extend the length of time you can use outdoor rooms for by making sure you have the means to keep warm on cooler days and to cast light on darker evenings.  
For heat, consider a stylish chimeneas and firepits; not only are they practical, but their warming glow makes an outside room instantly welcoming. Use our buyer's guide to the best chimeneas to find one to suit your space.
When it comes to lighting your outdoor room, approach the task in the same way that you would indoors – select a range of sources from table lamps and lanterns with candles to strings of bulbs and standard lamps. Solar powered garden lighting comes in all shapes and sizes these days – including bulb string lights and tiny copper wire lights, both of which can look great when they are twinkling in a tree or looped around a pergola, gazebo or arbour.   
Find out how to plan garden lighting in our dedicated feature, and find more best garden lighting buys in our guide.
Rethink your outdoor furniture for an outdoor room
If you're planning an outdoor room, then your garden furniture choices will be quite different from picking a standard garden furniture set. Consider choosing furniture pieces that are more refined and slightly more contemporary – in other words, choose furniture that wouldn't be out of place in a well designed living room.
You can still get the weatherproof benefits of garden furniture but with the design features of indoor pieces. This outdoor room was created with Manutti furniture from Go Modern, but you can find more affordable options at John Lewis. 
Create a dining space in your outdoor room
If you are including a dining area in your outdoor room, there are a few rules. For small courtyard gardens or compact patios, choose folding furniture or bench seats that can be tucked away under the table when not in use, or a table that could even be folded completely away if space is at a premium. 
When choosing your table and chairs, pick a size and shape that allows enough room for each person to be able to sit comfortably and slide their chair out with ease.  You will also need to be able to walk around behind your table and chairs when everyone is seated. If you can, place your dining area in a spot that catches the early afternoon sun. A patch that benefits from evening sun could take a smaller seating area for drinks at the end of the day. In a dark corner, you can use an outdoor mirror to reflect light.  
Find more tips for creating an outdoor dining room in our guide and be inspired by these beautiful outdoor dining spaces.
Plan your outdoor seating area carefully
A compact L-shaped sofa can fit neatly in a small garden and will add a luxe look. 
If your outdoor space is larger, you can plan for a designated seating area with a set of matching chairs, table, sofa, sun loungers and swing seats.  
Whether you have plenty of outside room or very little, modular seating enables you to build up your sofa to fit the space. If you want to further create the impression of a living room that has strayed outside, dress your seating area with some tactile throws and cushions. Bear in mind that if your furniture is staying out over the winter you will need a weather-proof range and good quality covers to protect them. 
Use our patio ideas for summer lounging for inspiration.
Create an outdoor kitchen
An outdoor kitchen is the ultimate in outroom design. Yours needn't be a permanent fixture if you are on a low budget, but you will at least need a barbecue, prep and food/equipment storage areas near the outdoor dining area in your garden.
Find out more about creating an outdoor kitchen in our guide.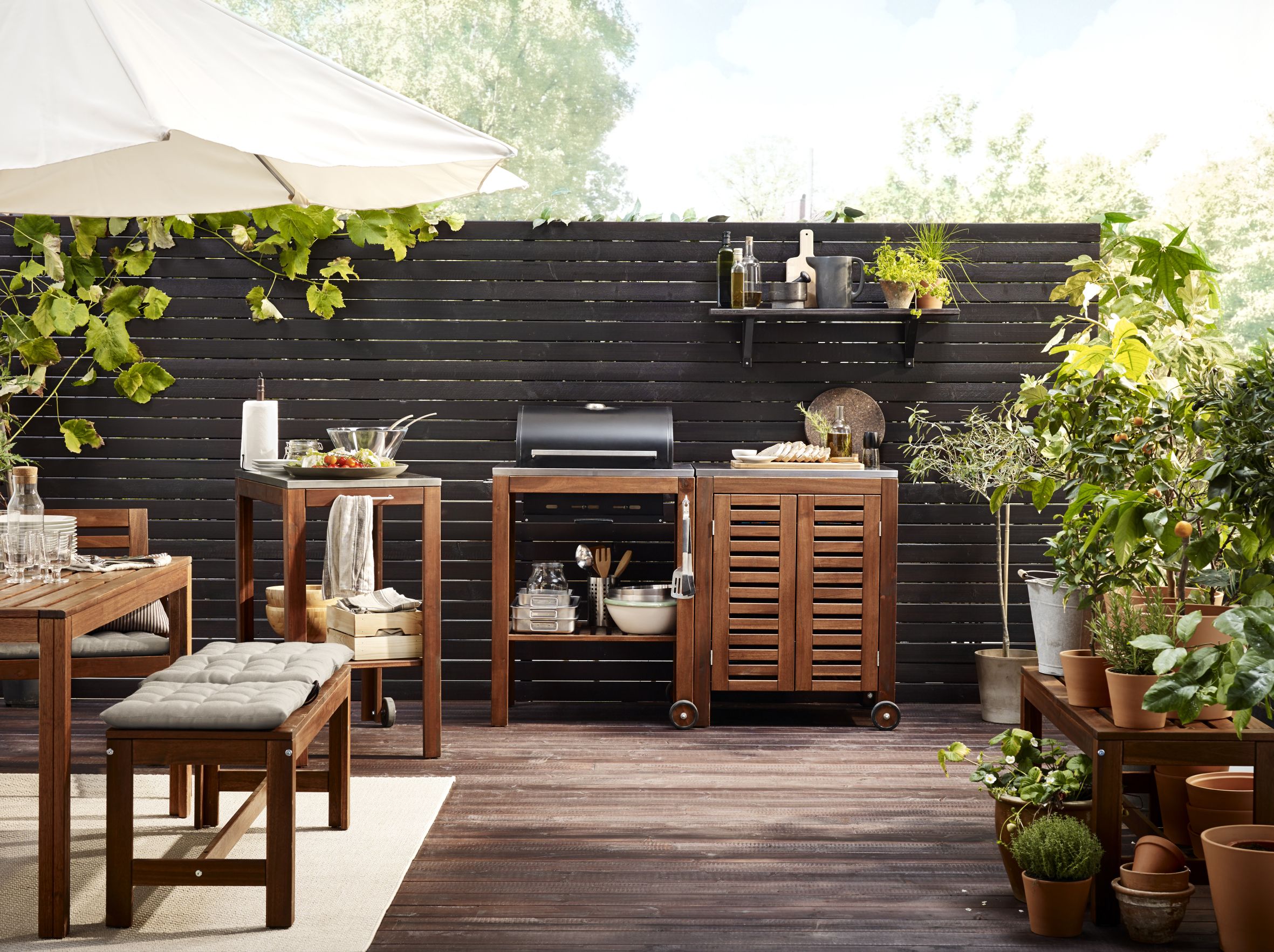 Planting out an outdoor room
Consider cultivating narrow, low-planted beds or long thin containers of small shrubs and plants to define seating and dining areas. Choose plants with lovely, soothing or invigorating fragrances such as lavender, sage, jasmine or rosemary.  
You can transform an existing wall or fence by painting it, of course, or by softening its look with planters or a climbing plant. Bear in mind that a climber will require a certain amount of upkeep, while container plants gives you the flexibility of being able to move them around.  
Non-hardy plants may need to be brought indoors over winter. In the height of summer a tropical look can provide drama and beauty. As well as using brightly coloured prints on cushions and throws for a Caribbean feel, decorate the edges of your outdoor room with long, lush plants such as potted banana leaf, bamboo and ginger lily.  
Give some attention to If you want to connect one area of your outroom with another part that might have a different vibe or purpose, try using an arbour – a walk-through arch, made of wood or metal that you can train a rose or other climbing plant up and over, or thread some lights through it.  
Use our guide to creating a living wall to plant a vertical garden with bags of impact but which takes up little space, and check out how to grow a container garden, too.
Accessorise an outdoor room to create a lived in feel
Garden ornaments, mirrors, indoor furniture, patio umbrellas and even pictures can all add interest and character to outdoor rooms but make sure that they are ensconced within the planting rather than centre stage. Something too small will be lost, but pick something too large and it will dwarf everything else.  
More inspiration for your garden: