When designing single storey extensions – and specifically choosing the structural style and materials – are the most important decisions you will make when building. Your single storey extension's design will dictate not just its appearance, but also how long it might take to build and how much it will cost. So it pays to make sure you are happy with the design of the extension, the materials you use and its cost-effectiveness. Don't forget, too, that your extension's design can even raise – or lower – the value of your property. Take a look at our single storey extension design advice below to inspire your own.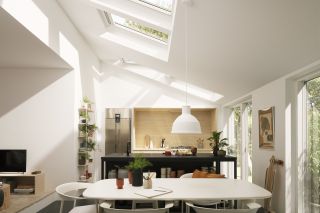 Single storey extension designs: think about how you will use it
Jump straight to the section that interests you
'It is good to have a brief for your designer, but this can be loose,' says Alan Cronshaw of Acronym Architecture & Design. 'If you want an open plan layout, a better relationship between house and garden or simply more space, your designer will advise you on how to achieve this, perhaps with options. If you want expensive items, such as a certain brand of kitchen, or bi-fold or large sliding doors, let the designer know so the added cost can be factored into your budget.'
Think about the future, too. 'Single-storey extensions usually need less substantial and, therefore, cheaper foundations and steelwork/lintels over openings than a two-storey design. However, if you think you may build another storey above your extension one day, it may be worth planning for this expansion from the outset,' says Alan. 'If you are thinking of doing this, make it clear to the professionals you hire.'
Here's what to consider when designing a single storey extension:
Single storey extension designs: decide the footprint
While usually determined by the space required within the property, the footprint of a single storey extension is defined by factors such as the proximity to neighbouring boundaries, the position of existing windows, and its orientation towards light, views and garden area.
Planning constraints will also be a factor, although many smaller extensions will fall within the criteria for permitted development, and so will not need a planning application. It is essential at this stage to consider the roof design – in particular, the height of the ridge and the impact on existing first-floor windows.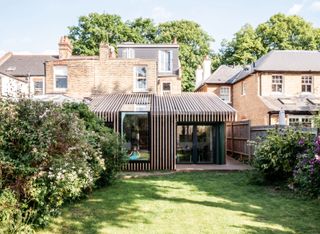 Single storey extension designs: the exterior finish
Choosing the materials that will be visible from the garden looking back at the house is as important as getting the interior finishes right. You have two basic choices here: match them as closely as possible to the original building's materials or go for a contrast.
This might mean carefully sourcing bricks or brick slips that look as much like the originals as possible. Or, choosing to build with blockwork that's rendered and painted to match the back of a rendered house.
Or, it might mean adding a modern glass extension (see our guide for more on this) on to the back of a period home, or using cladding to create a contemporary contrast between the new extension on the lower floor and the materials of the original upper floors.
What you choose might be down to taste, or it could be that the planning department has a say in what you use. Before you proceed, check if there are any restrictions or if the council will want to become involved. Check out our guide to cladding and render for more on these materials.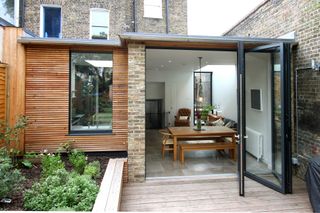 Single storey extension designs: configure the roof
The roof should complement the materials and lines of those of the existing house, bearing in mind that the higher the ceiling in the new extension, the brighter and bigger the space you'll end up with. However, be careful that the extension's roof doesn't compromise existing first floor windows.
Or, if a low pitch is your only option – whether due to planning constraints or not – consider how you can maximise the impact of rooflights; for flat roofs, consider roof lanterns, which will make the ceilings look higher from inside than they would if solid.
A smaller, narrower extension can usually be covered by a mono or duo pitched roof, however, the spans that can be achieved are very limited. A very low roof pitch may be an option, but this may not work aesthetically and could cause problems when obtaining planning permission. Intersecting pitched roofs can work, but often a flat roof is the only solution for a larger extension.
In this instance, there are only a few design styles that really work, and the choice is between a contemporary flat-roofed 'box', usually featuring a lot of glass, an orangery-style extension, or a more traditional conservatory. Another option is a parapet roof – this has an area of pitched roof around the eaves, which conceals a flat roof over the extension and gives the appearance of a traditional pitched roof.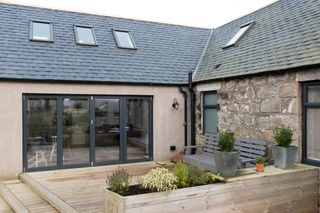 Giving your architect free rein to come up with something inventive could result in a spectacular design such as a curved roof, or one with a zig-zag shape, even where restrictions on height apply.
Gruff Architects designed a 30sq m contemporary rear extension with a concrete chimney for an end-of-terrace family house in South London (below). Its saw-toothed roof profile provides generous eaves height while still meeting the height limitations along each boundary.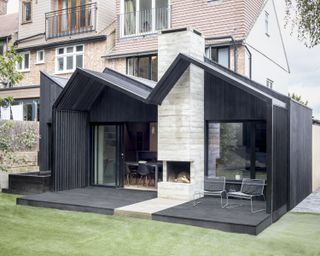 Single storey extension designs: choosing doors and windows
Doors and windows will have a major impact on the finished look of your extension so ensure you get their positions, sizes and shapes, framing materials and sightlines just right. They will also affect how much daylight reaches the room – when, and where.
What do we mean by sightlines? Imagine walking into your newly-extended home and, from the front door, being able to see through the house to the new extension and beyond into the garden. This is the type of sightline you're aiming for.
As for daylight-enhancing opportunities, such as adding rooflights, this is important when adding a single storey extension because you will need to ensure that the original room that you're extending on to remains light and bright, even in its depths.
There are few constraints on the position of downstairs doors and windows, unless they will impact directly on neighbouring boundaries. Their size, style and position should be determined by the extension's architectural style – this being one of the most important defining features.
It's important, too, to ensure their style and framing complements not just your interior fittings – such as your kitchen design – but also the style and framing of your home's existing windows. Something as simple as having the exterior frames in the same paint shade as existing window frames upstairs can help the new extension blend with the original house.
Opt for the widest panel possible when you're choosing bi-fold doors for uninterrupted outlooks to your garden space. 'The maximum panel width for this door style is 1.2 metres, providing a large expanse of glass and maximising the view outside,' explains Neil Ginger, chief executive officer at Origin.
'There are a range of different options available for bi-fold doors in a single storey conversion, from two-door models through to large eight-door configurations, set-ups for bays and 90-degree corner sections,' continues Neil Ginger.
'The space allowance for the doors to open outside depends entirely on their width, which can be as narrow as 40cm, protruding less than half a metre outwards. You will need to allow just over a metre of space for doors with a width of 1.2 metres.'
Read our guide to choosing windows sympathetic to period homes or go contemporary with metal-framed windows.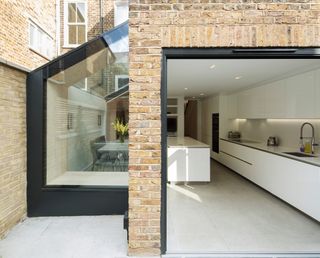 Single storey extension designs: maximising the opening from the hallway or existing room
The wider and taller the opening that links the hallway of the existing house or the original room that's being extended and new single storey extension, the more the new addition will feel like a natural part of the house.
All new openings will need to be spanned by joists, usually steel, to support the walls and floor above. The joist size and its supports should be calculated by a structural engineer (you can find one via the Institute of Structural Engineers). The smaller and less visible these elements, the more seamless the flow between old and new. In most instances it is possible to conceal the joist within the ceiling void, especially if you're removing only a non-load-bearing partition wall.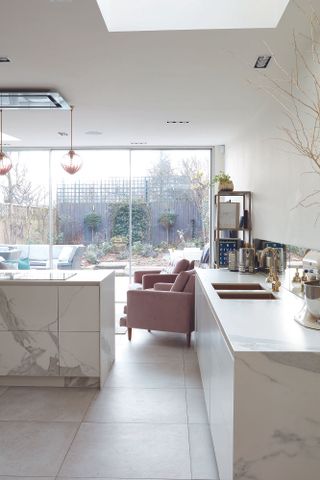 Single storey extension designs: match ceiling levels to adjoining downstairs rooms
The ceiling height between the original house and the new extension should, ideally, be the same. If they're different, however, the higher ceiling can often be brought down by adding new battens and plasterboarding over the top.
There is no minimum ceiling height under building regulations, other than above staircases, but 2.3m to 2.4m is standard and will help the interior of the extension feel more like a natural part of the house, especially if it can be brought into line with other downstairs rooms. If this is not a practical solution, then it is best to have a smaller opening with a boxed bulkhead to conceal the step-in ceiling levels.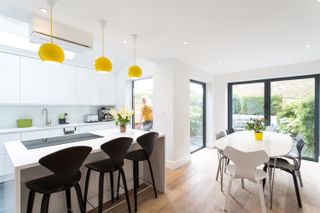 Single storey extension designs: make sure the flooring is laid at the same elevation
When setting out floor levels for a single storey extension, it is important to work backwards from the finished floor level in the downstairs rooms of the existing property to ensure they will be match that of the floor of the extension once the two spaces are linked.
When you're remodelling, rather than extending, any differences in floor level can be overcome by building up – often using a quick-setting silicone floor screed. If the same level can't be easily achieved, it is best to create a full step, (H)19-22cm, rather than a small difference that could end up being a trip hazard for children.
Single storey extension designs: the interior layout
The interior layout is an important part of extension planning. Should you go open-plan downstairs or create a series of smaller spaces, or a combination of the two? Consider your needs and how you'll use the space carefully before you start. Building a kitchen extension might mean you're designing an open-plan kitchen diner and living space, but allowing space for a separate utility room and cloakroom is a sensible addition to your design.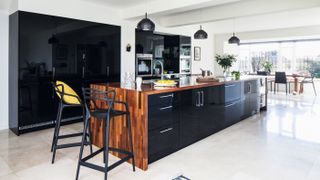 Single storey extension designs: how to divide the space
If you occasionally want to close off all or part of the extension, glazed doors are ideal, allowing light to pour through while providing some peace and quiet. If it's more a case of making a visual definition between a kitchen and dining or lounging area, fixed glazing screens could be the answer. Extending only partway across the opening, they serve to frame the new area and counteract the 'tunnel' effect of a long narrow space.
Crittall InnerVision bespoke internal steel screens (below), from around £6,000 per screen including installation.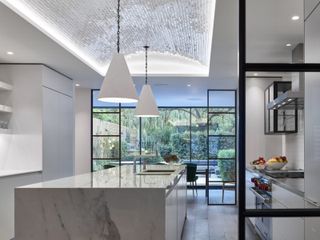 Single storey extension designs: the flow between extension and original house
The flow between new and old spaces should be as natural as possible for your single storey extension to be successful. If you've created a kitchen extension, you might want to access it from the original hallway via wider than usual doors, whereas a home office would only require a standard door width. Hiding joists in the ceiling void beneath the floors of upstairs rooms can be more costly to achieve but will ensure a continuous ceiling level between existing and new spaces, which will give you a more pleasing finish architecturally.
Similarly, ensuring floor levels in the new extension match those of the original house – or at least the hallway it leads off from – will make the new room feel like a natural part of the house. Continuing decorative elements, such as mouldings, skirting boards, door furniture and colour schemes, right through from the original to the new extension will create a harmonious flow, too.
Read our feature on getting the flow right for an interior layout for more tips.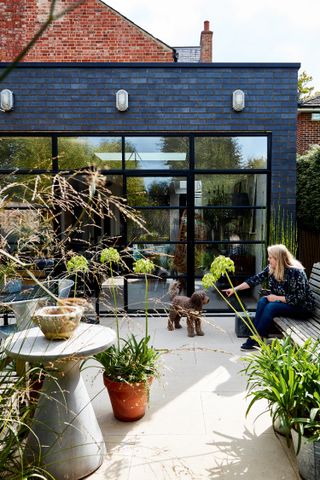 Single storey extension designs: maximising the impact of the indoor outdoor link
Merging indoor and outdoor spaces will make both the extension's interior and the garden feel bigger and cohesive – ideal if you've had to significantly reduce the latter's size to make way for the extension. You can achieve this with wide bi-fold or sliding doors overlooking the garden.
To exaggerate the effect created by the doors, you could run continuous flooring from inside to out, giving the impression of both areas being one space. Stone floors that run from the kitchen out onto a patio, for example. Having a stone floor that looks as good in the extension as on the patio can create an expansive feel. 'Make sure the stone you choose will work outside and in, and make sure both are fitted to a solid substrate,' says Jo O'Grady, marketing director at Stone Age.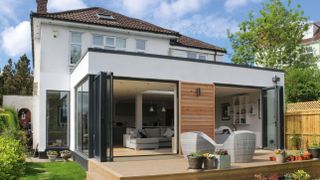 Jump straight to the section that interests you
'Often the exterior stone will be thicker than the internal and it may require a slightly coarser finish. Depending on the climate and surroundings of the area you live in, bright and dazzling limestones work well, as they help to open up the space and illuminate when the sun hits it — try creamy Brabazon or Piedra Plana Extra.'
Finally, consider the relationship between interior and exterior materials – from wall treatments to planting. The more complementary they are, the more successful your extension will be overall – and again, both spaces will feel larger. So, if your garden has brick walls, you might consider an exposed brick wall inside, too. Or, if your garden colour scheme is blue, for example, you might like to reflect that in accessories indoors.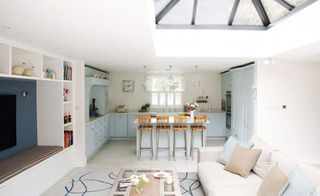 Click to go back to extension planning
More on extension design: