Need to cut the cost of renovating a house? A home renovation is likely to become one of the most expensive home projects you'll ever undertake, with many people running over their original budget. There are ways, however, to avoid overspending unnecessarily, with careful forward planning and know-how.
Whether you are renovating a house completely, adding an extension or updating your home's exterior, it's important to remain realistic while budgeting. Read our guide to cutting the cost of your renovation project for advice on everything from hiring an architect to choosing new fixtures and fittings for your new kitchen or bathroom.
1. Assess the pros and cons of your project
Before you start any renovation project, assess whether it's likely to add value to your property. This is especially important if you are looking to make a profit through a quick resale – our guide to adding space and value to your home gives advice on achieving this objective.
Speak to estate agents about what buyers are looking for in your area, and whether that can be achieved in your home. If possible, talk to an architect to see if the spatial layout of your home can be improved without actually increasing the square footage. By moving doors or internal walls, you might be able to create a better flow.
Popular ways to add space include:
2. Plan your renovation
Good planning and working out your renovation costs are essential, as is deciding how your budget will be split; for instance, will most of the budget go on the structural renovation work, or on the internal fixtures & fittings?
It's cheaper to create new rooms out of available space rather than extend your home. Removing structural costs from a project (for example, new walls, foundations and roof) can save over half on construction bills, so you can focus on internal floor and wall finishes, fittings, new electrics and plumbing. Such projects include loft, cellar/basement conversion and garage conversions, and knocking rooms through. To find a registered structural engineer who can assess whether your existing walls can be removed, visit istructe.org.uk.
If you aim to undertake a large building project, always seek the advice of a renovation professional who will be able to guide you. I often meet people who have hugely underestimated the cost of building work, or have been caught out by complications with plumbing or groundworks.
Also, if you have to find temporary accommodation or put furniture into storage while work is being carried out, ensure you factor in these rental costs.
When it comes to internal fixtures, remember your budget and stick to it. Don't go to showrooms where the average cost of a kitchen is £40,000 if your budget is £10,000. Shop around; the internet is a fantastic resource for researching and comparing costs for products such as appliances, tiles and soft furnishings. Take the time before work begins to clear out items you won't need in your new space – you may be able to sell or upcycle some of these pieces.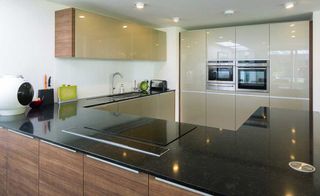 3. What to consider when employing an architect
If you are going to be working with an architect, look for one who has carried out similar renovation projects to the one you're planning. This will often save you money as they should know clever ways to gain the look you require in the most cost-effective way. Always check what the architect's fee covers; for instance, does it include more than one set of designs, will the architect assist you in gaining planning permission, and will they act as a project manager?
For larger projects, or ones where extensive building work is included, it's advisable to hire an architect to project manage your renovation for you. They will have a greater understanding of lead times, budgets and the overall picture, so that costly mistakes are not incurred.
4. Obtain at least three quotes
Before obtaining building quotes, you will need a set of drawings to get accurate costs. Aim to get at least three different quotes for comparison. Quotations can vary widely, so read them carefully, know exactly what is included, and don't be afraid to ask questions.
If your builder comes back with a quote that's higher than you were expecting, go back to him. Ask if and where there might be potential to save money – perhaps by completing the work in stages, or changing the design or specification.
The price could simply reflect the fact that the builder is busy and doesn't need the work, so he will aim the price high and take the most lucrative job. This is why it pays to call in several quotes for your project so that you find someone who wants the work, demonstrates relevant experience and has a good reputation. However, don't go for the cheapest quote – if the price is too good to be true, there will usually be a reason for it.
Wherever possible, use one main contractor to carry out building work, including drainage and windows/doors. They may sub-contract some of this work, but will ultimately be responsible for ensuring all materials arrive at the right time and in the correct order.
Use our guide to comparing quotes from tradespeople to get it right.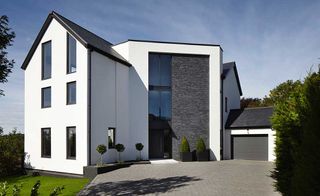 5. Oversee the renovation project yourself
If you don't hire a project manager it can save you 10 to 20 per cent of the overall project cost compared to using the builder/main contractor to do it, providing you do the job efficiently. You'll be cutting out the cost of a contractor's time, plus their mark-up on labour and materials.
To make the saving, you'll have to do the contractor's job. This involves finding and hiring local tradesmen – electricians, bricklayers, roofers – at the right time and ensuring that they have the materials, tools and information they need to carry out their job.
This means staying ahead of the game and heading off problems before they occur, for which you'll need good management and logistical skills and a basic knowledge of the building process.
If you decide to live away from the site because the renovation work is extensive, you'll need to visit at least every morning and evening. More importantly, you must be a phone call away to deal with the daily questions that crop up on any building project.
Find out more in our guide to being your own project manager.
6. Share the bills with a neighbour
You'll save on many fixed costs if you persuade a neighbour to carry out a similar project at the same time, such as extending along a shared party wall. By doubling up, you'll enjoy economies of scale with materials. Try to get them to enter into a Party Wall Agreement, without involving a surveyor. If the project includes alterations to party walls or structures, you must serve notice of the work. If your neighbour agrees in writing, you'll save fees of £600 to £700.
7. Pay attention to the details
When working with your chosen contractor, ensure your design spec is as detailed as possible to avoid hidden costs. Once on site, unforeseen problems with plumbing, roofing, drainage etc., can prove to be expensive and cause delays. Take the time to mentally walk through the new space, ensuring light switches, plug sockets, storage cupboards and windows are located exactly where you want them to be.
8. Manage waste efficiently
Renovation projects generate huge amounts of refuse, which can be expensive to dispose of. At local authority tips there is a refuse charge for commercial vehicles, but private individuals don't have to pay.
If you're digging foundations, try to minimise excavations, or re-use the spoil for landscaping work, as lorryloads going to landfill are costly (landfill tax is £48 per tonne). Topsoil is the cheapest to tip – it may only cost you the haulage if the haulier can find someone who wants the topsoil, thus avoiding landfill charges. Separate the waste: clean rubble and topsoil are cheaper to tip (both lorryloads and skips) if free of rubbish, plasterboard, MDF, timber etc. Burn waste timber if possible, and dispose of plastics and other rubbish separately. Gypsum and plasterboard waste can't go to landfill and must be recycled, so send it to a recycler. Sell any metal to a salvage yard.
9. Manage your time
Agree a workable timescale with your contractor. Have regular meetings and don't be afraid to ask lots of questions or query things you don't understand. Ensure all items you are responsible for sourcing arrive when they should. Your contractor won't like waiting, and you could cost yourself time and money if you're not properly organised.
10. Keep your budget on track
Whether you choose to use a project manager or run the project yourself, it is important that once you start, you keep changes to a minimum to avoid extra costs. Put a figure against building work, plumbing, electrics, furniture and appliances etc., and keep a running tally so you can stay on track and don't run out of money before the job is finished. Build in a contingency of around 10 per cent in case of unforeseen additional costs.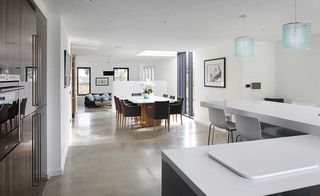 11. Get the high-spec look without breaking the bank
If you are renovating your forever home, then it is probably worth going for a higher spec on both your external and internal furnishings to add longevity. However, if you are on a budget or are making improvements for a faster sale, there are ways to get a quality finish without spending a fortune. Shop around. Keep an eye out for auctions, and architectural salvage yards.
The easiest way to cut the cost of a new kitchen is to go for cheaper units and spend money on good-quality work surfaces and tiles to add that luxury feel. When purchasing appliances, use a price comparison website to get the best deals, and only buy branded products if they are going to be on display.
Cut the cost of a new bathroom by only tiling the areas that need to be waterproof, such as the shower. There is no need to tile the entire room. 'A good way to save money is to use cheaper plain tiles and provide colour and texture with accessories,' says Alíz Ördög. 'If you don't tile all your walls, you can save even more by putting waterproof wallpaper, a glass sheet or even a large cut mirror on one section. You can also make significant savings by choosing a good-value three-piece white suite (from bathroom showrooms and DIY chains), which will give you a bigger budget to create the wow-factor with other fixtures and lighting.'
Even basic sanitaryware can look high spec if you add beautiful taps. 'If you live in a hard water area in the UK, the effects it can have on taps means quality really matters, so spending money well here is a wise move,' says Nico De Beer, product director at Bathstore (bathstore.com). Most manufacturers are aware that homeowners want to save important resources like water, so it's worth paying extra for taps and showerheads that consume less water, especially as there are long-term savings on water bills too.
'The big bathroom trend is the boutique hotel look – this luxury spa style is essentially colour blocking for walls and floors using tiles,' says Katie Turner, head of design at Topps Tiles (toppstiles.co.uk). 'Using a combination of textured or pearlescent mosaic tiles is a good way to create the spa look. It's easy on a budget as there are many large format, co-ordinating glazed ceramic and porcelain tiles at affordable prices.'
12. Buy an ex-display kitchen
Former showroom kitchens can be sourced at a fraction of their recommended retail price. Specialist retailers update their studios to reflect the latest trends, so almost all new kitchen displays are regularly replaced and sold on to companies such as The Used Kitchen Company or to individual showrooms.
As a recent example, one kitchen on The Used Kitchen Company had an RRP of £21,000, but was sold for £14,825. You can also sell your old kitchen units and furniture through them.
If you want to sell your old units on eBay, time the end of your auction for a Monday night. Buyers often window shop over a weekend and bid after work on a Monday.
13. Go for simple transformations
Giving your kitchen an update can be easily achieved without ripping out all the units. If you're happy with the layout and storage space, keep the carcases and replace the doors, handles, worktops, sink, taps and splashbacks for a fresh new look.
On a standard £3,500 kitchen (including handles but excluding appliances and worktops), around £2,200 of the price goes on carcases. Buying replacement doors, which start from £20-£50 per door, will save you replacing the units and labour costs – plus all the disruption of fitting a new kitchen. Companies like IKEA stock standard carcases, to which different styles of door can be fitted and interchanged, either when your mood changes or once you have the money for pricier doors.
There's nothing more likely to make a builder mark up his quote than lots of labour-intensive details, as he'll need to learn how to fit them. Standard off-the-shelf items specified by the builder will be cheaper. Straight walls cost less to build than curves or angles, so a rectangle is the cost-effective shape for an extension. The roof and foundations are two of the most expensive elements of an extension, so building up over two or more storeys will help spread these costs over a larger area, bringing down the average cost per m².
14. Reduce your plumbing costs
If your project includes a new bathroom or cloakroom, this will involve extending the plumbing and waste/soil system. Waste connections (50mm plastic pipes from basin and bath plugholes) and the addition of new soil pipes (100mm plastic pipes from WCs into which waste pipes connect) need careful consideration at the design stage to keep costs down.
Try to use existing soil pipes where possible. If you add a new one, make sure it is located where it can be joined (with a new inspection chamber) to the mains sewer connection. Moving drains or making a new sewer connection is expensive. If you can't connect to existing soil pipes, it can be cheaper to use a micro-bore system, with a macerator fitted to the WC to chop up waste so it can flow through a smaller bore pipe. This will allow greater flexibility in your layout but it is never as good as a direct soil connection. Saniflo manufactures such systems, prices are from £227.
15. Doing it yourself: pros and cons
There is huge scope to reduce costs by doing some work yourself. Providing you comply with Building Regulations, you can tackle anything you're competent at, except alterations to gas appliances – you'll need an engineer from gassaferegister.co.uk. You can't move an electricity meter, or alter the supply beyond the mains fuse. In most areas, you can't do any work in the highway, such as build a drop kerb for a drive – only a licensed contractor can do this.
Be realistic about your skills. Decorating and landscaping aren't difficult to learn. Plastering, bricklaying and tiling, however, is skilled work which is very visible if not done well.
Unless you are trained or very experienced at DIY, it is best to leave plumbing, electrics and window fitting to the professionals. And never attempt to knock down an internal wall until you've checked it's not structural and supporting the house.
Read more: