Picking the best tile adhesive and grout for a tiling job is vital to its long-term success. Revamping old grout with new product is an easy and effective way to give a tired looking kitchen splashback or bathroom a fresh look. Quality is important but so is the grout's finish and colour, we're going to explain this all further down the page.
So use our guide to pick the best tile adhesive and grout for your project, whether you are taking on your bathroom shower, the kitchen floor or another area of your home.
Psstt, once you are done with the practical stuff, Check out our gorgeous bathroom ideas for loads of inspiration.
Choosing tile adhesive
Why you can trust Real Homes Our expert reviewers spend hours testing and comparing products and services so you can choose the best for you. Find out more about how we test.
Tile adhesive comes as a ready mixed paste or powdered.
Ready mixed pastes can be used straight from the tub so they're convenient to use. However, they're best used to fix smaller ceramic tiles to walls.
Powdered adhesives, which tend to be cheaper than ready mixed options, are mixed with water into a slurry. They offer a stronger bond and can be used to fit ceramic, porcelain and natural stone tiles to almost any substrate. They come in different colours, setting speeds and flexibility options, so check you have the right one for the job in hand.
If you need a hand choosing bathroom tiles beforehand be sure to take a look at our information page.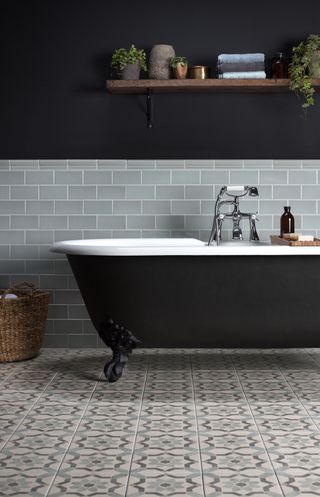 What are you fixing the tiles to?
The surface – or substrate – that you're tiling on to will affect your choice of adhesive, just as much as the tile material will.
Fixing tiles to plaster and plasterboard walls
It's vital to ensure your wall can bear the weight of tiles and adhesive. Where possible, tile directly on to plasterboard rather than fresh plaster. If you are tiling on to fresh plaster, apply a primer before tiling to seal the surface and to prevent the water in the tile adhesive being sucked out (reducing the strength of the bond).
In most cases, a ready-mixed paste will be suitable for smaller tiles, while larger ones (over 30cm x 30cm) or any size porcelain tile will need a powdered adhesive.
Installing tiles over timber floors
If you're tiling over floor boards, first fit a strong, stable layer of marine grade plywood (minimum 15mm thickness) or a tile backing board on top.
Ready mixed pastes shouldn't be used to tile floors, but a powdered adhesive will do the job.
Fitting tiles over concrete floors or screed
Ensure floors have fully dried out before tiling – new concrete bases will need at least six weeks. Then use a powdered adhesive.
For more info on tiling floors, check out our step-by-step guide to how to tile a floor.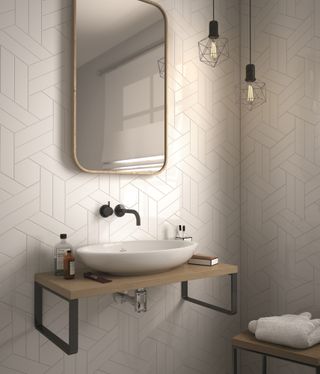 Wall tile adhesive tips
For bathroom wall tiles, it is important to take note of the material they are made from. For ceramic tiles up to 30cm x 30cm or porcelain tiles up to 10cm x 10cm you'll only need a low grip adhesive.
For larger tiles made of either ceramic or porcelain it is important to get the most effective adhesive on the market. Look out for a rapid setting adhesive, which can make fitting easier, saving you time and money.
Use our guides to tiling a splashback and tiling a fireplace for more detailed tips.
Floor tile adhesive tips
When looking for adhesive for floor tiles always speak to an expert, either in store where you bought the tiles or to a hired professional. There are so many different kinds of substrates, you should seek specialised advice for your specific project for the best results.
Floor tiles experience a lot of wear, endure underfloor heating and movement in the subfloor. The more flexible the adhesive, the less chance the tiles will come loose.
A rapid setting adhesive will set much faster than a standard adhesive – in 30 minutes rather than three hours. In most cases, it makes sense to do the job quickly, but if you're tiling in a particularly tricky pattern, you might appreciate having longer to work with the tiles.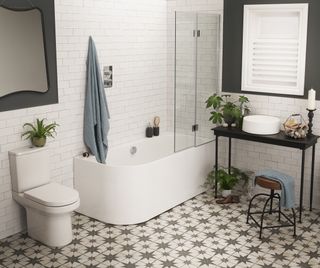 Buying grout for walls and floors
The most common grout types are cement- and epoxy-based, in sanded and un-sanded varieties. For the best of all worlds, choose one that is flexible, water- and mould-resistant.
Cement-based grout is the cheapest, most commonly used, water-resistant grout.
Epoxy-based grout is more expensive, trickier to install, and harder to source, but it's something your professional tiler will be familiar with. Made from epoxy resins and a filler powder, it is extremely durable and almost completely stain-proof.
Sanded grout is more resilient to shrinking and cracking, and is recommended for grout lines greater than 2mm in width.
Unsanded, or smooth grout, is best for very fine grout lines.
Anti-mould grout is a good, water-resistant choice for tiling kitchens and bathrooms. Available for both walls and floors, they are suitable for use with underfloor heating, and can be used outside, too.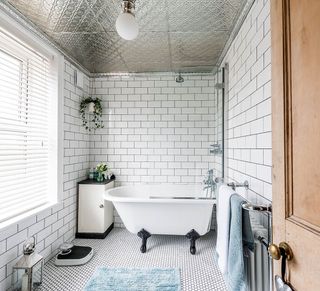 Which colour grout to choose?
Choosing a darker colour grout can reduce the appearance of stains and general wear and tear, especially important in a bathroom or on a kitchen floor, plus it can create a stylish contrasting feature against lighter coloured tiles – think white Metro wall tiles teamed with grey grout.
Matching your grout colour to that of your tiles will create a contemporary look and stretch space visually – important if you're designing a small bathroom or planning a small kitchen.
Glitter grout is another option that's great for bathrooms and glam kitchens. It is available pre-mixed in tubs, but you can also buy bags of specialist grout glitter that can be added to certain types of plain grout – this being a cheaper option.
Metallic grouts are also available and are a great match for taps and fittings in gold or copper.
More tiling related knowledge: