Looking for advice on choosing a sofa fabric? Or an armchair fabric for that matter?
When buying a new sofa, it's pretty much the most important feature of your living room, so you are going to want to get it right. So to help you make a decision on which couch fabric is best for you, we've put together some expert tips on how to pick the best upholstery...
'Durability and stain resistance without the sacrifice of style and soft subtle texture is key when selecting upholstery. It's really important as a designer to understand a client and their family. How will they be using their upholstery? Sitting, jumping feet up, shoes on shoes off, etc. all affect the longevity of most fabrics. We want our families to live and function in their spaces, not be fearful of destruction,' says Kellie Burke, owner, and principal of Kellie Burke Interiors.
When you're ready to shop, just head over to the Real Homes team's pick of the best sofas of the year.
1. How much do you want to spend on you sofa fabric?
Why you can trust Real Homes Our expert reviewers spend hours testing and comparing products and services so you can choose the best for you. Find out more about how we test.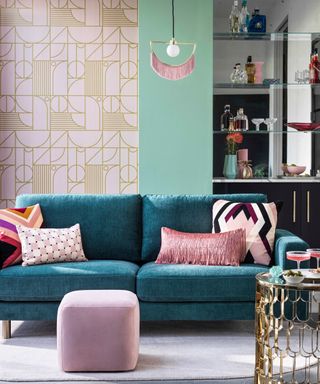 Setting a budget for how much you want to spend on a sofa is probably the best place to start as this will determine your fabric choice.
There are loads of gorgeous cheaper sofas (check out our budget-friendly sofa buying guide for proof) and you can get them in some really luxe fabrics, such as velvet.
But be aware that with a cheaper sofa your color choice might be limited to a handful, whereas if you have a bigger budget and your sofa is being made to order, there are usually hundreds of fabrics and colors to choose from, plus you can order swatches before you buy to check you're happy with your choice.
2. How much wear and tear will your sofa suffer?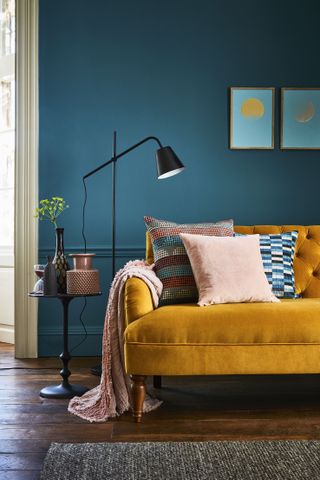 The way you plan to use your sofa will partly dictate the choice of sofa fabric. Will your sofa sit in a busy room where you entertain – and where wine will, inevitably, be spilled? Or will it quietly occupy a home office?
Luxurious, textured blends with wool, for instance, are best suited to seldom used rooms. If you have children or pets, a smooth cotton fabric is best, as it can be washed when needed. Durable fabrics, such as corduroys or microfibre blends, will work especially well in a living room, unlike demanding fabrics such as velvet or chenilles.
If you are looking for a sofa that will only be used by you – in a library or home office, say - then splash on luxury. Think a high-thread-count cotton, a leather sofa or a velvet sofa – but do bear in mind that they are likely to need a professional clean at some point. The thread count really does matter: the higher the better, and the longer your sofa covers will last. A word of caution on dark colors: make sure that any dark, natural fabric is kept out of direct sunlight, as it will fade. Alternatively, opt for a lighter shade or a fade-resistant fabric.
3. The Martindale rub count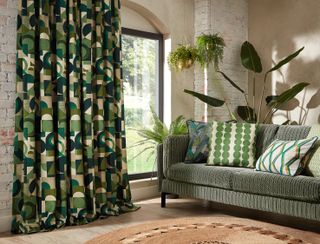 The Martindale method is a unit that measures the abrasive resistance of textiles. This happens by simulating the natural wear and tear of fabrics by testing textile samples with a specified force.
Using intervals of 5,000 cycles, the fabric samples are put in a strength testing machine and pulled tautly, then, the machine rubs two discs of worsted wool or wire mesh against the surface. The final score is determined by the number of times the discs oscillate before the fabric breaks down.
The higher the 'Martindales' the higher the value or 'toughness' of the fabric and the more resistant it is to abrasion. For example, for domestic sofas, you want a fabric that measures between 15,000–25,000. Heavy use will be 25,000–30,000, this would be everyday use and would be ideal for families.
4 Will pets sit on it too – and do you have allergies?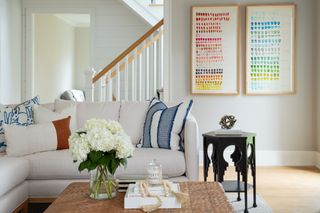 Natural blends and fluffy textures are pleasingly tactile, but if you are an allergy sufferer, they are likely to bring you misery. Long natural fibers are perfect depositories for dust, dirt, and pet hairs, so if you have a sensitivity or allergy, smooth, synthetic blends will be a better choice. There are many clever blends on the market, with faux suede being one popular option.
Did you know that dog hair sticks to certain fabrics? We asked Lina Galvao, principal designer at Curated Nest for her top tips for this problem:
'Avoiding fur sticking to your sofa by using denim, canvas, and outdoor fabrics like Sunbrella that don't allow fur to stick as much and are easy to wipe. Lint rollers are also great on those fabrics. Another tip is to try to get a tight weave fabric – avoid boucle, knits, and wide weaves that have texture.'
5. Which sofa fabric color to choose?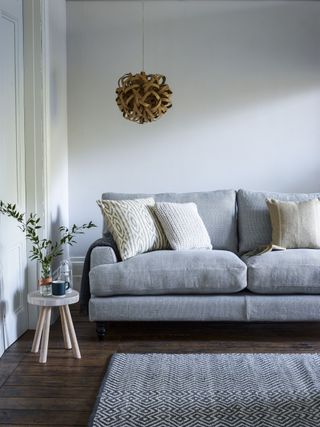 Do you want your sofa to stand out or blend in? A sofa's fabric color can make a dramatic difference to a room, and a popular living room idea is to create a bold accent by choosing upholstery fabric in a bright color. The downside? It will be more difficult to redesign a color scheme around.
Light colors will show marks more quickly, so if you've fallen in love with a pale-colored sofa, ensure it has removable, washable covers or, at the least, ensure the upholstery is pre-treated to repel stains.
A good middle ground is a grey or taupe-colored sofa. Both are easy to work into just about any color scheme and are dark enough to hide stains and marks. Add interest by choosing one in a fabric with a texture, and change it up with swappable, bright accessories, such as colorful cushions and throws.
6. Patterns, stripes or plain upholstery fabric?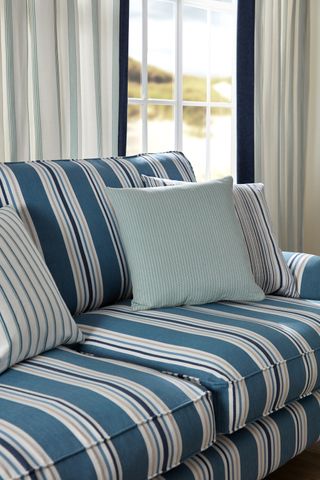 If your sofa will get much use by a large family, a patterned option, however subtle, will be better at concealing accidental spills.
If you think you might tire of the pattern, and the covers are easily removable, it's worth investigating how much replacement covers are when you buy the sofa – and if it's affordable and you have the storage space, invest in an extra, plainer set. This works well if you're buying light-colored covers that might need replacing well before your sofa does, too.
'A striped sofa makes a refreshing change from solid colors and can be easily combined with other fabrics. Try pairing your striped sofa with chairs or footstalls upholstered in another type of stripe, but in the same hue.'
'Varying the width of the stripes in your scheme will create a look that is easy on the eye, so aim for a mix of wide and narrow designs. By sticking to a strict color palette, the patterns will feel like an intentional mix which will create a relaxed, cohesive feel. Plains or other simple patterns such as checks can also be introduced in the same color palette,' says Debbie Leigh, design manager at ILIV.
7. How easy is the sofa fabric to clean?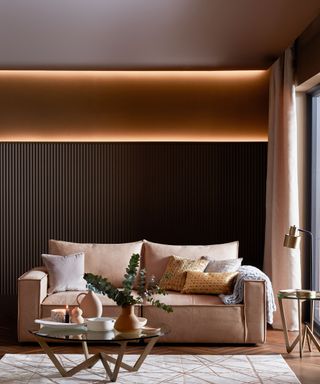 If you are going to have to learn how to clean your couch fabric regularly, opt for an easily washable fabric, such as cotton. Any natural blends, such as a cotton-linen, or a cotton-wool mix, will need to be cleaned professionally.
Because different types of fabrics respond to water differently, a complex fabric blend is likely to shrink in the wash, so always check before you chuck your covers in the machine. Alternatively, consider spot cleaning with upholstery detergent or use one of the best vacuums for pet hair.
8. What to consider when you have kids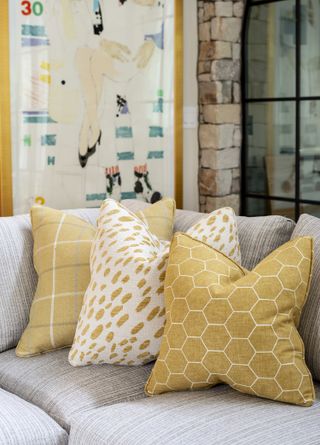 Sticky fingers, spillages, and smears are all part of family life whether we like it or not… But there is a solution in perennial fabrics – those that are specially treated to be used inside and out, as Kristin Bartone, founder, and principal designer at Bartone Interiors explains:
'When designing a pet or kid-friendly interior, take into consideration durability and clean-ability of all surfaces. I love perennial rugs and fabrics, as they can be cleaned with bleach and withstand a multitude of sins. Perennial fabrics have increased durability, often indicated in "double rubs" which tests how many times you can get in and out of a seat cushion before it shows signs of use.'
9. Play with scale and create a statement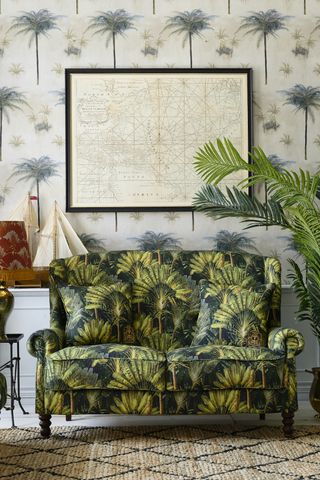 The maximalist trend is big right now and although not for the faint-hearted, it's a spectacular way to add personality to a home. Mix and matching prints is a big part of it, if it sounds too much but you fancy a little then opt for a statement sofa instead.
'Pattern and color are the perfect way to ensure every decorative item in your home has its own moment. Adding a bold print to a sofa is a brilliant way to not only create a focal point in your living room but also to elevate this perhaps more from an everyday, often-overlooked item, to a celebrated piece within your home, giving it its own distinctive character and story,' says Stefan Ormensian, founder and creative director of MindTheGap.
10. Or go for a rustic feel with neutrals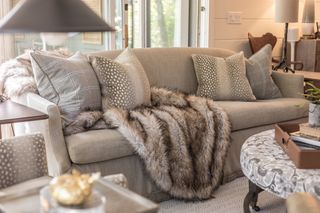 At the opposite end of the scale sits plains with a hint of pattern. Neutrals get a bad press but are easy on the eye and look great in a rustic farmhouse living room idea.
Keep the sofa plain and fill it full of subtly patterned cushions and a sheepskin throw or two. The sofa color will give you flexibility and the option to add in accent shades as and when you want to.
11. Let the sofas dictate the color scheme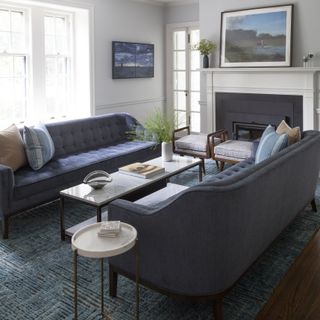 'Choosing a sofa fabric can be a huge part of setting the overall palette for a living room,' says Mindy O'Connor, owner and principal designer of Melinda Kelson O'Connor Architecture & Interiors.
'Given how much real estate the sofa occupies, try sticking with timeless colors and add variety and interest with a soft and subtle texture. Bringing in fun patterns on the pillows can add a pop of color, but the blue here is deep and moody and still neutral enough to work with a whole range of styles.'
12. Finishing touches to complement your sofa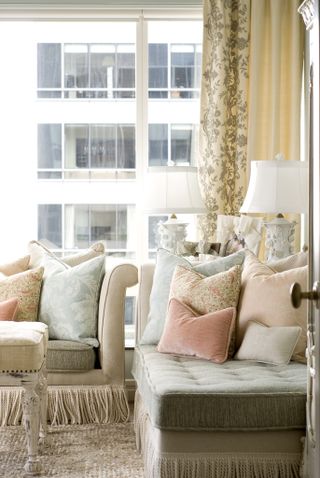 Once you've chosen your sofa fabric, it's time to consider those fabulous extras, like fringing or beading, as Kellie Burke, owner, and principal of Kellie Burke Interiors explains:
'These sofas were custom-designed to double as daybeds. The fringe was an added detail to soften the base of the sofa. I wanted the fringe to add texture and flow to the base of the sofa, so I chose a chunky twisted organic color to create a casual, elegant feel.'
'I also had it applied a bit longer than the base so it would drag a bit unevenly across the carpeting also giving movement and a sense of casualness. If I were to fancy it up, I would have opted for a shimmer silk with a skinner twist. I opted for an eight inch minimum length to replace a skirt look. For a boho or even '20s vibe you can go with string bullion. Super fun look as long as you don't have cats!'
What is the most durable fabric for a sofa?
'One of the key decisions when choosing a sofa is the type of fabric you opt for. There is an abundance of choice, so think about the practicalities as well as the look and feel. Velvets are on-trend and offer a touch of luxury, whereas chenille makes for a more hardwearing alternative and woven mixed fabrics offer durability – all of these fabrics take grey tones beautifully.'
'You can even find other interesting options such as boucle, recyclable eco-fabrics, and microfibers, which are easy to clean and will withstand the wear and tear of a busy family home,' says Suzy McMahon, buying director at Sofology.
'If you're looking for an upholstery fabric, the higher the 'Martindale' result the more durable the fabric. Faux leather is a great vegan alternative that is really durable and timeless. Polyester/polyester-cotton blends also tend to be durable fabrics suitable for upholstery,' says Debbie Leigh, design manager at ILIV.
What is the most stain-resistant fabric?
'Materialworks makes Inside Out Fabrics which have a lot of durable and waterproof fabrics that are soft-handed but almost bulletproof. Waterproof fabrics allow liquids to pool on the surface and prevent moisture from seeping into the cushions,' says Kristin Bartone, founder, and principal designer at Bartone Interiors.
How do I choose fabric for upholstery?
'Consider the color, particularly if you have young children! For family rooms and playrooms, darker colors tend to be a safer option, hiding any spills and marks.
Durability is also important – is it an occasional chair? If so, a lower Martindale fabric will wear fine, but for a sofa that's used daily choose a more durable option. Another consideration is where you would like the piece of upholstery to be the statement in the space, in which case bright and bold printed velvets are a great choice to really add impact, or if you are looking for something that is timeless, perhaps consider a plain fabric that can be accessorized with cushions which are more easily changeable.' advises Debbie Leigh, design manager at ILIV.