When it comes to choosing a sofa (or armchair), choosing the right fabric to fit with your living room design is one of the most important factors to consider. Here are our top tips for picking out upholstery for your sofa - and armchairs, for that matter. Don't miss our full guide to choosing the best upholstery once you've whizzed through these tips.
1. How much wear and tear will your sofa suffer?
The way you plan to use your sofa will partly dictate the choice of fabric. Will your your sofa sit in a busy room where you entertain - and where wine will, inevitably, be spilled? Or will it quietly occupy a home office?
Luxurious, textured blends with wool, for instance, are best suited to seldom used rooms. If you have children or pets, a smooth cotton fabric is best, as it can be washed when needed. Durable fabrics, such as corduroys or microfibre blends, will work especially well in a living room, unlike demanding fabrics such as velvet or chenilles.
If you are looking for a sofa that will only be used by you - in a library or home office, say - then splash on luxury. Think a high-thread-count cotton or a velvet sofa - but do bear in mind that they are likely to need a professional clean at some point. The thread count really does matter: the higher the better, and the longer your sofa covers will last. A word of caution on dark colours: make sure that any dark, natural fabric is kept out of direct sunlight, as it will fade. Alternatively, opt for a lighter shade or a fade-resistant fabric.
2. Will pets sit on it too - and do you have allergies?
Natural blends and fluffy textures are pleasingly tactile, but if you are an allergy sufferer, they are likely to bring you misery. Long natural fibres are perfect depositories for dust, dirt, and pet hairs, so if you have a sensitivity or allergy, smooth, synthetic blends will be a better choice. There are many clever blends on the market, with faux suede being one popular option.
3. Which fabric colour to choose?
Do you want your sofa to stand out or blend in? A sofa's fabric colour can make a dramatic difference to a room, and you can create a bold accent by choosing upholstery fabric in a bright colour. The downside? It will be more difficult to redesign a colour scheme around.
Light colours will show marks more quickly, so if you've fallen in love with a pale-coloured sofa, ensure it has removable, washable covers or, at the least, ensure the upholstery is pre-treated to repel stains.
A good middle ground is a grey or taupe coloured sofa. Both are easy to work into just about any colour scheme, and are dark enough to hide stains and marks. Add interest by choosing one in a fabric with a texture, and change it up with swappable, bright accessories, such as colourful cushions and throws.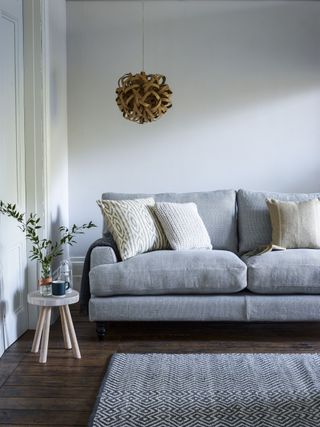 4. Plain or patterned upholstery fabric?
A two-seater sofa may need a different fabric from a three-seater. As Tamasyn Gambell, textile designer and Sofa.com's design portfolio collaborator for 2018, explains, 'Larger sofas look good in plain and textured fabrics, whereas smaller sofas look stunning with a pattern.'
If your sofa will get much use by a large family, a patterned option, however subtle, will be better at concealing accidental spills. If you think you might tire of the pattern, and the covers are easily removable, it's worth investigating how much replacement covers are when you buy the sofa – and if it's affordable and you have the storage space, investing in an extra, plainer set. This works well if you're buying light-coloured covers that might need replacing well before your sofa does, too.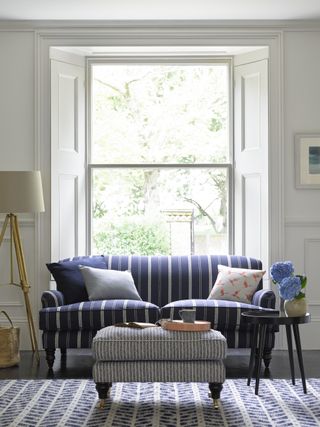 5. How easy is the sofa fabric to clean?
If you are going to have to clean your sofa upholstery fabric regularly, opt for an easily washable fabric, such as cotton. Any natural blends, such as a cotton-linen, or a cotton-wool mix, will need to be cleaned professionally. Because different types of fabrics respond to water differently, a complex fabric blend is likely to shrink in the wash, so always check before you chuck your covers in the machine. Alternatively, consider spot cleaning with upholstery detergent or use a vacuum designed for pet hairs.
Read more: