So you're looking to improve your small bedroom feng shui? For a tiny sleeping space, there are a few make-it-or-break-it rules of the practice that will help you achieve ultimate harmony and peaceful energy.
This is exactly what the doctor ordered before a successful R.E.M. cycle. And who are we to argue with a practice that has withstood the test of time?
Want to add a few of the art's practices to your list of small bedroom ideas? Let's get to it!
Feng Shui for a small bedroom
1. Remove clutter
Though it seems like a given, messes are a no-go, especially if you're trying to achieve good feng shui. Not only does that pile of dirty laundry look unsightly next to your dresser--speaking of which, here's where to put a dresser in a small bedroom-- but the unwashed garments can cloud the good energy from making its way throughout the room the way it should. It's all about that chi, baby: don't block the path to peace. Fortunately, there are plenty of expert-backed tips on how to clean your room and keep it looking spotless to keep clutter at a minimum.
2. Choose the right colors
Think of a bedroom like a blank canvas: how you choose to accentuate your space will make a difference in the way you feel. A loud, distracting hue and/or wallpaper pattern might not be a helpful way to catch those Zs.
"We recommend a cool, calming color palette for the bedroom," says designer Susan Hayward. But she's not just referring to the walls: think about the furniture, accent pieces, and other small bedroom must-haves that make your space complete. "Typically, choosing lighter, brighter colors can make a piece feel less heavy," Hayward adds.
Getting into interior design, Susan took the long way around. As a graduate of Boston University, she started working in the public relations and development field for many years on the national level. Now, she works alongside her daughter, Jillian, to uncover every client's unique tastes and personal style.
3. Be mightful of lighting
So, you've moved into your first place. Congrats! It's everything you've imagined...minus the neighboring building blocking out the sun. Natural light isn't always readily available, but it's a big factor in creating good feng shui. Even without big windows, you'll still want to light your small space adequately. Mix things up and spread out those light sources rather than keep them bunched up in one locale.
"This will help create an even distribution of light around the home and brighten dark corners," Matthew Currington, technical director at The Lighting Superstore previously told Real Homes. "A combination of lighting options, like overhead lighting, wall sconces, and lamps are ideal."
Matthew Currington is the technical director at The Lighting Superstore, which boasts over 20,000 items to choose from.
4. Keep the bed in a commanding position
Wondering where to put a bed in a small bedroom? Feng shui experts can shell out some tips. If you want to be in charge of your space, and what comes in and out of it, you'll need to situate your bed in a commanding position, which allows you to see the door from where you're stationed, according to experts at QC Design School. But keep in mind your bed should not be directly in line with the door, either.
5. Keep space under the bed clear
It's believed that too many boxes under your bed will negatively impact the way in which the energy of your room flows. In turn, that can cause a restless night's sleep, and you want to be bright-eyed and bushy-tailed for the day ahead, don't you? Avoiding under-the-bed storage is not always a possibility, so if you're forced to use the space, keep it clean and clutter-free -- and follow all of the tips for how to declutter a bedroom.
Cleaning experts have a preferred method of organization for such a challenge. "Vacuum-sealed bags are always a must, they will automatically create more space to store even more items in the adequate container," Vanessa Garcia at Taskrabbit previously told us.
Vanessa has a 4.9-star rating on Task Rabbit and offers luxury services to clients in the Los Angeles and Orange County areas.
6. Avoid too many electronics
True or false: Netflix has asked if you're still watching more times than you can count or probably more than you're even aware. Feng shui experts recommend doing away with electronic items entirely, while others suggest keeping them at a minimum.
If you're a chronic bedtime scroller, try keeping your phone in a different room at night or setting a timer for yourself. This will allow you to really unwind and keep that energy out of your room. Do you rely on your phone as an alarm? There are some pretty good alarm clocks out there that look chic and get you out of bed. Alternatively, who could resist a chic coffee maker alarm clock? Not me.
7. Watch out for sharp objects
Anything sharp and pointy directed toward you or a specific area in the home is believed to be a poison arrow in feng shui, which creates negative energy. Needless to say, we don't need any of that. And if any of said pointy objects happen to be broken, inoperable, or grimy, all the more reason to get 'em out.
"One thing to keep in mind is what type of material you are using for furniture or bedding," Hayward says. "Nothing will spoil the look of fresh, airy bedding quite like dirt and wear!"
8. Keep mirrors to a minimum
Look, we're just as fond of mirror trends as you are, but feng shui practices indicate that where you put mirrors in a small bedroom can stimulate energy instead of channeling the zen vibes we're looking for. It might feel unnatural not to have a mirror in your bedroom, in which case, you'll have to be careful about its placement. Keep it as far away from the bed as possible, folks.
9. Keep things balanced
Considering the placement of objects in your bedroom is said to promote good energy, you're going to want to make sure the layout of the room feels harmonious—no off-kilter frames, wobbly pieces, etc. Two large pillows on the bed instead of one, for example, will help with symmetry, which gets a big thumbs-up from feng shui followers. And let's face it, you know you aren't going to say no to an extra accessory, right?
10. Incorporate greenery into a room
Florals and succulents are debatable feng shui factors, but we'll admit, we're suckers for anything leafy. If you want to add some natural elements to your room, we've rounded up the best houseplants for small spaces. (We'll never refuse a snake plant.)
Shop feng shui small bedroom finds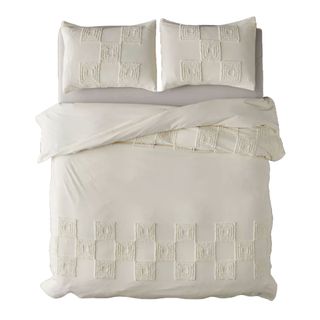 Tufted checkered design
Price: $169
Size: $169-189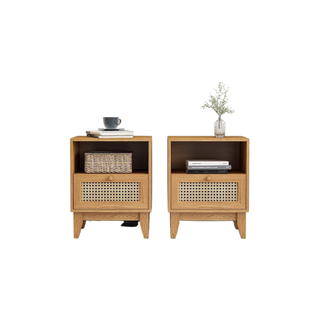 Easy to assemble
Price: $129.99 (set of 2)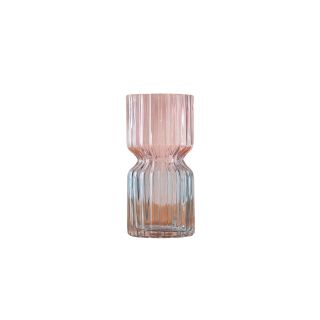 Modern hourglass shape
FAQs
What is feng shui?
Before diving into feng shui tips, let's backtrack and go over the basics. This ancient Chinese practice involves the placement of objects in an area to promote positive energy (chi) and keep yin and yang energy balanced. Quite literally, "feng shui" translates to "wind" and "water", aka the elements that should flow naturally within a space. The five elements of feng shui are:
Wood
Fire
Earth
Metal
Water
What are the main feng shui rules for bedrooms?
The main thing to be concerned about regarding feng shui in a bedroom is the placement of the bed so that it allows you to see the door and the energy coming in and out of it without necessarily being wrapped up in it. Do be sure to watch where you hang the mirrors, too, as they can open up a small space to an abundance of unwanted energy, particularly if they're placed near the bed.
---
Now that you've mastered the art of feng shui, you want to be extra savvy in the study, right? There are definitely a few small bedroom feng shui mistakes that you probably didn't even realize you were making, so proceed cautiously!