A good selection of the best small-space houseplants can turn the most compact spaces into areas that are full of life. This is handy because plants are pretty inexpensive (compared to buying a new sofa, for example) and there's a type of greenery for everyone.
Whether you live in a super small apartment that doesn't get much light or only have a windowsill to house your leafy friends, there's a plant out there for you — whatever your situation.
Here, we've done the hard work for you to find the best indoor plants that'll work for a small apartment, dorm room, or tiny house. These don't need a lot of room to grow, can thrive in darker conditions, and are generally okay with a little neglect. After all, even the best plant parents have lives to live, right?
Best houseplants for small spaces: Quick Menu
Green up your home with these best houseplants for small spaces
Why you can trust Real Homes Our expert reviewers spend hours testing and comparing products and services so you can choose the best for you. Find out more about how we test.
Just because you don't have a spacious indoor greenhouse or a wall of shelves to style your own collection of houseplants, doesn't mean you can't still add greenery. We've compiled a selection of plants that will thrive even in small homes.
Snake plants
Snake plants are easy to spot as they have such a distinctive look. Their leaves are relatively rigid and pointy, like little (non-scary) swords, and tinted with a mix of green and yellow. Most people buy them for their aesthetic alone, but these little plants are actually great roomies because they don't need much care. Snake plants are chill about having minimal sunlight, so you can pop them anywhere, from the top of a wardrobe to the bathroom. Plus, they don't need a lot of love — no wiping down leaves weekly or spraying sessions here.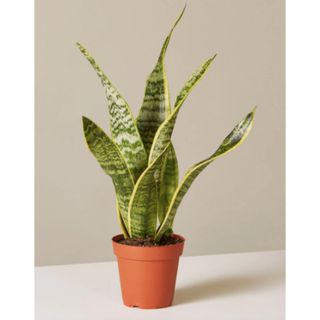 Price: $38
The small snake plant from The Sill is, well, perfect for your window sill! Style in a super cute pot and keep it on the ledge for all to see.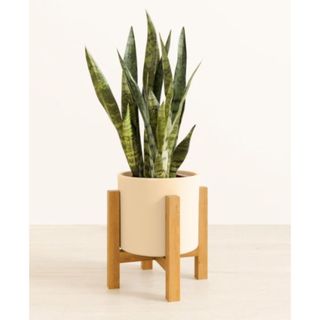 Price: $89
What's really cool about this snake plant is that it comes with an artisan ceramic pot that has been designed with a self-watering reservoir. That way, it can water itself for weeks.
Spider plants
If you want to give your home a retro feel, a '70s-style spider plant is such a fun way to go. Pop it in a thrifted planter or even a macramé hanger for a seriously groovy look. Spider plants are extremely relaxed as they can adapt to a range of light conditions, even artificial light. They also prefer indirect light, so if you have a darker corner, this is a good place to put them. Spider plants are known for being good for beginners as they're very low-maintenance houseplants.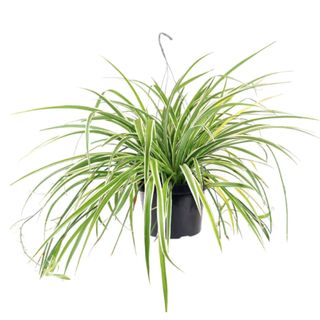 Price: $22
This little spider plant comes in two sizes, both 4 inches and 6 inches. Either would work perfectly for a small apartment, whether you're displaying it on a window ledge, coffee table, or bathroom shelf.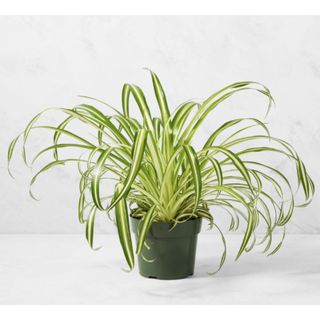 Price: $44.95
This small house plant arrives matured at one year old, grown in Southern California. It's delivered in the perfect condition for thriving with top-quality soil and a plastic container.
Aloe vera
You probably know this one already because of its sap's healing benefits. If you decide to care for an aloe vera, there's no reason why you can't enjoy some of its natural goodness, too. Yup, if you slice a mature leaf open you can actually squeeze the gel straight from it, treating irritated skin, soothing puffy under eyes, and even making your own face masks. It's easy to grow and really hard to kill. As long as you don't let it dry out too much and expose it to a little bit of light, you'll be fine.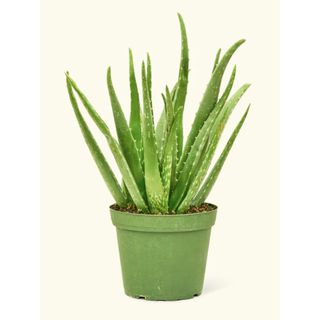 Price: $32
Rooted reckons that this Aloe Vera is best suited to your cooking space, where you can access the healing gel in its leaves more easily. Plus, who doesn't love a botanical kitchen vibe? Looks so cool.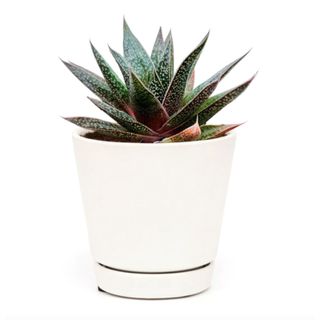 Price: $17.80
This baby succulent comes in a 2-inch or 4-inch size and there's the option to pick a matching pot. Personally, I like the clay pot, but the coral one is sweet, too.
English ivy
You might think of ivy as outdoor plant but, actually, it works really well inside. Ivy can tolerate pretty much any light condition, but in a perfect world it would sit in a bright corner, not directly in the sun. Water-wise, it loves to be misted every couple of days to help with its lust for humidity and watered fully semi-regularly. While it's not completely low maintenance, it can deal with a bit of neglect.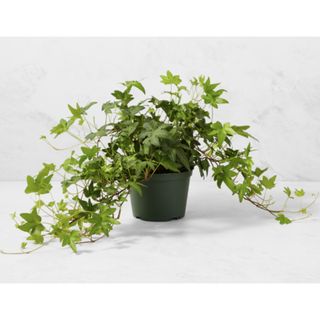 Live English Ivy House Plant
Price: $44.95
The best thing about ivy plants is their pretty trailing leaves. Why not place this one on top of a cabinet or wardrobe and let its vines dangle down the sides?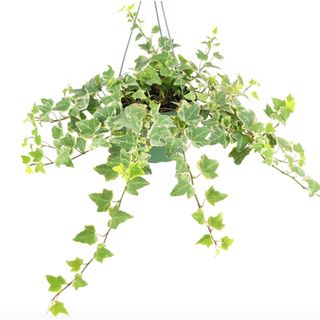 Succulents Box Glacier English Ivy
Price: $19.99
This glacier ivy comes in both a 4-inch and 6-inch size, with options to present it in a terracotta, minimalist, or simple grower pot. You could also position this as a hanging plant.
Philodendron
This is a great first pick for anyone learning how to care for a houseplant. Students and people with smaller apartments will also appreciate how easy it is to keep alive. It's most recognizable by its heart-shaped green leaves that grow outwards and trail around. Philodendrons are known for being inexpensive and come in a range of sizes, but they look particularly cute in a tiny pot. All you need to do for this one is weekly watering and position in a spot with medium sunlight. If it's a little darker, or a little lighter, don't worry — it'll be fine.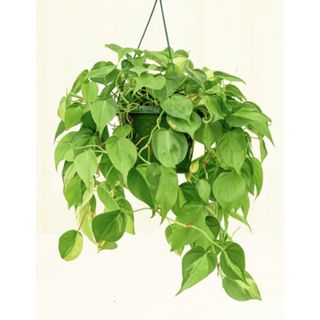 Price: $42
Rooted advises taking a cutting from your philodendron that's at least six inches long, and leaving it in a glass of water in direct light. Within a week, you'll see roots and your plant has had a baby!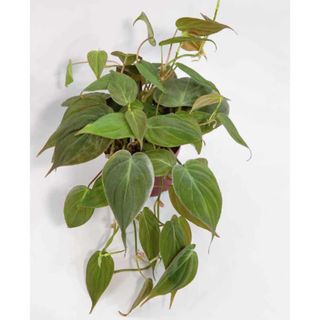 Price: $35
Jungle NYC has a great selection of colorful pots, so whenever you buy one of its plants, be sure to have fun picking something a little different for it to live in.
False shamrock
Oxalis Triangularis — also called the false shamrock or purple shamrock — is known for its bright purple coloring. It's a great choice if you're looking for something unique. I adore its tiny, petal-like leaves, which actually fold up at night and tuck themselves into bed before coming out again in the morning. Isn't that the most adorable thing you've ever heard? These plants are low maintenance and prefer medium light but can survive in most conditions. They enjoy regular watering but with good drainage so they don't get root rot.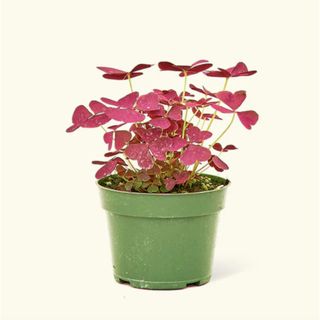 Price: $22
This sweet little shamrock comes in two sizes, small and medium, so you can get the right one for you and your space. There's also the option to opt for a grow pot or a ceramic planter for a more stylish look.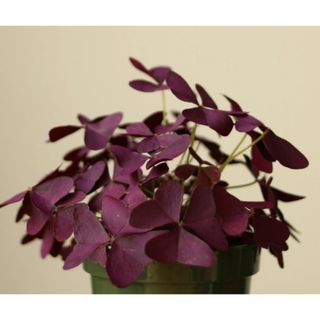 Price: $24.99
This beautiful purple shamrock plant is happy in partial light and a medium amount of water, which you can ease off in winter when it needs less moisture. Oh, and if you put this plant outside, it will attract butterflies!
Mini Swiss cheese plant
When it comes to on-trend buys, Swiss cheese plants are where it's at. Their large, open leaves and interesting patterns make them beautiful roommates and will help give your place a really layered aesthetic. While this one is low maintenance, it also loves a humid environment, so it's more suited to warmer states, but it's not a big problem if you get some cold weather, too. Plus, because mini Swiss cheeses are purifying, they'll clean the air in your apartment for you — double win!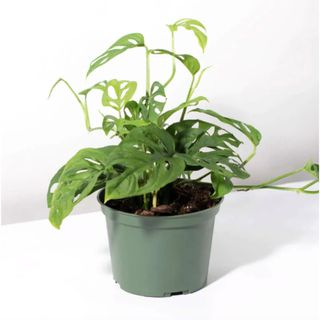 Swiss Cheese Monstera Adansonii Houseplant
Price: $22
This easygoing plant is a gorgeous one to have in your botanical family and has lovely-looking leaves, which create form-led, organic shapes. You can buy this particular mini Swiss in 4 or 6 inches.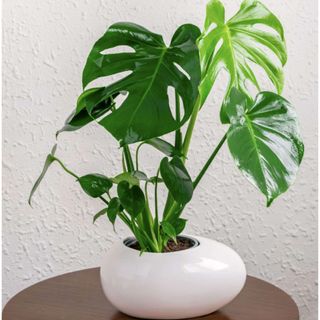 Agridime Store Monstera Deliciosa Starter Plant
Price: $20
This nifty four-pack of plants is a one-way ticket to starting your own indoor jungle. Whether buying it as a gift or for you, it's just what you need to get going.
---
Small houseplants make it much more manageable to have a leafy home. If you're still looking for more options, there are tons of other plants that'll spruce up an indoor or micro garden to choose from.