Grab the measuring tape! If you're wondering where to put a dresser in a small bedroom, you're going to have to be thoughtful in your approach. Yes, it's tricky—but not impossible.
We've assembled tips from designers about where and how to get the process moving... even when you can't do much moving in the room to begin with. Small bedrooms always seem to pose a laundry list of issues, but we choose to see them as opportunities.
With that positive mindset in place, it's time to get started. Have a look at the best bedroom storage furniture for your style, and allow the pros' advice to help you get everything perfectly situated. The room of your dreams, however tiny it might be, awaits!
Where to put a dresser in a small bedroom
You know what they say: "Location, location, location."
"It's important to be meticulous about where you place your dresser," says Madison Popper, a Miami-based interior designer and the founder of Chill Casa. "The best place to place one would be a designated open space that doesn't obstruct traffic but is also accessible. The overall feel should not feel cramped in the space — that's the biggest takeaway."
With that in mind, let's weigh the best options for your abode.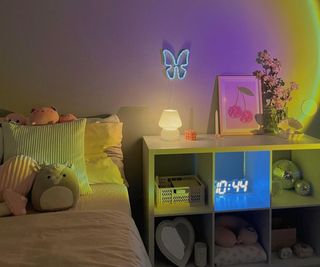 1. Inside the closet
Out of sight, out of mind. If you feel like your floorspace is next to nothing, might as well do away with any space-hogging pieces.
"In my opinion, the best place for a dresser in a small bedroom is inside the closet," says Alessia Lamonaca, a design expert and the owner of New Mode Home. "It keeps the room clutter-free and utilizes vertical space effectively. A low-profile dresser fits nicely in most closets directly underneath a clothing rod."
Pro tip: Make sure the drawers are easily accessible, as well as the other parts of the closet that are dresser-free. Lamonaca suggests using the empty space available for the longer pieces in your wardrobe, such as dresses and coats.
2. Next to the bed
In need of a nightstand alternative? Let your dresser do the heavy lifting.
"When considering a small bedroom, think of placing the dresser beside the bed. It can act as a dual nightstand, creating a symmetrical aesthetic," says Artem Kropovinsky, an interior design expert and founder of Arsight.
Plus, this opens up the opportunity to select other pieces for the space, perhaps a desk or even a reasonably-sized bookshelf. And you won't have to worry about bumping into something every time you open up the drawer for a pair of socks!
"This placement allows maximum clearance," says Todd Saunders, the CEO of FlooringStores. "If you want to give your room more balance, opt for two smaller dressers on either side."
3. Opposite the bed
If you're getting cozy in bed, chances are you want to binge a good TV show — and you need somewhere to put the device. (Speaking of which, have you seen what the production designers of Only Murders in the Building told us about Mabel's NYC digs?)
"Placing the dresser opposite the bed can make the room feel open and provide a platform for a TV or decorative items," Kropovinsky notes. "However, ensure it doesn't obstruct the flow of traffic."
4. Under the window
For those who cannot resist natural light, why not situate the dresser where it can get that golden-hour glow? (You should highly consider decorating with one of these adorable plant pots, btw!)
"Utilizing the space under a window for your dresser can be brilliant," Kropovinsky adds. "It capitalizes on otherwise unused space and allows for natural light to pour in above."
5. Against the wall
There's a reason this is a tried and true method. Should you have enough vertical and horizontal space to place your dresser against a bedroom wall, go for it!
"It keeps the floor space open and allows for other furniture pieces, like a bed or desk, to be placed easily," says Mark Buskuhl, the founder & CEO of Ninebird Properties. "This layout also creates a natural flow through the room, making it feel more open and spacious."
Meet the experts
Madison Popper is a Miami-based interior designer and the founder of Chill Casa, an international interior design firm that specializes in commercial and residential properties.
Alessia Lamonaca is a design expert from Barrie, Ontario, Canada. The owner and lead designer of New Mode Home — an interior decorating and staging firm that offers virtual and in-person services globally — Alessia helps people from all over the world transform their homes and businesses into beautifully functional spaces.
Artem Kropovinsky is an interior design expert and founder of Arsight, an award-winning interior design studio based in New York.
Todd Saunders is the CEO at FlooringStores, which will help you find the appropriate products for your new flooring projects, as well as storefronts near you.
Mark Buskuhl is the founder & CEO of Ninebird Properties, which specializes in buying, renovating, and selling dozens of houses every year. Ninebird Properties takes on the most challenging projects, including fire-damaged homes and transforming them back into a beautiful space.
FAQs
How do you declutter a small bedroom?
With the proper storage tips and a trustworthy cleaning schedule, decluttering a small bedroom is easier than you might think — let our experts prove it to you!
What are some small bedroom storage mistakes?
Alright, so you've found the adorable boho dresser to go with the room's airy aesthetic. Now what? We asked organization pros for the best small bedroom storage mistakes to avoid at all costs — not utilizing space under the bed, giving real estate to the wrong items, and more. Check 'em out.
Shop dressers
---
Still looking to shop? We're obsessed with these nine small dressers. They might be compact, but they surely don't skimp on style!