Knowing where to put your bed in a small bedroom can really make or break the design of the whole space. Your bed is definitely the focal point of the room (hello, bed-room!), so you wanna know it's in the best place it can be.
I don't know about you, but my queen bed takes up most of the room in my tiny apartment, so I needed to consult some experts on how to make room for all the rest of my furniture, plus my abundant shoe collection!
Save yourself the hassle of moving around all your furniture when you decide you're sick of it and really nail the arrangement the first time. Being thoughtful about maximizing space in a small bedroom will help you feel better about the design overall.
Where to Place a Bed in a Small Bedroom: Quick Links
Where to put a bed in a small bedroom
I've asked the experts where the best place in your small bedroom is to position your bed and compiled some creative solutions you may not have thought of before! After you've arranged your furniture, you can get started on decorating with these cute bedroom ideas.
1. Move your bed against the wall
Start out by considering one of the easiest positions — pushing your bed against the largest wall in the room. "In most small bedrooms, you'll find that placing the bed against the longest uninterrupted wall is the most space-efficient choice," explains interior designer and home expert Mohammad Ahmed. "This arrangement creates a sense of continuity and helps elongate the room visually. It also allows for easy circulation around the bed."
This is also a great idea if you have a futon or daybed and need it to double as a couch. Some multi-purpose furniture may be essential in a studio apartment arrangement.
2. Place your bed a corner
You may want to brighten up a dark corner with your cozy bed set-up. "The best place to position a bed in a small bedroom is against a wall or corner opposite the bedroom door," says interior designer Ashley Southworth. "The surface area of the bed will naturally create the appearance of the space opening up and out. In addition, selecting a tall or eye-catching headboard will draw the eye to the farthest distance of the room making the room feel larger."
Storing your bed in the corner is the best use of a really awkward space that no other furniture pieces may fit into.
3. Position it under a window
Wouldn't it be nice to wake up and be greeted by a lovely view and some morning sunlight? "Placing the bed under a window not only adds a touch of elegance but also makes efficient use of space, as it frees up wall space for other furniture or decor," says Ahmed.
It's also a great option if you sleep warm and need to open the window in the middle of the night for some air.
4. Place your bed facing the door of a small bedroom
You may need some reassurance at night if you're a little afraid of the dark and facing the door can be a huge relief. "Placing your bed in the center of the wall, perpendicular to the door is a smart choice," says sleep science coach, Carlie Gasia.
Gasia notes that by doing so, you "create a 90-degree angle where the door opens towards the side of the bed." It's a great solution for nearly any size of bed, too. Plus, it means your sleeping platform isn't going to get smacked by your bedroom door every time it's opened.
5. Try lofting your bed
Stuck in a dorm or sharing a room with someone? "In shared spaces like dorms, where twin or twin XL beds are common, lofting the beds can be a game-changer," explains Gasia. "It's important to note that dorm beds are meant for one person, so placing both beds against opposite walls on either side of the room is a good idea."
Not only does this provide a functional solution, but it can make the room feel bigger than it is, too. Before you set everything up, make sure you know how to loft a bed the right way to avoid any accidents.
3 useful buys for positioning your bed in a small room
Want to get started on arranging your bedroom? These buys will help you follow our experts' advice.
The prices below were correct at the time of publishing this article.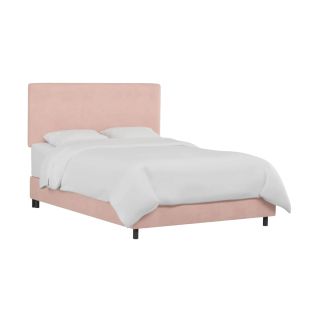 1. Dormify Houston Velvet Bed
Size: Twin, full, or queen
Made from: Polyester
Price: $749
This pop of subtle color will really help transform a small bedroom, plus the velvet finish of soft and cozy.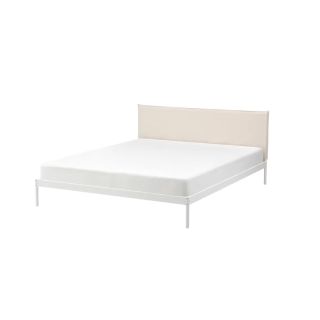 2. IKEA Kleppstad Bed Frame
Size: Full/double, queen
Made from: Metal and textile
Price: $199
A budget-friendly buy is always a welcome sight when decorating a small space. This neutral find from IKEA is under $200 and will go with just about anything.
Meet our expert panel
Mohammad Ahmed is an interior designer and home expert. He did his bachelor's degree in interior design at the University of Minnesota in 2013 and since then has worked as an interior designer in various companies, designing functional and beautiful spaces for clients.
Ashley Southworth is an interior designer and founder of Southworth Interior Design. She is based in Bakersfield, California. She provides stylish yet functional spaces that enhance her clients' quality of life.
Carlie Gasia is a Spencer Institute-endorsed certified sleep science coach at Sleepopolis. Sleepopolis is a group of experienced sleep experts, journalists, and product testers working on all things mattresses and sleep.
FAQs
How can I arrange the rest of my small bedroom?
"Incorporate one nightstand, instead of two, with a lamp for ambient light. Lastly, hang curtains higher and wider than the window frame," says interior designer Ashley Southworth. "A good rule of thumb is to hang the curtain rod 4 inches below the ceiling and then anchor the rod hardware approximately 8 to 12 inches outside of the window frame. Make sure the length of the curtains is measured to barely touch the floor."
Whats the best way to make more room with my bed?
One of the easiest ways to make more space in your bedroom is to get your bed off the floor with either a loft bed or bunk bed. You'll have a ton of room underneath for a small bedroom desk for doing work or getting ready for the day.
You can also get your bed off the floor with some simple bed risers, so you can store things underneath. These heavy-duty bed risers from Amazon are a great option, and they're under $20.
---
Once your bed is in the right spot, you can lay out the rest of your room and get rid of any clutter for the best use of a small space. Check out our favorite bedroom organizers for storage ideas.