The countdown to Christmas is in full swing and with not so many sleeps until Saint Nick pays us all a visit, there is some prep to do.
As Christmas celebrations return to a form of normality, and families are once again able to gather together for the festive season, it's time to start preparing your home for guests. And if you, like us, just really love Christmas, now is also the time to begin planning your festive decorating.
Of course, some may choose to adopt a relaxed approach to Christmas preparations and simply decorate the tree on Christmas Eve and put the turkey in the oven on Christmas Day. But if you have a large family coming over, it's worth putting a bit more planning into it to avoid a stressful time come Christmas.
So, no more panic-buying and overpaying for Christmas gifts, and no more wondering how you defrost a turkey at 5 am in time for Christmas Day dinner. Instead, allow yourself an easy and peaceful holiday by preparing for Christmas now.
Where to start with getting ready for Christmas
One word: decluttering. This essential first step on your Christmas preparation list will easily make the most difference because it will make all the other steps simpler.
Home Organization Expert and co-founder of NorthStar Moving Company Laura McHolm recommends rethinking your home completely in order to 'conquer the holidays': 'Get it moving, bending and slimming down. Envision your home as a place where you are proud to invite guests. It's all about bringing your home back to pre-COVID shape, but with new and improved features.'
Laura advises assessing each room in your home in the first instance, so that you can 'determine how they will be used for holiday entertaining. Each room should provide a distinct function for you and your holiday guests. Perhaps the home office will be the wrapping station or coat room? Move your work to a quiet corner in your bedroom?'
It's also worth thinking through 'all the activities you and your guests will do each day of the holidays. How will each space perform at its best? Give yourself ample time to re-configure each room. Set aside one weekend per room to transform it into its new holiday identity.'
When you've created this mental plan of your festive home, get decluttering. Investing in good storage will make this process much more efficient, and the result will be well worth it. As Laura says, 'a clean and balanced home is the ideal stage for holiday decor, serving festive meals and simply having more bodies in your home. It will also alleviate, just a bit, the holiday stress.'
Get your diary organised
Because otherwise there inevitably will be a mix-up – who arrives when and what time dinner is, and who is getting there later, and so on. And, if you've got children – especially children with birthdays in the run-up to Christmas – now's the time to double-check their school's website for all the crazy virtual or IRL Christmas events that may or may not be happening.
Revisit your Christmas budget
If you're halfway through your Christmas gift or even food shopping list, take another look at what you have left to get and how much of your budget is still there. Make any changes you need to ensure Christmas doesn't burn a hole in your pocket
Getting ready for Christmas: health and hygiene considerations
With Covid still very much with us, you'll want to make sure your home is as clean and hygienic as possible. A thorough clean of your whole home is a must, but there may be a bit more to do in your particular case.
LA-based interior designer and Trane Residential partner Breegan Jane recommends focusing on air quality in particular. This may mean reassessing ventilation in your home – checking that all windows open, 'adding fans in bathrooms', and even 'configuring your home's ductwork' – 'all can aid in improving airflow to each individual room.'
Breegan also advises checking humidity levels in your home – too low or too high creates a breeding ground for viruses and germs, so you may need to consider investing in a whole-house humidifier or dehumidifier.
Lastly, Breegan recommends investing in the best air purifier – 'by prioritizing your home's indoor air quality through increased filtration (especially during cold and flu season), you can feel confident that airborne particles like bacteria, viruses, dust and dander are constantly being removed.' Your guests will also appreciate your concern for everyone's health and are likely to feel more relaxed.
Getting ready for Christmas in November
If you haven't done the following yet, don't panic but get to it quickly!
Stock up on stocking fillers
The one thing parents (aka Santa) has to get right is the stocking fillers, and the better they get every year, the quicker they sell out so grab the best ones while you still can!
Finalize gifts
It's time to shop shop shop if you haven't got everything you need just yet. If you prefer to do this online (like us) and if you need inspiration (we understand), get inspiration for all kinds of gifts, from Christmas gifts for girls to gifts for dogs and eco-friendly Christmas gifts, before you buy anything.
Shop for household essentials
If you need a new fridge freezer on sale or a great washing machine deal then take a look now so that you can get yours in time for the festivities.
Reassess your kitchen tools
Christmas is a time when our kitchens are on heavy duty, and you need to be prepared. Jessica Litman, an organizing expert and CEO of The Organized Mama, recommends wapping out 'your grilling tools for baking items before the holiday season starts. This way you aren't scrambling to find a baking dish before you need to bring a dish to a holiday event.'
Wrap, wrap, wrap
Yup, really. If you wrap as you get your gifts in, you'll save yourself those prolonged evenings of wrapping the week before Christmas (when you'd rather be lying down in a dark room). Plus, it'll stop the kids spotting what you've bought them. Hide the wrapped gifts away from little ones unless you want long conversations about how early Father Christmas is this year. And make sure you've written down what you've already bought for whom so you don't double up – you know it happens. Haven't got a clue how to wrap nicely? Our gift wrapping ideas piece can help.
Decide on your Christmas menu
Now that we know just about what we can and can't do on Christmas, you can decide on your Christmas dinner menu with more ease. And, if it's the case of catering for one or two more/less on the day itself, you shouldn't waste anything even if you stock up.
Do you want a cheeseboard this year? Are you going to make the Christmas cake or buy it? Do you need to practice making Yorkshire puddings? So many food-related questions that must all be answered. And, there are so many things you can do in advance like make cranberry sauce and drink mulled wine.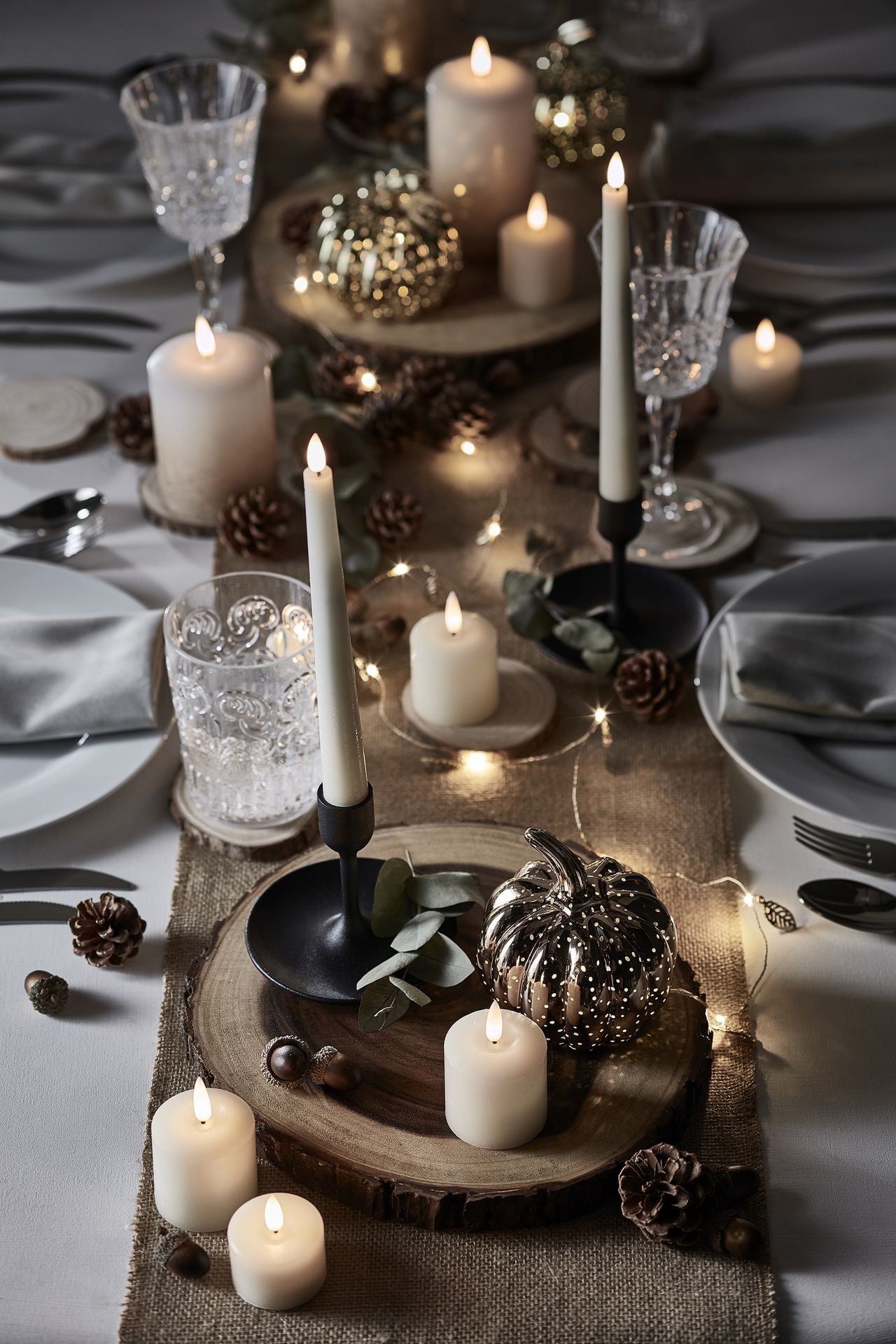 Do a pantry inventory
Jessica recommends doing 'a quick inventory of all the items in your pantry to make sure you have food on hand.' You really don't want to leave this until a few days before Christmas – 'with grocery store hours changing, you want to be sure you have food before the holiday season starts. Also, make sure you have baking items on hand so you aren't running to the store for ingredients.'
Order your turkey
Once decided on your menu, and provided that you aren't vegetarian, whether you're going to cook a turkey or a goose, and like to be sure of quality, you might want to order from a butcher if possible rather than do a supermarket shop. Ask your local butcher now if you can put your order in so you get choice pickings.
Book your grocery delivery slot
It's around now that Christmas delivery slots for supermarkets can be booked. You may not know what you want on your Christmas grocery list just yet, but you can book a slot, put a few basics in your baskets, checkout and revisit nearer the time.
Order your Christmas tree
It's no secret that we are all putting our Christmas trees up end of November this year! And if you're late to the party, that's okay. Treat yourself to the best real Christmas tree or find a showstopper artificial Christmas tree – they are lovely this year and loads are now on sale because we all started shopping so early!
Refresh your Christmas decorations
And with every tree, comes decorations. Was the tree on its last legs last Christmas? Did your Christmas lights create more of an 'awww' than an 'oooh'? Did you have a major bauble breakage when dismantling the tree last year? Whatever the case may be, now's the time to find the best Christmas tree decorating ideas for your home and to put them into practice.
Pick up new Christmas fairy lights, to finally create that cool Scandi Christmas theme you've always wanted, or go for a traditional Christmas look, it's your choice!
Second week of December – what you should be doing now
Begin posting Christmas cards and packages
The Post Office's last posting dates for Christmas start from the first week of December for posting abroad, so start getting Christmas cards off now if you haven't done so already.
Decorate the rest of the house!
Got the tree? Great start, and now It's a good time to stock up on Christmas foliage if you're making your own Christmas wreath or garlands.
You can cheat of course, we've rounded up the best Christmas wreaths still in stock (you'd better hurry though!) and the best Christmas garlands about this year, and they are sure to make a world of difference to your space. If you're on a tight budget, be inspired by our budget Christmas decorating ideas that are still super merry and bright.
Check out your catering kit
If you're the one cooking and (somewhat) hosting over Christmas or New Year, then now's the time to check you have all the dishes, plates, cutlery and glassware you need. By the way, have you checked you've the best oven and that it's big enough for the turkey you've ordered?
Decide on your Christmas table decor
Simply because, if you're not a fan of your current cutlery, glassware and all the rest then. you need the latest Christmas table decorations and ideas to act fast and put your favourite looks into practice.
Order the booze
Quite possibly one of the most important aspects of Christmas entertaining, find your favourite alcohol delivery services online and make sure you're sorted to make all the Christmas cocktails you could want.
Decide on entertainment
Whether you're one for watching the best Christmas movies on repeat throughout the holidays, more into a game of Cluedo or happiest keeping your bar cart well stocked, it's time to fix your entertainment so that you enjoy the ultimate Christmas experience indoors.
Movie lover? Deck out your home cinema. Want all the best TV shows on demand? Make sure you've got your Netflix, Amazon Prime, NOW TV and all the other streaming services sorted. Maybe you want to watch them on a brand new 75inch TV, that you may or may not have found at a steal on Black Friday... we really hope you were that organized!
Third week of December
Clear and clean the fridge
Clear it out and then clean the fridge properly. Especially if your grocery order is set to arrive any day now, so make sure you have all the space you need and that it's all clean and hygienic for the giant Christmas order you've put in. Jessica told us: 'ith so much food during the holiday season, you want to make sure your fridge and freezer can hold the food so nothing goes to waste.' Her technique for clearing out the fridge is to 'clear out a shelf at a time. Remove everything from that shelf. Wipe down the shelf. Then place items back that you want to keep on hand.'
Finalize your list of Christmas groceries
Include everything from (more) alcohol to party nibbles, the main meal and post-Christmas snacks. Don't forget to stock up on bin bags, batteries, indigestion and headache tablets too for the inevitable hangovers…
The countdown to Christmas Eve
Nearly there, so darn exciting – speaking for the kids – and blood pressure rising as there are still a few bits to do!
Get ahead with laundry
BORING… but the last thing you want is to discover that none of you have the outfits you want clean for the various virtual/IRL Christmas events you'll be attending.
Wash bedding and blankets
As Jessica puts it, 'There's nothing worse than not having clean sheets for company who plan to stay overnight.'
Clean the house
Change the beds, vacuum under the sofa, give the kitchen a wipe over… Also BORING, but it's not something you want to do just before guests are arriving on Christmas Day.
Clean out your entryway closet
This is easily forgotten yet essential. Jessica reminds us that you need to make sure 'you have room for guests' jackets. If you don't want people wearing shoes in your house, get slippers and leave them in a basket near your front door. No one will have chilly feet when they have slippers on!'
Restock the fridge and begin food prep
Don't leave it until Christmas Eve, if you've eaten all the Quality Street already, go get another box now. Then check the weight of your bird if frozen to know how to defrost your turkey properly in time for Christmas Day dinner. Take out any frozen mincemeat or other bits you need in the next few hours/days.
Christmas Eve
Set the table
Too obvious? Too early?
Start cooking
Peeling spuds, prepping veg, defrosting homemade mince pies, pre-roasting potatoes… anything you can do on Christmas Eve to get ahead will make for a much more enjoyable Christmas Day if you're hosting.
Recharge
Not yourself (just yet), but your phone, your camera, all your devices for virtual calls and anything you might need on the big day.
Make a timeline for Christmas Day
Sounds slightly over-organised, we acknowledge that. BUT if you got a giant turkey that needs to go in the oven, now-ish? Yup, that needs to go on your timeline.
Finish wrapping
Save this till the kids have gone to bed, oiling yourself with a glass of something nice… but not too nice because you've still got to get all the other presents out and under the tree or at the end of their beds (packed with stocking fillers, obvs). THEN put your feet up and enjoy a box set.
Christmas Day
Have an early morning walk, make the best pancakes, cook some more, Zoom your distant fam, eat some more, drink, be merry, argue, make up, fall asleep in a chair, wake up groggy, have a pick me up, play a board game, eat more cheese, go to bed vowing to do it differently next year.
Boxing Day
Thought it was all done? Ha! No, no, no… it's time to start rolling out all your best leftover turkey recipes and shopping those New Year sales. The upside? You can do it all from your armchair because we'll be uploading sales deals on everything you might like for your home as they come in (so keep checking back).
Plus, you've got New Year's Eve to get ready for. So, shop, snooze – and start again.