Looking for Christmas gift wrapping ideas? Well you are in the right place. In recent years everyone seems to have massively upped their gift wrapping game – the pressure of taking our gift wrapping to Rowan Atkinson in Love Actually levels of detail is real. Nodding to elegant yet eco fabric wrapping and turning gifts into a masterpiece, encased in hand-printed paper with springs of holly, pine cones, cinnamon sticks, and gorgeous caligraphy-style labels is now the norm.
But if your wrapping to date has been more disastrous than detailed, fear not as we have rounded up all the best tips and tricks that will make luxury gift wrapping so simple and quick to do. You'll have it ticked off your Christmas list in no time.
Christmas gift wrapping ideas what will wow Santa
Sustainability has definitely given us more food for thought when it comes to wrapping gifts and we have some great ideas that over eco bases too. Another bonus is that color is back (we had a period of Kraft paper being 'the thing') and there are some beautiful combo's to consider that you may not have thought of before.
Having beautifully wrapped presents sitting underneath your fir is sure to enhance your Christmas tree decor and simply feel more special to the recipient too so it's worth branching out. From simple ribbon swaps to using fabrics over plastics and more, it's the smaller details than often have the most impact.
1. DIY your Christmas wrapping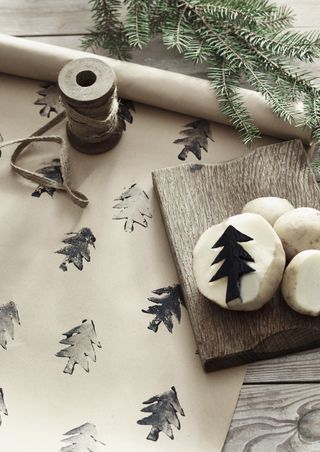 Much better for the environment than store bought wrapping and just looks very cute, printing your own Christmas wrapping paper could be a weekend Christmas craft project with the family. Get some simple brown paper and either a store bought stamp or you could go old school and make one from a potato. It doesn't matter if it's not super neat, the more homemade the better we say.
2. Try out the furoshiki wrapping technique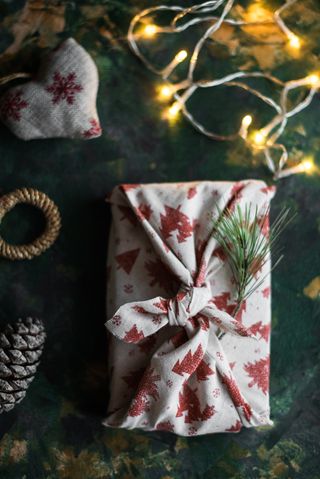 If you haven't heard of furoshiki, it's a Japanese tradition of wrapping gifts in cloth. More eco friendly and it looks so lovely, plus the cloth becomes an extra gift too! To get this look, take a square cloth, lay your gift in the middle, take one corner over the gift and repeat with the opposite corner. The bring the other two corners together and tie in a knot – easy peasy.
3. Double up on your ribbons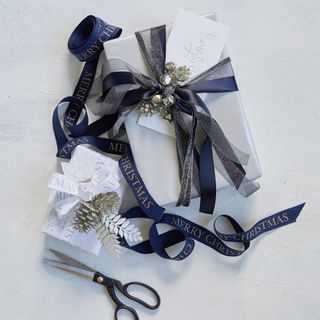 Want your gifts to look instantly more elegant and like you put a whole load of effort in? Well ribbons are going to be your friends. Ribbons can take presents to the next level and we say the more the better. Layer up different thicknesses and different textures to create a really luxurious look. Sure to heighten the rest of your home's Christmas decorating scheme, if you have any spare offcuts, simply add them into a wreath or garland.
4. Add some sparkle with your gift wrapping ideas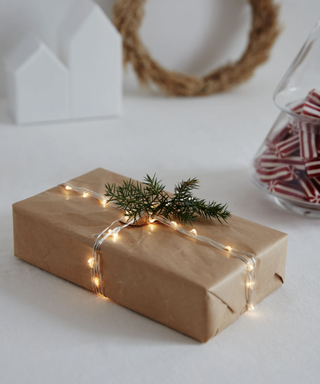 A super easy, but super extra gift wrapping idea is to get the fairy lights involved – it's Christmas, and we believe you can never have too many fairy lights! Replace your ribbon with some battery operated wire lights, we would tuck the battery pack into the gift itself and just make sure you can feel the switch. Add a tag and some greenery and to switch on to create a glorious glow underneath the tree.
5. Go for traditional red, green and white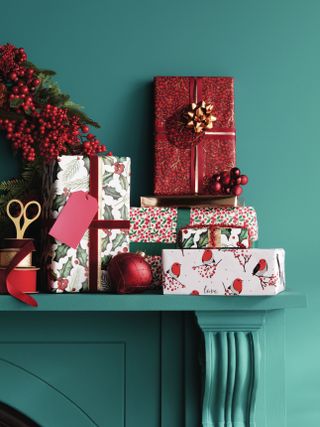 You can't go wrong with this classic, traditional Christmas combo. Pick out a few rolls, in similar colorways to mix and match. We love this festive vibe – how the larger retro holly print looks with the more detailed red berry paper. You can add detail by layering ribbons (red velvet and gold look beautiful) and some simple gift tags. We always thought that those shiny gift bows were a bit dated, but this year they are coming back in a very fashionable way so stick some of those on, too.
6. Be kinder to the environment with brown paper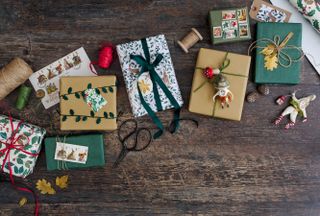 When in doubt, go for brown paper. It's better for the environment as it is biodegradable and can be widely recycled, you can even buy brown paper made from 100 per cent recycled paper But as well as being kinder on the planet, it also always looks lovely, minimal effort involved. Spruce up your gifts with some string and nice tags – this is where last year's Christmas wrapping paper can come in handy, give it a new life as tags – and there you go.
7. Make it personal with a Polaroid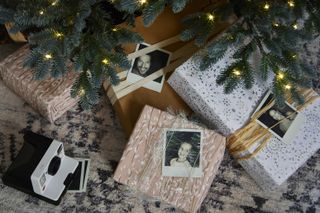 We love this! Forget labels – just stick a picture of your recipients' faces on their presents. Obviously, you could just print off a nice picture, but we think Polaroids look so cute – maybe get one of the both of you in it and it can be a bonus little gift.
8. Use what you already have as Christmas wrapping paper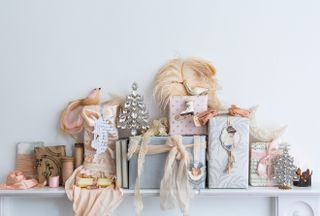 If you like the vintage look, you will love this Christmas wrapping idea. Have a hunt around your house for scraps of wallpaper, old books or music sheets and use them to wrap your presents. Again, better for the environment and the overall look is really unique. Use some bits of lace instead of ribbon and cut out some tags in contrasting prints.
If you do want to go more eco with your gift wrap this year, be sure to check out our pick of the best recyclable Christmas wrapping paper too.
9. Choose an elegant deep jewel colour scheme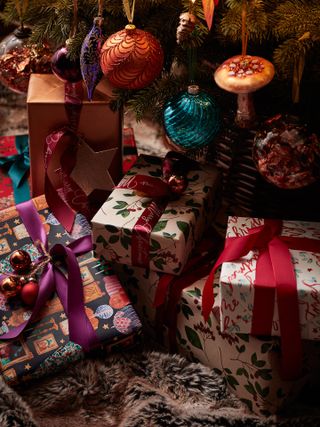 We are loving this glamorous gift wrapping idea, the deep jewel Christmas colors are a nice alternative to all the red and green and yet still feels suitably festive. You can make your gifts even more unique by adding some small baubles and a sprig of holly. John Lewis as always, has really smashed the gift wrap this year so be sure to check it out.
10. Add Christmas decorations to your gifts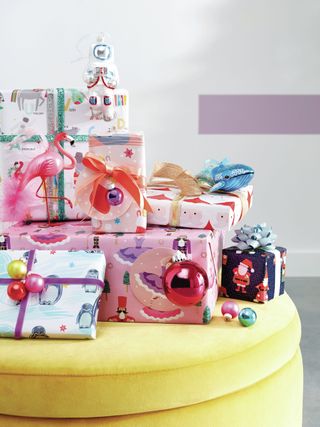 Such a quick and easy way to make your Christmas gift wrapping slightly more personal. Pick out some nice decorations to tie on the top. Choose ones that match the person you are buying for – a London bus bauble for auntie Karen, a little fox decoration for cousin Hugo and a glittery blue whale for nana Joyce. Cute and personal.
11. Add in sprigs of foliage for a perfect finishing touch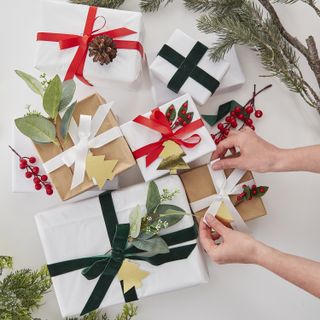 There's nothing nicer than receiving a gift that's been beautifully wrapped and finished with an extra element. You can add in a stem of eucalyptus or fir tree if you can source some, or, invest in a Christmas wrapping kit that will give you a fabulous set of wrap, ribbon and faux stems that includes mistletoe and berry like Ginger Ray's, which gives you all you'll need. This is a great option if you need to post gifts as you don't need to worry about stems arriving crushed or broken as they're faux.
12. Go minimal look with an on-trend monochrome feel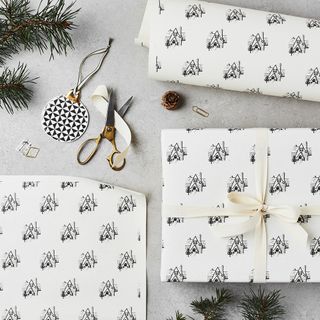 Although Christmas is generally a time of color, the classic red and green shades might not be for you. The big secret is that you can choose whatever scheme you like! We love this monochromatic wrap that features a repeat pattern of a quaint church with a Christmas tree outside. You can still add in a bold colored ribbon or twine if you like of course, or opt for a black and white one.
13. Look for unique pieces for a final flourish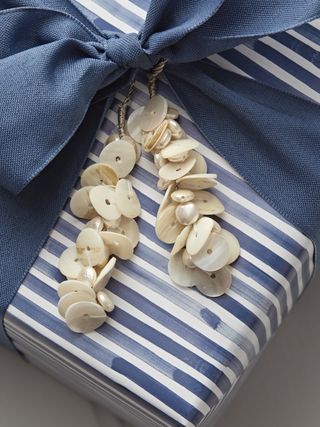 Be creative with how you finish off your wrapping, these super cute capiz clusters of the prettiest shells will truly add to your gift this season.
Oh-so-luxurious, they hang from twists of silver thread and are a gift in themselves that your friend or family member can keep forever.
14. Love sprouts? Have fun with themed wrap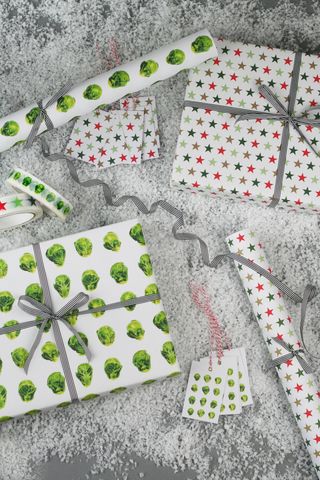 You can have a bit of fun by wrapping all your gifts in a paper that has photos of real sprouts on it! Christmas needn't be all about the usual trads, if you love the modern look then consider a bold wrap to go with it. Simple stars are great too, and you can mix it up by adding various colored ribbons to it for extra color.
15. Choose two colorways and the same ribbon for a luxury look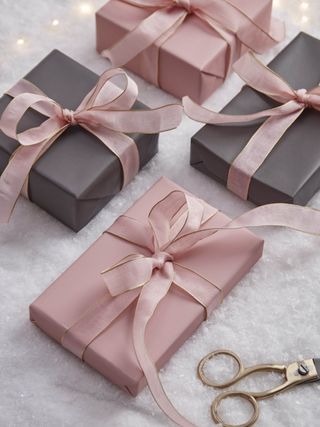 How stunning are these grey and blush gifts? Think outside of the conventional festive colored wrap box and go for a color scheme that's sophisticated, then use the same ribbon for both. Wide ribbon with gold edging gives it the festive edge without being overpowering and if you use the same color throughout it makes your last minute wrapping all the easier.
16. You can't beat the classic candy cane look!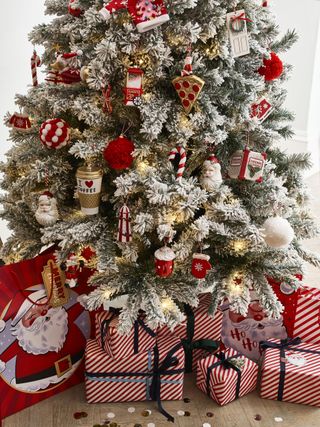 Synonymous with festivities, the red and white of the trad candy cane is a great source of inspiration for your gift wrap too. You can't beat the simplicity of it, add in a bold contrasting ribbon and add in a tag to complete this fabulous iconic Christmas look – we love a matching tree and wrap theme!
17. Pick one color in several shades for a contemporary feel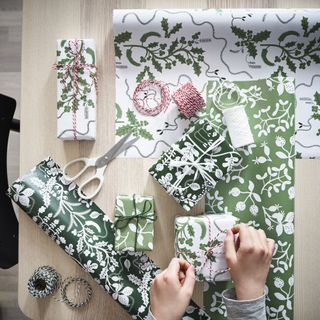 This is a great idea if you want to still embrace the green and red theme but in a modern way. Choosing a scheme that's cohesive is always a good bet, and these three designs work really well together and look fresh with the white. You can use green, white and red twine or ribbon to finish them off perfectly.
18. If you can't deal with wrapping, then opt for a box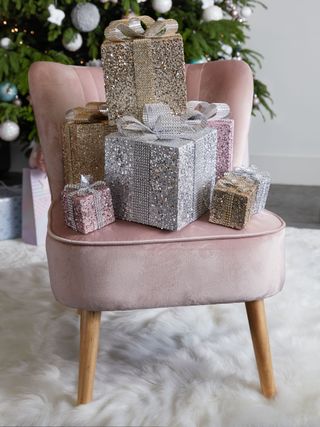 Let's face it, the thought of wrapping numerous gifts that all look perfect can be enough to turn one grey. This is where you can cheat and buy gift boxes instead. They come in all shapes and sizes, with some in a plain finish or super sparkly like these beauties. Who can resist?
19. The most purrfect wrap for animal lovers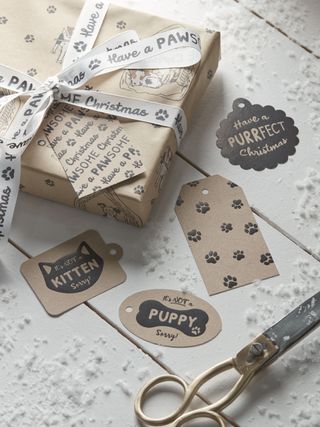 We love the idea of personalizing your wrapping depending on who it's for. Take this fabulous wrap for example, it has little paw prints all over with dog illustrations and tags for both cat and dog lovers.
Of course, you could use them for wrapping your pets gifts too – we won't tell...
20. Color in your own wrap for a truly individual look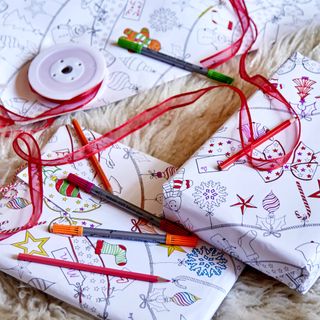 Coloring has become a popular pastime and is known for being relaxing, so why not color in this design that features linear drawings of crackers, reindeer, stars and stockings in all your favorite colors so your friends and family get a unique piece with their gifts – and if you have kids they can join in too.
What is a unique way to wrap Christmas presents?
'My favorite unique way to wrap presents is to use plain, brown butcher paper instead of wrapping paper,' says Kyrie Luke, founder of Healthfully Rooted Home
'This gives the gifts a clean look that I can personalize with twine, ribbon, and even put little pine branches instead of bows for a really natural look. I also like to use small ornaments instead of bows as an extra little gift for the recipient.'
What can I use instead of wrapping paper for Christmas?
'I love being creative about how we wrap gifts. We wrap almost all of our gifts in various shipping materials we've received throughout the year. With a few embellishments, it's neat to see how pretty such simple packaging can be, and it feels great to save money and reduce waste by not buying new gift wrap that just ends up in the trash. After all, many types of wrapping paper can't even be recycled,' explains Jen Panaro, founder and editor at Honestly Modern