Let's face it: nobody wants to be breathing in nasty air. Whether you live in an apartment or a country retreat (if so, jealous), all that bad stuff can get into the home. One easy way to detox the air? Air purifiers, baby.

Air purifiers are great for eliminating odors, pollutants, and bacteria from the air. As well as this, they're also designed to eliminate nasty irritants, from smoke and pollution to dust and pet hair. Basically, whether you're a health queen or not, they're def a must-have. Some models even double as a fan, to keep you cool in the warmer weather — perfect if your home is small and you don't have enough room to store both in your bedroom!
Quick Menu:
1. Air purifier reviews
2. What to look for
3. FAQs
4. How we test

We've put 7/8 of these air purifiers to the test, using them in various rooms in our homes. For this, we've looked at various aspects such as how well they cleanse the air, how well they match up to brand promises, and how good value for money they are. From different price points to different functionalities, we've tried out a real range.

Ready to make your air oh-so-fresh? Scroll on down for the best air purifiers on the market right now...
The best air purifiers, rated by our experts
Why you can trust Real Homes Our expert reviewers spend hours testing and comparing products and services so you can choose the best for you. Find out more about how we test.
The best overall air purifier
Looking for an air purifier that delivers on style, purification, and data delivery? The Mila Air Purifier is a cleaning machine, with a Scandi look and provides a, frankly, unprecedented amounts of AQI data.

In review
Our former smart homes editor Caroline loves how the appliance wraps science in an attractive and friendly package, with an app that makes monitoring your home's pollution levels almost fun. Want to know how your bedroom air quality compares to last week? How many chemicals were released into the air when you made pasta? This explains it all. Over a year since first trying it, it's still the best air purifier for allergies we've found.

Good to know
Those who find themselves a little confused by the number of customizations, modes, and data reports can simply set theirs to Automagic mode and let it work away in the background. It is an investment, but the amount of features really makes it worthwhile. It's also on the larger side, but it does have a sleek design meaning that it will fit into your home's aesthetic.

Read our full Mila Air Purifier review.
The best large room air purifier
Almost hitting the top spot for the best air purifier, the Dyson HP04 is a one-stop shop for your air quality needs, working as a heater, fan, and air purifier.

In review
Our head ecommerce editor Annie Collyer has been using this for years and thinks that it's perfect for anyone and everyone. She says it does a brilliant job of moving air, heating it up, as well quickly purifying the air. It integrates with your smart home in addition to Dyson's app, or you can use the remote control and LCD screen to navigate the various options. Basically, it's got every option for controlling your air, in all areas of functionality.

Good to know
The device isn't perfect, with our tests revealing that the fan function isn't quite as impressive as the heating or air purification. Still, if you want a multi-functional device that looks stylish and comes from a trusted brand known for its innovation, the Dyson HP04 Hot + Cool is a great choice.

Read our Dyson Pure Hot + Cool HP04 review.
The best air purifier for small spaces
Our staff writer Eve is currently waiting to review this Blueair, so keep an eye on this page for our full write-up. She's super excited to give it a try, thanks to plenty of reviews praising its quietness, speed, and smartness.

In review
With over 5,900 five-star reviews on Amazon, this Blueair has had plenty of shoppers fall in love with it. They say that it blends quality and aesthetics perfectly, and blends brilliantly into the decor — especially if you have modern mid-century style furniture. As well as this, they love how quietly the filter operates quietly, and how effective at removing dust and odors from the air. Some shoppers have also compared it to previous Blueair air purifiers, and have praised its powerfulness in comparison to ones such as the 211 auto.

Good to know
It has five different light settings that indicate the air quality, as well as being able to connect to its app and an Alexa for in-depth air quality updates. The filter also should last 6-9 months, which is a good amount of time. The replacement filter costs $29.99 and the pre-filter $8.99, which is worth noting as this could add up. We haven't reviewed this in person yet, so we'll update this guide once we've used it for a few weeks.

This air purifier is currently in review.
The best air purifier fan combo
Designed as a fan first and foremost, the Blueair Blue Pure Fan also serves as an effective air purifier, with low noise levels and a Scandi design that looks super stylish.

In review
The Auto model allows you to choose between three speeds or set it to auto for optimal purification without direct input. Caroline found that once placed on level three, it's more than capable of cooling down a medium-large room without needing to move it around. It's the ideal solution for summertime allergies, keeping you refreshed and ensuring your air is squeaky clean.

Good to know
The downside (there has to be one) is that the Blueair fan doesn't have its app or any compatibility with your smart home. Of course, a lack of connectivity could be a plus for some, and there's a lot to be said about the fan's simplicity.

Read our full Blueair Blue Pure Fan review.
The best air purifier for allergies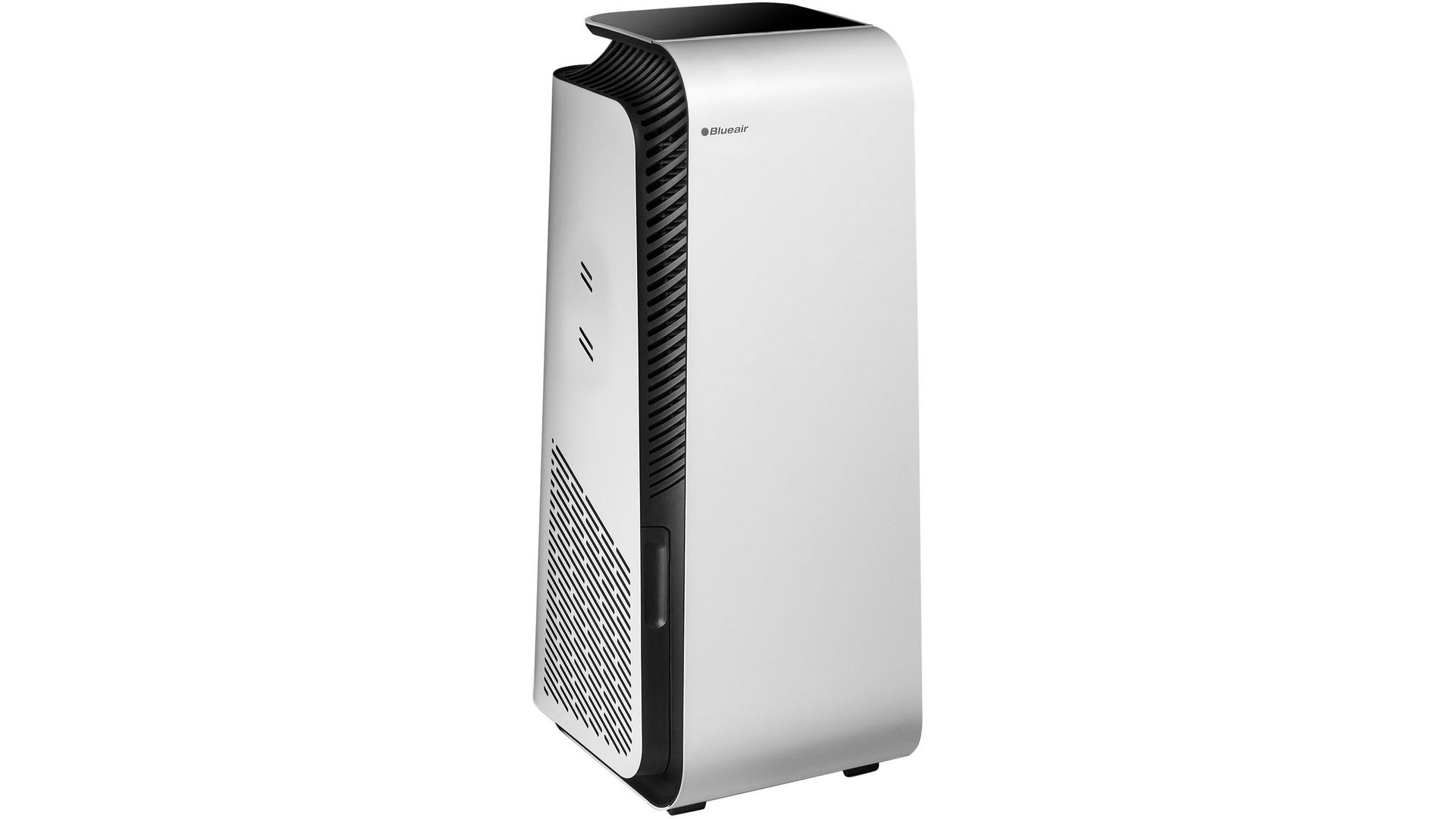 This air purifier promises not just to tackle odors and dust in the air but also bacteria and viruses that may be lurking in your home, making it a great choice for those who are especially health-conscious.

In review
The Blueair HealthProtect 7470 functions well as a higher-end appliance for those who like a squeaky-clean environment. The HealthProtect has a truly excellent CADR (Clean Air Delivery Rate), and Caroline found that it really did remove smoke, dust, and pollen with amazing efficiency. She also says it's a breeze to set up, and once you're in the app it provides plenty of data on fuels, cooking, pollen, and more.

Good to know
It's pricey, and while it's more suited for those with larger homes, there's no doubting its effectiveness. It also doesn't provide data on bacteria and viruses, which would have been useful to have considering it's a USP.

Caroline rated this air purifier 4 stars over at our sister brand, Homes & Gardens.
The best affordable air purifier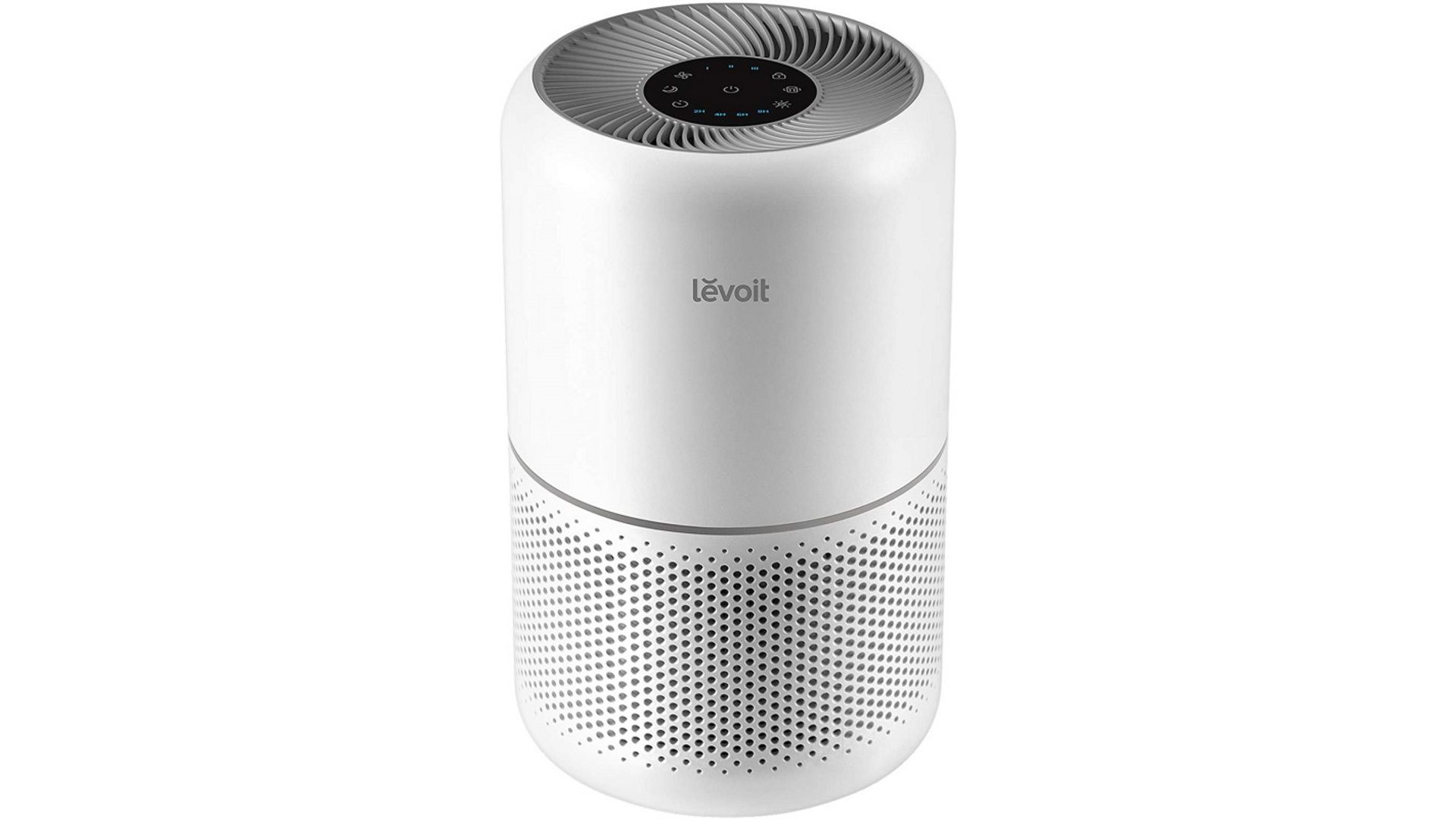 The Levoit Core 300 True HEPA air purifier might be free of fancy features like smart home compatibility, but it still rates highly as a solid, reliable, basic model for those wanting to improve their indoor air quality.

In review
Looking for an air purifier that doesn't ruin the aesthetic or take up space? Caroline loves the neutral design and says it's small enough to tuck away into a corner without drawing the eye too much. She also says that it removes food smells well and that it's quiet enough to sleep to as well.

Good to know
The customizable filters are a unique selling point of the Levoit Core 300, and it's worth knowing that you can choose the one that best fits your needs. It is smaller and doesn't have smart capabilities, but for those who want an uncomplicated air purifier that doesn't take up space, it does everything right.

Read our full Levoit Core 300 review.
The best air purifier for bedrooms
Our editor-in-chief Melissa has had this air purifier for two years and says it's become a staple for her bedroom because of how powerful it is and how soothing the sound is too. Her review is coming soon, but just know that she's more than happy with her purchase, and in fact, she swears by it.
In review
She says that this Levoit is incredibly lightweight, meaning she can move it into any other room if needed. The light gray and white color is also an unobtrusive addition next to her bed or on her windowsill. It has three modes but her favorite is the ultra-quiet sleep setting, which releases a soft-sounding breeze that helps lull her to sleep. Not only this, but she also found that it stops her from catching her fiancé's germs when he's ill, thanks to its powerful filtration.

Good to know
The replacement filter might be a little costly at $20+, but this is pretty standard. It is also better suited for smaller spaces, so if you have a big house or room, you might need something larger.
The best stylish air purifier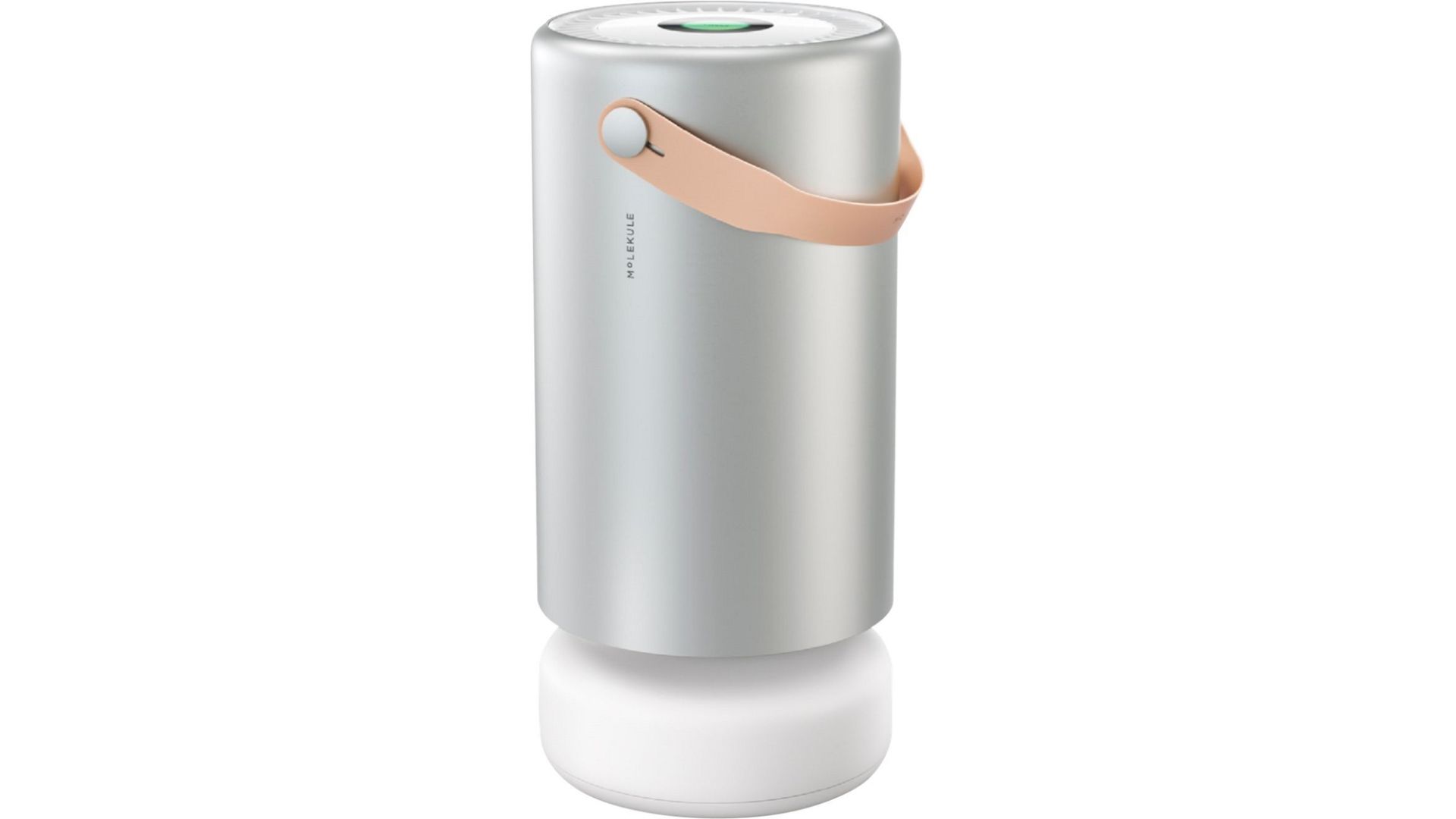 Unlike the rest of the devices on this list, the Molekule Air Pro uses PECO — or Photo Electrochemical Oxidation — to clean the air around it. This form of filtration is more efficient than HEPA, but it comes at a price. Though we did rate this four stars in our review, the reason it's last on our list is because of the price. If you have money to spend, though, then don't shy away, we just know that it doesn't fit most budgets.
In review
Our tester Jacyln had an overall great experience with the air purifier, rating it highly on its sleek design, intuitive app, and quiet operation. There are six manual modes, but she says it works best on auto-protect mode. Plus, the gorgeous aluminum design is super contemporary and would work in any interior.

Good to know
It is a more expensive option, both in terms of price and in terms of replacements. But if you want a high-end air purifier to cover large spaces, this offering from Molekule is a smart choice.

Jaclyn rated this air purifier 4 stars over at our sister brand, Homes & Gardens.
What to look for when buying an air purifier
Looking to buy an air purifier? Here are nine specs to look out for:

CADR — Clean Air Delivery Rate measures how fast particles are reduced. The higher the CADR, the better it is for cleaning indoor air.

Smart? — This is whether it can be paired with a mobile device and/or a smart home feature. Consider this if you want to control your air purifier via your phone or want to see filtration data.

Filters — These go into the machine and pull out specific particles. You can get specialist ones, such as ones that focus on pet particles or bacteria.

Noise — The dBs indicate how loud the air purifier will be when on. Consider this if you'll be putting your air purifier somewhere noise matters, such as the living room or bedroom.

Speeds — This is how many settings the air purifier has for clearing air fast. If you know you're going to want to clear the air quickly, look out for one with a setting that does this.

Dimensions (in. ) — It's a good idea to measure up the space before you purchase, so you aren't surprised by your purifier being too big or small for it.

Power — Watts are how much electricity your air purifier will require to run.

Weight — This indicates how heavy the air purifier will be to carry. For those who know that they'll want to move their air purifier around, this is worth looking out for.

Cost to run — It's important to know how much your air purifier will cost to run per day, so you don't have any surprises when your energy bill comes through.

We have featured these specs in the air purifiers we've reviewed.
FAQs
What is the right size air purifier?
It's a question on many buyers' minds, but the thing to pay attention to here is the capability of the air purifier rather than its physical bulk. So, the best thing to do is measure the space where you wish to place your air purifier (in sqft) and use that as a guide.
Are ozone air purifiers safe?
While you'll find plenty of ozone air purifier devotees, we do not recommend this type of air purifier. It can create dangerous levels of ozone, a gas component in the home's smog. Over-exposure to ozone can have adverse effects on the lungs and respiratory system.
Do air purifiers remove smells?
While the best air purifiers do an excellent job of removing a whole host of unwanted things from the air around us, they can also remove smells. If you have a particular problem with smells in your home (such as from cooking or having pets), look for a charcoal or carbon filter to put in them, as these are both known to trap and eliminate common odors in the house.
How we test air purifiers
In this guide, we've tested seven out of the eight air purifiers we've featured, with the other air purifier currently in review. When testing each air purifier, we've looked at its affordability, ease of set-up and use, noise levels, size, and design. We've also examined the promises made by brands and trialed whether these bear out in reality.
Meet our air purifier reviewers:
Caroline was previously our smart homes editor and part of the Real Homes ecommerce team, and is now the smart homes ecommerce editor for LivingEtc. She's passionate about how smart devices can enhance the home, and tested the Mila Air Purifer, the Blueair Blue Purifying Fan, the Blueair Health Protect 7470i, and Levoit Core 300 Air Purifier for this piece.
In this air purifiers guide, our head ecommerce editor Annie has reviewed the Dyson Pure Hot+Cold HP04. Annie lives in a two-bedroom South East London apartment with her husband and pug Doug, and found that the Dyson quickly changed the temperature in whole space, as well as efficiently removed pet odors. She's been using it for years and is obsessed with it, using it pretty much all year round.
Melissa is our global editor-in-chief, who reviewed Levoit LV-H128 Air Purifier and says it's perfect for smaller spaces like the apartment she lives in. She loves finding clever homewares for smaller spaces, that are perfect for Gen-Zers and renters alike.
Jaclyn was previously ecommerce editor across Future homes titles, including Real Homes. In this guide, Jaclyn has reviewed the Molekule Air Pro, which she placed at the intersection of her kitchen, family room, and sunroom.