Looking for easy and effective ways to prepare your home for allergy season? Maybe you suffer from spring allergies? Or perhaps you want to make your home as allergy-free as possible?
We've pulled together a list of handy tips, tricks and buys that cover everything from reducing allergens in the home to avoiding them in the first place. There are tons more cleaning buys, tricks and hacks suitable for allergy-sufferers on our hub page, too.
Practical ways to avoid seasonal allergies
Why you can trust Real Homes Our expert reviewers spend hours testing and comparing products and services so you can choose the best for you. Find out more about how we test.
Seasonal allergy symptoms: what are they?
Difficulty breathing
Tight chest
Wheezing
Sneezing
Runny nose
Nasal congestion
Itchy, watery eyes
Itchy throat or mouth
Coughing
High pollen count forecast? Stay indoors, especially earlier in the day, when pollen counts are higher.
Close the windows.
Use an air purifier with a HEPA filter (more on this below) in the house.
Vacuum and dust the house thoroughly once a week, ensuring you tackle not just floors but furniture, soft furnishings and curtains, too.
Choose hard flooring and shutters or blinds instead of carpets and fabric-heavy window dressings, which dust, pollen and dander will cling to.
Use a vacuum for pet hair (more on this below) for a dust-free, pollen-free, pet dander-free home.
Don't wear clothes more than a day in a row – like hair and bodies, they collect pollen, dander and dust.
Don't dry clothes outdoors: ditto.
Take a shower before bed to get rid of any pollen or dust you've collected on your hair and body during the day.
1. Pollen allergy symptoms? Invest in an air purifier for your home
Designed to dramatically reduce the impact of indoor air pollutants, allergens and bacteria, investing in an air purifier is one of the easiest ways to actively tackle the presence of allergens in your home.
The Vax Pure Air 300 uses smart sensor technology to monitor the air quality in your home, ultimately removing 99 per cent of potential harmful airborne allergens from the air stream. Trapping dust and pollen particles present in the air, it's a game changer for those suffering with the effects of allergies and asthma and has received overwhelmingly positive feedback from users.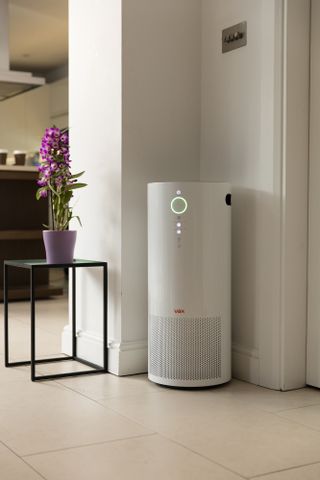 2. Pollen allergy symptoms in the car? Buy a portable air purifier
If you've already experienced the positive benefits of an air-purifier in your home, you might also consider investing in a portable version for your car. This way, you can reduce the effects of allergens when you're on the go, too.
The HiGiong Car Air Purifier achieves everything a usual air purifier would, but is a fraction of the size and can be charged via USB.
Looking for something a little more natural? Try the Moso Natural Air Purifying Bag, available from Amazon, which uses the natural purifying properties of charcoal to remove odours, allergens and other pollutants from the air.
3. Dust allergy symptoms? Spring clean your home (year round)
The most important thing to do when preparing your home for allergy season (and beyond) is to: 1) embark on a mammoth spring clean and 2) stick to a thorough weekly cleaning regime, paying particular attention to areas that gather dust, pollen, pet dander or which are prone to supporting the growth of mould and mildew.
That means knowing how to clean carpets, mattresses, pet beds, upholstery and window dressings in particular, but look out for mould in bathrooms and damp rooms, too. Follow our guides below to get the job done fast and thoroughly (but with the least possible effort):
We'd recommend using a specialist mould spray (check our best mould sprays guide, but the Astonish Mould and Mildew Remover comes highly recommended), or white vinegar to attack areas where mould is prevalent. Vinegar is something of a wonder ingredient when it comes to allergy-free cleaning of the home. Discover more ways to use vinegar to clean your home in our guide.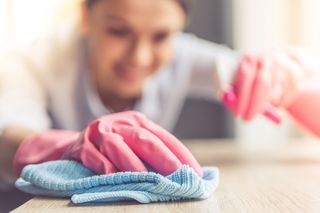 4. Allergic to cleaning products? Use non-toxic cleaning materials
As we said above, ensuring your home is clean is generally one of the easiest ways to prepare – and maintain – a home during allergy season. However, if you're an allergy sufferer, you might want avoid chemical cleaning products in your home, which could be further irritating your senses and worsening your symptoms.
Opting for non-toxic cleaning materials can lessen these effects, making allergy season more bearable. Check out our spring cleaning hacks that don't use cleaning products; otherwise, we'd recommend Ecover's Zero Range, which is two non-toxic, plant based and formulated with allergies and sensitive skin in mind.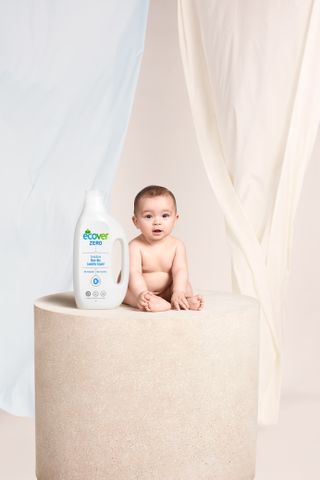 Looking for more cleaning advice? Browse our specialist guides:
5. Buy a vacuum for pet hair with a HEPA filter
If you love your pet, but you're sensitive to pet hair, or find that it gets to you more during the allergy season, it's worth investing in a specialist vacuum for pet hair, which is designed to ensure your home remains dander-free.
The Dyson Light Ball Animal Upright Vacuum Cleaner is our favourite model for tackling pet hair, and is designed to work equally effectively on carpet as it is on hard flooring. For more information on finding the best model for your home and budget, browse our pick of the best vacuums for pet hair.
6. Dust mite allergy? Exchange your bedding for hypo-allergenic alternatives
Exchanging regular bedding for hypo-allergenic alternatives is another easy way to prepare your home for allergy season. But, how does it work?
This type of bedding works by both repelling and containing allergens, meaning they can't be dispersed and trigger allergies. It tends to be made from fabrics such as wool, which create a cool, dry environment that allergens can't survive in. If you regularly suffer allergy-triggered symptoms during the night, this could be the option for you.
The anti-allergy bedding available from Soak & Sleep comes highly recommended for those looking for an affordable bedding solution. Use our guide to find out how to get rid of dust mites for extra tips, too.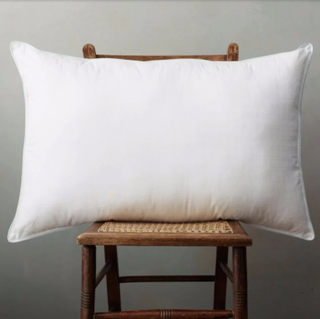 7. Pet allergy symptoms? Check if your washing machine has an allergen cycle
Replacing your washing machine? Swapping a regular washing machine for one with an allergy cycle is another way to reduce the presence of allergens in your home. Check your current washing machine – it may have one already.
How does it work? Washing machines with an allergen cycle have an extra rinse cycle, during which the time and temperature is adjusted to remove pet dander and dust mites. It's recommended that you opt for an Allergy UK approved machine, which uses high temperatures to eliminate up to 99.9 per cent of major allergens from your clothing. Recommended options include the Hotpoint WMXTF742P Freestanding Washing Machine or the Hotpoint CarePlus WMAOD743P Washing Machine, which comes with a special allergy setting that's designed with sensitive skin and allergies in mind.
Failing that, washing laundry at high temperatures can help kill dust mites. Read our guide to getting rid of dust mites for more – and find out how to do laundry (and don't miss our favourite laundry hacks) for more.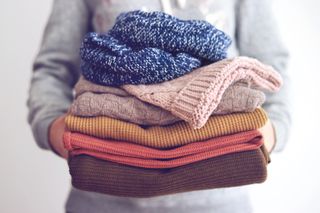 8. Exchange flooring for an anti-allergen alternative
Some forms of flooring provide the perfect breeding ground for allergens to thrive, so if you really suffer during allergy season it might be worth considering exchanging what you currently have for something a little more allergy-proof. It's worth considering the following when opting for an allergy-proof flooring:
Tiles are a great option for the homes of allergy sufferers, as dust mites, pollen, mould and other allergens cannot penetrate their surface texture. Tiles can also be steam cleaned for higher degrees of hygiene. Use our guide to buy the best steam cleaner for your home.
Hardwood flooring is easy to keep clean, with research suggesting that it's highly resistant to mould, dust and other allergens.
Carpet is something of a breeding ground for allergens. But, if you're set on having something soft underfoot, you might consider opting for a low pile carpet, which is easier to clean and less likely to harbour allergens. Use a vacuum cleaner with a HEPA filter and use a carpet cleaning machine from our pick of the best to thoroughly clean your carpet (once a month if you have pets).
Laminate flooring is an allergy-friendly option that gives the appearance of real wood, but for a fraction of the price.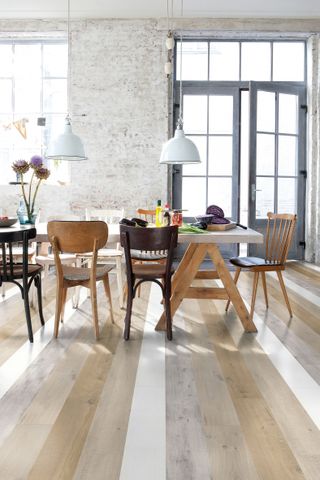 Looking for more information on any of these floor types? Browse our specialist guides:
9. Decorate with allergy certified paints
If you've never thought about how the paint present in your home might be affecting you allergy-wise, this allergy season might be the time to do so. The vast majority of paints available on the market contain chemicals that make living with allergies or asthma more difficult. With this in mind, opting to redecorate with an allergy certified VOC-free paint might be another easy way to prepare for allergy season.
Having recently launched their Breatheasy Range, Crown have demonstrated a commitment to easing the struggles of those living with asthmas and allergies; improving the indoor air environment and creating healthier (and happier) homes. There is a wide range of colours and finishes available, meaning you don't have to worry about allergies holding you back.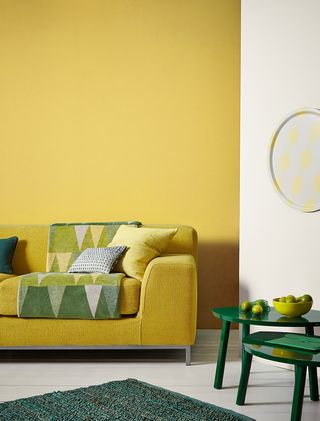 Inspired? Browse more of our paint design ideas...
10. Allergy sufferer? Connect your smart assistant to an allergen tracking app
Another easy way to prepare for allergy season is by setting up a system that allows you to track the potency of allergens on a day-to-day basis.
Zyrtecis a handy app that monitors the presence of pollutants and allergens in your surrounding area. Connecting this app to your smart assistant makes it quick and easy to keep track of allergen levels, allowing you to make decisions about taking medication, clothing and how much time you spend outside, when levels are especially high. Not yet got one? Read 10 more reasons why you need a smart assistant... and browse our best buys, below.
Looking for more advice?