Chances are, you already own a basic floor mop that you use to clean your floors weekly. But if you're being honest: you want something to properly sanitize your floors. A steam mop or steam cleaner, hence the name, uses steaming hot water only (see ya, chemicals) to deep clean. If you've never owned a steam cleaner, prepare to never go back to basic mops after trying.
With so many steam mops on the market, it can be such a minefield when it comes to choosing the best one for your space. Whether you live in an apartment or a five-bedroom home with roommates and pets, a steam cleaner will prove itself to be a worthy (and not to mention satisfying) investment. You'll probably want a steam cleaner for testing out all those cleaning hacks you see all over TikTok anyways.
Below, we've listed steam mops and cleaners that a member of the Real Homes team has tried. Otherwise, the steam cleaners we've not tested have been included only because of their customer ratings — shoppers love them and we know that you will too. From cordless steam cleaners (like your handy cordless vacuum) to corded steam mops, here are our top picks to help you spring clean using just water. Genius!
What's the difference between a steam mop and a steam cleaner?
Why you can trust Real Homes Our expert reviewers spend hours testing and comparing products and services so you can choose the best for you. Find out more about how we test.
There's not a huge difference between steam cleaners and steam mops. We'd recommend opting for a steam mop if you live in a smaller home and don't have as much storage space, and a steam cleaner if you're the opposite and have a larger space to clean.
Steam mops look just like the usual spray mop that you'd buy from Swiffer or Shark. They usually have a slimline frame and they don't come with a hose. They're good for cleaning floors and underneath furniture, and most of the time they convert to become a handheld steam cleaners, to do smaller jobs like tackling grout.
Steam cleaners tend to be bigger and they can tackle more space thanks to their larger water tank. They usually come with attachments to make smaller jobs easier, and they need to be dragged around by their cord and hose. They require more storage space.
Handheld steam cleaners are smaller versions with a spout. They're perfect for anyone living in a tiny space and are made for cleaning floors, tiles, grout, walls, and other nooks and crannies.
The best steam mops and steam cleaners to buy in 2023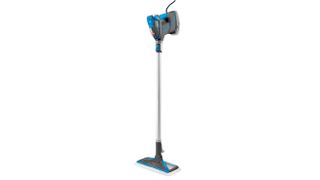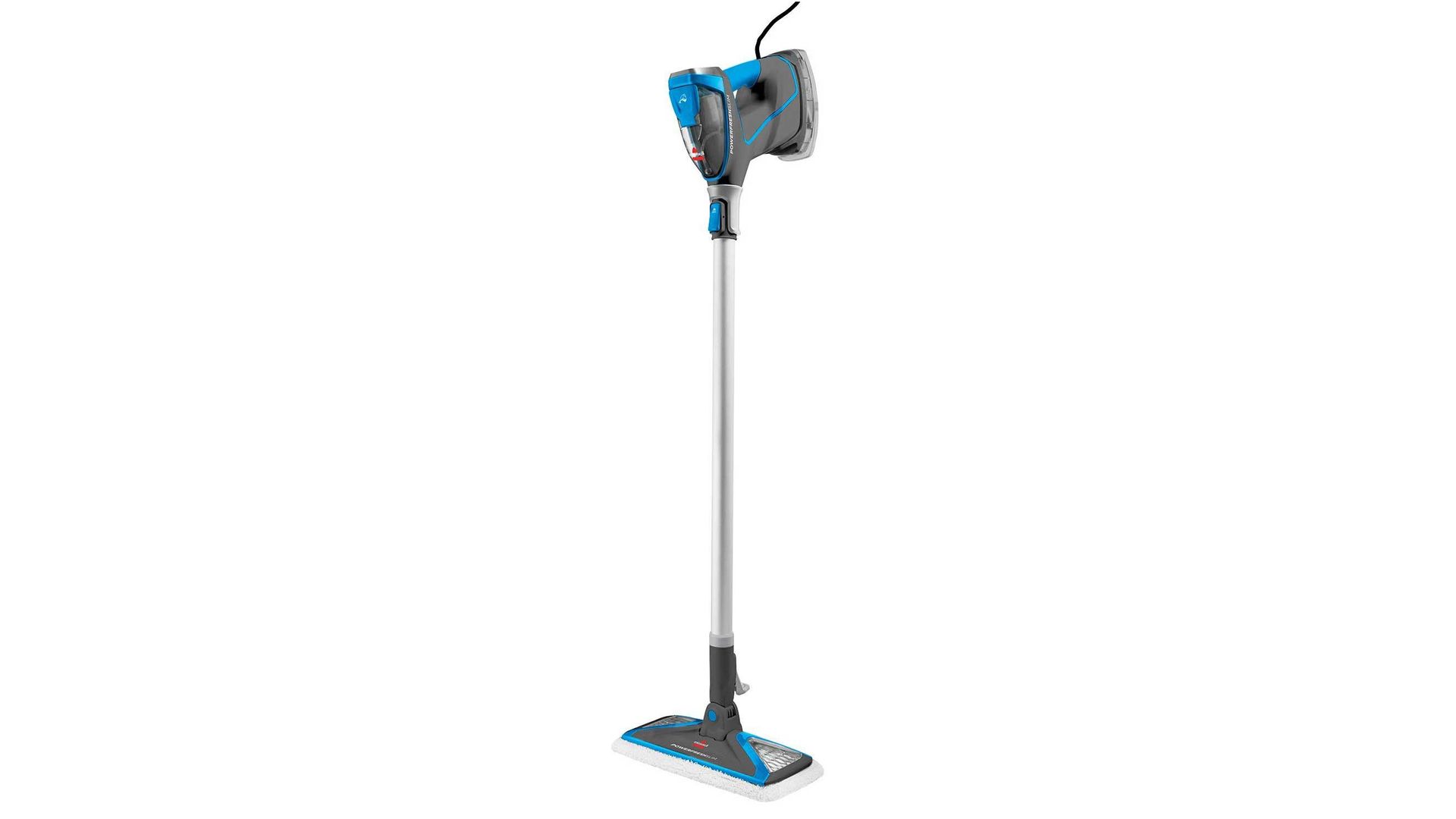 If you're a small space dweller, then this Bissell steam mop is perfect for you — it's so easy to store in a closet and it comes with a huge range of tools. Despite its size, you can use it to clean everything from your floors to your stovetop and your bathtub. It's truly versatile and not to mention nice and affordable. We would suggest avoiding it if you live in a somewhat larger home, though, as it has a smaller water tank than you might need.
In review
Our reviewer Molly really loved the lightweight design of this cleaner and she noticed that the swivel cleaning head can help those who don't want to (or can't) bend down to get into corners or underneath furniture. The extended wand does the same and allows for easy floor-to-ceiling cleaning. She found it super simple to refill although its water tank is admittedly quite small. Conveniently, it only takes 30 seconds to heat up, then you need only press the trigger for steam to release. She says you'll hear a knocking sound as the water starts to flow, and then a solid flow of steam will appear, and you can get to cleaning your floors. There are two modes — low and high steam — and there's a light to display which one you are currently in. It's really simple to use it with the tools that come with it, and she used the grout tool in her bathroom and loved the results. There's also little maintenance required after using this steam mop. Simply wash the head you used in your washing machine the next time you put it on, then just empty and rinse any parts that have touched water including any attachments.
Good to know
It's safe to use on all sealed hard flooring types and using only water, it can eliminate 99.9% of germs and bacteria. It also comes with a wall mount so you can hang it up in your cleaning closet after use. With this steam mop comes seven tools in total. You'll get a flat surface tool to clean countertops and tables, a red brustle scrub brush to get into nooks and crannies, and a clothing steamer tool. The bristle scrub brush will prove itself handy for cleaning your kitchen and bathroom sinks and your microwave and oven, the angle tool is really good for getting into tight spaces, the flat scraper tool is cleaning your stovetop and more, and then a grout tool speaks for itself. Some of these tools can be stored on board for convenience.
Read our full Bissell PowerFresh Slim 3-in-1 Steam Mop review.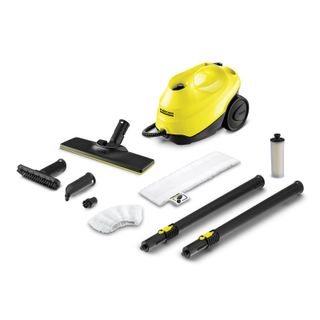 An impressive-looking piece of kit, this steam cleaner from Kärcher delivers sensational deep cleaning results using just tap water. It heats quickly and is great for hard floors, plus limescale and stubborn stains around the home. It's ideal for busy family homes, but the only drawback is a short lead.
In review
Our reviewer Lucy preferred the SC3 for smaller, more detailed jobs and used this steam cleaner in her large family home. She claims it's perfect for families with young children thanks to its locking system to prevent little ones from getting it started. She was shocked at just how lightweight it is for its size, and said that the handle made it super easy and comfortable to carry (it does have wheels too). It has a sizeable water tank which is great for larger homes and noted that the steam starts to wane when you need to refill. She says to make sure that the steam nozzle is in the off position when you are waiting for it to heat up (only 40 seconds!) and lock the nozzle position off when changing heads to avoid any nasty burns. Lucy used this steam cleaner to clean nooks and crannies in her kitchen and bathroom including around taps, sinks, plug holes, and tiles. She used the hand nozzle (carefully) to clean the front of her kitchen cabinets and her oven. Then with the floor cleaning head, she tackled her kitchen floor. She used the round brush head to clean the patches of a grubby rug in her living room within five minutes. Will she use it again? Yes, she says it's one of those appliances she'll fall back on every two or three months.
Good to know
It comes with three attachments — a handle nozzle, a spotlight nozzle, and a nylon brush. For easy use, it has its steam volume control on the handle, which you can use to suit the type of surface and level of dirt you're dealing with in your home. Its microfiber cloth can be cleaned in your washing machine.
Read our full Kärcher SC3 review.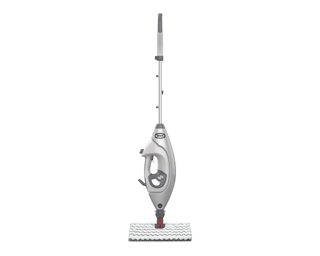 If you're looking for a powerful multi-purpose steam mop, then this Shark steam mop is perfect for you — it's ultra easy to use and it comes with a wide range of tools. While a little chunkier than some of the more compact steam mops, it's extremely lightweight and easy to maneuver. Thanks to multiple attachments and a lift-away water tank (that's a pretty good size), it's seriously versatile and can be used for everything, from mopping the floors and cleaning your bath tiles to freshening up your sofa or mattress. We say it's great for anyone with a medium to large size home who doesn't want a steam cleaner but would prefer a mop!
In review
Our reviewer Beth really loved the lightweight and easily portable design of this mop, along with how versatile and easy it is to use. With a large capacity water tank and three steam settings, she found it simple to work with. One feature Beth loved was the kick-and-flip steam pad that can be easily swiveled around to make use of both sides of the reusable mop pad. Refilling the water tank was quick and easy, and she loved how the mop conveniently heated up in a matter of seconds — no waiting around. She said as the water begins to heat up, you'll hear a clicking sound, followed by a burst of steam from the base of the mop. Featuring a wide range of clip-on attachments — all of which come with washable covers — Beth found the diverse mop super easy to use for various cleaning tasks, from mopping her floors to cleaning her windows and pretty much everything in between. The only downside she reported was the fact this mop design isn't carpet-friendly and can't be used on carpeted surfaces.
Good to know
Included comes a bunch of attachments, a garment steamer, a small above-floor pocket tool (and pad) plus a triangle scrubber pad and triangle scrubber dirt grip pad. You also get two dirt grip pads that are machine washable, plus a fill flask and an accessory hose. You need to unplug it before refilling the tank, btw. It's also a total bargain for the price.
This steam cleaner is currently in review by Beth.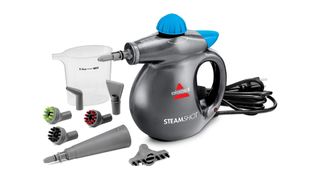 If you have lots of carpets in your home and would prefer a handheld steam cleaner instead of one that you can use on your hard floors, then let us recommend the Bissell SteamShot. It's small but mighty and excels at blasting away grime, mold, grease, and much more from a manner of places in your home. Even better? It's super versatile so you can use it in pretty much every room of your home, and it's nice and affordable as well as easy to store since it's a handheld-only unit.
What reviewers say
With 40,000+ Amazon reviewers rating it 4.1 stars out of five, this handheld steam cleaner is a true winner. Lots of people use it to clean upholstery, from inside their car to their sofa and their curtains, and others use it for cleaning sinks, and tiles in their kitchens and bathrooms. Lots of people do comment on the size of the water tank as it's small, so do note that you might have to refill during cleaning which requires you to depressurize the tank first (don't worry, it's quite simple to do). Its power cord is nice and lengthy and makes it easy to reach into corners, and lots of reviewers rave at how good it is at getting rid of super tough stains on carpets.
Good to know
To release steam, press the trigger located above the handle. This function conserves steam and uses it only when needed. The kettle-shaped container is easy to hold to get into a handful of tight smaller spaces like an oven or a shower. The extra-long 20-foot cord enables you to move around freely, and though the water tank is small, the swift 30-second heat-up will have you back in action in no time. It comes with seven different tools in total.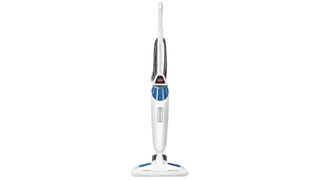 A powerful steam mop doesn't have to be expensive, and Bissell's PowerFresh Deluxe Steam Mop is proof of that. Costing less than $100, it's safe on sealed hard floors and it has a special Easy Scrubber feature to scrub your floors clean and tackle crevices, floor grout, and tough stains. It doesn't convert to a handheld model, though, so you won't be able to use it to clean anything other than your floors, just an FYI.
What reviewers say
It has a stellar 4.6-star rating on Amazon from more than 40,000 reviewers. People really love it for cleaning floor tiles in particular, and they rave about its swivel steering as it makes it so much easier to get into tight spaces and under furniture. It's also said to be easy to refill as its water tank is removable and simple to store as it stands upright on its own, rejoice. Not a lot of people mention that they use the built-in Easy Scrubber, but those who do use it say it helps do the job.
Good to know
It has three different modes — high, medium, or low — and it's ready to use in 30 seconds. Much like some new vacuum cleaner models, this steam cleaner works with clever fragrance discs that will emit a nice scent as you steam clean. It comes with two washable microfiber pads. The white microfiber pad is best for everyday use on delicate floorings like sealed hardwoods and laminate, and the gray and white striped pad will heavily scrub soiled floors and clean tougher messes.
Amazon reviewers don't lie when they say that this steam mop is amazing. Plus, it's lightweight and easy to use! For less than $70, it can clean every inch of your home including your carpets and your clothing, and it comes with four different attachments. It can also transform to be a handheld steam cleaner with total ease. The best part? It heats in 30 seconds, just like our other picks.
What reviewers say
Rated 4.2 stars out of five by more than 40,000 happy Amazon reviewers, most shoppers rave about its ease of use. It's simple to store as its handle folds down, it's easy to use (it only has a couple of buttons and three modes) and it's lightweight at just 2.2 lbs. Reviewers have used it to clean pretty much every room in their homes, and it apparently works very well on grout (in handheld mode with the grout attachment). Most shoppers were totally wowed at the results it left on tiled floors, saying it's also super easy to use and fast at that. It also seems that a lot of pet owners bought this steam mop, and they love how good it is at banishing tough mud stains and the rest. It's said to be super easy to convert from upright to handheld, and it stands upright on its own.
Good to know
This steam cleaner comes with a variety of attachments to make your cleaning experience even more customizable. Included comes a window squeegee, a steamer jet nozzle for targeted steam cleaning of hard to reach spaces, various nylon brushes (for cleaning ovens, stovetops, and bathrooms), as well as an angled nozzle for hard-to-reach spaces. You can use the scraper tool for cleaning your oven and the grout brush for cleaning in between tiles. Its handy garment steamer attachment is great for clothing, curtains, and upholstery, plus it even comes with a carpet glider if you have any soft flooring. You get microfiber cleaning pads and a measuring cup to fill the water tank, too. It's said that the whole 12.8 oz tank will last for 25 minutes on the lowest setting or 12 minutes on the most powerful setting.
---
FAQs
What is the best steam cleaner?
If you want to get your hands on the best steam cleaner on the market, we recommend buying the Karcher SC3 Easyfix Steam Cleaner. To name a few reasons why: it has a large water tank, it doesn't require detergent, it can clean upholstery and kitchen appliances, and it comes with a range of attachments included. Oh, it also heats up within 40 seconds and it's great for cleaning larger, busier homes.
You can buy the Karcher SC3 at Amazon.
What is the best steam mop?
Depending on the size of your home, we really like both the options from Shark and Bissell in our guide.
The Shark Lift-Away 2-in-1 Pro Steam Pocket Mop S3973D (available to buy from Amazon) is best for larger spaces as it has a bigger water tank so can be used for longer.
The Bissell PowerFresh Slim 3-in-1 Steam Mop (2075A), which you can also buy from Amazon, is a lot more slimline and it has a smaller water tank, making it ideal for apartments and small homes.
Why do you need a steam cleaner or mop?
The floors in our homes need to be kept crumb and dirt-free to keep them looking nice, comfortable, and of course: clean. While a vacuum will tackle crumbs and pet hair on the carpets, a good steam cleaner will help to make the hard flooring sparkle.
You might be thinking that you can achieve that with a mop, and while you definitely can, a steam cleaner requires only water to kill up to 99.99 percent of bacteria, fungi, and mold. Yep. Some can even remove carpet stains, give a new lease on life to your upholstery, refresh your tiles or other hard floors, and make your kitchen appliances shine. All without the use of harsh chemicals or cleaning agents. Plus, a steam cleaner offers a deeper clean than a mop does — you'll understand what we mean once you use yours and take a look at the pad once you're finished. Yuck.
Simply put, a steam cleaner or mop puts the likelihood of you getting on your hands and knees with a scrubbing brush very slim. Not to mention the help they can offer when it comes to the dreaded task of cleaning your oven. Seriously, we've thought of everything when it comes down to how to use a steam cleaner.
How to choose the best steam mop or steam cleaner
When looking for a new, or replacement, steam cleaner there are a few elements to consider to ensure it is the best steam cleaner for you:
1. How long is its cable?
You shouldn't need to worry about this too much if your home is smaller. But anyone with a larger home, or fewer plus sockets, might want to choose a steam cleaner with a longer cord to prevent them from having to unplug and plug back in constantly.
2. How large is its water tank?
Again, small space dwellers won't have to worry about this number too much. You just want to avoid anything with a super small tank capacity as you'll need to refill during cleaning, and sometimes it's not as easy as that. Some steam cleaners require you to let them cool down or expel any steam left in them before refilling their tank. Essentially, the larger the water tank, the more time you'll have to clean.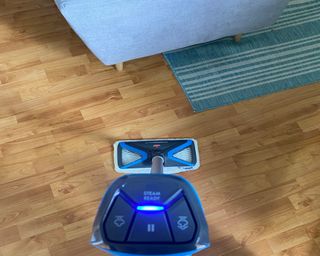 3. How long does it take to heat up?
Waste no time waiting for your device to heat up, as the majority of our picks heat up in just 30 seconds. Some steam cleaners out there do take longer, but do think about whether you want to wait.
4. How much does it weigh?
You'll find that handheld steamers and steam mops are lighter and easier to use but usually, they can't steam for as long as a steam cleaner because they'll have a smaller water tank. Opting for a lightweight steam mop is a smart thing to do, especially if you have stairs in your home.
5. Does it come with attachments?
You can also find a range of attachments for your steam cleaner, such as upholstery tools, scrubbing pads, and squeegees for cleaning windows and appliances, for example. These attachments will help you tackle jobs that you never even knew you needed to do. Some models come with three attachments, others come with 17. Think about how many you'll actually use, and how you'll store them all (a tote bag works wonders!).
Real Homes review process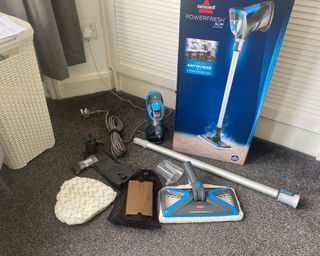 We've had the chance to review four out of seven of these steam cleaners, splitting the load between Real Homes team members (and ex team members) and also freelancers. The other three steam cleaners and mops have been included purely based on their incredible reviews that shoppers gave them.
For the models we tested, each one has been put through its paces and used to clean sealed flooring and much more. We make sure to test all of the attachments, too, and we use these steam cleaners for a number of weeks before writing up our verdict.
Meet our steam cleaner reviewers:
Beth has been using the Shark Lift-Away 2-in-1 Pro Steam Pocket Mop S3973D to clean her home for years. She raves about this steam mop and uses it to clean pretty much everywhere except her carpets, and she has pets!
Alex is a freelancer for Real Homes, and she reviewed the Tineco Floor One S5 for us. Alex lives in Texas and her home is roughly 1,600 square feet in size and is fitted with hard flooring throughout. She doesn't have any pets.
Molly is now ecommerce editor at Ideal Home. She tested the Bissell PowerFresh Slim 3-in-1 Steam Mop (2075A) and loved it for cleaning her apartment.
Lucy is now the editor in chief at Homes & Gardens. She reviewed the Kärcher SC3 Easyfix Steam Cleaner in her large family home.