Are you looking for the best steam cleaner to get your home looking fresh and new? We've gathered all of the top-rated steam cleaners on the market that have some serious power when it comes to banishing stains and marks. Big brand names from Karcher, Shark, and Vax are among our favourites when it comes to this specialist type of mop, and we've brought together the best here at a range of different prices to suit all budgets.
Steam mops can tackle anything from kitchen floors and upholstery to spaces like bathrooms, making them a versatile addition to the home. And better yet: they've also got a range of attachments to get into all the difficult spots, like on hobs and in sinks.
Lots of the best steam mops in this guide have been reviewed by members of the Real Homes team. That means that this top ten list is brought to you with tried and tested pros and cons, after having been used in our own homes.
For more tried and tested cleaning must-haves, head over to our pick of the best vacuum cleaners so you can clean your home with ease. Or, once you have chosen a steam mop from our list, figuring out how to use a steam cleaner couldn't be easier with this lot.
The best steam cleaners and steam mops to buy in 2022
Why you can trust Real Homes Our expert reviewers spend hours testing and comparing products and services so you can choose the best for you. Find out more about how we test.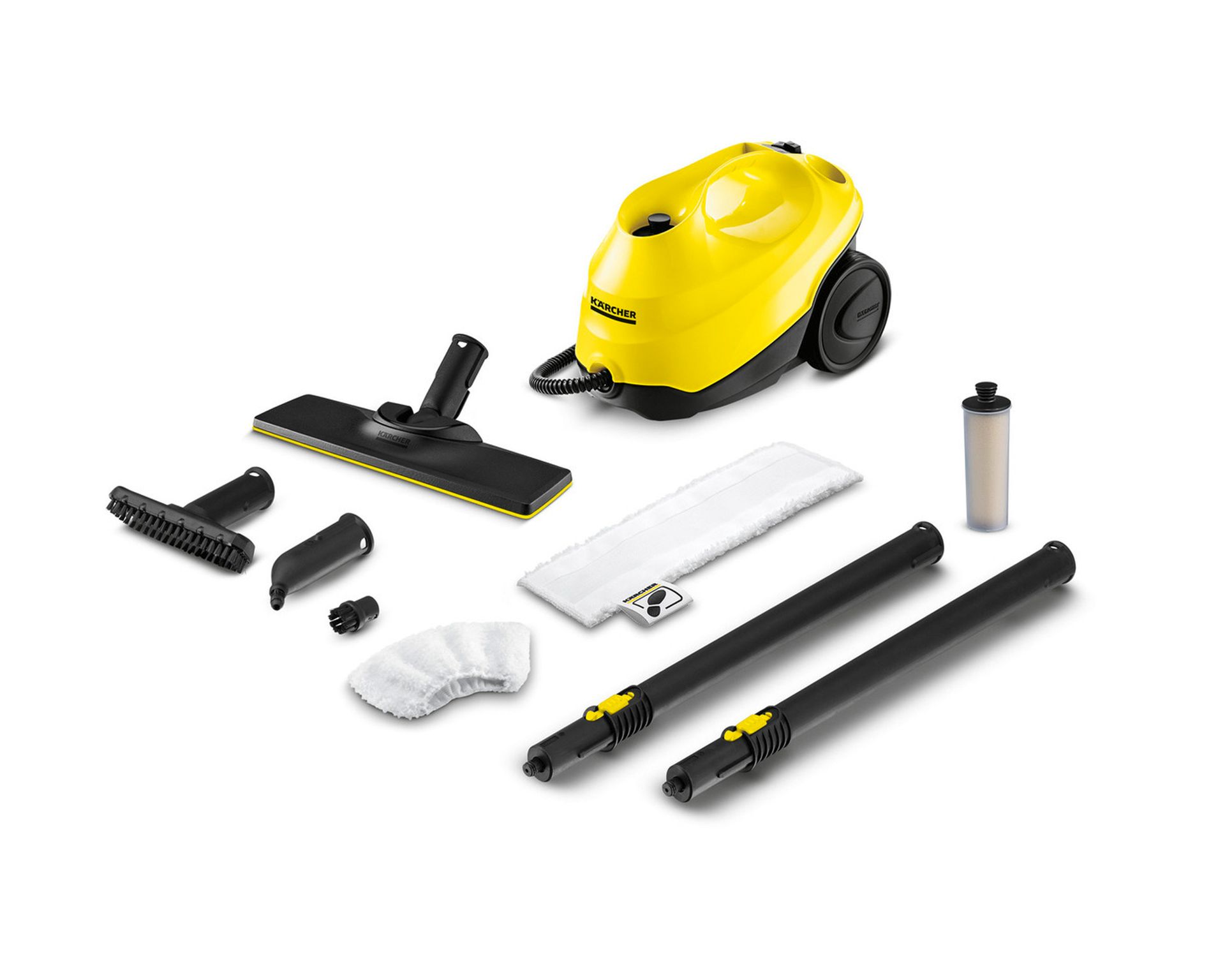 An impressive-looking piece of kit, this floor steam cleaner from Kärcher means business and delivers amazing deep cleaning results using just tap water, which is why it's our steam cleaner to beat. It heats up quickly and is great for hard floors as well as limescale and stubborn stains around the home. We also love its large water tank and the range of attachments that come with it. The only drawback is a short lead and the fact that it is heavier than other models on the market, which will make it unsuitable for those who struggle to hold up a tool for an extended period of time.
Multi-functional accessories
You can use this steam mop on so many areas around the home – hard floors, ovens, hobs, taps, tiles, sofas, carpets – using the floor and hand nozzles as well as the handy round brushes. That makes it a cleaner that you can use in any room of your home, from your bathroom to your kitchen, to really get your money's worth.
Child lock
A great idea and perfect for families with young children, this model has a locking system to prevent little ones from getting it started.
Steam flow control
For easy use, the Kärcher model has its steam volume control on the handle, which you can use to suit the type of surface and level of dirt you're dealing with. This is a winning feature compared to other cleaners on the market, which often involve a trigger feature that can create too little or too much steam.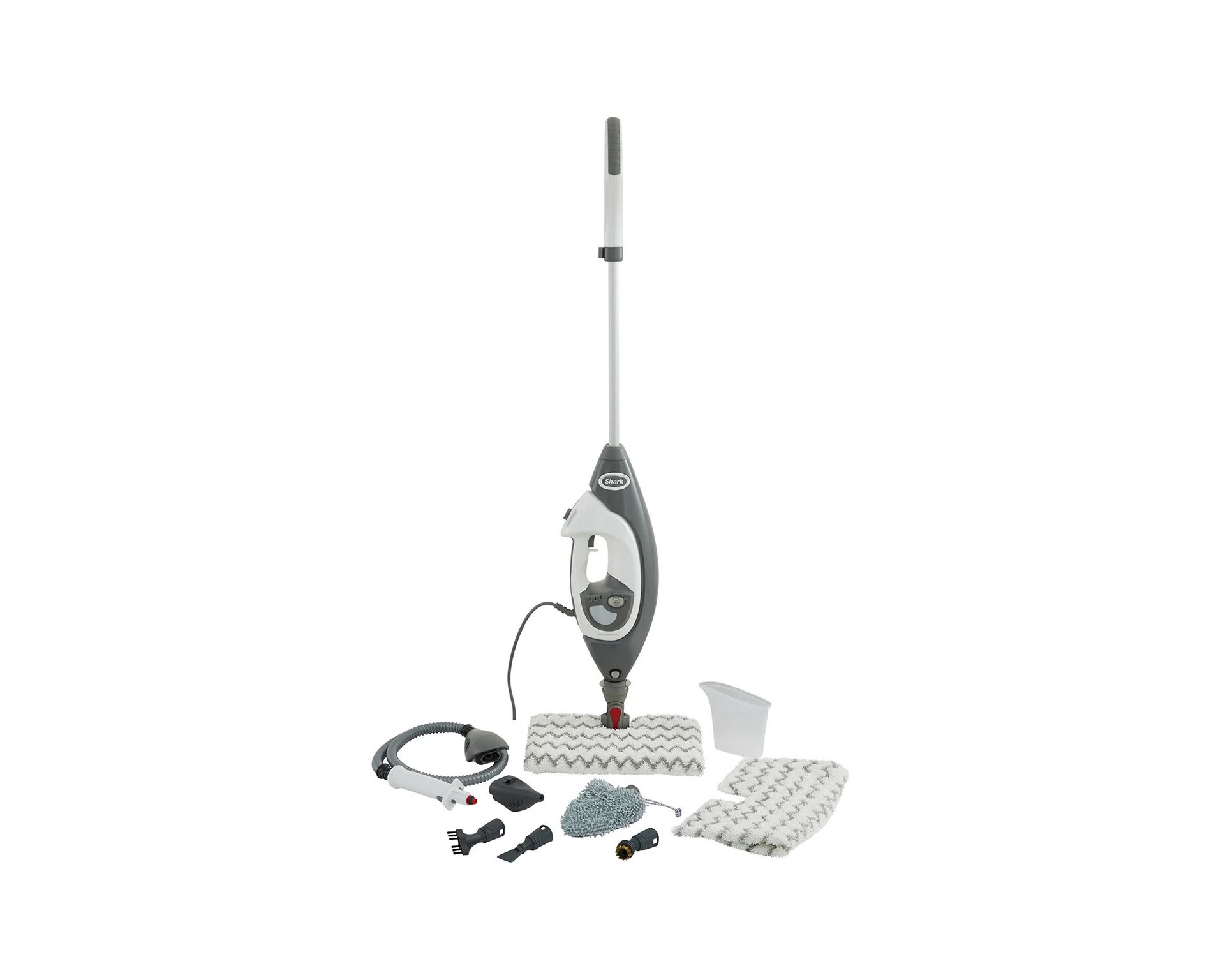 (opens in new tab)
If you have multiple surfaces around the home which could do with a clean and sanitise then we can recommend you buy the Shark Floor & Handheld Steam Cleaner S6005UK. In our review, we found that it created sparkling results on tiled kitchen flooring and fronts of appliances.
More cleaning possibilities
The Klik n' Flip floor head means that when one side of the cleaning pad looks a little grubby, you can easily flip it back to reveal a clean side. There's also a steam blaster to help tackle the more stubborn stains on the floors, although this is not a feature available when it's being used as a handheld steam cleaner.
Converting to a handheld
This can happen with just the click of a button. There's a suite of seven accessories which can be easily attached with a push-and-click action. This will mean that you'll be able to clean tiles, inside (and outside) appliances and well as finish off any areas you may have missed whilst cleaning the floors. With no on-board storage, however, you'll need a little bag to keep all these together so you don't lose any.
Anything else?
This model is NOT cordless so using it as a handheld could get you in a slight tangle.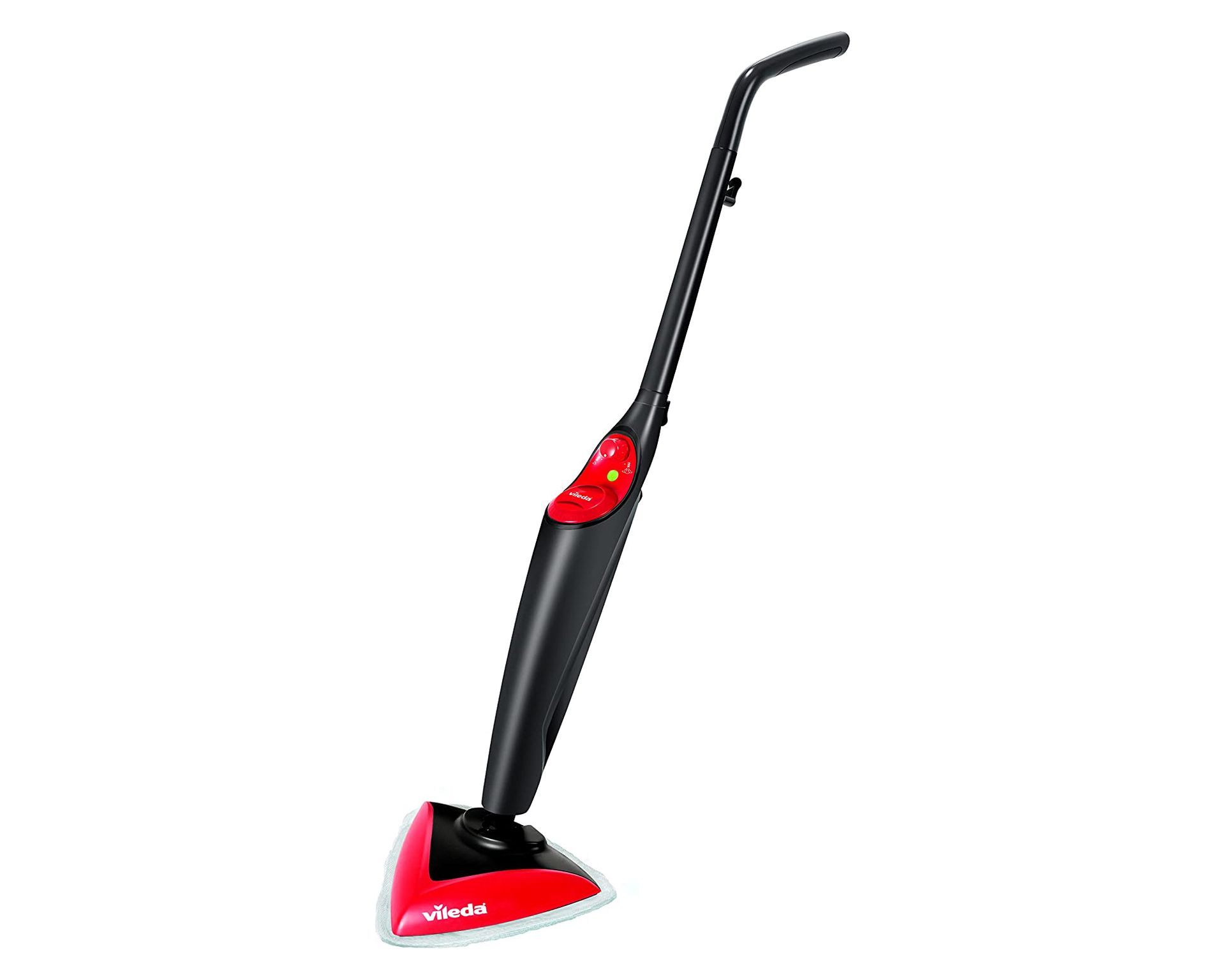 Vileda specialise in cleaning products so it's no wonder that their steam mop is the business. It's fast, lightweight and kills 99.9 percent of bacteria, just like the Shark model above, without the need for chemicals. You can use it on all hard sealed floors such as wood, laminate, vinyl and tile and there's even a carpet glider for refreshing carpets, too. In our tests, it emerged as our favourite by far when it comes to simple, effective cleaning, with absolutely no fuss when it comes to set up or use.
Easy to use
As it's lightweight and comes with a triangular head, tackling awkward corners and objects is simple. It also works for 28 minutes on one tank and lifting it up to swap cleaning pads when your original one is dirty could not be easier.
Removes stubborn stains
Using powerful steam cleaning, Vileda's mop deals with 99.9 percent of bacteria, making your home ultra clean - ideal for homes with children and pets and those who suffer from allergies. The tank is also painless to fill, with an included water tank so that you don't overdo it.
Variable steam
You are in control with the variable steam setting that enables you to use this mop on delicate flooring, too. The controls aren't confusing in the slightest so you can get on with the task at hand.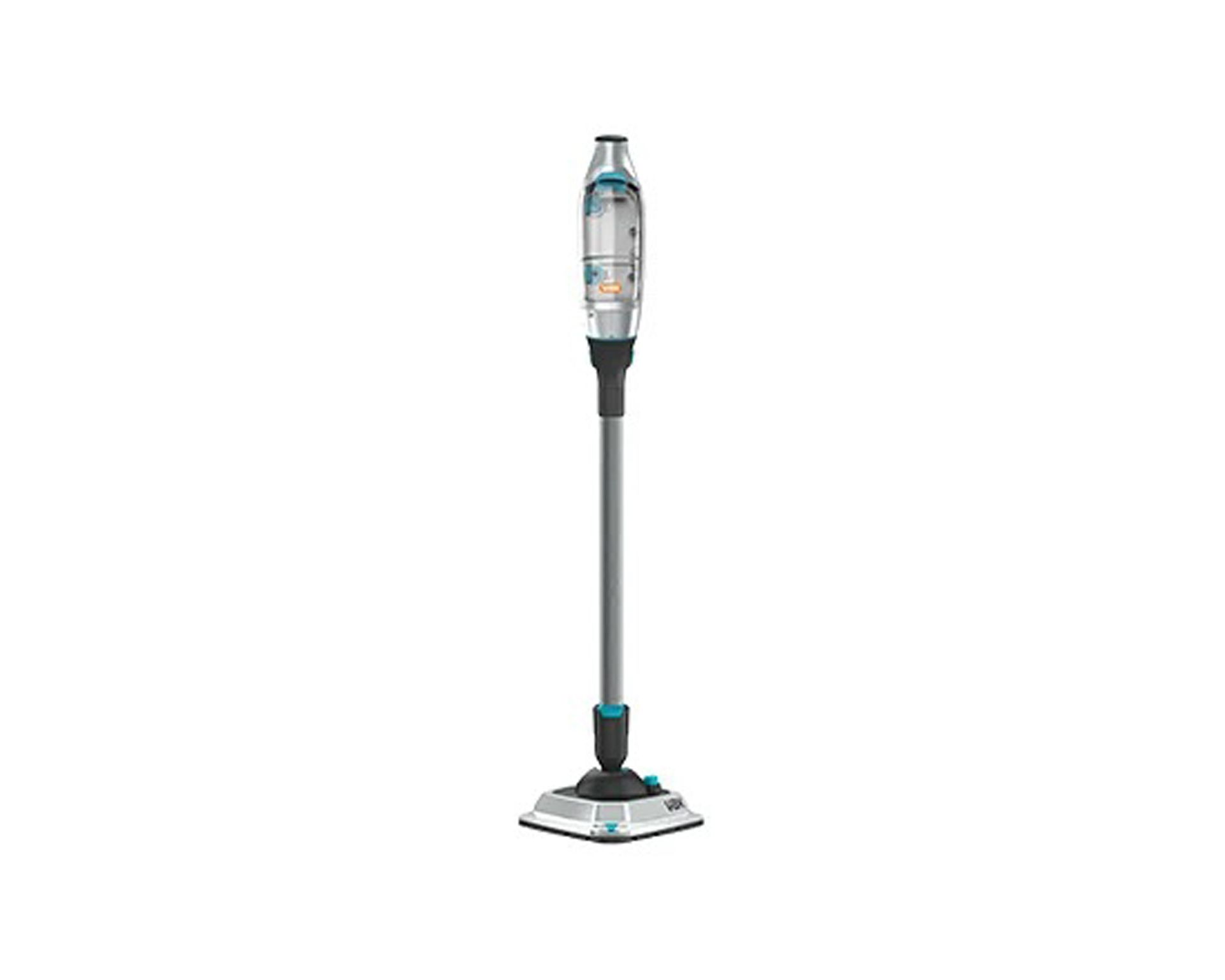 If you want your steam mop to do more than just clean floors, this Vax steam mop is the model for you. Not only cleans floors but it also comes with a handheld reach wand, so you can tackle the tops of cupboards, around the shower and those hard-to-reach areas with ease.
Tackles grease and grime
Whichever cleaning mode you opt for, this steam mop will break down dirt quickly and easily thanks to the use of detergent rather than just steam, which also leaves your home smelling fresh. You can even use it in the oven!
Different attachments
This one really is multifunctional, as it comes with a handheld reach wand and a number of add-ons that allow you to clean a number of surfaces including ovens, hobs and showers.
Steam boost
Ideal for getting down and dirty with stubborn stains, this function gives you extra cleaning power when you need it, and allows you to experience boost mode with detergent added into the mix too.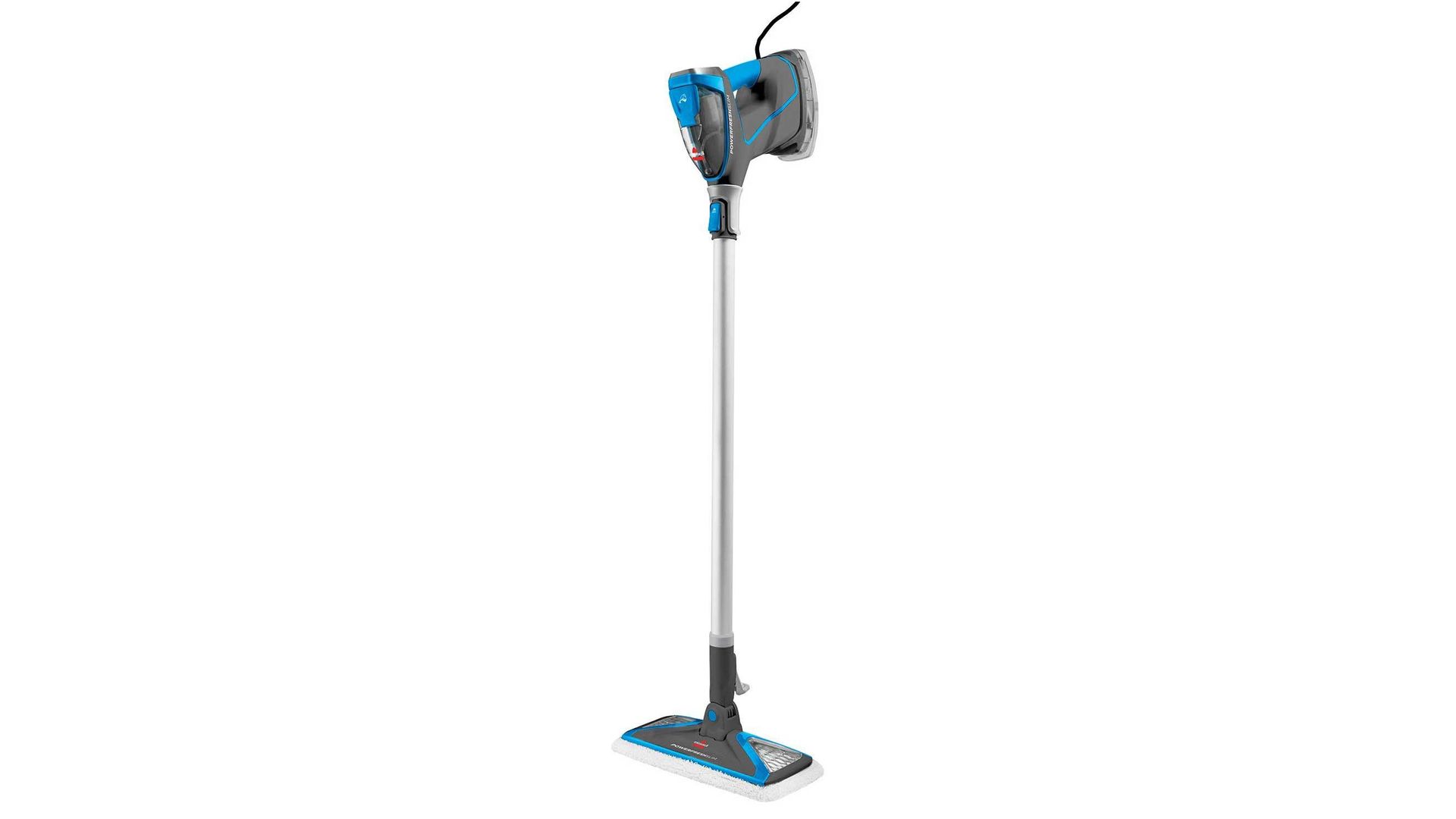 When space is limited in terms of storage in the home, this Bissell steam mop is an ideal choice. Not only is it slim in design but it also comes with a wall mount so you can hang it up after use. It comes with an extension wand and tool kit for awkward nooks and crannies as well as offering swivel steering to get into tight spaces and grimy areas around furniture.
Universal tools
Use the steam trigger to get just the right amount of steam for the job and tackle a variety of surfaces using the on-board tools and attachments.
Easy to use
This slimline model is so easy to move around and is ideal for smaller homes where a bulky machine would just get in the way. The swivel steering is perfect for tight spaces such as under tables and sofas as well as along edges and kitchen plinths.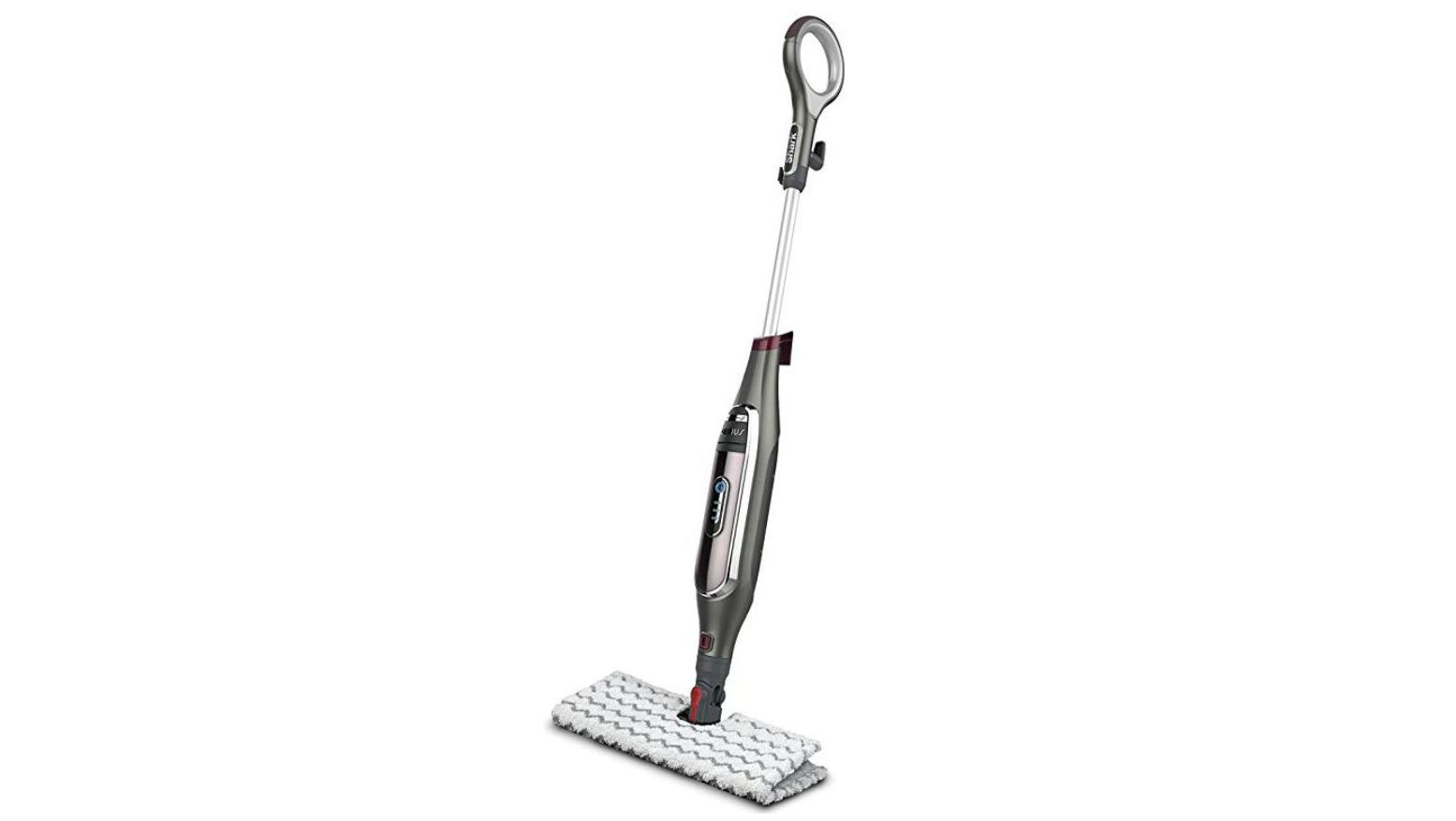 Another option from Shark is the Shark Genius Hard Floor Cleaning System. It's designed to make cleaning floors even easier thanks to its SteamBlast function that can delivers a precise amount of targeted steam to clean stains on hardwood, marble, tile and stone. Simply flip the mop head and you'll cover twice the area, too – meaning you can clean for longer without needing to stop.
Twice the clean
The double-sided, machine-washable Dirt Grip cleaning pads allow you to steam clean double the area by simply flipping the mop head. You can release the used pad by clicking a switch too, so there's no need to get your hands on the grimy pad.
Easy to use
Suitable for all types of hard flooring, this steam mop model is lightweight and comes with swivel steering for easy movement around furniture.
Our Shark Genius Steam Pocket Mop System review is currently underway.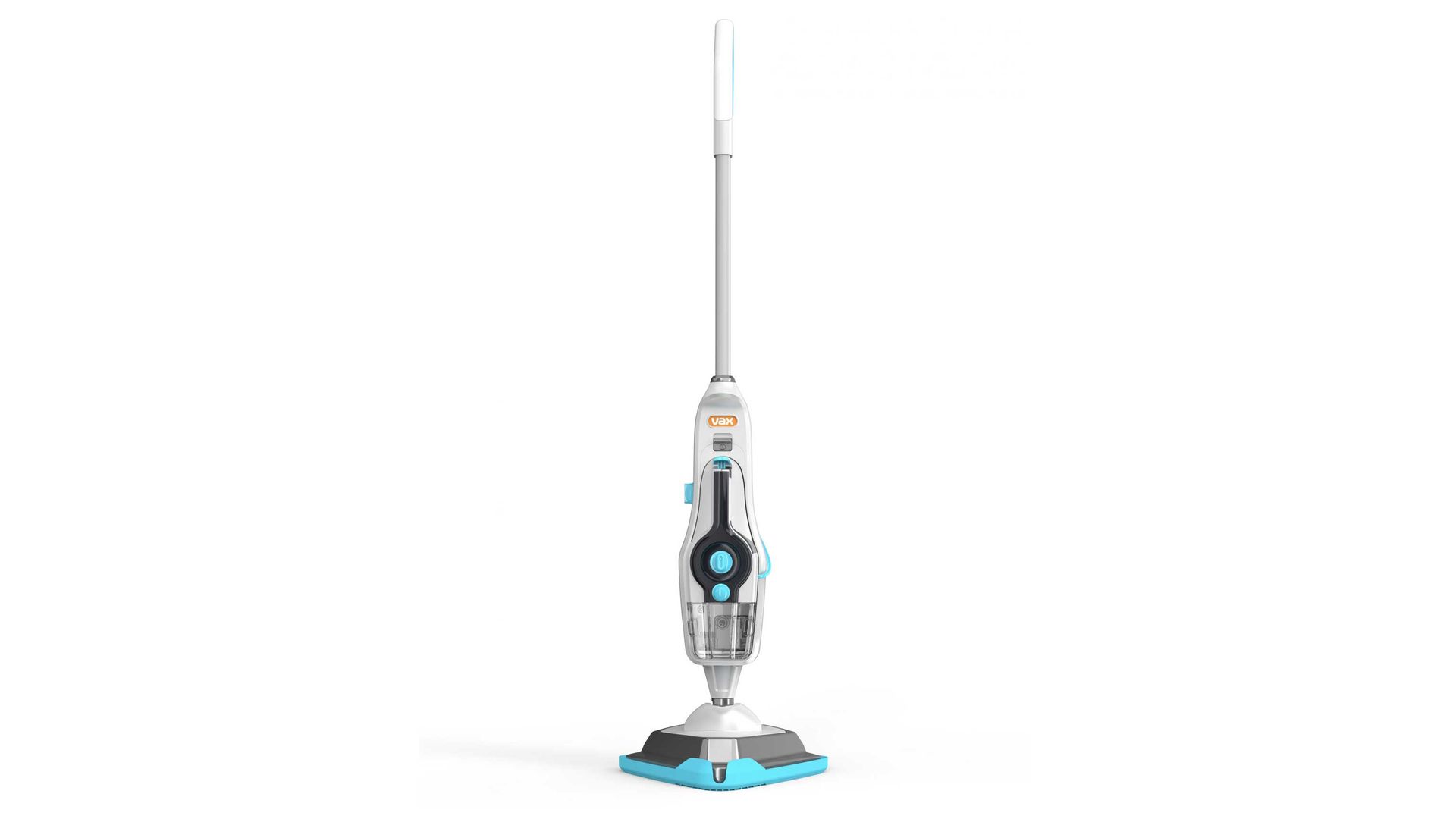 With a fast heat-up time, this second model from Vax to feature in our best steam cleaner guide is a multi-function design that offers 15 features in one. It has a detachable handheld cleaner as well as a 10-piece tool kit and also comes with variable steam control. The detachable handheld cleaner just needs one click and it's ready. It works on sealed hard floors and leaves them smelling fresh thanks to the detergent, and can also be used on tiles, showers and loads more.
Handheld mode
Simply remove the detachable unit with one click and steam clean windows, mirrors, taps, tiles, sinks and bathroom surfaces.
Variable steam
You're in charge of how much steam to inject into your cleaning and when. The variable steam and detergent controls are easy to use and easy to reach.
Compact scrub brush
A built-in brush pops out when needed to help get rid of tough, stubborn stains from floors and tile grouting.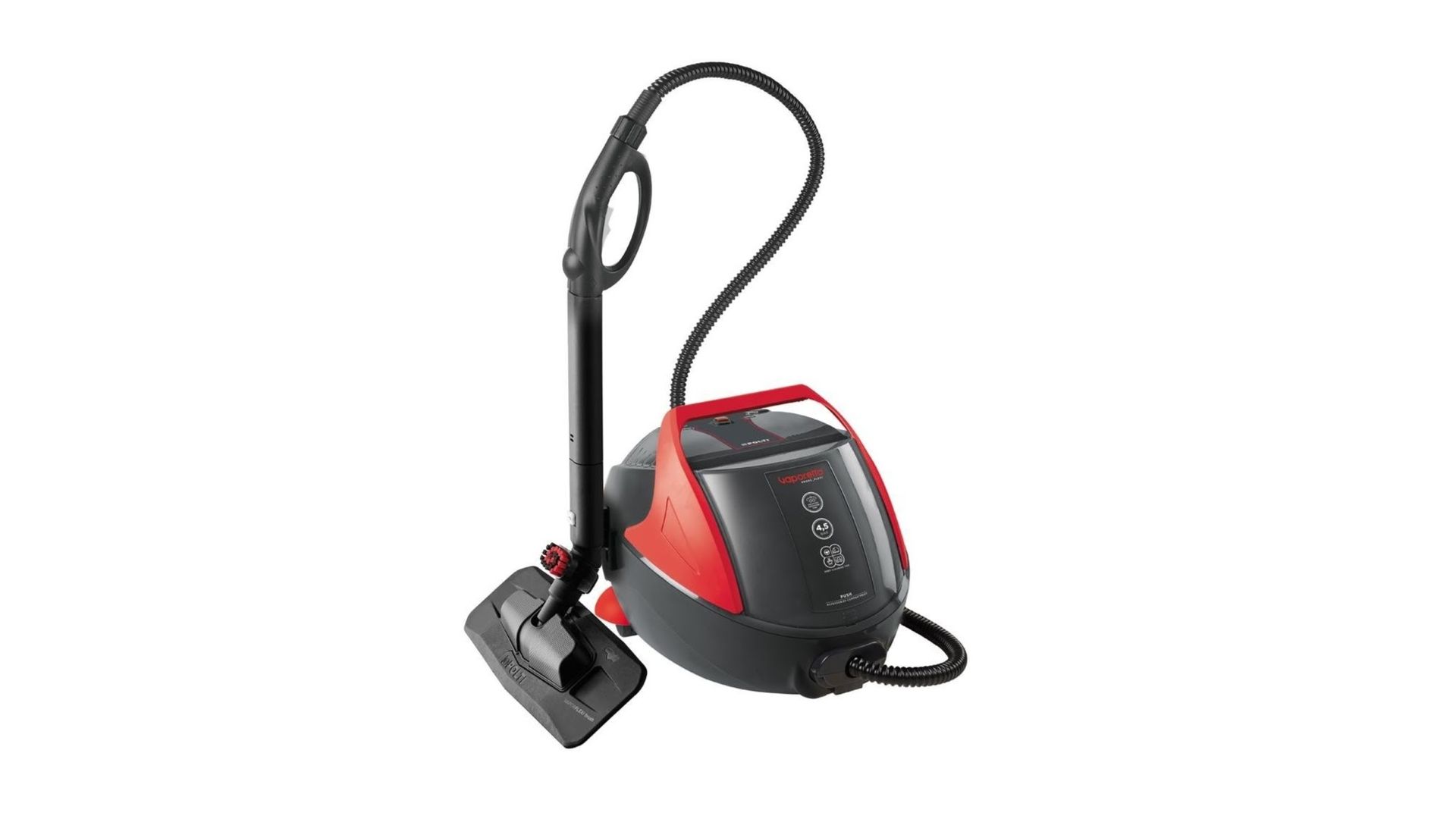 (opens in new tab)
This steam cleaner from Polti is as easy to manoeuvre as a vacuum cleaner, and works extremely well when deep cleaning floor and carpets. We'd also like to note that although the Polti Vaporetto is more expensive than our best steam cleaner, the Kärcher SC3, it does heat up faster and it's a 4.5 bar steamer, while the SC3 is slightly less powerful at 3.5 bar.
Continuous refill system
This steam cleaner has a continuous refill system to allow you to add more water at any time. This way you you can carry out uninterrupted cleaning whenever you need to. Although you may have to keep unplugging and changing sockets if you're working with a large space, this does still mean less trips to the sink.
Allergy friendly
Holding a British Allergy Foundation Seal of Approval, this steam cleaner claims to be effective against dust mites. It can kill and remove 99.99 per cent of bacteria, fungi and mould. All with just hot water.
Accessories included
This is the part we love the most – the Polti comes with a floor attachment, the Vaporflexi brush. This allows you to steam clean under furniture with ease ensuring every inch of your home is clean. The machine also arrives with a carpet accessory, a window squeegee accessory, a concentrator tool, a small brush and a few others.
---
Real Homes review process
Our testers are our appliance experts who, between them, have been testing products for decades. Here at Real Homes, we aim to review every single product before it goes into our buyer's guides so we know that it really is the best of the best. This hands-on experience gives us the confidence that the money spent on the products is money well spent.
You'll see that we have included products from brands such as Shark, Vileda and Russell Hobbs which have all been put through their paces in the same way in our own homes. They've been challenged with cooking sauces and mud on tiled flooring, and countless amounts of stains on upholstery, for a good number of weeks (sometimes months) to help give you and us a full understanding of the product capabilities.
We also take into account its ability to clean and manoeuvre, the tools that come with it, how easy it is to control and the price. We also look out for feedback from other customers to see how it faired in their homes.
Meet the team members who tested these steam cleaners just below.
Molly Cleary tested out five of these cleaners in her two-bedroom flat in London, which is as cramped as it sounds. Testing them in one place allowed her to see exactly which cleaners excelled at what, and to directly compare size, ease of manoeuvrability and any storage issues too.
'My favourite steam cleaner by far is the Vileda Steam Mop, with its lightweight design encouraging me to pick it up far more often than any other cleaner. It also stands upright without falling over, which is a godsend to help with the state of my cleaning cupboard. The results are really excellent on hard floors, and I've used it to refresh my carpets too.'
Are steam cleaners really worth it?
Before you take the plunge, you might be considering if a steam cleaner is exactly what you need when it comes to cleaning. We think that while the best mop can tackle hard floors on a day to day basis, the best steam cleaner sanitises to a higher level, and makes them sparkle like nothing else.
Able to kill up to 99.9 per cent of bacteria, fungi and mold, it's easy to see why this specific type of mop is so popular, especially when you also factor in that they can also tackle carpet stains.
Simply put, an upright or a handheld steam cleaner, will rid the need of you ever getting on your hands and knees with a scrubbing brush again. Not to mention the help they can offer when it comes to the dreaded task of cleaning your oven.
6 things to consider when buying a steam mop or steam cleaner
When looking for a new, or replacement, steam cleaner there are a few elements to consider to ensure it is the best steam cleaner for you:
1. Cable length
All steam mops are corded, so depending on the size of your house or the amount of plug sockets you have dotted around, be wary of the cable length.
2. Water tank
Since these appliances convert water into steam, the size of the water tank is an important feature. Live in a larger home? Opt for a mop with a large water capacity to save having to top it up regularly.
Which is best: steam cleaner or a steam mop?
Steam cleaners come as handheld, mops and cylinder models. Each offers a different type of cleaning, and you can also get a combination of them all if you want to clean different types of surface on a regular basis.
Steam mops are best for hard flooring, cylinders are good for carpets and upholstery and handheld machines are best for reaching small or inaccessible areas.
3. Heat up time
Waste no time waiting for your mop to heat up, the majority of our picks heat up in just 30 seconds.
4. Power
A higher wattage won't necessarily equal better performance so consider all the specifications before making your mind up.
5. Weight
You'll find that handheld steamers are lighter and easier to use but don't steam for as long as mops. Mops heat up more quickly and last a lot longer but the exact time will depend on the size of the water tank. Opting for a lightweight steam mop is a smart thing to do, especially if you have stairs in your home. Also, look at the overall design and see if the handle is ergonomic enough for you and if the style of the steam mop suits the way you work.
6. Attachments
You can also get a range of attachments for your steam cleaner that open up many more cleaning options, such as upholstery tools, scrubbing pads and squeegees for cleaning windows and appliances, for example.
What is the best steam mop and steam cleaner?
To recap... we've voted the Karcher SC3 Easyfix Steam Cleaner (opens in new tab) as the best steam cleaner you can buy in 2021. To name a few reasons why: it has a large water tank; it doesn't require detergent; it can clean upholstery and kitchen appliances and it comes with a range of attachments included.
Prefer a steam mop? We wouldn't hesitate to buy the Shark Klik n' Flip. It comes with intelligent steam controls for a precise, targeted clean and can be used on all types of hardwood floors, as well as tiles.