Everyone has a wish-list of sorts for home décor, and for me, the one item topping mine is none other than the Hermès blanket, specifically, the Avalon.
This Hermès blanket is more than just a typical throw blanket; to me, it is "the" blanket. It's the equivalent of a Birkin for your home and provides the same exclusive feeling that any other designer shoe or handbag gives.
It's been on my wishlist ever since I first saw it in the Sex and the City movie years ago, and to date, it's still in the top spot. (Does anyone else remember Carrie Bradshaw wrapped up in this blanket after dealing with her heartbreak/wedding fiasco from Big? If so, same, and this only added to its appeal.)
To the point, I didn't just want this blanket: I needed it; whether it was wrapped around me on the best mattress or simply draped over a cozy armchair, it was impossible to stop thinking about it. Though, with a hefty price tag and small rainy day fund, it wasn't until today that my dreams of owning this blanket came true.
Where to buy the Hermès blanket?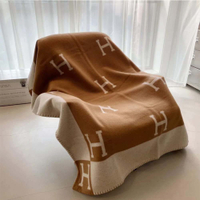 Nmfdz Ulta-Luxe Fleece Blanket for $56.99 + an additional $3 off, at Amazon
Wrap yourself up in soft, cashmere comfort all winter long, courtesy of this blanket that's a dead-ringer for the Hermès Avalon.
Call it a Black Friday miracle, but this monumental day was unmatched; right there, in the middle of Amazon, was a blanket that was a dead-ringer, and the best part? It was only $58.
Yes, that is a complete steal compared to the higher-end version that rings in roughly around $1,500, and the best part? According to so many reviewers, "it looked and felt" like the real thing.
Here, this Hermès-inspired blanket comes available in four shades and features 85% wool and 15% cashmere throughout. With the signature 'H' evident, it's hard-pressed not to mistake it for the real thing.
Whether you're staying warm and toasty by the fire or giving this as the perfect baby shower gift with an under $60 price tag, why not grab one for everyone on your shopping lists this holiday season.
After all, I could write a novel over my love and affection for this Hermès blanket. But, trust me, it runs deep: I have all four colors, but for the sake of time, experience this designer dupe for yourself.
Want more gift inspiration? See our cozy gift guide for 7 top buys that introverts will love.
Love the Hermès blanket? Check out additional cashmere blankets below: