Need an extra jolt of caffeine to take on the day? Then finding the best espresso machine for your kitchen is a must. A top-quality espresso machine will give you café-quality coffee drinks without having to leave your home – or pay the steep mark-up.
But while an espresso machine can be a worthwhile addition to your kitchen, buying the right one for your lifestyle can be overwhelming. With so many types, brands, and price points, the shopping process can be a lot like choosing between a cappuccino, a latte, and a flat white – similar, but each with its own merits and dozens of options for making them your own. To help you make the right choice for your morning java, take a look at our comprehensive shopping guide below. From qualities to look out for to the best options the market has to coffee, you're just a few clicks away from a boost of caffeine.
You'll find our top picks of the best espresso machines if you keep scrolling then, if you want, head to our best coffee makers guide for a choice of single-serve and drip coffee makers, too.
---
The best espresso machines to buy in 2023
Why you can trust Real Homes Our expert reviewers spend hours testing and comparing products and services so you can choose the best for you. Find out more about how we test.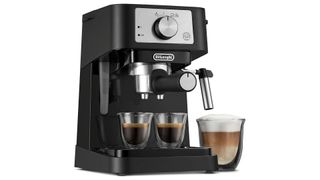 De'Longhi knows a thing or two about delicious espresso. The Italian-based brand has been making high-quality, functional machines since its founding and its 15-Bar Pump Espresso and Cappuccino Maker is no exception. As one of the most popular semi-automatic machines around, this option gives De'Longhi's historic designs an updated, modern twist.
Compatible with freshly ground espresso and convenient pods, this model is perfect for both caffeine connoisseurs and those who consider their morning beverage a means to a blend. (Pun intended.) Decked out with a three-in-one filter holder, this machine offers plenty of room for single servings, double shots, and pods. There's also a large water reservoir, so you won't have to refill the tank every time you need a jolt of energy. The two thermostats allow you to adjust the water and steam temperature separately, while the Advanced Cappuccino System will main peak brewing temperature. That way, you won't have to sit around and wait for your espresso machine to reheat.
But while the 15-Bar Pump Espresso and Cappuccino Maker has a plethora of amenities to simply the brewing process, it doesn't stray too far from De'Longhi's storied past. The machine features adjustable controls, allowing you to have some extra autonomy in your espresso.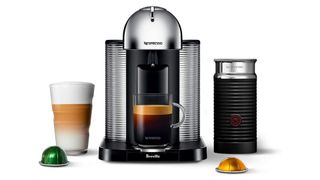 Let's be honest: Most homebrewers aren't too concerned with unlocking all nuanced aromas and flavors of their espresso beans. For many, all they really want is a strong cup of espresso—and they want it fast. That's where Nespresso comes in. The Swiss brand has been making stylish, intuitive espresso machines since its founding in 1986, and teamed up with Breville to create the Vertuo espresso machine.
Among the best Nespresso machines, the Nespresso Vertuo is known for its clever pod system and makes whipping up a creamy cup of espresso as easy as inserting one of the brand's pre-packed capsules and pushing brew. The 40-ounce water reservoir can make up to five drinks in a single fill, so you won't have to refill the tank every time to need an extra boost. And thanks to the pre-packaged capsules, you won't have to worry about grinding up espresso beans every morning.
But just because the Nespresso Vertuo Espresso Machine by Breville is easy to use doesn't mean it skimps on quality. This machine uses its patented Centrifusion technology to spin the capsule up to 7,000 rotations per minute, so you can blend up some delicious crema. It also comes with an Aeroccino milk frother, making it possible to blend up a delicious latte or cappuccino.
Best of all? The Nespresso Vertuo Espresso Machine by Breville also doubles as a coffee maker, so you can blend up two delicious beverages for the price of one.
Ensure you get the best price by checking out our Nespresso promo codes.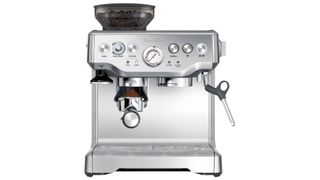 With over 15,000 rave reviews on Amazon, a 4.7/5 rating, and an "Amazon's Choice" badge, it's not hard to see why Breville's Barista Express espresso machine has topped so many shopping lists, including ours. This versatile option is decked out with all the bells and whistles to serve up a delicious espresso with each blend. (It's almost as if your favorite café set up shop in your kitchen.)
While most espresso maker have automatic or manual operations, Breville's Barista Express machine can do it all. Espresso enthusiastic will love using the manual override, which will give you plenty of autonomy over your beverage. Want a strong espresso shot, but aren't too fussed with all the nuanced flavors and aromas? The automatic setting offers a simple streamlined experience. A built-in grinder will crush your espresso to perfection, while the grind size dial is compatible with an array of beans.
Once your espresso is ground and tamped, Breville's digital temperature control feature will unleash water at just the right time to pull the very best flavors out of your espresso. It also features a micro-foam milk texturing features, which will steam your milk and even create some cool latte art. (Yes, just like your favorite café.)
The catch? Breville's Barista Express Maker will elicit some sticker shock. However if you regularly spend top dollar on fancy espresso drinks, splurging on this machine could save you money in the long-run.
Real Homes Rated: 4.5 out of 5 stars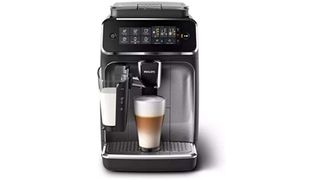 The Philips 3200 Series is your typical super-automatic that brews espresso with minimal effort on your part, with its bean to cup set up. But, the addition of the LatteGo milk frother is the game-changing feature that lets you brew a latte or a cappuccino in one step.
The LatteGo milk frother features a plastic jug and a frame that click together to create a channel in which steam pressure sucks up milk through the hole at the bottom of the container. The air steam and milk are mixed at high speed resulting in a dense silky smooth milk foam that pours right into your cup, followed by the espresso brew cycle.
Whether you seek a milky beverage or a straight shot of espresso, The 3200 Series gives you options. Easy buttons across a control panel let you select from a typical espresso shot, coffee, Americano, Latte, cappuccino or hot water with settings to adjust brew strength, temperature, and beverage and milk quantity. Once you select your desired beverage, the ceramic burr grinder kicks in, with 12 different setting options to get your ideal grind size, before automatically dispensing your hot beverage. You also have the option to use ground coffee if you're in a rush.
The really only downside to this machine is its price (and the initial complicated setup), but if you prioritize both convenience and quality, and refuse to compromise between the two, you will enjoy every aspect of this machine.
Real Homes rated: 5 out of 5 stars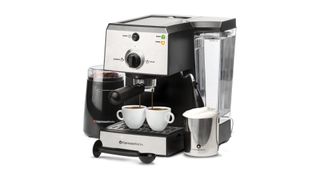 The EspressoWorks All-in-One Espresso Machine will have your coffee hub set up in no time. The espresso maker can also make café latte, cappuccino, macchiato, flat white and Americano brews. The seven-piece kit includes an Espresso machine, electric grinder, two espresso cups, a stainless-steel milk frothing cup, single and double shot filter baskets, and measuring spoon and tamper for tamping the beans into the included portafilter.
The machine itself does not have an integrated, built-in grinder, but it does come with a separate electric grinder so you don't have to worry about tracking one down. The controls are simple and making an espresso, or even a latte is incredibly straightforward, simply switching the dial back and forth between espresso and seam. The 15-bar pump ensures the right amount of pressure, and the manual frothing steam wand lets you control the amount of milk. In addition, the removable 1.25L water tank is easy to view, fill, and clean. We also love that is comes with two perfectly sized porcelain cups with a built in warming tray to replicate the coffee experience.
Real Homes Rated: 4.5 out of 5 Stars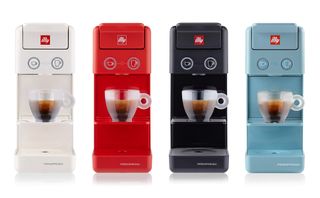 Just because you may find yourself limited on space, doesn't mean you need to shortchange your coffee intake. The Illy Y3.3 Iperespresso is on hand to provide you with easy and convenient dose of espresso... just pop in an illy iperEspresso capsules, then you're ready to click the on/off/go button. It's really that easy.
This coffee machine, available in four colors to suit your style, is compact at under 4" wide, with a pleasing streamlined design that will work well on a kitchen counter or in your home office space. It features a removable water reservoir that makes for easy filling, as well as a convenient auto shut-off feature and can be programmed to pour coffees up to 7.4 ounces with volume control. It's very uncomplicated.

Illy is ideal for espresso-lovers looking for simplicity and reliability, but if you want to get creative with your coffee drinks, this might not be the best machine for you. It also takes Illy pods only.
Real Homes rated: 4 out of 5 stars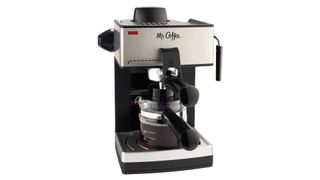 Fortunately, you don't need to spend a small fortune on an espresso maker. With over 3,000 positive reviews on Amazon, a 4.1/5 rating, and a "#1 Best Seller" badge on the site, Mr. Coffee's espresso machine hits the intersection of quality and affordability.
Using Mr.Coffee's espresso machine is surprisingly simple. Instead of fusing with multiple knobs and buttons, there's a single switch to turn the machine on and off. Simply ground your espresso beans, add water to the reservoir, tamp your grounds, turn the brew knob to brew espresso, and then rotate it the other way to steam milk. The machine uses a Steam Heat function to force hot steam through the filter for dark, rich espresso. While the 3-bar pressure isn't as high as most professional-grade machines, this model is designed to brew up rich, creamy java. If you want to go big with a cappuccino or latte, the frothing arm will let you steam up milk like a true barista.
Plus, this espresso machine is incredibly compact. Thanks to its slim design, Mr. Coffee's model is a great choice for small apartments and college dorms alike.
Why sit around and wait for your espresso to be brewed when you can pick up Wacaco's Portable Nanopresso machine? Perfect for commuters, travelers, and avid outdoor adventurers, this small gadget is designed to brew up delicious espresso anytime, anywhere.
Though manual espresso machines are known for their extra elbow grease, using this model is surprisingly easy. Simply add ground espresso and water to their respective tanks—the round bottom of this machine doubles as a tamp to pack your ground in place. Once in the lock position, the knob in the middle will jut out and be ready to pump. The results won't be immediate—it'll take about 20 to 30 pumps for the espresso to be fully extracted–but you'll wind up with strong java with a gorgeous, golden-brown crema. Plus, Wacaco claims this iteration of the Nanopresso requires 15% less press force than previous models. So while it may take a few pumps to churn out great espresso, it won't feel like a mini-workout.
Unlike most manual espresso machines, which are known for being bulky and expensive, Wacaco's Nanopresso is small enough to fit in your suitcase to be taken on your next big adventure. With nearly 1,000 positive reviews, a 4.5/5 rating on Amazon, and an "Amazon's Choice" badge, it's a sound option for under $100.
What to look for in an Espresso Machine
Congratulations, you've decided to buy an espresso machine. Now the tough question: What type of espresso machine should you buy? Since espresso machines aren't a one-size-fits-all situation, here a few things to keep in mind as you shop.
Which brew style is right for you?
While seeping warm water with some freshly ground espresso might seem like a simple task; however, there are many ways to do it. While there are four different types of brews, no style is better than the others. Read on about the different espresso machine styles below to find the best option for your lifestyle:
Manual Espresso Maker: Anyone who wants to give their morning java an old-school approach will find a lot to love about manual espresso makers. Instead of using cutting-edge technology, this style uses levers or pumps to blend the water and espresso grinds together. Sure, it might take a little more elbow grease, but the results are worth it: Manual options give you a lot of control so you can make your espresso just the way you like it. (Completely with a delicious amount of crema, of course.) Since manual espresso machines have little to no electrical parts, they generally have a longer shelf life.
That said, manual espresso machines aren't perfect. As mentioned, they give the home barista a lot of control—but that can also mean a lot of room for error for caffeine novices. Since most companies have added tech-savvy elements to their machines, finding a manual espresso maker isn't as easy as it used to be. And, if you are able to find one, expect to pay a pretty penny for them.
Semi-Automatic Espresso Maker: Want the control of an old-fashioned manual espresso maker, but the bells and whistles of a new style? You might want to consider adding a semi-automatic espresso maker to your cart. It's not hard to see why this style is one of the more popular options on the market. While a semi-automatic espresso maker will let you control the grind, tamp, and quantity of ingredients, it features an electric pump that will ensure it has consistent pressure throughout the brewing process. (Translation: You'll have plenty of control over your coffee without as much legwork.) Plus, semi-automatic espresso makers are available at a wide range of price points, so you're bound to find a great option that fits your budget.
A semi-automatic espresso maker might sound like the best of both worlds for some shoppers, but it's not for everyone. While this style's electric pump does offer more guidance than a manual espresso maker, beginners will still find a steep learning curve. Or, if you're an espresso enthusiast who loves to have complete autonomy over your coffee, you'll have a trickier time brewing the grinds to your liking. Since there are some electric parts, you might experience more upkeep than a manual espresso maker requires.
Fully-Automatic Espresso Maker: Making and drinking espresso should be an enjoyable experience, not a nerve-wracking chore. If you want to make your own tasty beverage—without the hassle of controlling the espresso to water ratio—a fully-automatic espresso maker might be the option for you. This machine style is exactly what it sounds like: Simply add your ingredients, flip the on switch, and it'll do the rest for you. Before you know it, you'll have a creamy, dreamy dose of espresso waiting to be consumed. Another perk? While fully-automatic espresso makers come at a range of price points, they're generally very affordable.
That says, a fully-automatic espresso maker does have its share of pitfalls. While this option will streamline most of the espresso brewing process, you will have to grind and tamp your espresso beforehand. If you're used to having an artisanal latte from your favorite café, you might be disappointed to learn you'll have less control over your beverage's overall aroma. And, like all machines, a fully-automatic espresso will require more upkeep. But if you're okay with less control and more maintenance, it's a sound option for you.
Super-Automatic Espresso Maker: If you want to make the espresso-brewing process as easy as, say, cruising through your local coffee shop's drive-thru lane? Invest in a super-automatic espresso machine. As your all-in-one machine, this style will do everything from grinding and tamping your espresso beans to brewing the perfect amount into some creamy java. Since many of these tech-savvy styles have programmable settings and built-in grinders, making some espresso can be as easy as pressing a button.
Still, fully-automatic espresso machines aren't for everyone. Since they're the most automated models, you'll have the least control over your espresso. Plus, more electric parts often mean more maintenance, so it's important to check a prospective option's warranty policy. For many, a fully-automatic machine is the Cadillac of espresso makers, so they often come with a steep price tag.
Electric steam brewers: If you're really limited in the amount of money you're looking to put toward your new espresso maker, espresso machines that utilize steam pressure over pump pressure are the most affordable options. Steam brewers work by bringing water to a boil in a sealed tank, which creates the steam pressure needed to force boiling-hot water through a portafilter.
Consider the special features
Of course, the research process doesn't end with deciding between an automatic and manual espresso maker. Many models are packed with special features; some might improve the espresso-brewing experience, while others might be superfluous. That said, it all boils down to your personal preference.

Want to save time and steam milk while you brew your espresso? Look for a machine with a double boiler. If you want to give your milk some pizazz, keep an eye out for a machine with a frother or steam nozzle. Of course, it's also a good idea to find an espresso machine that has the basics. A built-in grind will slice and dice your espresso means, while a tamper tool will press your grinds down evenly to fit nicely in your machine.
But, no matter what your preference is, having an understanding of an espresso machine's special features will give you the confidence you need to walk away with a great model.