Best small air fryers quick menu
Whether your oven is small or you're too impatient to wait for it to preheat, I've reviewed a bunch of small air fryers that prove you don't need mountains of space to own this innovative appliance that will cook fresh and frozen food in minutes.
So if your kitchen has just enough countertop space for an air fryer, this small kitchen appliance can either sit flush, at an angle, or be stowed away in your cupboard after use. Apartment-dwellers, college-goers, and solo renters, this list is for you. The best part? Smaller air fryers tend to be easier to use, simpler to clean, and you guessed it — more affordable than goliath gadgets too.
Though Cosori air fryers take up a third of this buying guide, I've featured some other convection ovens from the brands you know and love including Ninja, Dash, Instant, and Dreo. BTW, we anticipate that many of these Amazon air fryers will be on offer because it's Black Friday!
Early Amazon Prime Day deals
Amazon Prime Day (aka Amazon Big Deal Days) is approaching this Oct 10-11. This promotional period is generally the best time to invest in an air fryer on Amazon. Here's what we've seen so far, but prices are subject to change on the day.
The best small air fryers to buy in 2023
Why you can trust Real Homes Our expert reviewers spend hours testing and comparing products and services so you can choose the best for you. Find out more about how we test.
We've written a brief summary of the things we love about the small air fryers below, but you can click to read our full reviews if you want to know more.
2-quart air fryers
"A smaller air fryer may be perfect for two people as it will take up less space and require less energy to operate," says adds Ruiz Asri, chief knowledge officer and editor at Honest Food Talks. "Small air fryers are typically easier to clean and can be more affordable than their larger counterparts. However, the downside is that they may not be suitable for cooking larger portions or for entertaining guests."
We recommend 2-quart air fryers for cooking for one to two people. They're mostly great at cooking side dishes as they're tiny inside.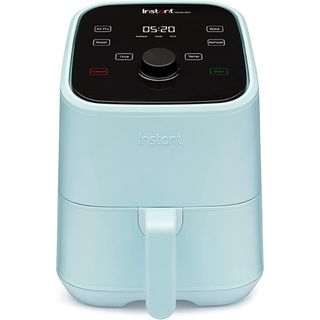 Our top pick
1. Instant Vortex Mini Air Fryer
Capacity: 2 quarts
Size (in.): H11.73 x W9.02 x D11.38
Rating: 5/5 stars in our Instant Mini Vortex review
Price: $59.99
+ Lots of colors
+ Easy to clean
+ Small and lightweight
- Can smell chemically at first
This petite 2-quart air fryer ticks all the boxes for style and size and is TikTok-approved, too. It comes in four fun colors and is great if you rely on your oven and stovetop for most jobs but want to speed up the process of cooking sides. It's simple to use, sturdy, and smart enough to remember your last-used setting.
Please note this company is currently filing for administration, but this product is still available for purchase. Note that your communication with the brand and warranty may be affected during this period.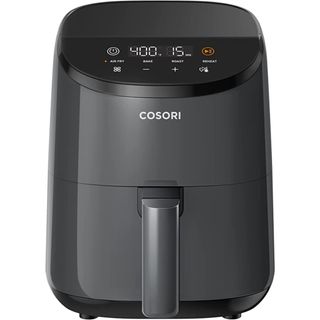 Easy to use
2. COSORI 4-in-1 Mini Airfryer
Capacity: 2.1 quarts
Dimensions (in): H10.5 x W8.3 x D10.1
Price: $59.99
+ Easy to use
+ Can be used with Google Assistant
- Only available in grey or white
- Originally one of the recalled COSORI models (but newer models are safe)
Quite often, air fryers have wayyyyyy too many cooking functions for specific foods we'll never heat. So it's nice to have a small air fryer that keeps things simple. Though we haven't had first-hand experience with this product, we have reached out to Cosori for a sample, so you won't have to wait too long for a review. Going by highly-rated reviews on Amazon, this quiet convection oven sounds promising! I've got a good feeling we'll be adding this to our Cosori air fryers edit.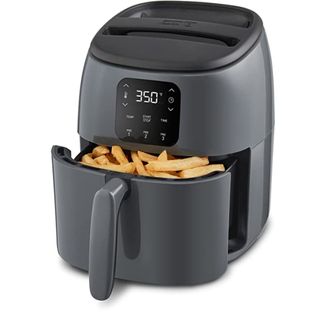 Budget-friendly
3. DASH Tasti-Crisp™ Digital Air Fryer
Capacity: 2.6 quarts
Dimensions (in): H11.3 x W10.7 x D8.7
Rating: 4/5 stars in our Dash Digital Tasti-Crisp review
Price: $59.39
+ Affordable
+ Easy to use
+ Available in five colors
- Some shoppers report persistent "E1" error code
If you're looking for an easy-to-use air fryer to reheat and air fry smaller batches of food, then the Dash Digital Tasti-Crisp Air Fryer 2.6qt is for you. Our freelance reviewer Alexandra found that the best use of this small air fryer is cooking frozen food such as appetizers, fish (including salmon), and chicken. It cut down the defrosting time of meats, poultry, and fish significantly. And, in one sitting, you could have a meal prepared without wasting any time.
4-quart air fryers
"As long as you choose a reputable brand and model, you can expect your small air fryer to deliver delicious and healthy meals with less oil and in less time than traditional cooking methods," says Asri. "Another factor to consider when choosing an air fryer is its features. Some air fryers come with programmable settings, while others have a digital display that allows you to monitor the cooking process. Some air fryers have multiple functions and can be used to bake, grill, and roast, in addition to air frying."
We recommend four-quart air fryers for two or three people, or even for small families. You'll be able to cook more than a side dish for one or two, but for any more people, this is the size air fryer you need to make healthy homemade fries.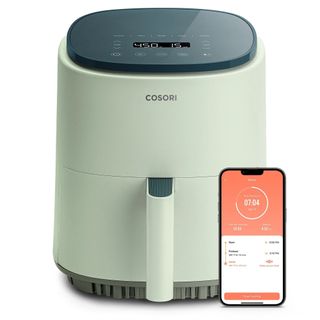 Smart and stylish
4. Cosori Lite Smart Air Fryer
Capacity: 4 quarts
Size (in): H12.8 x W10.8 x D14.8
Rating: 5/5 stars in our Cosori Lite review
Price: $99.99
+ Contemporary colorways including sage green and white
+ Programmable with app
+ Easy to clean
- Most expensive on our list
The Cosori Lite 4-Quart Smart Air Fryer is best for small families or couples thanks to its smaller capacity and it comes in three muted colorways to suit all kitchen countertops. Despite this, it can fit a whole 3.5-pound chicken. The smart control system lets you start cooking, monitor your food's progress, find recipes, and more all from an app on your phone. Voice-activated cooking is your party trick if you have a smart speaker.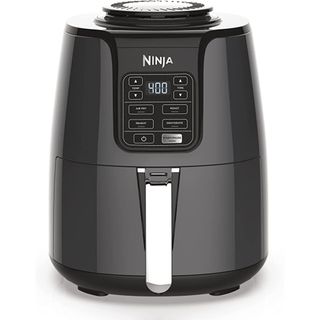 The best small Ninja air fryer
5. Ninja 4-quart AF101 Air Fryer
Capacity: 4 quarts
Size (in): H11 x W12.1 x D8.5
Price: $99.99
+ Ceramic-coated nonstick basket
+ Dishwasher-safe parts
- Most expensive on our list
- Some say it's too loud (not suitable for people with pets)
Sure, it might not have drawers like the DualZone but if you want a 5-star air fryer for a small apartment — go for this branded beauty! I envy those who have it because I'm scrolling through all the Amazon air fryer reviews and seeing loads of "easy to clean," "easy to use," and "highly recommend" mentions. It's currently under $100, so run — don't walk!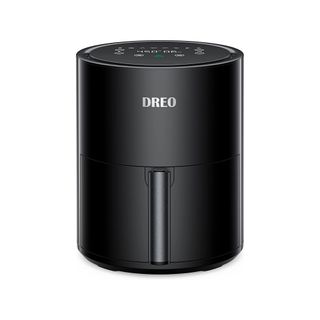 The best for dorms
6. Dreo 4 -Quart Air Fryer
Capacity: 4 quarts
Size (in): H11 x W12.1 x D8.5
Rating: 4.5/5 stars in our Dreo air fryer review
Price: $64.09
+ Round shape is aesthetically-pleasing
+ Most affordable on our list
+ Can be used to make yogurt
- You'll need to buy a rack
Our reviewer Louise put the Dreo air fryer through its paces cooking three square meals in this device so that she could be super thorough. Given how deep the gadget is, she noted that it could have done with having a cooking tray which would open up opportunities for cooking multiple items at a time. You can buy an air fryer rack from Amazon, though. Otherwise, think outside of the box when using this machine, as it's great for making smaller foods such as croissants, hash browns... you get the idea. It's an ideal buy for dorms as it's not too complicated, not too expensive, and nice and compact with a rounded design, and it does the job well.
FAQs
Are compact air fryers worth it?
In short — 100%. A small air fryer uses significantly less energy than a conventional fan-assisted oven. Plus, the biggest advantage is that many don't need time to pre-heat so you can throw in some fries without waiting for the appliance to get to temperature.
What size air fryer is best for 1 person?
A small air fryer between 1-2 quarts should satisfy a single person. A convection oven of this size should be able to hold a decent-sized dinner serving. And, if you have a friend come around, the air fryer can be used to create two snack-sized or appetizer portions.
How much can I put in a 2 quart air fryer?
According to Cosori, its 2-quart, 4-in-1 mini air fryer is perfect for single-serve items like sides, snacks, wings, and more. On Amazon, their promotional graphics suggest that it can fit four cookies; 6-8 ounces of French Fries, or a 6oz salmon fillet. There's also an image of it holding six breaded chicken wings.
How we review small air fryers
Big or small, we test air fryers with the same methodology in our Future plc test kitchen. In a nutshell, we examine how well these appliances cook a set inventory of items, and how easy it is to clean the air fryer after use.
But don't forget to experiment with other foods you can cook in an air fryer. We've got lots of air fryer recipes you can try.
We'll also look at the economic concerns you might have. For example, the cost to run a particular machine, and if the wattage output is appropriate for the size of the machine. Because on one hand, you don't want it to be so powerful that you ruin dinner, but conversely, you don't want to wait around for your fries or fish sticks only to find they're still half-frozen!
Where we haven't had a chance to call in a particular petite air fryer, we'll scan retailer sites for highly-rated products and sift through pages of reviews — saving you time to manually shortlist and make up your mind.
Just remember. Smaller machines still come with the same sets of air fryer do's and don'ts. We don't want to be party poopers but some of the things we warn against can either stop your appliance from working (boo), make your food taste funky, or cause an electrical fire risk in the kitchen. Try explaining that to your landlord (or neighbors when they have to evacuate the apartment building).
We've tested five out of the six air fryers on this list (with the remaining one on the way).
Meet our air fryer reviewers:
I'm Christina, eCommerce editor at Real Homes, and reviewing small kitchen appliances is my specialty. I've tested the Cosori Lite Smart Air Fryer (in truffle grey) and the Ninja AF101.
Our head of reviews, Millie, loves the Instant Vortex Mini Air Fryer. It's the best-looking air fryer on the market (in her opinion) and thinks the display is surprisingly high-quality given the low price. In her eyes, the value for money is outstanding.
Annie is our head ecommerce editor, with experience reviewing a range of products from air fryers to portable grills. She also reviewed the Instant Vortex Mini Air Fryer for us, and she found it to be great for cooking side dishes (particularly sweet potato fries) as well as various frozen fodder. She stored it in one of her kitchen cabinets and loved how it comes in various colors.
Louise was previously ecommerce editor at Real Homes, and she specialized in sleep and wellness content. Testing the best bed sheets, comforters and mattresses can work up quite the appetite, so she uses her Dreo Air Fryer on a daily basis to make meals and snacks. Louise now writes for our sister brand, Homes & Gardens.
Alexandra is one of our freelancers with a shopping addiction that rivals Carrie Bradshaw's. But while Carrie mainly deals in clothes, Alexandra battles with an obsession with how to efficiently keep a home clean and organized. She found that the Dash Tasti-Crisp Air Fryer's oil-free cooking relieves her of spending hours in the kitchen scrubbing and wiping down surfaces.
Where to buy a small air fryer
No, you don't need to go to a specialist shop made for The Borrowers to buy a smaller-sized air fryer. In fact, lots of retailers have clocked onto the demand for mini versions of this already small appliance. It's far cheaper than turning on an oven, and won't raise the temperature in your city apartment.
Here's where you can buy a small air fryer from: