For many, owning one of the best electric kettles you can buy is a given. I'd go as far as to say that it's something I take for granted as I begin my day with a fresh cup of tea or instant coffee (for convenience — don't judge). But it only takes your tea kettle to go kaput... and that's your debut dose of come-at-me-world caffeine down the drain. And, dare I say, the difference between brew and no brew can make or break my day. IYKYK.
Aside from making hot drinks, you can use the water from your electric kettle to cook ramen blocks, instant oatmeal, or a soup packet. Dorm food staples made in seconds. This is why we've been sure to review and round up the best electric kettles you can buy, to ensure your money is well-spent and that you invest in a kettle you can rely on for years to come.
Quick Menu:
1. Electric kettle reviews
2. What to consider
3. FAQs
4. Where to buy
5. How we test
How difficult is it to choose a new kettle? Well, kettles that require electricity via a plug come with some cool features, including keep-warm functions and dedicated temperature settings for special brews. And color-changing visuals keep you in the loop with your boil program (as well as turning the kitchen into a disco temporarily). So, there's a lot to think about ⁠— more than just how it looks, let's be honest.
We've managed to test three out of five of these electric kettles, so keep on scrolling for our verdict. Put simply, if you've got a faucet and a power socket, you're good to go with all of them.
The best electric kettles to buy in 2023
Prices were accurate at the time of updating this article
The best electric tea kettle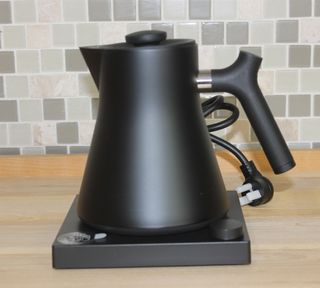 The Fellow Corvo EKG Electric Kettle was the top-performing kettle that I tested, and it's had its fair share of fame on TikTok, too. While the 0.9-liter capacity is small compared to some of the other kettles, this kettle is ideal for one or two people. The kettle brought water to boiling in just one minute and ten seconds, faster than all the other kettles tested. Its handle's ergonomic design sat easily and comfortably in my hand, and the kettle was easy to pour.
Features I loved
By activating the hold function, you can set this kettle to maintain that target temperature (135–212°F) for up to 60 minutes, which is ideal when you think you might want to go back for a second cup. It features an LCD screen that you can use to set a desired temperature, as well as the ability to change the LCD display from Celsius to Fahrenheit, meaning you can put the calculator or online converter away. Though it's matte black exterior steals the show, it won't take up a lot of space on your counter, and the carefully-designed spout means you won't spill boiling water on your worktop.
Good to know
All of these features are helpful, and while learning to use them was slightly difficult, the instruction guide is easy to understand and helpful. Its exterior and base easily wipe clean, and the black matte finishes on the kettle dried evenly and looked brand-new, even after testing. On the downside, this probably isn't a kettle to buy if there are more than two of you sharing an apartment.
The best electric kettle under $100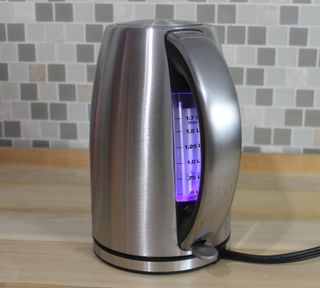 The Cuisinart Electric Cordless Tea Kettle pairs fast heating with a large 1.7-liter capacity, making it ideal for larger families who want to prepare several cups of tea at once. It brought water to a boil in one minute and 14 seconds, taking just a few seconds longer than the Fellow model in first place. The handle remained cool during the heating process and delivered a comfortable grip.
Features I loved
There are many features that make this kettle stand out. Its removable scale filter helps to prevent buildup from hard water. The cord wrap should also be commended for anyone who is concerned about their lack of storage in a small kitchen. The easy-open lid pops open when you press the button at the top of the handle, and the cord can be wrapped into the base to minimize clutter on your counter. The kettle's water window features large, easy-to-read measurements, and an indicator light makes it easy to tell when the kettle is on. My favorite, however, is the half-hour keep warm function for when I've left my hot drink to go cold and need to top it up to bring it to temperature.
Good to know
I wiped down the kettle with a damp cloth and it cleans up easily and well. The filter can be run under hot water and rubbed with a clean rag or brush. While I tested the kettle with 0.8 liters of water, I later filled it and lifted it. It was quite heavy, but I still felt in control and was able to precisely pour water, thanks to the generous handle which helped to distribute the weight (and of course that dripless pour spout and splash guard I mentioned up top). Having looked at the Amazon reviews for this kettle, many customers seemed extremely satisfied with the product. One person who bought it said that it lasted them 11 years before it died. That's a lot of tea, coffee, and hot chocolate! The only issues are that a) it could be a little more stylish and b) that it gives off a lot of steam which can be annoying.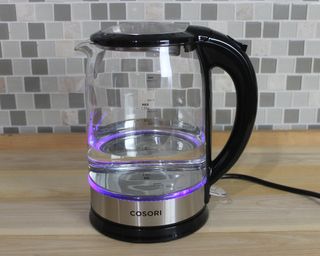 The best glass electric kettle
The Cosori Original Electric Glass Kettle is overall very easy to use. Its 1.7-liter capacity makes it ideal for heating larger amounts of water. This kettle heated 0.8 liters of water in two minutes and 40 seconds. The handle is comfortable and well-designed. For a full boil, you're looking at approximately seven minutes.
Features I loved
The LED light indicates when the kettle is heating and then turns off once the water is ready (approx. 30 seconds after it's boiled), and Cosori customers love the modern blue hue that it creates. The wide lid design makes it easy to reach inside the kettle with a paper towel for cleaning when needed. Plus, whether you're a "lefty," "righty" or ambidextrous, you can guarantee a comfy pour as it has a 360° design. Whether you're a metric or imperial gal or guy, the glass body has both cups and liter measurements to ensure you only boil as much as you need. With BPA being a big no-no in most households, I'm relieved that the filter isn't made from plastic either.
Good to know
While there are measuring increments printed on the kettle's side, they are small and somewhat hard to read. The button at the top of the window will open the lid, and it's easy to use. The lid also features a built-in 304 stainless steel water filter. Unfortunately, that filter cannot be removed for cleaning. The handle provides good control, but I found the kettle slightly difficult to pour precisely, possibly because of its relatively short spout. Unlike other user manuals which often advise cleaning with shop-bought cleaning supplies, I liked that this product pamphlet advised using lemon to clean or distilled vinegar and remove limescale from the kettle. Brownie points to Cosori for endorsing eco-friendly cleaning solutions.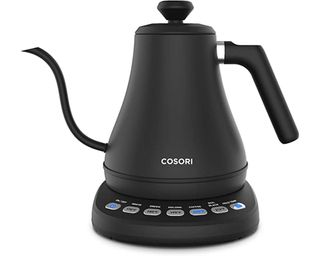 The best gooseneck electric kettle
It's no secret that we're big fans of Cosori when it comes to air fryers. We also like the brand's kettles. If you prefer quirky independent coffee shops over a good food market, then this stylish pick should be on your shopping list. Over 12,500 customers have taken the time to comment on this pick post-purchase, and with an average of 4.8 stars out of five — it seems promising.
Features Amazon reviewers loved
Spoiler alert: The signature spout is designed to make pour-over coffee a breeze. And, with a counterbalanced handle to ensure stability when you draw water, it's the yin and yang that we asked for. Coffee not your cup of tea? Then you'll be pleased to know that this gooseneck gadget also has special settings designed for your black, white, green, or herbal tea... even oolong if you've picked up some from your local Asian supermarket. Because when you've gone to great lengths to source gourmet goods like ground coffee and loose leaves, the last thing you want is burnt leaves. So, with the help of food-grade 304 stainless steel lining, it won't leave you with a bad taste in your mouth. Boiling water takes between three to six minutes, depending on how far up the min/max level you've filled it. The kettle will let out three cute "ready" beeps to let you know once it's done (and to get me off TikTok!).
Good to know
Though one-star reviews only account for 2% of those submitted, some reported signs of rust, and others have mentioned that the handle can come loose after a while. Weirdly, (and at no fault of Cosori), Amazon has sent a handful of consumers what appears to be a used item, so you may want to shop directly from the brand for peace of mind.
The best Amazon electric kettle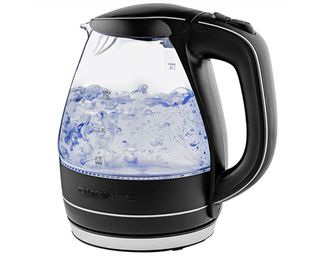 I just know that Real Homes' readers will like the colorways and concealed cord storage of this kettle. And with over 30,100 five-star reviews on Amazon, that's just the tip of the iceberg.
Features Amazon reviewers loved
The people have spoken. Amazon customers love this Ovente electric kettle so much that they go on to repeat purchase it again after their old one has said its last goodbyes. Many of them have even done their math to calculate the cost of use, candidly revealing their (constant) hot drink habits in the process. The takeaway notes from these reviews are that a) it boils quickly b) it doesn't use much energy, and c) it's as easy to clean as it is to use because of the large aperture. Choose a bold hue — like fuschia pink, orange, or green— to inject some color into your kitchen scheme.
Good to know
In regards to how long this kettle lasts, there have been mixed reviews ranging from a couple of months all the way up to eight years. The main components/features that you need to keep a good eye on are the filter, auto shut-off (this can switch off prematurely), and cosmetic water spots on the base (as a result of hard water).
---
5 things to consider when choosing an electric kettle
When buying an electric kettle, think about how you're likely to use the kettle most often.
1. How large does it need to be?
Consider what capacity would be best for your needs.
3. Think about the design of each kettle
It's also important to pay attention to the handle design. Comfortable, ergonomic kettles can help to give you a secure grip, contributing to your safety when using the kettle. Also, investing in a new kettle (and maybe a matching toaster, too) is a great way of sprucing up kitchen worktops. With this in mind, check if you can buy other matching appliances.
4. How easy is it to empty and refill?
Assess how easy or difficult it is to empty and refill the kettle. While some electric kettles come with a push-button lid, others have a more manual process of removing the top, replacing the water under your tap, and then replacing the top.
5. Think about any additional features you might find handy
Think of everything from automatic shut-offs to help prevent damaging the kettle to a hold function that will keep your water warmer for longer.
6. Don't forget about the environment!
We all want to do our part for the environment and saving energy also cuts down on the bills too — a win-win for everyone. Look for kettles with specific energy-reducing features and functions, such as rapid boil, digital control, and variable temperature to ensure you don't needlessly over-boil. You can do your part too by only filling it with the amount you need.
7. Check the kettle's wattage
While the cost to boil a kettle isn't scaldingly expensive, it's worth keeping an eye on (especially if members of your household like to fill the kettle to the brim and reboil it). The higher the wattage, the more powerful your electric kettle is. Which means a pricier cup!
8. Do you want a smart kettle?
Practically every appliance in the home is now available in a smart version for those who love their tech. Even kettle manufacturers have got in on the act, with models that can be operated via an app on your smartphone or tablet. Some are even voice controlled for a hands-free switch-on. So now you can turn the kettle on without leaving the sofa, or get it boiling your way home from work when you're feeling like a fresh brew.
FAQs
Are expensive kettles worth it?
All electric kettles should pass the test of boiling water to at least 212 degrees Fahrenheit (aka boiling point). But, if you're looking to buy a premium water boiler, this is where you'd expect some innovative and personalized features. Think color-changing LED lights, multi-temperature settings, and a superior selection of colors, and its build should feel a lot more durable when compared to an inexpensive plastic kettle you'd find in a three-star hotel. This guide proves that you don't need to spend hundreds on a good electric kettle.
What is the healthiest kettle to boil water?
In my humble opinion, all kettles can be healthy, but this word is thrown around and isn't subject to legal stringency or regulation. Boiling water can remove harmful bacteria and impurities, but you should fill it with water that is drinkable in the first place. Material-wise, go for something that's made from food-grade stainless steel and borosilicate glass, avoiding plastic where possible. In some cases, where plastic is present, most manufacturers will state that it is BPA-free. This will also align with your values if you've chosen to buy non-toxic cookware to prepare food.
How to keep your electric kettle clean
When cleaning your electric kettle, it's best to refer to the manufacturer's instructions. Most kettles can be wiped clean with a damp cloth, but specific cleaning instructions will depend on your kettle's construction and materials.
Regularly descaling your kettle will remove any buildup left behind by hard water and help to keep your boiled water clean. Your kettle's manufacturer will likely provide instructions on how to descale the kettle. Some manufacturers recommend using a lime remover, while others recommend a combination of lemon juice, distilled vinegar, and water. We've got a guide on how to descale a kettle if you're looking for some tips.
When should you replace your electric kettle?
There are two factors that you'll notice that should ring some alarm bells that you need to replace your electric kettle with a new one, these are:
Your water starts to taste strange
A build-up of minerals in your kettle can start to alter the taste of your boiled water. If you start to notice a metallic taste, it's probably time to get a new kettle. Regular cleaning/descaling can reduce the build-up of these minerals and increase the lifespan of your appliance. No one likes crunchy pieces at the bottom of their cup.
Your kettle is taking longer to boil
The heating element in your kettle can lose efficiency over time. This is primarily due to limescale build-up, particularly in hard water areas. If you notice that it's taking longer to make your morning brew, it's probably time to replace the appliance. Regular descaling can help to prolong the shelf life of your kettle.
Where to buy an electric kettle
Electric kettles can be picked up quite quickly, nearly anywhere these days. Don't feel like you're obliged to buy from a home improvement store or kitchenware brand. In fact, you could probably pick an electric water kettle up in your local supermarket.
How we tested these electric kettles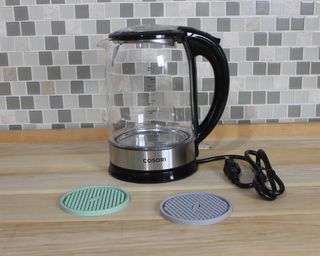 Out of the five electric kettles in this guide, three have been reviewed and two were chosen purely based on impressive customer reviews. The kettles we had tested, a freelancer reviewed for us in her home kitchen. She performed a number of tests and the kettles she found to be most impressive, made it to this guide.
Test 1:
We lined up the kettles, plugged them in (if applicable), and then filled them all with approximately 3.5 cups of cold water. We timed how long each one took to come to a boil.
Test 2:
Once each kettle had come to a boil, we lifted each one and compared their weight. They all had the same amount of water inside them at this time.
Test 3:
We tested how easy insulated each kettle was by waiting half an hour once boiled and measuring the water temperature again.
Test 4:
We tested how easy each kettle's exterior was to clean. These kettles didn't get dirty enough on the inside during our testing to check how easy they are to descale.
Test 5:
We took an energy meter reading to assess the ongoing cost of use of each kettle. Do note that all of the kettles we tested were brand new, so the cost per use will change once a bit of limescale has formed.
Test 6:
We poured water out of each kettle to see how easy they were to refill and tested whether they had the potential to burn you if you touched the exterior of the kettle after it had boiled.
Test 7:
Finally, we took into account the style of each kettle, asking members of the team which look they'd be happiest to have in their kitchen.
Meet our electric kettle reviewer:
Reviewed 3 of the kettles in this guide
Reviewed 3 of the kettles in this guide
I'm Paige and I specialize in product reviews and have been writing product reviews for more than five years. I used several tests to evaluate these kettles in my home. To establish how quickly the kettles brought water to a boil, I timed each one as it heated 3.5 cups of cold water. I also filled the kettles to capacity and boiled the water, and cleaned each kettle.
In testing the kettles, I looked for products that were reliable and easy to use. While being able to quickly boil water is an advantage, I ranked these kettles with an emphasis not only on their performance but also on their overall quality. I considered factors like cleaning, ease of lifting and pouring, and features like filters and automatic shut-offs when ranking them.