A decent stovetop kettle is designed to boil water on your hob, with a cute whistle to alert you when your water is ready for your tea or coffee. Yes, this means that you're saving precious countertop space ⁠— and you can store this type of tea kettle in a cabinet when it's not in use. Charming and handy, right?
While electric kettles rely on power from the mains for ease of use, traditional stovetop kettles are definitely not out of style. They are particularly popular because of their large size ⁠— most can fill a teapot or serve multiple cups of tea in one go. And, the best thing about a stovetop kettle IMO is that, as I just mentions, it sits on your stovetop so it takes up zero countertop space that your small kitchen might really need. The only thing to bear in mind with a stovetop kettle is that it doesn't have an automatic shut-off function, so you do need to be more vigilant when you're using one. On the flip side, it's one less electrical item to worry about and it will last a lifetime if maintained properly.
While not all stovetop kettles are compatible with induction cooktops, I've done a whole bunch of research into the best models on the market, as rated by reviewers far and wide. I've made sure to find a style of stovetop kettle for everyone, whether you're working with a $20 budget or with a modern apartment kitchen. While we haven't (yet) managed to have any first-hand experience the kettles you'll read about below, rest assured they have been picked by a small appliance expert (me!) and reviewers totally rave about them.
The best stovetop kettles to buy in 2023
Why you can trust Real Homes Our expert reviewers spend hours testing and comparing products and services so you can choose the best for you. Find out more about how we test.
Bang for buck, this is the best budget stovetop kettle we've laid eyes on. Capacity-wise, it's the second largest on the list and it's on Amazon right now for under $14.
Design
Available in both brushed steel or metallic red, this 1.2-pound kettle combines the old and new for a modern traditional design that doesn't offend. It has a timeless look that won't have you chasing trends, and a Bakelite handle that'll stay cool too. Aesthetically, the smart black handle and two-toned stainless steel finish is a winning combination.
What reviewers love about it
In short, it does what it says on the tin for a good price. The lever feature (to push the spout cover up or down without being close to the heat) is also clever and well-considered for families and clumsy types.
Good to know
On Amazon and Walmart, customers criticized this kettle for its stationary/inflexible handle (but that's not a dealbreaker in our eyes). In a handful of cases, some said they spotted specks of rust inside the kettle.
A freelancer tested this kettle for us on her electric stovetop on the high setting and it heated the water to boiling in five minutes and 30 seconds. The whistle sounded at six minutes 45 seconds. Its lid is easy to remove and replace, and the silicone-wrapped handle is comfortable and never got too hot to touch.
Design
The Fellow Clyde Stovetop Tea Kettle features a simplistic design, yet delivers an excellent performance. The kettle features a large capacity that makes it suitable for preparing several cups of tea.
What we loved about it
Its dual-tone design produces a sound that is relaxing and that sounds similar to a distant train whistle. Our tester noted that it had a nice, low pitch that didn't send her cats running from the room, unlike higher-pitched whistles often do. The kettle was very easy to pour, even when full. It's also easy to wash with soap and water, and its matte finish is attractive and cleans up very well.
Good to know
Though we've listed it as one of the top picks in our tea kettle guide, it does take a good 5.5 minutes to boil water which is a little slow for our fast-paced schedule. Got an induction hob? This bad boy isn't for you (hey, we're only the messengers!). Design-wise, the spout is very wide and short, which looks great aesthetically, but it could make for an unconventional pour. It also can't go in the dishwasher so, like all we've listed before, handwash this baby. Some Amazon reviewers also pointed out that the whistle can stop working after a few months. They also warned of the coating chipping away after a few uses, and some spots of rust within the vessel.
The All-Clad Stainless Steel Tea Kettle is one of the best stovetop kettles for quality design. It's entirely made of stainless steel, meaning the handle is not covered in any heatproof coating, but it also means the durable design is truly built to last.
Design
With a whistle tab to make it easy to pour, the All-Clad Stainless Steel Tea Kettle has a sturdy handle. It's attached with solid rivets that mimic the brand's cookware. If you've got their non-stick frying pans then the stovetop kettle will be a suitable match.
What reviewers love about it
It's suitable on all types of stoves and has a wide flat base that will make sure your water heats quickly and evenly. Amazon shoppers were pleased to report that the handle doesn't get hot if you're using the appliance on an induction hob. Because there's no plastic, this gets extra brownie points for eco credibility too.
Good to know
Its price tag is above average, and because there are no heatproof elements you may need to wear a glove when turning the whistle switch and picking it up (especially on a gas stove). Disappointingly, reviewers have mentioned that this kettle can be "obnoxiously loud" when used on an induction stovetop, specifically commenting on the electric humming tone.
One of the cheaper Le Creuset items out there, this enamel-coated stainless steel stovetop tea kettle packs a timeless design and heaps of style. It's also compatible with electric, ceramic glass, induction, and gas hob types.
Design
Choose the stainless steel option, or if you have a cast-iron collection to match with (or are just obsessed with the iconic color palette), there's also Volcanic, Cerise, Marseilles Blue, or Satin Black available. It has a stainless steel rim that is designed to prevent chipping.
What reviewers love about it
This attractive kettle is paired with an ergonomic lid and a handy whistle to let you know when the kettle is boiling. The wide base means it's got a large surface area to heat water quickly, so you're not left parched for too long. And, so long as you don't overfill it, it shouldn't spit hot water. Btw, you can leave the spout open to avoid the whistling sound if it irritates you.
What reviewers aren't keen on
When we filtered through the Amazon reviews, there were four common complaints. A) the plastic handle can get hot, b) it can develop rust within a few months of use, c) the bottom is prone to chipping, and d) the spout can melt! When it comes to cleaning, the kettle needs to be hand-washed, and because of the enameled exterior it can mark and smudge quite easily. Also, if you've got an induction hob, you do need to be a little more careful. For example, you should avoid using the 'boost' function, and shouldn't rely on the automatic switch-off function either. Got a gas hob? Be mindful not to set the open flame too high or else you might damage the plastic casing around the spout.
The Premier Housewares Stainless Steel Whistling Kettle is the second most affordable option in our lineup, and its large capacity is perfect for generous servings of tea.
Design
The Premier Housewares Stainless Steel Whistling Kettle is available in a huge range of colors, from a simple black to a vibrant lime finish. Its 2.5-liter finish is plenty large enough for cooking, as well as hosting a tea party.
What reviewers love about it
A reasonable price is an undeniable win, and the Premier Housewares Stainless Steel Whistling Kettle comes in at well under $50. Our favorite feature is the rubber-sleeved, grooved handle that will prevent the kettle from slipping in your hand. Online, Amazon reviewers appear satisfied most with the array of colors this appliance is available in. Light and practical were also buzzwords we saw crop up.
Good to know
The finish isn't as swanky as some of our upmarket top picks, and it needs to be hand cleaned. One Amazon reviewer revealed that it took 26 minutes to boil a small amount of water on her Aga hot plate.
The OXO Brew Classic stovetop tea kettle looks sleek with its stainless steel finish. It's got a built-in whistle that can be closed and opened with one touch for easy pouring.
Design
It only comes in stainless steel, but this appliance has a charming retro shape that we really like. The capacity is pretty average for tea kettles, and it's suitable for use on all stove types.
What reviewers love about it
The trigger to open the spout to pour or refill is genius. It will require a little more dexterity than the average stovetop kettle, but it means you can easily stop the whistle by pressing the trigger and pouring.
Good to know
We love a kettle whistle as much as the next person, but it's nice to have the option of removing the high-pitched whistle every now and again — whether it's because you don't want it to wake anyone up, or while your partner is on a video call when WFH. It would be nice to be able to remove it on this model. Again, like the Le Creuset kettle, this should only be hand washed. Ensure you don't overfill this appliance as customers have reported spluttering that can present a burn risk. And a few buyers commented that the grey lining can come away from the chassis of the appliance, causing bits of floating, flakey debris — gross.
---
Other stovetop kettes we tested
Not all of the appliances we tested have made it to our list of the best stovetop kettles, so here's what else our reviewer tried out: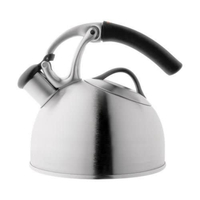 OXO BREW Uplift Tea Kettle in Brushed Stainless Steel | $69.95 on Amazon
This 1.9L stovetop kettle has a few good points including that it's affordable, but mostly we found it to be a bit of a pain while in use. The spot automatically opens when you lift the bottom of the handle, making for easy pouring and helping to prevent you from burning your fingers when manually lifting the spout. But, while this feature is convenient, it takes a little practice to find the right position on the handle to avoid opening the spout while simply carrying the kettle. The kettle's lid was difficult to remove and equally difficult to reinsert. I found I had to use a lot of pressure and wiggle the lid around before I felt it was secure. I tested the kettle on my electric stovetop, and while it does have a traditional high-pitched whistle, the whistle was weak. Steam escaped not only from the spout but also from the lid, indicating that even after trying, I hadn't managed to fully secure the lid. While the whistle could be heard in the kitchen, it wasn't loud enough to summon someone from another room in the house.
Real Homes rating: 3 stars
Real Homes review process ⁠— How we tested these stovetop kettles
All of the stovetop kettles in this guide were chosen purely based on impressive reviews, with the exception of the Fellow Clyde stovetop tea kettle (pictured above), where we had a freelancer test it in her home kitchen. She performed a number of tests which we've laid out below:
Test 1:
She filled the stovetop kettle with approximately 3.5 cups of cold water and timed how long it one took to come to a rolling boil.
Test 2:
Once it had come to a boil, she lifted it and noted the net weight.
Test 3:
She tested how insulated the kettle was by waiting half an hour once boiled and measuring the water temperature again.
Test 4:
She tested how easy the kettle's exterior was to clean. N.B the kettle didn't get dirty enough on the inside during her testing to assess how easy it is to descale.
Test 5:
She poured water out of each kettle to see how easy they were to re-fill, and tested whether they had the potential to burn you if you touched the exterior of the kettle after it had boiled.
Meet the writers behind this guide:
I'm Paige and I specialize in product reviews and have been writing product reviews for more than five years. I used several tests to evaluate this kettle in my home. To establish how quickly the Fellow Clyde stovetop tea kettle brought water to a boil, I timed how long it took to heat 3.5 cups of cold water. I also filled this kettle to capacity and boiled the water.
While being able to quickly boil water is an advantage, I ranked this product with an emphasis not only on its performance but also on its overall quality. I considered factors like cleaning, ease of lifting, and pouring.
Hey, I'm Christina, ecommerce editor at Real Homes. For the most part, you'll have seen my reviews on anything small kitchen appliance-related including coffee makers, small air fryers... and now stovetop kettles. Though I own an electric stainless steel kettle, I was quite impressed with how these long-established models perform. I used to "go camping" in my backyard when I was little, but can totally see one of these beauties being used in the open air on staycation.
I did my desk research, sifting through hundreds of reviews (clicking on gross images and all) to find you the most durable, reliable, and stylish hardware for your home. I'm super guilty of letting my coffee go cold, so while flicking the switch to warm my beverage is a bad habit — I was happy to see that lots of modern models have a keep-warm function.
4 things to consider when buying a stovetop kettle
1. Color
If you're after something to fit in with your kitchen scheme, worry not: the majority of our best stovetop kettles are available in a range of colors. Choose one that matches your decor or a subtle option (like stainless steel) that will go with all decor.
2. Capacity
If yours is a large family, opt for a stovetop kettle with a larger capacity to avoid having to refill and reheat constantly.
3. Size
Compare the kettle's dimensions to those of your hob rings to ensure the kettle you choose will fit comfortably, heat up evenly, and will be an efficient use of energy.
4. Handle
Whether you're left or right-handed, you should be able to comfortably lift the appliance to fill and pour water comfortably. While some handles are wrapped in silicone, you might need to be more careful with all-metal models.