The Christmas tree alternatives in this guide will help you refresh you Christmas decorating scheme and create a more contemporary look than a traditional tree will allow. Whether you're looking for an alternative to buying a real tree or just want to give your usual artificial tree a miss this year, these clever and funky designs will bring festive cheer.
So if you'd like a Christmas tree alternative, you're in luck: we have scoured the world of festive offerings for cool and unusual ideas – guaranteed to stir up enthusiasm. Best of all? If you do LOVE Christmas trees, these make a great addition to your traditional tree, too.
Find more Christmas decoration ideas in our gallery.
1. Go minimalist with a metal Christmas tree silhouette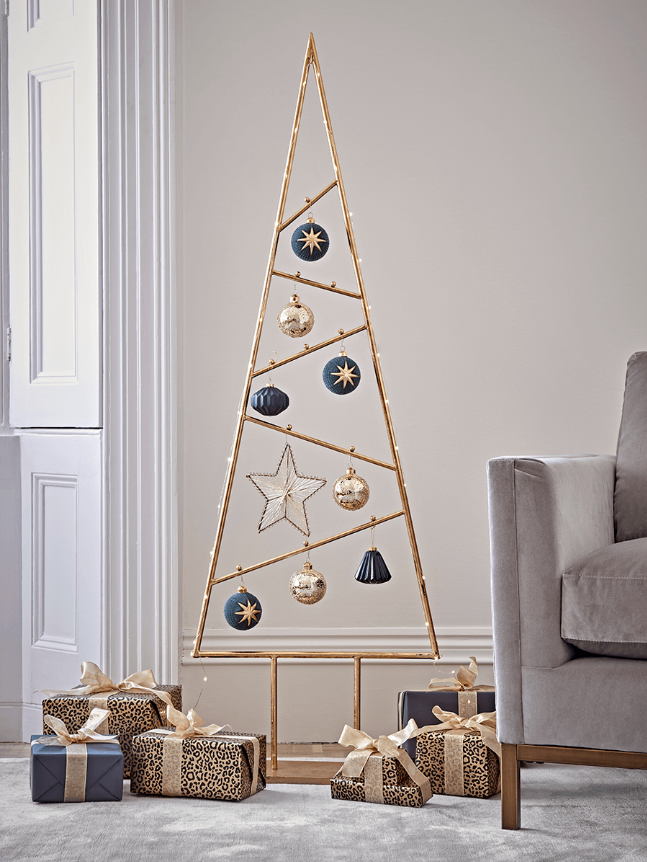 Love Scandi, minimalist design? You'll like the Metal Silhouette Tree, £60, from Cox & Cox. Perfectly understated, but still very recognisably Christmassy. (Sold without baubles.)
2. Cheer up your exterior with an LED tree
Another lovely Christmas tree alternative, the Warm White LED Fairybell Outdoor Christmas from Lights4fun is both elegant and cheerful, thanks to the warm LED lights. Looks like there could be a tree under there right? Stick it by the front door, in the back garden – or bring it inside for a contemporary Christmas look.
3. Stack crates in the shape of a tree
The easiest option of all – and a very budget-friendly one – is stacking wooden crates in the shape of a Christmas tree. Then, fill them with your favourite Christmas decor or gifts. Hey presto, a chic, boho Christmas tree alternative.
4. Build a Christmas teepee for the kids
If you have small children, a tree can be too much of a hazard (people with naughty pets will get the dilemma, too). Instead, put up a child-safe teepee they'll love playing in, and decorate it with your favourite Christmas ornaments.
This teepee has been decorated with Christmas treats from Dunelm.
5. Draw your tree on a blackboard
Forget buying stuff and have fun drawing your tree with your kids! If your children's room has a blackboard and some chalk, you're basically sorted. Just add Christmas decs.
This kid's room has been decorated with Christmas goodies from Homesense.
6. Use neon lights as a festive alternative
It's not all about fairy lights; why not edge it up a bit and go for neon lights instead? We love these neon hanging lights from John Lewis (just ignore that there is an actual Christmas tree in the corner and focus on how cool just a collection of neon lights would like as a Christmas tree alternative).
7. Decorate ladders with baubles
Part joke, part cool design idea, using a step ladder to create a tree-shape for displaying baubles will delight your friends (but probably appall your grandma). Just make sure everything is stable – you might be better off laying a soft rug underneath, just in case your makeshift tree topples... and maybe avoid this idea if you have toddlers. Or cats. Or dogs. Or a grandma. This DIY ladder tree has been decorated with baubles from Poundland.
8. Go for a paper Christmas tree
Paper decorations are literally the easiest Christmas decs going – you just unfold them for a copious amount of festive gloriousness. You can get them in Christmas tree shapes too! Why not (instead of a Christmas tree or as well as) create a feature with loads of paper decs in different shapes and sizes? This lovely lot are all from Paper Dreams.
9. Decorate some branches as a Christmas tree alternative
It's a classic, easy go-to. Just grab some twigs from the garden and festive them up with some baubles. If you have the time you could spray paint your twigs – we love these frosty white ones from Bloom & Wild. Once you have found the perfect set of twigs, you can just pack them away carefully and reuse them year after year.
10. Make a wall sticker Christmas tree
Want to get a bit creative? All you need is some double-sided sticky tape and your favourite decorations (obviously not glass ones, as they won't stick).
This tree-shaped Christmas ensemble has been created by MYK Berlin.
11. Don't fancy a fir tree? Try a twig tree instead
Fir trees are the traditional choice, and most Christmas tree alternatives in our gallery reproduce the fir tree shape, whatever they're made from. However, there's no reason why you can't use another tree – the trick is to choose an artificial tree that doesn't have any leaves on it, for a wintry look. Pre-lit trees will look more festive, but you can also decorate them with a few baubles. The perfect choice for a Scandi Christmas decorating scheme.