Looking for an honest Samsung Serif review? Samsung is well known for producing some of the best TVs you can buy. Its high-end 4K QLED range is a technical masterclass in punchy colors and brightness, while its mid-range sets are perfect for bedrooms or kitchens, offering excellent performance for the money.
However, Samsung has another trick up its sleeve with its more design-focused TV ranges. Offering something a little different than most of its competition, the Serif is for those who might want the black box in the corner of our living room to be more stylish than your average TV.
What is the Samsung Serif?
The Samsung Serif is the latest version of arguably Samsung's most style-focused TV. It has been created in collaboration with Parisian furniture designers Ronan and Erwan Bouroullec, hoping to appeal to those who are more into their interior design than their tech.
It sits on four metal legs and has a rather chunky bezel, by today's standards, and is available in white or blue. It is wider at the top and bottom, which creates a sort of shelf along its upper edge and allows it to stand independently of the legs if you prefer.
From our experience, this design gives the screen a set-back appearance, almost like a picture frame, which draws you into the picture even more. It is also where the Serif gets its name from. In profile, the frame looks like the letter "I" in a serif font.
As it's made from plastic, it perhaps doesn't feel the most premium, but it certainly doesn't look like any other TV you'll see on the market, which is a large part of its charm.
Of course, this is a 4K TV and uses Samsung's premium QLED screen technology, though it isn't the best example in the company's range from a performance perspective.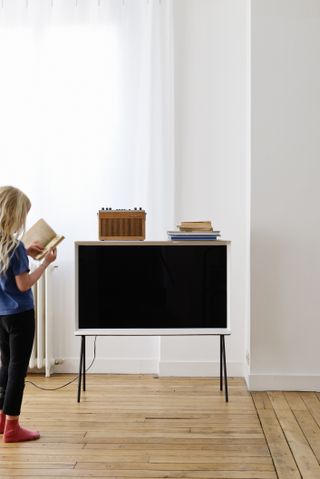 How easy is it to set up?
You don't have to be a TV whizz to set up the Serif. Most of Samsung's recent TVs can be set up using the Samsung SmartThings app on an Apple or Android device.
This includes getting your TV set up on your wi-fi network, helping you hook up any extra devices or inputs like a Sky box, Blu-ray player, or antenna for Freesat or Freeview, and helping you add additional apps to your smart home screen.
If you'd prefer to use the remote, you can do. It's also possible to program the included Samsung remote to control extra bits of kit, like your soundbar or Blu-ray player.
Don't forget to dive into the picture settings and play with them. You can make some significant changes by simply changing the picture mode – have a look at Standard or Movie for the most accurate colors and stay well away from Dynamic if you want things to look realistic.
Who will the Samsung Serif suit?
The Serif is aimed at someone looking for a TV that stands out from the crowd. From a picture perspective, it won't offer the very best performance you can get from a Samsung TV for the money, but that's because some of your budget is going into its statement looks.
It's also great for average to smaller rooms thanks to its availability in 42in, 49in, and 55in – anyone wanting larger design-focused TV would have to look at The Frame, which is available up to 65in.
How does the Samsung Serif perform?
We spent a few weeks getting acquainted with the Samsung Serif, which is how we found it performed.
Bold, punchy picture but not without compromise
The inclusion of Samsung's QLED technology here is the best picture we've seen from a Serif TV. Without getting too bogged down in tech specs, QLED helps boost color vibrancy and brightness and enhances contrast (how bright the bright bits get and how dark the dark bits get) compared with regular LCD TVs. The idea is that these improvements help it to better hold its own against the competition, especially popular OLED screens from LG, Sony, and Panasonic.
It works, to a point. The Serif serves impressively bold colors and delivers a crisp, detailed 4K picture with good upscaling for regular TV, but it is not the absolute best picture you can get for the money.
Being an entry-level panel means there are some compromises. For example, the TV is only edge-lit and can't offer the same brightness or accuracy as pricier screens that provide full array backlighting.
The biggest victim of this is contrast, which has a knock-on effect on how impactful its HDR performance is.
HDR works hand-in-hand with 4K to make good picture quality stand out and is a big selling point of new TVs. It takes the dial on color and contrast and pushes it up more than a regular telly can manage. The Serif is capable of HDR - it supports HDR10 and HDR10+ – but the results are not as instantly impressive as a more talented TV is capable of.
No more black screen with Ambient Mode
What you might miss out on in pure performance terms with the Serif, you pick up in special touches, like Ambient Mode. At the click of a button, you can display a range of artwork on your TV, get it to match your decor automatically, or even display calendar information or personal photos. It means your TV can look just as pretty when switched off as when switched on.
Top-notch smart TV
Samsung's smart TV system is one of the best you can buy. It has a brilliant range of apps, including Netflix, Amazon Prime Video, and the new Apple TV app, so there's no more complaining that there's nothing on TV.
It's also one of the easiest to use, with a simple bar at the bottom of the screen that shows all your apps. Select one, and another bar appears above it with suggested content to help you get to the content quickly. But, of course, it doesn't get in the way of your current TV watching while you're choosing your next program either, which is great.
Head-turning design
No matter what angle you look at the Serif, it's gorgeous. That means you don't have to hide it away in a corner if you don't want to - it has a clever cable management system that runs down one of its metal legs, meaning you can tuck most of them away, and you won't have a load of wires dangling down and ruining its look. There's also a cover for the HDMI inputs to keep all those hidden, as this TV doesn't use Samsung's separate OneConnect box.
Want to keep shopping? Check out our rundown of the best 40 inch TVs you can buy right now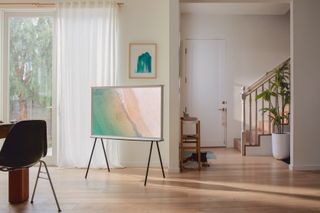 Decent sound
The Serif's chunky frame allows some slightly chunkier speakers to be built into its design, offering 40w of sound over the standard 20w. This helps them to go pretty loud, and there's a decent amount of detail and clarity too, but for those big action movie moments, you'll get a better experience from a soundbar or a proper speaker setup.
Intelligent Mode is both helpful and annoying
Samsung has built-in an Intelligent Mode on the Serif, which considers your room size and environment and then adjusts the picture (brightness, mainly) and sound levels to suit. It can even learn the volume you'd usually have the TV at to ensure that it's always at a level you like when you turn it on.
While I found this mode to have a good impact on the sound, helping to make the audio a little more direct and refined, the automatic brightness adjustment is something I'd live without.
Voice control is getting there
Samsung has built-in Bixby to the Serif TV. Though it isn't as clever as something like Alexa for Amazon's Fire TV just yet, it can manage some simple commands like changes to channel, source and volume, opening apps by name ('Open Netflix'), and switching on Ambient Mode.
Triple smart
While Samsung is pushing its smart ecosystem, mainly by getting you to set the TV up within its smart home control app SmartThings, it hasn't ignored the big players in the smart assistant world. It works with both Alexa and Google Assistant, meaning you can use a Google Home or Amazon Echo device to perform specific commands by voice and build it into a smart home routine.
Not one for wall mounting
We prefer the design on its stand rather than sitting independently on a piece of furniture - it's more striking that way, but it will depend on where you hope to use it in your home. Its design will mean you won't want to wall mount this one anyway. Have a look at The Frame if you have that in mind.
What did I like?
The design is a real head turner, super easy to use and set up, and the picture quality is undeniably good in many ways. So many people can switch it on and enjoy a picture much better than the TV they currently have in their living rooms.
There's also the Ambient Mode, which introduces a new dimension to your TV, making this a compelling proposition for people who don't want tech to look too techy.
What didn't I like?
While it offers an excellent picture for day-to-day watching, there's better available at the same price – particularly regarding HDR performance – so you've got to want this design to invest in it.
Viewing angles are also a little tight – you'll want to be watching front on to get the best from this TV.
Real Homes verdict
An undeniably design-focused TV leaves little to be desired in the performance stakes. But if you're looking for a 4K TV that turns heads and gets your guests talking, the Samsung Serif is one to check out.