There aren't many things in life that sound more idyllic than cuddling up with the family in your backyard and watching your favorite movies, and portable projectors like the BenQ GS50 can make this a reality. Although full-specced models might cost an arm and a leg, the more affordable portable options offer more flexibility.
We wanted to try out the BenQ GS50 to see whether it could perform both inside and outside and whether it really was suitable for taking on the go. As one of the more visually appealing options out there, we were doubly curious about its potential.
You can read on to see our full thoughts on the device and, if you want to see how it measures up against the competition, you can take a look at our guide to the best outdoor projectors.
BenQ GS50: the important stuff
Resolution: 1080p Full HD
Brightness: 500 ANSI Lumens
Speakers: 2.1-Channel w/ 10W subwoofer
Smart TV: Android, AirPlay, Chromecast
Contrast ratio: 100,000:1
Min distance: 6.9ft
Max screen size: 100"
Dimensions: 18.6 x 15.4 x 14.6cm
Weight: 2.3kg
Caroline is the smart home editor for Real Homes, covering everything from smart plugs to projectors for the site. Having recently moved into a home with outdoor space, she's been having fun testing out all of the best and more popular portable projectors, planning future movie nights when the weather is good. A life-long film and TV buff, she definitely knows the difference between an okay viewing experience and a great one, and brings that self-taught expertise to her reviews.
Our experience setting up the BenQ GS50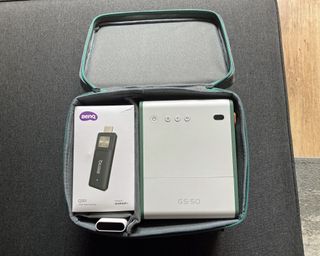 The first thing you might notice when unpacking the BenQ GS50 is the carry case included in the box. This attractive grey fabric container is a great added extra from BenQ and, despite being projectors designed to be portable, not many competitors offer something like it. Inside the case, you'll find the projector, a streaming stick, a charging cable, and a remote.
The first thing you need to do is charge the projector. This took much longer than expected, so make sure you've left enough time before you want to use it. Once the battery life has been topped up, you'll get around 2.5 hours of battery life.
If you want to keep it plugged in, the projector uses 65W – costing approximately $0.02 / £0.06 for 2.5 hours of use.
Another great thing about the BenQ GS50 is the included streaming stick, which connects via the HDMI port underneath the removable panel on top of the projector. You can use the short cable provided to connect it to the power.
How does the BenQ GS50 perform?
To test out the BenQ GS50, we first set it up in the lounge. On a cloudy day, we could enjoy an episode of Grey's Anatomy with the curtains open but had to admit that we might have had a better view on our TV on the other side of the room. What we were really impressed by, however, was the projector's auto focus and keystone correction, which worked brilliantly to offer the best image whenever you moved the device, even an inch in any direction.
You can also manually adjust the picture using the remote, which allowed us to straighten things up when the projector was slightly skewed to one side. Overall it's a really seamless experience and means you'll have the ideal focus and alignment within a minute of turning on the projector.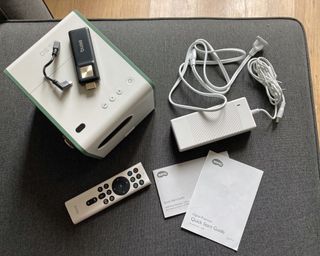 Battery life
The promised battery life of 2.5 hours bore out in reality, as we were able to fit in a lot of playing around with settings, a few YouTube videos, and two 40-minute episodes before the battery life started flashing at us.
Audio
The GS50 has a better sound offering than other portable projectors at this price point, too, with a 2.1-channel speaker, a pair of 5W tweeters, and a 10W subwoofer offering good bass levels and clarity. Audiophiles might still want to connect their own high-end speaker, but most people will be happy with the built-in offering.
Streaming
The big downside for the BenQ GS50, though certainly not something insolated to this projector, is the lack of native Netflix support. Unfortunately, the streaming giant has been less than forthcoming with permissions for portable projectors like this, and so users are left searching for workarounds instead.
Streaming support is otherwise excellent, with Android TV for your basics and the ability to connect your own streaming stick or cast using AirPlay or Chromecast. If you really, really can't live without Netflix content, then you can cast it from your PC's Chrome browser to the projector. The phone app isn't compatible.
Brightness
With only 500 ANSI lumens, the BenQ GS50 isn't the brightest projector on the market. That said, it's not bad for a portable model, and its contrast ratio of 100,000:1 is above average. As said, watching indoors was perfectly acceptable, but we also tried out the projector in the garden.
During the day, the image was barely visible and would be no good for daytime viewing. At night, however, it was a different story. While there's no doubt that the GS50 would be best used in a completely dark environment, it works well as a way to host a movie night in the backyard. Just keep the surrounding light to a minimum.
What do we think of the BenQ GS50's design?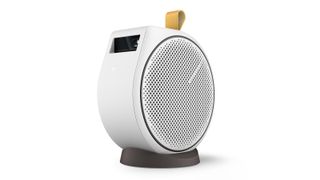 As portable projectors go, the BenQ GS50 is gorgeous. With its green and orange casing and leather-style carrying strap, it beats out any competition in the looks department. It may be slightly oversized if you intend to take the projector on trips, but the fabric carry case does its best to bypass that issue.
There are also a few nice touches in the build of the GS50, including an adjustable stand at the front of the base, which can be released to adjust the angle of the lens when you find yourself with a surface that's not quite high enough. This stand is a little fiddly in practice but does the job.
BenQ GS50 vs BenQ GV30
We previously tested the BenQ GS50's younger sibling, the BenQ GV30, giving it average marks for its top-notch sound, picture quality, and style. However, our criticisms were similar to those of the GS50, with a lack of brightness (at 300 ANSI lumens) and the absence of Netflix, without a workaround.
That said, the GS50 sports a higher Full HD resolution than the GV30's 720p and the design of both devices is unique and attractive. This is certainly the brand for good-looking projectors, even if they don't have the highest specs.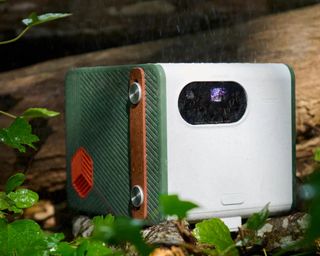 Our verdict after testing the BenQ GS50
The BenQ GS50 might not be our top choice for an immersive cinema experience but, as a portable outdoor option, it's one of the best out there. As such, brightness could be improved, but its contrast ratio and impressive sound really do compensate for this shortcoming. Its water-resistant and drop-proof qualities also make it a great choice for taking on camping trips or vacations, and its lovely design also gets points.
About this review
All reviews on Real Homes are based on real-life testing from our writers, with testing being done in their own homes to ensure that recommendations are as reliable as possible. The BenQ GS50 was provided for review purposes and tested at various points over several months in the reviewer's living space and garden. To find out more about our process, you can read our guide to how we test products.