Need to know how to make a fan blow cold air, quickly? Intense summer heat inevitably brings with it discomfort, and a lot of it will be to do with static hot air that just doesn't seem to move around a room at all. And even with the fan on, it can feel like you're just blowing around desert hot air which just isn't very refreshing.
The best fans can have many useful features, from auto shut-off to multiple speeds. But how can you make a fan blow cold air when you need it most? Follow these expert hacks to cool down a room fast and efficiently.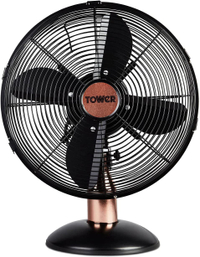 (opens in new tab)
Tower T611000B Cavaletto Metal Desk Fan | £39.99 £32.99 (save £7) at Amazon (opens in new tab)
Need to buy a new fan, fast? Yes, it's going to be 35C in some areas of the UK on Sunday, so it might help to be a little prepared. This compact fan is perfect for small homes and small budgets, coming in at just £33.
1. Position the fan on the floor
Hot air rises, while cool air always stays closer to the ground. If you position your fan on the floor it's more likely to blow cooler air than if you were to put it on a desk or table.
2. Try the water bottle hack
This writer has used this hack countless times – it really does work. All you need to do is grab a tub or bucket, fill it with ice-cold water (add ice to keep it cold), and put some bottles of ice-cold water inside the bucket. Then, direct the fan at the bucket with the water bottles. This will result in the fan blowing around cooler air around your room.
3. Doing laundry? Air dry it and point the fan at it
The good news about a heatwave is that you can stop using your tumble dryer for the duration. Your clothes will dry fast enough inside your home, and you can use the laundry as a cooling aid for your fan. Simply direct the fan at the drying laundry to achieve cooler air. It's even better if you're washing large items like bedding and towels.
4. Direct your fan outside the window
This may seem counterintuitive, but directing your fan out not into your room will help you cool down the space better. Managing Director of air treatment company Meaco (opens in new tab), Chris Michael, says: 'it is best to open two windows, and place a fan so that it is blowing the air out of one of the windows. This sucks the stale air out of the room, while fresh air is drawn in from the other window resulting in a significant improvement in air quality in a very short time and ensuring fresh air is circulated quickly around the room.'
5. Get a fan that has side-to-side and up-and-down movement
'To cool down a room full of several people at once, consider a fan that features side to side and up and down oscillation. That way the air is circulated around the entire room as opposed to blowing in one direction.'

(opens in new tab)
Pro Breeze® 30-inch Tower Fan with Oscillation | £79.99 £47.87 (save £32.12) at Amazon (opens in new tab)
If you're in the market for a new fan because of the current heatwave, then this one is a good contender. Pay less than £50 for a tower fan, which can be controlled by a remote so you needn't move to increase the speed. With three modes and a 7.5 hour timer, this fan is a total steal.

Do you put ice in front or behind a fan?
In front. You want the fan to be pointing directly at the ice.
Does a bowl of ice behind a fan work?
No, a bowl of ice placed behind a fan will not do anything to blow cool air around a room. You need direct positioning in front of the fan.
Does putting a wet towel over a fan make it cooler?
'In theory, it will help cooling yes, but not to be encouraged from a safety point of view.' You should never put anything over a fan to prevent overheating.
Why is my fan not blowing cold air?
Chris Michael explains how: 'A fan cools you down by creating a slight wind chill effect as a result of pushing the air. The more powerful the fan the greater the chill effect, so your fan might be underpowered for the requirement if it's not creating a noticeable wind chill effect.
In humid, windless conditions, a portable air conditioner is the better solution as it actively removes and expels the warm air, replacing it with cold air. In the far east offices typically have air conditioning and fans to circulate the colder air.'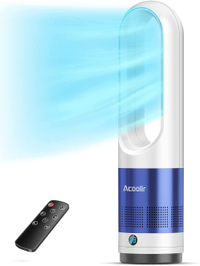 (opens in new tab)
Acoolir Tower Fan | £99.89 £79.91 (save £19.98) at Amazon (opens in new tab)
Similar to another popular bladeless fan but a quarter of the price (we're not naming any names!) this is a total steal. It's rated 4.6 out of 5 by reviewers and it comes with a remote so that you can control it from your bed. Space-saving and portable, it comes in two colours and is safe to use around kids and pets.