Keeping the place you live in and those who share it with you safe should be one of your top priorities and, at a time when all of us are at home more than ever before, it's important to invest in the best home security system possible.
Devices such as security cameras, motion sensors and alarms are a great way to get peace of mind whether you're in the house or away, acting as deterrents to potential criminals and protecting your property from unwanted intruders.
According to research from Online Mortgage Advisor, there were 252,828 burglaries in the period between January and November 2020.
Of course, security systems come in many forms, and not all are suitable for every home. However, if the picture in your mind includes trailing wires, hard to install and even harder to use systems and clunky devices that stick out like a sore thumb, then rest assured that security technology has come a long way in recent years.
Whether you want something light and simple or you want the whole security package, we've looked at some of the best and most popular offerings around to see which measure up. And if just looking for a multi-functional single-device set-up, take a look at our ranking of the best video doorbells.
Scroll down to see what we thought.
The best home security systems 2022
Why you can trust Real Homes Our expert reviewers spend hours testing and comparing products and services so you can choose the best for you. Find out more about how we test.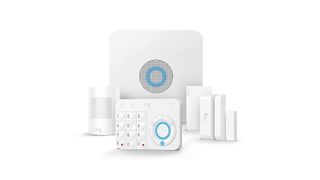 The best home security system is, without doubt, the Ring Alarm. A new entry to the world of smart security, it certainly hasn't wasted any time making it to our top spot; it allows you to build a customisable smart security system that works for you.
As with the Ring Video Doorbell and Ring Stick Up Cam, you'll need to start by connecting the Ring Alarm to the super handy Ring app, which you can download from the app store onto your smartphone.
From here, you can control your entire home security set-up from any location through your smartphone, which is perfect if you're looking to keep a closer eye on your home while on holiday or away from home.
What dramatically cuts the cost of this home security system, compared with similar models? The DIY element. As professional installation isn't required, you can simply install it yourself, wherever suits, no fitting costs incurred. Love it.
What's more, it's just as easy to take each element of the Ring Alarm down as it is to set it up in the first place. So, if you're a renter, or don't see yourself living in your current home forever, there's no need to worry about having wasted any money on a home security system that you can't take with you.
Ring Alarm comes complete with a base station – which connects the other elements of your home security system to the internet – as well as a keypad, a contact sensor, a motion detector and a range extender, all for less than £250.
And once you have your kit in hand, it's super easy to set up each element in a space that best suits your security needs. Got a flat roof with window access? Or a set of French windows that aren't totally secure? Work Ring Alarm around your home's weak spots for the ultimate home security set-up. Nice.
Perfect for those who like the idea of smart home security, but don't feel comfortable with cameras, Ring Alarm covers all of the home security bases for an instantly safer home, without a camera being necessary.
That said, it's just as easy to connect Ring Alarm to an existing Ring Video Doorbell or Ring Security Cameras, if you'd like the best of both worlds.
Real Homes rating: 4 out of 5 stars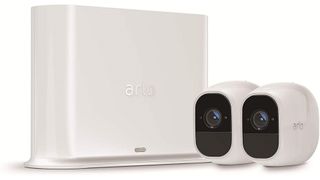 If you're looking to invest in a more premium home security system, look no further than the Netgear Arlo Pro. This smart security system offers a premium experience for those looking to invest.
The picture quality on the Arlo 2 is seriously impressive. The colours are bright and vivid for the day time shots. And night vision fares just as well.
Plus, if you need to get a closer look at something in the footage, you can just pinch to zoom on your smartphone.
Arlo is more generous than many when it comes to its free cloud storage, saving footage of any suspicious movement or sound for seven days.
There is a subscription offering, which will stretch this cloud storage to a month or longer, as well as give you a few more features too.
It's also possible to start the alarm remotely, which is super handy if you're away from home and spot something you don't like the look of. Simply sound the 100+ decibels alarm and watch from the safety of another location.
The Arlo Pro 2 is IP65 rated, which means it should withstand the rain, cold and – when we get it – heat and sunshine, and since there are no wires required, having it mounted in your garden shouldn't be too much of a problem at all.
To reduce the amount of notifications you get, you can choose to have Arlo in Geofencing mode, which will switch the camera on and off automatically when you're in or out of the house.
Real Homes rating: 4 out of 5 stars | read our full review of the Arlo Pro 2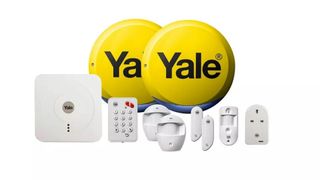 With a whole host of features on offer, the Yale Smart Home Alarm is a smart, intricate system with the price point to match. It has plenty to offer those looking to build a comprehensive home security system, though.
Whether you're setting the alarm system using the number keypad, tuning into the real time video via the app or using the smart plugs to remotely control the lights from wherever you happen to be, Yale gives you free rein to design the best home security system for your home. Mix elements of old security systems with modern approaches for a system that best suits your requirements.
In addition to the basic home security system, there is a vast array of accessories that you can connect up to your system, including key fobs and key pads, a smoke detector and a pet friendly PIR motion detector, for additional protection.
Those worried about connecting their system up will be pleased to learn that Yale pre-connect the elements to the hub, so it's just a case of putting a component in its rightful position.
Real Homes rating: 3.5 out of 5 stars | read our full review of the Yale Smart Home Alarm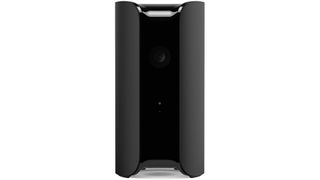 The Canary All-In-One Indoor Security System is a simple, high quality system that won't look out of place in your living room. It monitors your home while looking sleek and stylish at the same time.
Whether you place it on your coffee table or your sideboard, the high quality, 1080p HD camera will stream real-time video to the connected app, enabling you to check up on your home wherever you happen to be.
If your device does happen to pick up anything out of the ordinary, it'll send a notification to your phone (or any other first responders you've listed) so you can see what's happening. This allows you to tap through quickly to the authorities. The siren is loud at 90+dB, too.
There's a built-in speaker and microphone, too, so you can talk through the camera (Canary Membership required).
Thanks to automatic night vision, it's possible to monitor the security of your home around the clock. So, should you hear a bump in the night, you can check what's going on, without having to leave the safety of your bedroom.
Unlike some systems, this model does not require installation, meaning it can be set up in a matter of minutes. Simply download the free, accompanying app, place your camera in your desired location and connect it to the internet.
Plus, if you're looking to share the responsibility of monitoring your home's security, it's worth noting that more than one smartphone can be connected to the camera via the app.
As if keeping your home secure wasn't enough, this offering from Canary also monitors air quality, temperature, and humidity, so you can improve the overall health of your home. Finally, it has a privacy mode that completely shuts down the camera and microphone.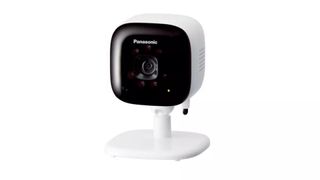 This clever Panasonic's KX-HN6012EW Home Monitoring & Control Kit is perfect for larger properties. Plus, it allows users to expand other elements of a smart home system.
Designed to enable users to build a cohesive smart home security system, this model comes complete with a camera, motion sensor, window and door sensor and a smart plug that can be used to control lights and appliances.
All of the devices connect together using Ultra Low Energy (ULE), as opposed to Wi-Fi, meaning you're at lower risk of your home security system being vulnerable to hackers.
Designed with larger properties in mind, this system works over a range of up to 300 metres, so you can ensure your entire property is protected.
Using a combination of the smart plug and the app, you can set up your smart home, too. This is perfect for those looking to design a large smart home system that's interconnected.
As with other cameras, the Panasonic home security system can live stream to your phone and send you notifications triggered by the sensors. This is perfect for those who want to keep on top of their home security from remote locations.
How to choose the best home security system
When shopping for the best home security system to suit your needs, there are a few factors worth bearing in mind. These include:
What's included in your kit
If you're buying a home security system, off the peg, you'll need to think about what your chosen kit includes. Do you want your cameras, or sensors to be installed up and out of the way? Or would you be better suited to a freestanding model that doesn't require professional installation and can be placed on a bookshelf, coffee table or somewhere similar?
Do you intend on using your home security system indoors or outdoors?
Where you intend on installing your home security system – most notably indoors or outdoors – will also influence your ultimate decision.
Most of the models in this round up are better suited to use indoors, so if you're looking for an outdoor solution, you may find the following guides of use:
Can you expand your home security set-up over time?
If you're taking your first steps into the world of home security, you may wish to start with just one or two cameras, which can be added to over time. It's worth considering whether the home security system you're considering allows for this.
Compatibility
If you're looking to connect your home security system to a wider smart home set-up, you'll want to check whether the camera system you're considering is compatible with the smart ecosystem you already have in place – or one you plan to invest in.
Battery life
If you are going for a wireless home security system – which will, of course, be easier to fit than a wired one – check how often the batteries will need changing in the various elements. Also check how practical it is to replace batteries based on their proposed positions. If they are in a hard-to-reach corner of a stairwell, or up high on the exterior a wired option might be better.
Appearance
If you're conscious about the aesthetics of your home, it's worth bearing in mind that not all home security systems are born equal when it comes to appearance. Consider which option will best blend into your scheme if you're looking for a subtle approach to home security.
Are home security systems worth the investment?
Research has shown that home security systems – whether that's a video doorbell, a single camera, or a comprehensive security system – actively deter criminals . So, yes, we would say that they're worth the investment. Discover more tips and tricks in our guide to how to protect your home.
What is the best home security system?
The best home security system is the newly released Ring Alarm, which offers DIY-installed and completely customisable smart home security at a pretty affordable price point. You can control your entire home security system from your smartphone, connecting it to other Ring devices, too. Thinking of moving house? No problem, you can simply take your Ring Alarm down when you go.