When summer kicks in, it can get a little stuffy indoors — especially if you live in a tiny rental, dorm, or your parents' loft. Fortunately, you don't need to invest in a household air conditioner just yet. Aside from picking up a handy household fan or getting in on the portable fan trend, there's one long-term but affordable solution: the portable air conditioner.
Consider this a must if your space is especially hot. Why? Because at a certain point, a fan just ends up blowing hot air around the room. A portable air conditioner, however, takes the hot air from the room and releases cooler air. Here, you can splash out on something fairly substantial or indulge in myriad cheap but effective options out there. This might mean a unique personal cooler that uses ice cubes or more of a traditional, hosed design.
Quick Menu:
1. Portable air conditioners
2. Small portable air conditioners
3. Cheap portable air conditioners
It can be tricky terrain finding the right appliance or mini appliance for your needs. That's why I've spent hours poring through options on the web, ensuring you get only the best. Indeed, these were highly rated by shoppers, earning big compliments for their functionality and cooling qualities. Sure, picking out an AC is hardly the most glamorous part of interior design, but my picks are some of the sleekest, most elegant you'll find. Now, let your cool girl summer commence, and let's finally cool down that room of yours.
The best portable air conditioners to buy
Why you can trust Real Homes Our expert reviewers spend hours testing and comparing products and services so you can choose the best for you. Find out more about how we test.
The prices below were correct at the time of publishing.
Portable air conditioners
Unlike your typical household air conditioning system, portable ones can be moved around to suit your needs. Moving back in with your parents after college? Perfect. Heading to a new apartment? No problem. These designs follow your lead.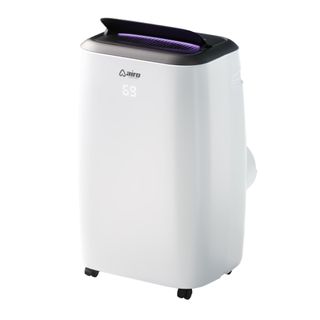 Top tier
1. Airo Comfort Portable Air Conditioner
Size (in.): H27.17 x W16.18 x D13.03
Power: Corded electric
Price: $319.95
Perhaps the best air conditioner for a small room, this is everything your summer has been missing. Sized for rooms around 450 square feet, it's a dorm-dweller or new renter's savior. Featuring an easy-to-use LED display, it has oscillating vents to direct your airflow and purify the air that enters. Acting as a cooler, fan, and dehumidifier, it's exceptionally quiet compared to most air conditioners, and shoppers love it. Their verdict? It's easy to move thanks to the wheels, and it cools at record speed.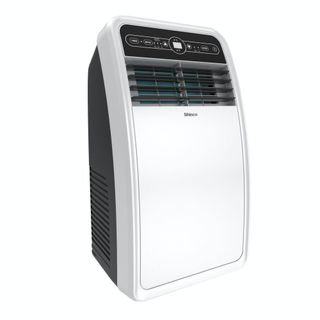 Smooth operator
2. Shinco Portable Air Conditioner
Size (in.): H26.9 x W14.7 x D13.5
Power: Corded electric
Price: $220.17
When it comes to setting up substantial air conditioning units, this is undoubtedly the easiest you'll come across. All you need to do is place it in your chosen area, attach the hose and adjustable window brackets, and switch it on — no extra tools are necessary. Featuring an intuitive remote, thermostat, and three speeds, it's fitted with casters for quick and easy moves around the home. According to reviewers, this is a space-efficient option that gets to work fast.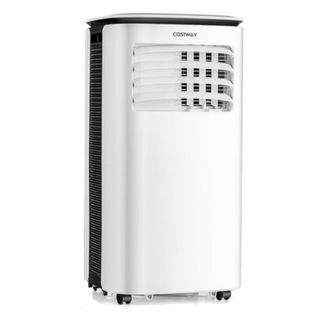 All rounder
3. Costway Portable Air Conditioner
Size (in.): H28.5 x W14 x D14
Power: Corded electric
Price: $279.99
Covering you for dehumidifying, cooling, and fanning, this jack of all trades comes with a handy sleep mode and timing function that you can set for anywhere between one to 24 hours. You don't need to stress about scary energy bills or waking up cold in the middle of the night. The touch panel makes it easy to use, too. Shoppers were pleasantly surprised, commenting on its easy installation, portability (yep, it has casters), and cooling competence.
Small portable air conditioners
After a daintier option that you can transport with even more ease? Say no more. These mini ACs are just what you've been looking for, and they're even cheaper. Get involved.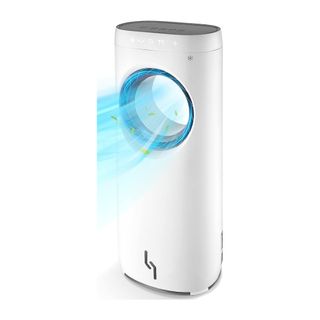 For large rooms
4. Trustech Evaporative Air Cooler
Size (in.): H31.7 x W9.2 x D13.2
Power: Corded electric
Price: $179.99
If you want something to cool down an entire room, but don't really want a huge bulky unit in your living room or bedroom, then this is perfect. You can control it via a remote and it has three speeds and a 12-hour timer option. The 4-liter water tank means you won't have to keep filling it up, and it's bladeless so it's safe to use around children and pets. While it doesn't have a handle, it is quite convenient to take from one room to another. It needs to be plugged in at all times, just an FYI. More than 1,000 reviewers give it a 4.2-star rating, with most commenting on its convenience.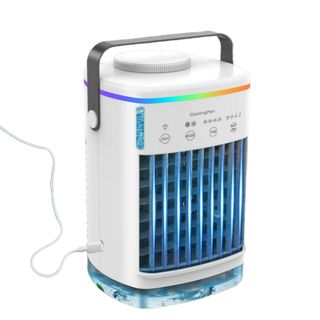 Desk buddy
5. Jorocks Air Conditioner Fan
Size (in.): H9.65 x W6.30 x D7.9
Power: Corded electric
Price: $29.99
Perfect for personal use, this is a breeze (sorry!) to use, complete with a 700-milliliter water tank, an anti-slip strap for carrying, and adjustable wind direction. The filter element is also removable if you need to freshen things up. While it can't cool a whole room per se, it works well at cooling a specific area, making it perfect for desk use. Humidifying, cooling, and fanning, this has it all. Oh, and the LED night lights are perfect for bedtime. Word on the street? A must-have appliance for WFHers.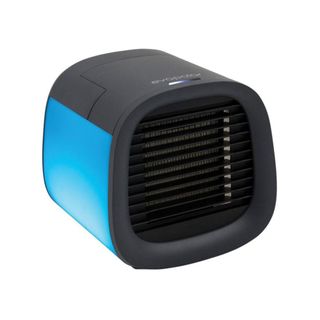 Chill out
Size (in.): H9.57 x W8.27 x D9.57
Power: USB chargeable
Price: $99.99
Perhaps the coolest design we've seen so far, this minimalist gadget has major cooling credentials and can chill a room despite its tiny size. Ideal for sleeping, travel, and work, this whisper-silent piece works at just the tap of a button, providing cool air for six to eight hours per session. As portable as it gets, it can decrease the temperature in a room by 63 degrees Fahrenheit. Pretty impressive, right? Oh, and users love it — especially students.
Cheap portable air conditioners
Look, you're already saving a whole lot of money by opting for a portable air conditioner, but that doesn't mean you can't lessen the price more. Yep, these unspeakably affordable designs provide major air-conditioning credentials without skimping on performance. All under $50.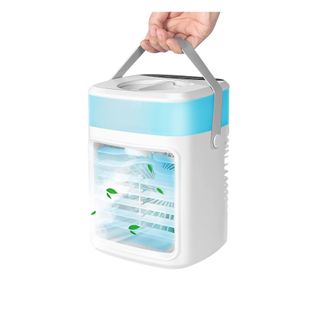 Travel-friendly
7. Nebulizer Machine Store Portable Air Conditioner
Size (in.): H8.8 x W6.3 x D5.7
Power: USB chargeable
Price: $47.99
Primed with three wind speeds to suit your needs, this portable AC cools hot air in mere seconds. With a 16-ounce tank, which can be filled with water or ice (and even essential oils), it has a timer that you can set for up to 24 hours. And it will alert you when it's low on battery or water. Yes, it's rechargeable so this, paired with its compact construction, means it can be taken wherever, whenever. You'll also be pleased to hear it's uber quiet. Shoppers found it a piece of cake to use and a real space-saver. You can also choose from seven light colors and it has a helpful handle.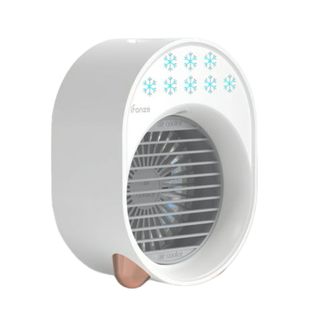 Cheap and chic
8. iFanze Portable Air Conditioner
Size (in.): H7 x W5.3 x D3.66
Power: USB chargeable
Price: $49.99
Tripling up as a fan, humidifier, and mini air conditioner, this ingenious design can be filled with water and ice depending on your needs. With a strong battery life (four hours per charge), it's super quiet and features seven different night light colors, ideal for unwinding. You can choose from low, medium, and high wind speeds, and the design contains no harmful coolants or chemicals. It's a low-energy consumption device, so you won't have to sweat over hiking up a gargantuan monthly bill. For shoppers, this was an instant win: quick charging, cool, and easy to use. At that price, as well!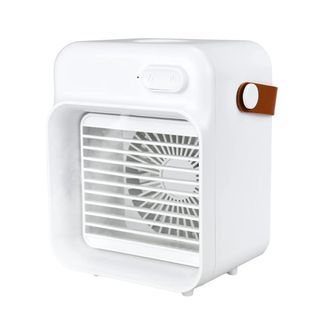 Under $15
9. Valieno Portable Air Conditioner
Size (in.): H10 x W7 x D6
Power: USB chargeable
Price: $14.99
Another unfathomably cheap design that delivers on function, this gadget serves up a trio of cooling, humidifying, and purifying. Lowering the heat in your own personal space, it sprays cool mist at three different speeds. Plus, with a cute handle, easy cleaning, and serious durability, it's sure to see you through plenty of use. And yes, it takes ice cubes and water. As for the reviewers' take? This is a lightweight hero that uses minimal space and works like it costs a lot — luckily, it doesn't. Although it's only rated 3.9 stars, it is less than $15 so you can't complain.
FAQs
Is it safe to sleep in a room with a portable air conditioner?
Yes, but it's worth considering a few things. We caught up with Josh Mitchell, a heating, ventilation, and air conditioning expert, who heads up Air Conditioner Lab, to hear more. "Portable air conditioners are designed with safety in mind," explains Mitchell. According to him, the key difference between your standard window units and portable ones is that the latter are freestanding and can be moved around. In practice, they do more or less the same thing, cooling the air to help you sleep on a hot summer night. "However, it's important to maintain your unit properly, which includes cleaning and changing the filters regularly to prevent a buildup of dust and allergens that could affect the air quality," adds Mitchell. "When it comes to portable air conditioners, safety, and efficiency go hand in hand. By ensuring your unit is properly maintained and vented, you can enjoy a cool, comfortable, and safe sleeping environment.

Do all portable air conditioners have to be vented out a window?
No (and yes). When it comes to typical air conditioning, these usually do, however, in the realm of portable units, it often differs. As Josh Mitchell, the heating, ventilation, and air conditioning expert behind Air Conditioner Lab explains: "Air conditioners work by moving heat from inside your room to the outside, effectively cooling your space." But while many work in this manner — like the Shinco Portable Air Conditioner, for example — there are other types, too. "Unvented units are known as evaporative coolers or swamp coolers," says Josh. "They cool the air by evaporating water, which can be a good option in dry climates, but they don't need to be vented to the outside." Indeed, many of our picks would come under the latter category, like the Valieno Portable Air Conditioner, meaning you might not need to crack a window.
Where to buy a portable air conditioner
Still trawling the web for your perfect portable air conditioner? Take a leaf out of our book, and check out the top retailers below.
How we chose these portable air conditioners
We whittled down our list of the best portable air conditioners on the criteria of practicality and style — both in equal measure. By closely examining the reports left by reviewers and customers, we were able to build a strong roster. While we haven't been able to test each and every product just yet, we're confident these will please. All of them earned a minimum of four stars — not to mention kind words aplenty.