If you live in a relatively modern home or are super particular about your space's style, you know the things you have on show matter. It has to work with your interior taste, right? Some people might think this sounds ever-so-slightly superficial, but if it's not good enough for the 'gram, then I don't want it.
Whether it's an air fryer you'll be putting on your kitchen counter or a portable heater you want sitting by the couch, the design can make a difference. Which is why I just can't get enough of the Dreo space heater. Yes, it's a practical piece of kit, with the purpose of providing some extra warmth — but it looks good, too! It's slim, stylish, and quite compact, making it perfect for small homes and their residents who want to save on their energy bills.
Style aside, it's also pretty powerful and very quiet. Using ObliqueAirlow Technology to reduce the noise of airflow, this heater delivers warm breezes 11% quieter than other space heaters. It comes with a remote that gives you access to a great range of pre-sets, including an eco setting. Dreo is known for finding the perfect balance between design and functionality, and the Dreo space heater seems to be no exception.
TLDR: What I thought of the Dreo space heater
I personally am obsessed with this heater, which may seem weird to say (who becomes obsessed with a heater?). But it's true. I care about the things I put in my home, and how they look. When it comes to add-ons you'll have on display like a heater, portable fan, or even an air fryer, it can be hard to find small appliances that fit in with the rest of my decor.
The Dreo space heater looks the part. It's small and cylindrical in a black and gold color, though the brand also has a silver option. Its compact design makes it ideal for placing on the desk, beside the bed, by the couch, or pretty much anywhere else I need it. Oh, and it has this handy carry handle that doesn't get hot.
While it's great that it looks the part, if the performance doesn't square up, then it's not worth the buy. But I can confirm, it's one of the best heaters I used. I've been reluctant to put my heating on as much as I'd have liked — UK readers, you'll know why — and this heater has been great for putting on in the mornings when I'm getting ready for work. There's nothing worse than having to get out of bed on a frosty morning.
Testing the Dreo Space heater
Like most of the Real Homes team, Louise is always on the lookout for energy-saving buys this year. Costs are higher and budgets are tighter, which means the things we spend our money on really have to be worth it. She shares a modern three-bed apartment in London with two friends.
"My apartment is open-plan, spacious, and quite stylish (if I do say so myself). I'm a design enthusiast, so anything that goes on display has to look good. But when it comes to appliances, practicality often takes priority. Having a heater has been a great energy-saving buy to get me through the winter, and I also love that this one is black and modern, which goes with the rest of my furniture."
The techy stuff
Size: 5.9"D x 5.9"W x 15.8"H
Weight: 4.63 lbs.
Power: 700 to 1500 W
Features: 70° oscillation, 1 to 12 hour off timer
Settings: H1, H2, H3, ECO, Fan
Temperature: 41°F to 95°F
Control: Touch and remote control
Unboxing the Dreo space heater
The cute cardboard packaging and light weight instantly gives this appliance a great first impression. It's simple and effective, you know what you've ordered without any printed cardboard or plastic. Upon opening, the plug socket, wireless remote, and user manual were wrapped in plastic, which is to be expected, unfortunately. Otherwise, the heater comes assembled with cardboard cushioning in the box. After taking it out, removing any protective stickers, and having a quick flick through the guide, it was good to go.
How to use the Dreo space heater
I have to admit, I didn't read the instruction manual first. But that's because I didn't feel the need to. This heater is super simple to use, and if you have a bit of common sense you can work out which buttons do what. All of the same symbols on the remote are replicated on the top of the heater, which is a touch screen. The functions are as follows: power/on, plus and minus to select a specific temperature, a pre-set option, a mute button (to pause), oscillation, and a timer function. I had a play-around first to figure out each feature before reading the manual to confirm. Backward, I know!
Test 1: Using the pre-sets
Testing the pre-sets: I love it when a piece of tech has pre-set. Call me lazy, but if the manufacturer has made recommended settings, then I'm going to use them. Rather than me fiddling around with different modes, temperatures, and speeds, I can click one button and get what I need. The pre-sets provided by Dreo are great. You can choose from H1, H2, H3, eco, and fan. I'll go into the eco and fan setting later, but as for the H modes, (which I presume stands for heat), they are different levels of power. HI gives 900 watts, H2 provides 1,100 watts, and H3 is the most powerful with 1,800 watts. You can then change the temperature up or down if you need. It's worth noting all powers are the same when it comes to sound, too. Usually the higher the power, the louder the appliance. Impressively, the Dreo space heater is just as quiet at its lowest setting as it is at its highest.
Test 2: Eco setting
Eco setting: When I learned this heater came with an eco mode, I was quick to test it out. We can all appreciate an energy-saving setting at the moment, and the eco option for the Dreo space heater is great. In fact, it's the pre-set I use most, if not all the time. In eco mode, the heater will automatically select its optimal heating power, depending on the set temperature and the ambient temperature. When the outside temperature reaches the set temperature, the heater will turn off automatically. When the ambient temperature drops below the setting, the heater will then turn back on, operating on a medium (H2) power. You get the idea. I usually have the temperature set at 23°C when working from home, and it didn't take long to heat up my home office.
Test 3: Fan setting
Fan setting: The fan setting is something I think you could do without — at the moment anyway. Having understood this as a heater mainly, I didn't expect it to come with a fan setting. As of yet, I've not used this setting to its full potential. It seems to work fine and gives the blast of cold air you may want when it's warmer out. But without any additional fan settings or choice of speeds, I probably wouldn't recommend buying for the fan function only. That being said, come summer I know I'll get my use out of it since it will save me from purchasing yet another appliance that will take up space. I'll update you on my experience in a few months' time when the weather gets hotter.
Is it right for you?
If you want a smart appliance that won't look out of place in your apartment then this heater will fit the bill. It works well, nothing I can fault, and will keep you and your space warm during these cold winter months. It won't heat large homes, and might not do the job in an open-plan space, but if you want something to sit beside you while you're working, relaxing on the couch, or getting out of bed, then this cute portable heater is ideal.
I'm yet to mention the cost, mainly because I believe it's reasonably priced. No, it's not cheap, but it doesn't cost you hundreds either, like the Dyson Hot+Cool, for example. For $99.99/£99.99, you're getting a chic appliance that does what it claims. It's yet to break or even collect as much dust as I thought it might. Of course, I'll update you if things change. For now, renters, small space owners, and work-from-homers who love a modern look will find it's a no-brainer.
How does it compare to switching my heating on?
Unwillingly, I have started to switch my heating on, but it's on a timer for the morning and at night, not during the day. My roomies and I are rarely there during the day, and it doesn't make sense to rack up our energy bill if we can help it. On the days I work from home, I have felt the frosty temps though. Using the Dreo space heater has been one of the best energy-saving products I've bought. But it's worth knowing how it actually compares to turning my heating on.
Having spoken to experts, I've found we can save 7% in energy with every degree lower we set our thermostat. To calculate the cost of the Dreo space heater, with an average power of 1100 W, or 1.1 kwh (which is the mid-setting), you need to multiply by the electricity rate pence/kWh unit. In the US, this would be 1.1*0.12 = $0.13, putting it at 13 cents per hour in December 2022. In the UK, this would be 37 pence per hour.
It may sound a lot compared to an electric blanket, for instance, but you're still better off using this than putting your heating on, particularly during today's economic climate. It also has a timer function, which I find particularly useful. You can control how long your heater is on, helping to avoid it being on longer than necessary.
More top picks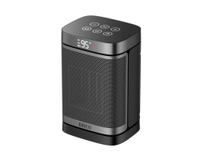 If you want something cheaper | Dreo Atom One Space Heater | $49.99 at Dreo
Coming in at under fifty bucks, this cute box heater is ideal for the bedroom, to pop on your nightstand, or have on your desk. It's super lightweight and easy to carry, maybe even take it to work?
We've currently got this one in to review, too, so stand by to see how we rate it.

If you want something more eco-friendly | Dyson Hot+Cool HP04 | $759 at Amazon
So we couldn't let you go anywhere without recommending the Dyson hot + cool HP04. But we're suggesting it as an eco-friendly alternative. Why? It's a two-in-one fan and heater for starters, so you won't have to buy a fan for the summer. In our Dyson Hot+Cool review, we noted how it came in fully recyclable packaging and a warranty where it can be repaired for up to two years after purchase. That's if you've got the budget to buy it, of course.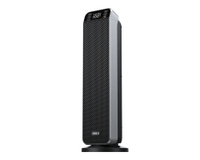 If you want something bigger |Dreo 24" Space Heater| $84.99 at Amazon
Think of this heater as the space heater's big brother. Standing at 24 inches, this tall, slim heater is perfect for putting on the floor next to your bed, couch, or even just in the corner of the room. It has many of the same settings as the smaller version, but bigger.
About this review and our reviewer
Louise is the ecommerce editor at Real Homes and has been testing out her fair share of small appliances, bedding, and anything else you can think of for your home. As a renter with roommates, she's eager to find any products that won't cost a lot, nor take up too much space. Any energy-saving buys? She's quick to test out where she can save.
She tested the Dreo space heater over the month of December (or so) — arguably the coldest month of the year in 2022, during work-from-home days and evenings relaxing in front of the TV. Dreo gifted her this appliance and she has been allowed to keep it for personal use: yay!