Photo prints have returned to our otherwise digital lives and are here to stay. At least that's what Canon hopes for with its modern and versatile SELPHY CP1300 photo printer, designed for fast and easy home printing.
We have an ever-growing collection of digital photos on our smartphones and computers, so it can be fun to see them come alive with tactile prints and postcards. Viewing life's memories on a screen is one thing, but holding special moments in hand or adding to a family album can become a more satisfying experience.
To see if taking the photo lab home is more than just a short-term pastime, we test-drove the Canon SELPHY 1300 with various paper formats. And, if you want to see how it measured up against other models, hop on over to our guide to the best small printers.
Overall, we can see the longevity in having a modern photo printer that is compact, user-friendly, and prints good quality photos without having to order from a photo lab – convenience is key for home printing, after all.
Canon SELPHY CP1300: Key specs
Print technology: dye-sublimation
Screen: multi-language 3.2in LCD tilt-up
Max print size: 4 x 6in
Max resolution: 300 x 300dpi
Connectivity: WiFi, Apple AirPrint, Mopria, USB, SD
Power: Mains, optional battery (sold separately)
Colors: Black, white, pink
Dimensions: L7.1 x W5.4 x H2.5in (without a paper cassette attached)
Weight: 1.9 lbs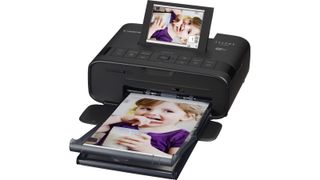 Canon SELPHY CP1300: Set-up
Our Canon SELPHY CP1300 came preloaded with ink, but installing it is as easy as opening up the side compartment and inserting the ink cartridge. Unlike a traditional printer, SELPHY CP1300 doesn't have a tray to load the paper and uses a paper cassette instead. It attaches to the front of the printer with the blank paper sheets enclosed, and the printer ejects all printed photos on top of the cassette.
You will also notice some paper packs have different ink cartridges, so you will need to switch between them if you alternate between paper sets. It may also seem wasteful to have a plastic ink cartridge that lasts 108 prints at most, as is the case for the postcard-sized kit, while the sticker paper set only holds ink for 18 sheets.
Once you have attached the paper cassette, the next step is to connect to your device – WiFi connection is likely the universal way to connect using different devices. Still, you can also use Mopria Print Service, which easily connects Android devices to certified printers, or opt for AirPrint if you use iOS. If you have any photos on a USB memory stick or an SD card, you can use those directly on the printer.
We were impressed with the ease of setup no matter what device we used to print from. Of course, this could make it a perfect choice for social activities such as family events, wedding receptions, or kids' birthday parties where a group of people can connect and print memories to take home or entertain the guests.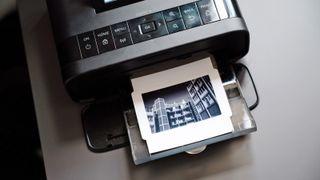 Canon SELPHY CP1300: Performance
This is a small, portable printer that prints well. The colors were mostly vibrant and reasonably accurate, and even black-and-white photos had deep blacks and crisp whites. In addition, the dye-sublimation print technology Canon SELPHY CP1300 gives images you can handle right away – you won't have to worry about accidentally smudging the colors.
When you print for the first time, don't be surprised to see the first time paper comes out, it only has yellow dye. The printer applies color in four stages, and for each one, the paper comes out at the front before it's finally ejected when printing is done.
We noticed the printer doesn't show current ink levels on the screen, which means you're left guessing, especially if you use several packs of paper and ink without keeping track of how many prints you've done so far.
The different print options, like ID printing, collages, photo-booth prints, and others, make it a good choice for general family use and crafts. Still, you could also use it for printing plain postcards and general photo keepsakes. The same goes for paper choices – if stickers are not your thing, simple postcards or 4x6in paper packs may be the better choice.
Printing even the simplest digital memories is tremendous fun, and it's easy to go through a whole pack of prints quickly. The price per print comes out comparable to a consumer photo lab. Hence, while you're not saving much money by printing at home, it is still a more personal and enjoyable experience than heading to a photo kiosk.
One issue we ran into was getting some dust or pet hair either onto the paper cassette or ink cartridge. The prints came out with minor visual imperfections akin to analog film that sometimes get scratches or dust, but if you handle the printer with care, it should not be a regular occurrence.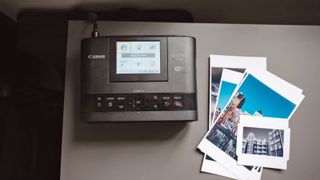 Canon SELPHY CP1300: Design
Not as small as simpler Polaroid-style printers, the Canon SELPHY 1300 is still portable and easy to store away in a drawer or cupboard when not in use. You can pick from a black, white, or pink design, with the latter two likely popular for family use.
Though our test unit came with a battery pack, sadly, if you want to use it on the go, you have to buy the battery separately. We stored the printer on the corner of our home office desk but be mindful that when in use, the paper cassette will add to its size at the front.
The tilt-up screen is a nice touch, so you can see the printer menu without having to stand up if you print at your desk, but it's not a touch screen, so you still have to navigate using the buttons.
From a distance, the printer does not look too dissimilar to a retro CD or cassette player, which could fit a specific room aesthetic. Still, if you want to keep it dust and pet hair free (and avoid it getting inside the paper cassette), it may be an excellent choice to store it away when not in use.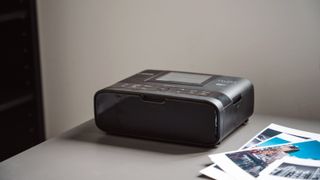 Canon SELPHY CP1300: Our verdict
Having used printers with fewer functions, the Canon SELPHY CP1300 stands out as a tiny powerhouse that can print anything you need, from passport-style ID photos to family album prints. It doesn't quite rival results from a professional photo lab, but it's an adequate alternative to consumer labs.
Suppose you like to tinker with creative ideas, enjoy collecting photo memories, or have children in the family. In that case, the printer will be a great, entertaining alternative to ordering online, even if it does work out to a similar price per print.
About this review, and the reviewer
Anete is a freelance writer and product reviewer in the tech industry, ranging from photography software to home living products for a modern lifestyle. As a self-taught photographer, she is always on the lookout for user-friendly smart home and business devices that don't take a genius to figure out. When she is not working at her desk, Anete can be found creating artistic projects and looking for ways to make her home smarter and more organized.