Investing in something to help you cool down this summer? Enter: the Dyson Pure Hot + Cool HP04. This versatile smart home gadget can heat or cool a room, all while purifying air at the same time. Moreover, it's as smart in looks as it is in technology. With a sleek, bladeless design to match its seamless features and functions. You can even control it using your smartphone, an Alexa device or by its easy-to-use remote control. Yes, this means you can turn it on to cool down your house before you arrive home. Genius.
I've been using the Dyson Pure Hot + Cool HP04 at home for the best part of three years now. Bearing in mind I have two pets, both of whom are serious fur shedders, I've never even had to replace the filter. I've cleaned it, of course, which is proof to me that it's working. To say that I couldn't live without this fan/purifier/heater combination would be an understatement. As a top notch fan, it has rescued me in the heatwave yet come winter, it means I can heat up just one room without having to turn my heating on throughout my entire flat.
Because this is an investment buy, we decided to review it all those years ago in hopes it would stand the test of time and surprise surprise: it did. So, if you're looking to invest in something to help control the temperature and clean the air inside your home, then let this be it. Read on to find out more about this clever little buy, then, check out our best air purifiers guide afterwards, if you like.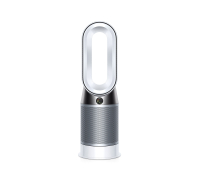 Dyson Pure Hot + Cool™ Advanced Technology | £549.99 £499.99 (save £50) at eBay
With a whopping £50 off ahead of Black Friday, this is definitely one you don't want to miss. This fan is great for year-round use, inside a bedroom on winter mornings whilst getting ready to work, or for using to cool down a living room in the summer heat. You can control it from your phone and also link it to an Alexa to control it with your voice, plus it manages to do all of that and purify the air at the same time.
Dyson Pure Hot + Cool HP04 specifications
Recommended room size: 800 sqft
Smart?: Yes
Works with: Alexa
Noise: 54-81dBs
Filter: HEPA
CADR: 80
Speeds: 10
Dimensions: H30.1 x W9.7 x D9.7in
Weight: 12.4lbs
Annie is our Deputy Ecommerce Editor, and she has years of experience when it comes to product testing, whether that's a mattress, BBQ or a fan. Annie initially tested this fan for us in 2019 and has since been obsessed. She uses it approximately five to six times a week, at all times of the year.
She lives in a two-bed flat in South East London with her husband-to-be, her house rabbit and her pug. She has noticed how well it purifies the air, especially after gaining another pet in 2020.
Annie was allowed to keep this fan, in order to update this review.
Who will the Dyson Pure Hot + Cool HP04 suit?
Anyone and everyone, no matter the size of their home. It's great used as a fan in a hot bedroom at night, or if your living room is feeling nippy and you don't want to turn the heating on all over the house. It's a great buy for smartphone owners, too. While the Hot + Cool remote works perfectly well, the app you can download onto your phone is even better, allows for more functions, and is easier to use.
Moreover, since testing this fan we gained a furry addition to our household. He sleeps in our room, on the floor. Even then, he still sheds an incredible amount of hair, and with another being breathing while we sleep, we've really noticed how helpful the purifying aspect of this device is.
Does the Dyson Pure Hot + Cool HP04 need assembling?
The machine arrives fully assembled, bar the filter inside, the only part which needs to be set up. The filter comes in two different parts – one (blue) made from activated carbon to trap gases, and another (purple) HEPA filter to remove allergens and pollutants as small as 0.1 microns.
When it's time to change your filter, you'll be informed via the app; they usually have a life of around one year, depending on use. You can check the remaining life on your filter in the settings on the app, too.
How easy is the Dyson Pure Hot + Cool HP04 to use?
Using the machine is pretty straightforward. I could probably do it with my eyes closed now. You can power it up by pressing the button on the device, on the remote, or via the app on your smartphone remotely.
After that, the Dyson HP04 begins purifying, expelling either hot or cold air. In cold months, you can set your required room temperature and the fan will maintain it; during warmer months, you can use the fan mode to set its speed to suit your preference.
And, you can see room temperature and air quality stats displayed on a circular screen below the power button, too. We explain more about these below.
Dyson Pure Hot + Cool HP04: performance
In terms of cooling, it's worth remembering that a fan's job isn't to lower the temperature of a room, but to shift air onto you, creating a cooling effect. The fan function does a pretty good job of it, and we did find that having the cooling mode on at fan speeds five and six quickly made us feel cooler.
As for heating a room, it does a rather spectacular job in a short space of time. Our living room is around 6m x 5m and is well insulated; within just 10 to 15 minutes of use, the Dyson HP04 had got it to our preferred temperature – and, thanks to the insulation, that's all we needed all evening.
Let me give you an example: at 23:03, I turned the heater function on, setting the desired temperature to 25°C (toasty). The room temperature at that point was 22°C and the PM2.5 (air pollution, more on that below) at 44. Within four minutes, we began to feel the heat and the PM2.5 had dropped by four (below right).
At 23:12, just nine minutes later, the temperature had risen to 24°C and PM2.5 was down to 34, a healthy level (below left). At 23:15, the room had reached our desired temperature of 25°C and the PM2.5 went down by 13 (below right).
Let's talk air purifying: unlike basic fans, which just move air about, the Dyson HP04 purifies the air. We've recently had our living room painted and it shows up on the VOC (volatile organic compounds – particles that enter the air as a result of 'gas off' from paint, cleaning products and even new furniture) stats after a day or two of not having our back door open. With doors open and before having the room painted, the stat was at one; just after the decorating, it had reached four. After a couple of days of us being out at work and doors and windows being shut, the Particulate matter (PM2.5) number was up to 15; after a half-hour of using the air purifier function, it was back down to two.
What about air-purifying and cooling together? One morning, I set the machine to purify and cool our (15 sqm) bedroom. At 8 am, our bedroom was 22ºC (the window had been shut all night and we'd been hot), the PM2.5 was at 87 (35 and under is good) and the PM10 (dust, mold, and pollen) bar was full, while the VOCs were low (see picture, below right). At 8:17, I sprayed some deodorant and perfume in the room, causing it to change to 'Extremely Poor', with 166 PM2.5, causing the screenshot (below right). You can see that the VOC rating shot up immediately by a few bars, as well as the PM2.5.
After leaving the fan to do its thing for 17 minutes, the machine managed to get the PM2.5 and PM10 ratings down by quite a lot (see, at 8:34, below left); the PM2.5 dropped from 166 to 28, which is classed at good. However, the VOC rating persisted to stay the same, causing the overall air quality to be rated as fair until 08:49. This means the fan took 49 minutes to change the air quality in our bedroom from 87, with a deodorant-induced hiccup in the middle, to 18 – that's a decrease of 69. Not too shabby.
It's also worth noting that during this time we had no windows or doors open.
How else did we use this machine? We live in a flat and don't have a tumble dryer, so we dry clothes inside while we're out at work. The built-in purifier works a treat and the relative humidity stats are extremely helpful.
What else did we like? While it can be moved around with the remote, you can also direct the airflow up and down by hand to suit your needs.
Using the Dyson Pure Hot + Cool HP04 remote control
Still, to this day, we don't use the remote control (pictured above) very much as we mostly control the Hot + Cold through our phones or via Alexa, which we found more user-friendly. However, it's pretty simple to use. There's a power button at the top and an information button next to it, which changes the stats displayed on the machine's mini-screen (you can see all the stats listed below).
You can use it to control airflow speed, ranging from one to 10, and set room temperature between 1°C and 37°C degrees. The auto button will turn the machine on to a speed that's right for the room (pre-set by you).
The blue dot enables cool mode. The two arrows turn oscillation on and off – you can choose between it moving 45, 90, 180, or 350 degrees. There's an airflow direction button, and you can choose for the airflow to be pushed out the front or the back of the machine. The timer button allows you to set the fan to run for 30 minutes, or one, two, four, or eight hours, after which it will turn off automatically. The night mode sets the Hot + Cold to quiet mode and dims the LCD screen.
Last but not least, the compact and slim remote control is magnetic, and can be attached to the top of the machine to ensure it doesn't get lost. Handy.
Using the Dyson Pure Hot + Cool HP04 app
An extremely easy-to-use piece of software, the Dyson app is one we couldn't fault. Simply download the app, then pair it with your Hot + Cold; you'll be greeted with the home screen (see the green screen, above right).
Once you've input your location, you can see the AQI (Air Quality Index) outside: low being the best and very high being the worst. You can also see the outdoor temperature, the outdoor humidity, and pollen levels displayed. The data collects the dominant types of pollen in your region (mine was tree and grass pollen). It then shows whether the count is low or high.
Below that, in a highlighted house-shaped box, you can see what the air quality is like inside your home. The scale ranges from severe to extremely poor, very poor, poor, fair, and good. The latter means there are very low levels of microscopic particles and VOCs in your home.
Underneath the AQI you will see temperature, humidity, and PM2.5. Then, there's the display of daily and weekly averages of all stats so you can easily compare.
To the bottom left of the screen, there's a button to open up the smartphone remote. The remote (black screen, above left) has all the same functions as the physical remote, but it's easier to use – and the timer can be turned on for nine hours instead of only eight.
At the bottom right of the screen, you can schedule the Hot + Cold to turn on and off. This is where it gets (even more) interesting. As long as your Dyson HP04 is plugged into the wall, it can control itself once you've scheduled it to run at certain times on certain days. You can choose from morning, evening, night or all day and then the days of the week, the start and finish time. You can control its every move with the app, not just timings but right down to choosing whether you'd like it to be on Night Mode, how you want it to oscillate and what direction you'd like the air to flow.
*UPDATE* The app is still exactly the same, and easy to use as ever.
Using the Dyson Pure Hot + Cool HP04 with Alexa
Say 'Alexa, turn Dyson Purifier on', and it will. You can line up Alexa to change any of Dyson's settings, too, such as to enable oscillation, increase temperature, set a target temperature, and more.
Another thing you can do is ask your Alexa-enabled device for feedback from the fan. It can then tell you what the air quality is like both indoors and out, as well as the humidity level and other stats.
You can also ask Alexa (and this is one of our favorites) how long the filter has left before it needs replacing. How smart is that?
Alexa isn't just useful for controlling the machine, but also useful for when there's a problem with it. Simply say, 'Alexa, ask Dyson if there's a fault', and you'll get the info you need.
Dyson Pure Hot + Cool HP04: the stats explained
Air quality index (AQI): a suggestion of when to activate your machine. Air quality will be rated from severe to very good, and when on auto mode, the machine will do everything it can to get you from worst to best.
Indoor temperature: shown in degrees Celsius, this is room temperature.
Relative humidity (RH): the amount of water vapor in the air.
Particulate matter (PM2.5): how many microscopic particles smaller than 2.5microns are in the room, whether it be from smoke, bacteria, or allergens. Ideally, you want between 0 to 35, with 251 and over being classed as severe.
Particulate matter (PM10): the amount of microscopic particles found up to 10 microns in size. This includes dust, mold, and pollen. Ideally, you want between 0 to 50, and 421 plus is severe.
Volatile organic compounds (VOCs): harmful odors found in cleaning products, paint, or new furnishings; 0 to 3 is classed as good, while anything over 9 is very poor.
Nitrogen dioxide and oxidizing gases (NO²): harmful gases released into the air by combustion, for example burning gas from cooking and vehicle exhaust emissions; 0 to 3 is good while 9 and over is poor. This will also depend on whether the area you live in is heavily polluted.
Dyson Pure Hot + Cool HP04: design
Unlike many other fans, heaters, and purifiers, the Dyson HP04 looks pretty swanky. It's also quite small at just 76cm high, making it ideal for those who don't fancy having a huge towering machine in their bedroom or living room. It is, however, a bit bulky in comparison to Dyson's other models, such as the AM07.
Maintaining the Dyson Pure Hot + Cool HP04
We've had the Dyson Pure Hot + Cool HP04 in our bedroom for rougly three years now. And apart from a regular dust and a wipe down with a damp cloth, we've had no issues with it. This really does prove that you get what you pay for, as it has been super low maintenance.
We have never been told by the app to change the filter, or even to clean it, but we did do this recently just for peace of mind. To do this, I took off both covers (as seen below) and took them to my bin. I held them over my bin and scraped the dust off of them, and they look pretty much as good as new. Easy peasy!
How does it compare to similar models and its predecessors?
Dyson makes a huge range of fans, heaters, humidifiers and purifiers. However, this is the only model they make that heats and cools, as well as purifies. Here's how the Dyson Pure Hot + Cool HP04 compares with other models.
In the UK
The Dyson Pure Cool™ purifying fan is taller and thinner than the HP04. It does everything other than heat a room, however, it is only controllable by remote, not by app. It retails at £349.99.
The Dyson Cool™ tower cooling fan only cools, it doesn't heat nor purify the air. It's designed for larger spaces and much like the model above can only be controlled via its remote. This machine's RRP is £349.99.
The first ever Dyson Pure Hot & Cool retails at £399.99. This offers the same features as the HP04, though it;s not smart so you can only control it via its remote control.
In the US
You'll find more models of the Dyson Pure Hot + Cool in the US. They've got the HP01, HP04, HP07, and the HP09.
The HP01 is the predecessor of this model and is the cheapest at $499.99. It can heat, purify and cool a room and can be controlled via a remote. It's not smart like the HP04 and cannot be controlled via a phone or Alexa device.
For comparison purposes, the Dyson Pure Hot + Cool HP04 comes in at £349.99/$549.99, too. So, in our opinion, you might as well get something that can do three things in one, and something that can be controlled by your phone.
Our verdict of the Dyson Pure Hot + Cool HP04
The Dyson HP04 works really well, it makes itself invaluable by doing more than just expelling cold air, and the smart capability makes it just that bit more user-friendly. We loved being in the kitchen and asking our Alexa Echo Show to turn on the fan so that our bedroom temperature would be just right for bedtime.
You need the Dyson app if you want to get the best out of this fan/heater/air purifier. Plus, it's pretty pricey. That being said, it does do three jobs in one neat package.
Overall, we totally think it's worth the price tag especially considering its quality and design. We would buy one for each room if we could!