It is true what they say, "When you look good, you feel good," and after spending months at home, we're all looking for ways to lift our spirits and boost our moods, and flat irons are an excellent way to help make our appearance something we can feel good about.
Though the key here to successfully raising your serotonin levels to pure bliss will require the best flat iron, and in that case, let's all turn our attention to this Remington Flat Iron (opens in new tab).
The Remington 1" Flat Iron is an exceptional choice for any hair enthusiast that is in the market for a top-of-the-line option at an extremely affordable price.
Ringing in around $20(ish), this trusty tool not only rivals higher-end versions but offers all the bells and whistles for the price of a few lattes.
To figure out if its rave reviews were too good to be true, we went ahead and tested this 1-inch flat iron out first-hand, and to our liking? It exceeded all expectations.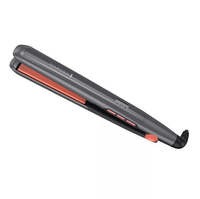 (opens in new tab)
1" Remington Flat Iron (opens in new tab) for $19.99, at Target
Fight frizz with this No.1 best-selling straighter by Remington. This flat iron (opens in new tab) features a 1-inch ceramic plate, sealed with a titanium protection coating. Suitable for all hair types, it's pure perfection for anyone looking to reduce flyaways and achieve hair that's sleek, smooth, and straight.
1" Remington Flat Iron: Specifications
Hair Type: All Hair Types
Number of Pieces: 1
Cable/Cord Length: 6 Feet
Number of Heat Settings: 6
Beauty Purpose: Hair Styling
Material: Ceramic, Tourmaline
Power Source: Electric
Battery: No Battery Used
Care & Cleaning: Spot or Wipe Clean
Power Source: Electric
Battery: No Battery Used
Care & Cleaning: Spot or Wipe Clean
Warranty: 2 Year Limited Warranty
1" Remington Flat Iron: features and functions
Heating Time: 30 seconds
Heat Maximum: 410 Degrees Fahrenheit
Features: High Heat, swivel cord, ceramic plates, temperature Indicator, uniform heat recovery, quick heat up, multiple heat settings, closing lock, digital display, digital controls, automatic shut-off, adjustable
Suitable for all hair types
If you are someone who is often left to deal with frizzy hair and pesky flyaways, rest assured: Prepare to meet your match. Designed with anti-static technology, and long ceramic plates, this straightener reduces the amount of negatively charged particles to reduce up to 50% less static when compared to other flat irons on the market.
Larger plates
The best way to describe this straighter? Less is more — and that is what sets this flat iron apart from other models. Here, this flat iron has ceramic plates coated in titanium protection, and the platers are also 30% bigger than others on the market. The reason for that? To ensure the quickest, safest option when it comes to styling.
Adjustable settings
Another reason this flat iron is so sensational? The adjustable heat settings. So often, our hair requires specific attention, and it is solely case-by-case. One day our hair might need a hotter option, and other days it will not, and you can seamlessly adapt to your hair and its ever-changing ways with six customizable heat settings. Here, this flat iron offers everything from 310°F to 410°F and can adjust when and how you want.
Turbo Boost Function
Oh, and in the case, you need a little boost or help along the way? This flat iron offers a feature called "Turbo Boost" and this function will quickly boost your straightener up to the maximum heat allowed. And how can you do that? Simply press and hold the "+" button and ta-da! Watch this miracle worker take control!
Hinged locks
Sure, this flat iron has tons of bells and whistles: an auto-shutoff, digital controls, and flexible heat settings, but the real magic here? The hinge lock — and it's something most flat irons don't offer.
Here, this flat iron has a hinged lock to protect the plates during storage, and why is that so important? Not only does it protect your investment (money-wise and safety-wise), but it reduces any unwanted wear and tear along the way, too.
1" Remington Flat Iron: Why I loved this flat iron so much?
Easy to use
Like many others, I love a trusty tool that offers simplicity, and this hair straightener worked wonders here. I could easily plug it into any outlet, and if I was looking to take it on the road, all I had to do was wrap the cord around its exterior and throw it in my bag. The smaller size easily fit into both my desk drawer and purse and took up little-to-no room.
Versatility
Sure, I loved how sleek and straight my hair looked and how it achieved that style in a matter of minutes, but what was even better? The fact that this 1-inch straightener could double as a curling iron. With a few bends of my wrist, I could wrap my hair around the ceramic plates and seamlessly achieve those same lust-worthy bombshell curls that my go-to curling iron does, too.
Reduced heat damage
One major issue with any flat iron is the fact it will most likely result in heat damage. No matter how many hair protection sprays you use, the likelihood of still inflicting some damage is a given, and what I specifically loved about this flat iron is the brand considered that.
The larger plates didn't just make it easier to straighten curly or thick hair, it also reduces the amount of time you will spend using this flat iron to straightener your hair, and less time used equates to less damage. This perfect piece provided the peace of mind my damage-prone hair needed and only made this sound investment more appealing.
Affordable
As someone who is always looking for a bargain, I loved how this flat iron did wonders for both my bank account and hair. At just $20(ish), this flat iron is the same price as your favorite pizza or take-out dinner and the silver lining with this purchase? It was last longer than either of the other two and continue to do so for years to come.
1" Remington Flat Iron: Our verdict
If you are someone who is looking for a flat iron that will reduce the amount of hair damage inflicted on your hair, remove pesky flyaways, offers an auto-shut-off button? Then this Remington Flat Iron (opens in new tab) is undeniably for you. It is the affordable option that is not only suitable for all hair types and textures but is the clear winner for anyone who is looking for salon-quality results at the comfort of your own home and is around $20.
Truthfully, it's hard-pressed to think you'll find another option that not only offers all the bells and whistles but offers a 1-year warranty in the event some sort of problem does come to light.
Making this flat iron the straighter you don't just want, but your hair needs.
1" Remington Flat Iron: Where to buy