Are you wondering whether or not to ask for the Kristin Ess' Soft Bend 2-inch curling iron this holiday season? If so, it's so understandably so.
If you follow Lauren Conrad's longtime hairstylist on Instagram, her stories lay out a pretty compelling case for why we should. So to put our minds at ease? We went ahead and put it to the test.
This trusty tool is ideal for any user hoping to fake it until they make it with larger-than-life volume and recreate those effortless post-blowout curls.
According to an Instagram post by Ess, she says: "She's big. She's bold. She's gonna give you the chicest lazy girl hair you've ever seen". (Which was all I needed to hear, to convince me to give it a go first-hand.)
The verdict? It exceeded every single one of my expectations. So, for any of you who are looking to ask for the best gift this holiday season? Not only am I recommending it but recommending it to every single loved one on your list, too!
Looking for more top hair styling tools? Check out our guide to the best flat irons.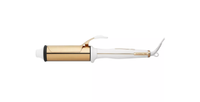 Kristin Ess Soft Bend 2" Curling Iron l Was $60, Now $36 at Target
Hoping to achieve effortless post-blowout curls without ever leaving the comfort of your own home? This 2-inch barrel curling iron does all that and much more. Designed with four pre-set heating temperatures and a 9ft cord, this trusty tool is the everyday essential suitable for all hair types and textures.
Kristin Ess Soft Bend 2-inch Curling Iron: Specifications
Hair Type: All Hair Types
Number of Pieces: 1
Number of Heat Settings: 4
Heating Time: 1 minute
Material: Titanium
Features: LED Indicator Light, Digital Display, Safety Stand, Adjustable Temperature Range, Quick Heat Up, Cool Tip, Temperature Indicator, Automatic Shut-Off
Power Source: Electric
Battery: No Battery Used
Care & Cleaning: Spot or Wipe Clean
Warranty: 2 years

Kristin Ess' Soft Bend 2-inch Curling Iron: features and functions
When compared to most curling irons on the market, this version takes an untraditional route. Here, to fully take advantage of its polished bend design it's recommended that users begin at the end of their hair and continue to roll their hair up.
The reason for this method has to do with its temperature sensing rapid heat technology. When selecting from the four available heat pre-sets — 325°F, 365°F, 400°F, 425°F — this tool's titanium barrel are both quick and efficient to transfer consistent heat, enhance shine, and eliminate frizz.
The most favorable feature of all? Aside from the heat resistant tip, it's the super smooth barrel and ergonomic thumb grip. It's strategically designed to minimize friction on hair and eliminate creasing on any hair type (or texture).
Above all, this 2-inch curling iron offers users peace of mind when using, since it features an automatic shut-off after 30-minutes of non-use (no more turning around mid-commute to double-check you've shut your curling iron off). It also has a built-in safety stand, and a 9ft swivel cord.
Why I love this curling iron
Stats and features aside, there was a slew of reasons why this curling iron has become my new go-to.
Easy-to-use
The first reason I love the Kristin Ess curling iron? How easy it is to use. Sure, it takes a second to get the hang of the larger 2-inch size (I previously used a 1 1/2" barrel), but after a few tries, I considered myself a pro.
Once I knew how to use it, the options were endless. I loved how the titanium barrels left my hair looking both silky-smooth and shiny, and this also rang true no matter how much styling products I used alongside it. There was no fear of crunchy, greasy strands that I had previously endured with other curling irons in the past. Here, it was nothing but glossy-defined style, all day, every day.
Salon-like quality results from the comfort of my own home
Oh, and speaking of style! The versatility was just as well-received on my end. I highly favored how this curling iron cut my blow-drying time in half. Previously, I'd spend over an hour going section by section with a round brush and blow-dryer to make sure every last piece of my thick and curly hair was smooth and styled, even before I got to the curling iron portion of my morning routine.
Here, this curling iron alleviated me from having to do that ever again. This trusty tool provided more volume and bounce than any round-brush/blow-dryer combination had in the past! And, did so in minutes!
I could wear my hair down for a salon-quality blow-out look or use it as the base for a fancier updo.
Adjustable settings
As mentioned, I have thick, curly hair. If I'm dealing with freshly washed hair, I need a higher setting to ensure that the style will set and I'll even need to touch-up the pieces as the day goes on. However, if I'm dealing with 2-day old hair, the story is different. I need a lower temperature to ensure that I don't add any unnecessary damage to my strands and cause breakage later on.
Thanks to this iron's four available pre-set heat settings, I had full control over how high or low the temperature was at all times. And, the only person who enjoyed this more than me? My hairdresser commended me after switching to this tool. She noticed less breakage and heat damage after one month of use than ever before (and she's been cutting my hair for over six years!).
Longer cord
Above all, my hands-down favorite feature was the long 9ft cord. While oftentimes, a cord is the last thing anyone dials-in on, here it was the first for me. My bathroom is small, so I turn to a variety of different bins and makeup racks to keep all my go-to products out of my way and off my floor.
The reason I say this? Next to my sink is my makeup cart, and next to that is my plug-in unit. Typically speaking, when a cord is too short, I'm left knocking (and breaking) my powders and eyeshadows as they fall from this cart. Due to the longer cord, this was anything but the case.
Instead, there was not only enough room to back up and see me in the mirror, but more than ample opportunity to maneuver my hands when working my way from one section to the next. And, when I was heading on an overnight trip or out on vacation? This same cord would easily wrap around the barrels and seamlessly stores them in any tote or bag, too.
Suitable for all hair types
Last but not least, this curling iron was suitable for all hair types! This fast-working tool seamlessly adjusted to my friend's thin hair just as favorably as it did to my thicker hair and with no problematic instructions to do so! All they had to do was easily change the adjustable temperature setting on the LED light/button, and ta-da! All that was left to do was to watch the magic unfold — literally.
Kristin Ess' Soft Bend 2-inch Curling Iron : Our verdict
Kristin Ess' Soft Bend 2-inchI Curling Iron is an everyday essential for anyone who's looking for a worthwhile investment. Ringing in at just $60 — and we often see if on sale for as much as 40 percent off! — this is an absolute steal when compared to a higher-priced version on the market that delivers less than stellar results.
Not only does it offer versatile heat-wise, but whether you're looking to create a strong foundation for an updo ponytail or bun, or just looking for those effortless bombshell curls, this curling iron does it all and does it in a matter of minutes! While it might take a second to adjust to the larger size (and how to best use it), it's unmatched when your searching for high-quality, salon-worthy results from the comfort of your own homes.
To sum it up? This curling iron is not just worth the investment, but it's the only investment worth making.
Kristin Ess' Soft Bend 2-inch Curling Iron: Where to buy