Are you wondering how to elevate your current WFH-uniform? For starters, locating one of the best flat irons on the market will undoubtedly do the trick. It is common knowledge that when you look good, you feel good, and if you are hoping to spruce up your regular hair routine, the Kristin Ess 3-in-One Flat Iron will do the trick.
Similar to the Kristin Ess' Soft Bend 2-inch Curling Iron, the Kristin Ess 3-in-One Flat Iron (opens in new tab) is a mainstay in my routine. This straightener seamlessly straightens my unruly, curly hair in a matter of minutes, plus, leaves it with this lustrous shine that's oh-so-sleek, and best of all?
The straightener does all of this (and much more!) for a fraction of what so many higher-priced models cost. Wondering if it's too good to be true?
Let me break it down for you step-by-step, on how and why this straightener is the end all be all.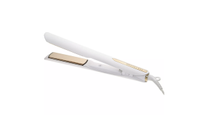 (opens in new tab)
Kristin Ess 3-in-One Flat Iron - 1 1/4" (opens in new tab)l Was $80, Now $56, at Target
This flat iron (opens in new tab) combines all of my favorite features and allows you to create 4 of my favorite styles: sleek straight, s-waves, flat iron waves, and polished curls.
Kristin Ess 3-in-One Flat Iron: Specifications
Hair Type: All Hair Types
Number of Pieces: 2
Cable/Cord Length: 9 Feet
Number of Heat Settings: 4
Beauty Purpose: Hair Styling
Heating Time: 1 minute
Material: Titanium, Plastic
Features: Instant Heat, Universal Voltage, Uniform Heat Recovery, Temperature Indicator, High Heat, Corded, Ionic, Automatic Shut-Off
Power Source: Electric
Battery: No Battery Used
Care & Cleaning: Spot or Wipe Clean
Warranty: 2 Year Limited Warranty
Kristin Ess 3-in-One Flat Iron: features and functions
"Over the last 20+ years, I have tried all kinds of irons, could never find one that had everything I wanted," explains creator Kristin Ess.
Ess, whose clientele includes everyone from Lucy Hale to Lauren Conrad, and even Jenna Dewan, created this trusty tool with all favorite features in mind.
"The iron combined all my favorite features, and allows you to create 4 of my favorite styles — sleek straight, s-waves, flat iron waves, and polished curls," she concludes.
Gold metal
This flat iron features titanium plates with temperature sensing rapid heat technology — which outperform ceramic plates — to deliver fast, even heat from root-to-tip. Talk about being in a league it's own, and the only thing better than that? Only that this flat iron is also corrosion-resistant to styling products!
Laid Down
Hate how some flat irons leave your hair straight but dull or in, some of the worst cases, burn? Go ahead and wave goodbye to those days when picking up this trusty tool! Here, this iron is designed with negative ions to help lock in moisture, eliminate frizz, and enhance shine for overall healthier-looking hair.
Smooth and sleek
Measuring in at 1 1/4", this flat iron's plates will adjust to all hair textures and lengths for flawlessly smooth styling, without any snags or creases! Amazing!
Perfect Curves
Ever wish your flat iron did more than just straighten? Well, not anymore — or at least, not when picking up this perfect pick. Your wish is this flat irons command — and its rounded body will easily create subtle bend, polished curls, and even textured waves. Talk about a one-stop-shop!
Why I love this 3-in-1 flat iron
Less stress
First things first, I'm as forgetful as they come, and so often I can never remember if I did or didn't turn off my hair tools. I've been warned one-too-many times by my apartment building's security guard, this would be "His last time checking for me" (which he says every time, but still checks!).
Nonetheless, when looking to add a new trusty hair tool into my regular rotation, I wanted something that also provided me with peace of mind, and this flat iron did just that. It offers an automatic shut-off feature that after, 30-minutes of inactive use, it will automatically power off — with no worrying required!
More favorably than that? If you're someone who's looking to take this flat iron on the road (as I often am), the included heat resistant cap was a game-changer when looking to throw it into my purse, without any worry or fear that it would melt or start a fire.
Adjustable settings
This time last year, my hair was suffering intense heat damage, and it was no one's fault but my own. As someone who is always short on time, I'd skip the part of my hair routine where I'd apply a heat protectant spray and ramp up the flat iron's straightener to the highest setting. I figured this was the quickest way to straighten my hair and head out the door, right? Wrong!
To my dismay, I had one-too-many inches cut off as a result of using the wrong pre-set temperatures. Now, in retrospect, this was not all my fault. My previous straightener only offered two settings (high and low), so I didn't have much to work with.
Here, this flat iron offers a digital display, and four pre-set temperature (280°F - 365°F - 400°F - 440°F). Consider this the saving grace and your one-stop-shop for flawless finishes.
On the days I blow dry my hair, I can opt for the lower pre-set, whereas on the days I need a firmer hold, I can ramp things up. Plus, it's suitable for all hair types and textures!
Versatility
The real magic of this flat iron is that it's all-inclusive. Here, I could recreate waves and curls (after watching a tutorial or two), and it inadvertently reduces not only the need to invest in both a curling iron and waver, but it saved space in my already small bathroom.
Additionally, I loved how easy it was to use. Regardless of what your intended hairstyle was, all you had to do was unwrap the 9ft cord around the flat iron and plug it into the wall. In a matter of seconds (seriously), this flat iron reached your intended pre-set temperature and was ready to go.
As someone who previously spent hours styling (and re-styling) their hair, I loved how in less than 10 minutes, my hair had salon-quality results (or at least, that's what I think!), ranging from bombshell curls to sleek straight styles.
Kristin Ess 3-in-One Flat Iron - 1 1/4": Our verdict
Regardless if you're short on time or simply looking for a top-of-the-line hair straightener, this flat iron does it all. Not only will it recreate curls, waves, and sleek straight styles, but it does so at a fraction of what you'd traditionally invest in each item alone. And the only thing better than that? It's versatile, hair-wise.
So often, we are running short on time, and we want our new model to arrive and does just what it claimed to do online (and in most cases, it doesn't!), but here, this trusty tool was the silver lining.
Not only did this flat iron deliver high-quality styles, but Pre-COVID, when inviting my girlfriends over to my apartment to get ready, it worked miracles on each of our very different hair types, too.
Truthfully, not many (if any at all) flat irons can do that, and at this price-point? This Kristin Ess 3-in-One Flat Iron - 1 1/4" is the miracle worker you shouldn't just want but your hair absolutely needs.
Oh, and with the holidays right around the corner? We highly recommend gifting it to any and every beauty lover on your list, too!
Kristin Ess 3-in-One Flat Iron - 1 1/4": Where to buy