Hisense may be a leading TV brand in the US, but before recently, it has failed to make a mark across the pond. That changed with the Hisense Roku TV, available only from Argos, which packaged the already popular Roku Smart TV platform within a very affordable and good-quality range of TVs.
Bought close to a year ago, the 50-inch Hisense Roku TV has served this reviewer well ever since. Below we review it based on features, usability, design and more. Scroll down to see what we thought, or hop on over to our ranking of the best TVs to see how it measures up against the competition.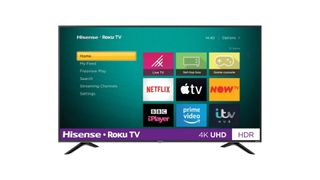 Hisense Roku TV: Specs, Features and Design
Screen: LED
Resolution: 4K Ultra HD; HDR10
Motion rate: 60Hz
Sound: DTS
Connectivity: 2 x USB; 3 x HDMI; Composite; Headphone; AV; Optical; Wi-Fi; Ethernet
Smart TV: Roku (works with Alexa & Google Assistant
The Roku TV is available in sizes between 42 and 65-inches, catering for the most popular choices but not going as far as the 75-inch+ that most brands are now making available. For what Hisense is going for here, it's ideal, as it means that all versions are priced well under £700 and start from a tiny (for a TV of this quality) £329 for the 42-inch.
Set-Up
Our 50-inch model weighs in at just 13.5kg, so setting it up on a TV stand by ourselves was relatively easy (though we'd recommend having a second pair of hands!). Of course, you can also mount it to the wall, but the legs included are pretty good-looking if you'd rather not commit to one location.
Though connectivity is basic, there's enough to cover pretty much everything you'll need. Ourselves, we have a soundbar, Chromecast stick and separate HDMI cable for connecting laptops, and there are still ports to spare. We also have the TV connected to our Google Home set-up, which makes it easy to use voice control if you can't find the remote.
Roku TV
Roku's smart TV platform won't be everyone's cup of tea, but it's one of the more user-friendly options out there right now. Rather than a pop-up menu at the bottom of the screen like you find on other platforms, Roku has a dedicated home screen where you can choose apps, change settings and access externally connected devices. To access this, there's a home button on the remote.
All in all, image and audio quality are better than you might expect from a TV at this price point, with the only real issue we've found related to HDR streaming. Often the image will break up slightly and stutter when watching something on Disney+, for example, but it's not an everyday problem.
If you're not entirely happy with how your viewing looks or sounds out of the box, the TV offers many different options for you to play with. Hitting the star (*) button on the remote while watching brings up these settings, so you can see the change in real-time and fiddle around until you're completely satisfied.
Want to go a little smaller? Take a look at our guide to choosing the best 40 inch TV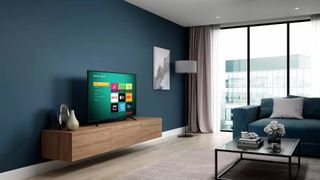 Hisense Roku TV: Our Verdict
The Hisense Roku TV is a fantastic budget option that boasts impressive audio and video quality for its price point and benefits from one of the most user-friendly smart TV platforms around. The 50-inch model also looks great in the room, with its slightly plastic-looking casing hidden well by design. Recommended for anyone who wants a great screen for a reasonable price.
About this review
Caroline reviews technology, AV and smart devices for Real Homes, helping to identify the products that are worth the investment and those that are better left on the shelf. All reviews are based on actual use at home to help make our recommendations as relevant to our readers as possible. This particular review was written after several months of use, after we purchased the Hisense Roku TV in August 2020.