Looking to buy a cordless hair straightener? The super-convenient Dafni Allure should be on your watch-list – it's easy to use, the results are amazing and it can fit in your handbag. While we wouldn't recommend using it as a day-to-day hair straightener, it's very convenient for taking on holiday, on staycations, or for styling on the go. Also, due to being a brush instead of having flat plates, it'll cause less damage to your hair in the long-run.
We've been using the Dafni Allure on our hair for a while now – we've tried it on thick short hair, long thin hair and even hair extensions. The results? Straight hair that stays straight, every time. There are so many things we love about this hair straightener brush – keep reading to hear them.
Check out our best hair straightener guide for more top recommendations – cordless and corded.
Dafni Allure: specifications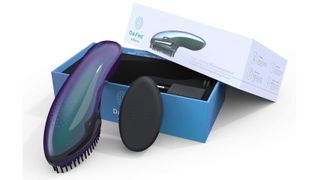 Heat-up time: 1 minute 5 seconds
Colour: Green and purple
Heat settings: 1
Temperature: 185ºC
Auto shut-off: Yes
Battery life: 30 minutes
Dafni Allure: heat settings and performance
The Dafni Allure has one heat setting – 185ºC. Though this is usually an issue with hair straighteners that have plates, this shouldn't be a problem with this hair straightener brush. With bristles instead of plates, these bristles heat to 185ºC and they style your hair as your hair slides through them. What we are trying to say is that your hair won't actually be getting the full shebang of 185ºC as if it were when using a hair straightener with plates. There's no trapping or clamping involved.
Simply enough, the Dafni Allure performs incredibly for a battery-operated device. There's no doubt that it gives perfect results, but you may have to spend a tad longer getting there. Unruly hair types – like mine – may have to go over a strand of hair twice or three times, but since it's so easy to use this shouldn't be an issue.
Dafni Allure: ease of use
One of the things we love the most about this hair straightener brush is how easy it to use. You just need to use it like you would a hairbrush, but a tad slower, for effective results.
First of all you'll want to switch this hair tool on – it will beep. Wait around one minute 30 seconds for the red light to turn white and beep again to let you know they are ready for use.
You'll want to section your hair first, and then pop the section of hair on top of the bristles of the brush so that they fall into the brush. Slowly run the brush through your hair to the ends. Repeat if necessary.
Want to curl your hair or add a bit of volume? While using this brush, twist it around so that your hair wraps around the bristles and back of the brush. It should leave you with a bouncy blow dry effect.
Dafni Allure: battery life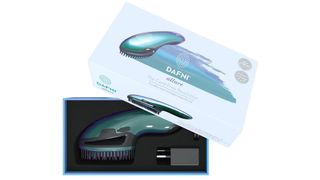 The battery life of the Dafni Allure lasts for 30 minutes. Depending on your hair type, length and how unruly it is, you should be able to get two to three uses out of it. When I was testing on my thinner, longer hair, I could just about squeeze three uses. After adding extensions so that my hair was both thick and long, I would get probably one and a half uses. Now, with short but extremely thick hair, I get two uses.
Onto charging: the Dafni Allure comes with a USB charger and a plug. This is great for holidays as the majority of hotels in this day and age now have USB plug sockets. If not, it's compatible with your iPhone plug (older models, that is). This means you can also plug it into a laptop or computer for charging, or a power bank. Charging indication can be seen by the number of lights on the side of the device.
Dafni Allure: safety features
Though this hair straightener brush isn't bursting with safety features, It doesn't really need them since a brush is not as unsafe (around children and pets) as a hair straightener with plates. Though do be warned that these bristles do get very hot – we learned the hard way.
In terms of auto shut-off, the Dafni Allure will run out of battery after 30 minutes so will turn off and cool down. It comes with a thermal cover to pop on top of the bristles after use, to prevent inquisitive hands from burning themselves, or so that you can pack it away safely.
Dafni Allure: design
Obviously, the design of the Dafni Allure is what won us over in the first place. Not only is it convenient because it's cordless, but it's compact, too. It's quite hard to believe that all of this technology fits inside such a small hair tool. Colour-wise, it's a purple-green mix, and when it comes to shape, we definitely think it's built with comfort in mind – it nicely sits in your hand while in use, and it's easy to grip.
With just one switch to turn the device on and off and three coloured lights for battery indication, it's pretty easy to figure out design-wise.
Admittedly, this hair tool is heavier than expected, though it still only weighs 80g. The extra weight is down to the battery that other corded straighteners do not otherwise have.
In the box, as well as the hair straightener brush, you will find a thermal cover, thermal bag, USB charger and cable.
How does the Dafni Allure perform?
Watch this video to see just how easy it is to use the Dafni Allure when styling your hair – here's proof it can even be done in your car!
Dafni Allure: our verdict
The Dafni Allure is an undeniably great hair tool with a unique selling point of being cordless and compact without compromising on performance. Easy to use, and you can use it for curling hair, too.
Where to buy the Dafni Allure
More hair straightener reviews: