If you're here because you are considering buying the Cloud Nine Wide Iron, then we can help sway your decision. This is one of the best hair straighteners we've ever tested – and our hair has been through a fair few GHDs and even the Dyson hair straightener. Not only is this hair straightener bursting with features that others can't offer, but it still manages to be lightweight, with the ability to create long-lasting, shiny results. We're honestly amazed. Just for context, we tested this hair straightener on above shoulder-length hair that's thick and unruly.
Keep scrolling for our full review on the Cloud Nine Wide Iron to decide if this is the right buy for you.
Cloud Nine Wide Iron: specifications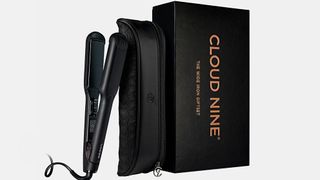 Heat-up time: 20 seconds
Colour: Black
Heat settings: 5
Temperature: 100ºC - 200ºC
Auto shut-off: 30 mins
Cord length: 2.7m
Cloud Nine Wide Iron: heat settings and performance
The Cloud Nine Wide Iron offers something a lot of other hair straighteners otherwise cannot, and that is temperature control. You can choose from five temperature settings while using this hair straightener – from 100ºC to 200ºC – so that you can adapt the heat required to the hair type you have.
In terms of performance, we found that the Cloud Nine Wide Iron gives incredible results. The majority of the time you'll only need to straighten one strand of hair just one time, and with mineral-infused plates, your hair will come out looking shiny. We've actually had compliments on how shiny our hair looks after using this straightener!
Straightening
Obviously, this is a hair straightener, so the majority of people who are buying it will be using it to do just that – to straighten their hair. We can confirm this hair straightener does a very good job at straightening our thick hair, and the wider plates definitely help speed this task up. I tend to use this hair straightener at around 180ºC, sometimes 150ºC, although it goes without us saying that the hotter you go, the more damage it will do to your hair. The mineral-infused plates really do make a difference as I don't even need to brush my hair through (though I do) to use this hair straightener and it still is so smooth. After straightening my head by section, I find that the results can last me until my next wash, especially the hair at the top of my head which manages to stay super straight. The only issue I ever have is that my ends tend to flick because they are at that awkward length where they sit on my shoulders. I also find that once I have used this hair straightener all over my hair, it not only looks shiny but it feels so nice! My fingers can glide through it and in no way is it as tangle-prone as it would be after using other tools.
Curling
Unsurprisingly, curling hair is just as easy with these straighteners. I usually tend to curl my hair with a hair straightener anyway, but I am used to using a hair straightener with thinner plates. Does it make a difference? No, not really. Although the curl will come out larger, obviously. I actually did find this wide hair straightener easier to curl with as I felt like I had more grip on my hair when twisting the iron. Especially when using the cool-touch grips at the top of the plates.
Cloud Nine Wide Iron: ease of use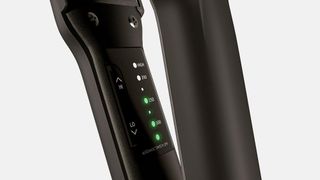 There is an easy-to-navigate on and off switch on the Cloud Nine Wide Iron to power this hair straightener on, or to switch it off after use. Alternatively, hibernation mode will automatically kick-in if left on accidentally.
Switching between temperatures on the Cloud Nine Wide Iron is easy. Inside this straightener sits a display, press the 'HI' and 'LO' buttons to switch between temperatures – you can see which one you've selected as indicated by a green light. This light will flash until the temperature is reached.
When using, the hair straightener's swivel cord makes it a faff-free process to switch from either side of your head, this means you won't get tangled in the wire as you move. Also, if you'll be using it to curl hair – or perhaps your hair is super thick – then this hair straightener has grips at the tip of each plate so that you can clamp your hair between the plates without burning your fingers. This will give you better control over the straightener. Saying that, with a super smooth and curved exterior as well as mineral-infused plates, your hair should glide through this hair straightener with no pressure required.
Our one – and only – complaint about the Cloud Nine Wide Iron is that it doesn't make any noise when in use. There's no alert to tell you when it is on, apart from a green light, or when it has reached the temperature required.
Cloud Nine Wide Iron: safety features
As well as a cool-touch grip at the tip of this hair straightener's plates, for more control without burning your fingers, it also boasts a cool-touch exterior to make it comfortable to handle in general. It has a hibernation mode that should kick-in if the hair straightener is switched on but has not been used in 30 minutes.
When placed on a surface, the Cloud Nine Wide Iron can sit upright on its flat plates, unlike other straighteners with a curved barrel. This should prevent them from possibly burning your dressing table.
Included in the box with this hair straightener comes a protective heat guard that can be popped over the plates to hold them together straight after use. Should any inquisitive hands go wondering, they won't burn themselves, and this means you can store them away after use. It also makes it easier to pack inside a bag or suitcase.
Cloud Nine Wide Iron: design
Though plain in design, this black hair straightener can be personalised with your initials. The only other design comments that we have are how impressively lightweight this hair straightener is – in comparison to other smaller hair straighteners it really is comparable to a feather.
How does the Cloud Nine Wide Iron perform?
Cloud Nine Wide Iron: our verdict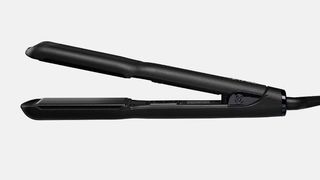 The Cloud Nine Wide Iron is a lightweight hair straightener that boasts temperature control while being very easy to use. It can keep your hair straight from wash to wash, and it gives shiny results, too. It can also be used for curling hair, too, and it can be personalised with your initals.
Where to buy the Cloud Nine Wide Iron
About the reviewer
Our UK Shopping Editor, Annie Collyer, reviewed the Cloud Nine Wide Iron on her thick, unruly shoulder-length hair. Annie writes all of our health beauty buying guides – from hair tools to gym equipment.
More hair straightener reviews: