When it comes to styling my hair, I typically will just give a quick blow dry and a brush through, maybe run a hair straightener through it if I want to go the extra yard. Of course, we always want what we can't have, and what I really aspire for is gorgeous bouncy curls.
However, due to my ineptness when it comes to wielding a curling iron, curls have never quite become my go-to look. I've never been able to properly form a curl with a traditional curling iron and while I've had luck with a curling wand, I'm always nervous about burning my fingers, or worse, burning my hair off as I keep going back over my hair trying to form a curl. Now, since I've discovered the Chi Spin N Curl, an automatically rotating curling iron that takes all the hassle out of doing my hair a few years ago, these two items are seriously collecting some dust. When it comes to curls, it may just be the easiest hair tool I've ever used. In short, the Chi Spin n Curl completely changed my life, and I can't stop gushing about it.
The results feel like magic. Once you select a temperature setting, you simply feed a small section of hair into the tulip-shaped chamber, press a button (left or right, depending on which side you're curling your hair) as an internal rotating iron curl a strand of hair into the chamber. Hold for 15-seconds, and voila, a perfect curl!
If you're interested in trying out the magical Chi Spin n Curl for yourself, shop it below, and read on to discover why I'm so obsessed with this curling tool.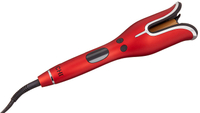 (opens in new tab)
CHI Spin N Curl Ceramic Rotating Curler: Specifications
Product Name: CHI Spin N Curl Ceramic Rotating Curler
Brand: Chi
Color: Ruby Red
Material: Ceramic
Cord Length: 9 Feet
Cord Type: Swivel
Auto Shut-Off: Yes, 1-HR
Indicator Light(s): Yes
Power Source: Corded Electric
Dual Voltage: Yes
Warranty: 2 Year Limited Warranty
Hair Type: All Hair Types
Number of Pieces: 1
Number of Heat Settings: Variable, 3
@itslejules (opens in new tab)

CHI Spin And Curl first impression! #chi #curlinghairtutorial #hairhacks #curlyhair #chilava #foryou #myrecommendation #firstimpression

♬ Elevator Music - Bohoman (opens in new tab)
CHI Spin N Curl Ceramic Rotating Curler: features and functions
The Spin N' Curl is vastly different from any other type of curling iron you've used before, but once you get the hang of it, it's the most simple thing you'll ever use.
Rather than wrapping your hair around a barrel and clamping it down to secure hair, you drape a small section of hair through the crevice,—not directly into the chamber—press one of the directional buttons as a rotating barrel pulls hair into the curl chamber, and 15 seconds later it beeps to reveal a perfectly formed curl.
The Spin n' Curl has an extremely distinctive design. The tulip-shaped head reveals the curl chamber and rotating iron. The side with the slit faces out and pulls in your hair, while the higher The Spin n Curl has a long stemmed handle with a digital display, two directional buttons, and four buttons on the side toward the base for power and adjusting the controls. Holding the tool does come with little bit of weight. However, since you hold the tool upright, it's comfortable to hold with one or both hands.
The Spin n' Curl is designed for all hair types and hair lengths, with customizable temperatures ranging from 370 to 410 degrees. Use a Low 370°F for Fine Hair, Medium 390°F for medium hair, or High 410°F for coarse hair. The device heats up quickly, and the digital display shows the curling iron's current temperature.
I have medium length hair, but even gals with long hair that reaches to their waist can achieve ringlets. The 1-inch barrel creates tight curls that can be brushed out to create beachy waves. At this time, there is not a larger or smaller barrel option to let you adjust the sizes of your curls.
In addition to beautiful curls, Chi Spin n' Curl uses ceramic heat to reduce frizz and static, add shine, with minimal heat damage. Ceramic heat technology produces far-infrared heat while the conditioning benefits of negative ions result in shinier, healthier hair.
Now when looking at this device, two concerns that may come to the uninitiated are won't my hair get tangled or burnt off? And that answer is a resounding NO! Should your hair get tangled, which is painless and unlikely, it rapidly beeps and reads RESET so you can release your hair and restart the device. For the next strand, I'd suggest going with a smaller strand of hair. At no point is your hair, locked in to the chamber.
And as far as will you burn your hair or yourself, unless you're sticking your fingers into the chamber, which there's no reason to ever to do so, the device stays cool to the touch, especially the part of the the shell that faces toward you, It also features an automatic shut-off after 60-minutes of non-use and has a built-in 9-foot swivel cord so you'll never feel restricted to how you handle the device.
Why I love this curling iron
Easy to Use
Ok, ok, this thing can look daunting at first, but watch one short video and it all makes sense. Coming from someone who openly admits to having little finesse when it comes to hair tools, this gets me so excited to style my hair. And it's so satisfying to watch a straight or wavy piece of hair reveal itself as a perfect ringlet. Within minutes, you'll be on your way to salon-quality curls. And it's so fast too! I can do my whole head in less than 15 minutes. And once you feel comfortable using the Spin 'n Curl, it requires less focus, and I'll even multi-task and stream videos on my phone while I go about doing my hair.
I also know exactly how much heat is being used on my hair and for how long thanks to the digital display. The swivel cord makes it easy to me to use from all angles. However, maybe it's just me being uncoordinated, but I do struggle with trying to feed the back pieces of my hair through the crevice slit, but I also feel that is a common blight for me for all hair tools.
Now, don't forget to add heat protectant. Even though ceramic causes less damage to hair, your hair is still in contact with high heat for at least 15 seconds. Right now, I'm loving Eva NYC Mane Magic 10-in-1 Primer (opens in new tab) for heat protection (and as a detangler).
Long-Lasting Results
With just a light dusting of hairspray—if you're wondering, I'm all about Living Proof Body Builder spray (opens in new tab)— these curls stay all day and night. Plus, they look smooth, shiny and frizz-free. Proof: How about New Year's Eve 2020, with curls lasting into the next day? I prefer to slightly brush out my curls, but when I want ringlets, they too stay intact.
Variable Hair Settings
I love that with the digital display I know exactly how hot my curling iron is, and you can adjust how long the timer goes to heat your curl in 15, 17, or 19 second intervals. It also remembers the last setting you used and heats to it automatically the next time you reach for the device. With a temperature range of 180 °F to 410 °F, you have wide control over your hair. I use the Low pre-set of 370 °F and 15 seconds, and it yields gorgeous results on my thin to fine hair of which there is a lot of.
Chi Spin n Curl: Our Final Verdict
The Chi Spin n Curl is not just a social media or Tik Tok sensation, but the real deal for safe and hassle-free curls that look like you just came from the salon. It also couldn't be easier and creates beautiful curls without damaging hair. It typically takes just one pass over to get curls just right. If you're looking for bigger curls, this might not be the tool for you as you are limited to just the 1-inch barrel size. Yet, curls can always be brushed through for a more casual look. The Chi Spin n Curl works with all hair types, though when it comes to length, for best results, you'll want hair that is at least shoulder length long. The ceramic edition typically costs $99.99, but can often be found on sale for around 30 percent off.
We think if you choose to add this heat tool to your arsenal, you will be extremely satisfied. And if you're looking for holiday gift ideas, this is exactly what your beauty-obsessed bestie would love to find under the tree, and to bust out for her New Year 'do. But the best part, it's so easy to break out for everyday use.
Chi Spin n Curl Ceramic Rotating Curler: Where to buy
More haircare