Considering the Beauty Works Waver? If you are looking for the best hair curler and its beachy S-shaped waves that you desire, then this hair tool is the one. This three-barrel waver is easy to use, lightweight to hold, and it boasts a whopping 30 temperature settings. Not just that but we've tried and tested it on long hair, short hair and extensions – it didn't let us down once.
Keep scrolling for our full review on the Beauty Works Waver to decide if this is the right hair tool for you.
Beauty Works Waver: specifications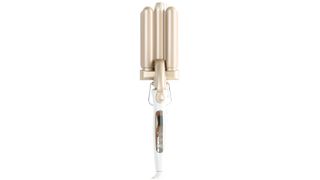 Heat-up time: 30 seconds +
Colour: Rose gold and white
Heat settings: 30
Temperature: 80ºC to 220ºC
Auto shut-off: No
Cord length: 2.35m
Beauty Works Waver: heat settings and performance
First thing's first: heat settings. Not a lot of (decent) hair tools out there offer a range of temperature settings. GHD only offer one! So, it was a surprise when I counted 30 different temperature settings on the Beauty Works Waver. Choose a temperature in multiples of five from 80ºC to 220ºC. You can change the temperature while using the hair curler by pressing the buttons.
Onto performance – scroll through the images below for our before and after while using the Beauty Works Waver.
So, as you can see from this image, this hair tool works a treat. For context, my hair is short (just above my shoulders), super thick and very unruly. It gets knotty in seconds, and it really does not like being styled. So, this hair tool has definitely done a good job. And, I can confidently say that after using, the waves stay in for a good while – even after a windy dog walk.
You can also use it to create deeper waves – clamp larger sections of hair for this – or use smaller sections to achieve the look above. I've also used this hair tool on my hair when it was long and in my opinion, it looked ten times better. I've also used it on extensions, and again, it works perfectly. So, in terms of performance, we've no doubts about the Beauty Works Waver.
Beauty Works Waver: ease of use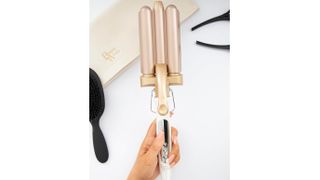 This is, and we don't say this lightly, probably the easiest hair tool we've ever used. Especially when you bear in mind the incredible results. Before using, you'll need to section your hair depending on how thick or fine it is. The thicker it is, the more sections, and the thinner, the fewer. Then, pop it on, select a temperature (I stick between 160º to 180º) and wait for it to heat up. It won't make a noise when it's ready – just look at the screen to see, and then get styling.
To use, pinch open the clamp with your forefinger and pop your hair over the barrel and in between the clamp. Let the clamp go to hold your hair in place. Wait for around 10 seconds (you'll get to know how long your hair needs the more you use it) and then release. Move down the strand of hair and repeat if your hair is long, or move onto the next section if not. To turn this hair curler off, press and hold the power button. It's that easy.
I tend to split my hair into three sections from bottom to top, and then three to four sections around. I spend around five to six seconds on each strand, and always spray my hair in between sections. After it's all done – and if needed – I'll straighten the ends of my hair so that they don't curl under. Then, I'll run my fingers through it and I'm done.
Beauty Works Waver: safety features
It's safe to say (sorry!) that this hair curler, though great, seriously lacks safety features. Apart from a stand for sitting on your dressing table, that is. And its middle barrel can be held without burning your fingers when in use. Other than that, there's no auto shut off mode, so you'll need to be sure to turn it off after each use.
Beauty Works Waver: design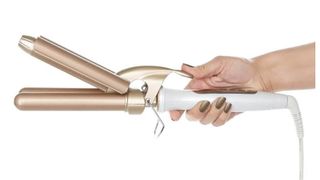 This hair curler comes in two colour options – pink and rose gold. Admittedly, it does feel very plasticky and cheap, but this does not hinder its performance. As we've mentioned above, it's super easy to use with a clasp that you need to pinch to hold your hair, and its middle barrel has a touch-safe tip. Talking of the barrels, each one measures 21mm in size.
This hair curler has three buttons – one for power (on and off), another to increase temperature and a third to decrease temperature. Glance at the screen to check whether your hair tool is ready – the temperature will be static on the screen if it is. Otherwise, if it's yet to heat to the temperature you've chosen, it'll switch between the temperature it's at and the one you've selected. When off, it reads 'OFF'.
Our only complaint design-wise is that this curler is rather bulky, due to the fact it has three barrels (normal hair curlers have just one). So, with that in mind, it's not the easiest to pack in a small suitcase. And, think about where you'll store it. It does come with a storage bag, though!
How does the Beauty Works Waver perform?
One word: incredibly. Depending on your hair type, you'll see results in seconds.
Beauty Works Waver: our verdict
A very easy to use hair tool that works wonders on all hair types. It makes it stupidly easy to achieve that beach wave look, and it's not too expensive. It can be used by anyone, too. No matter their expertise when it comes to styling hair.
Where to buy the Beauty Works Waver
More hair curler reviews: