Already own a Roku stick? Or considering buying one to see you through lockdown? This is one of the best streaming devices for good reason: it's home to a whopping 7,000 channels. Everything from Netflix to Prime Video, Disney Plus, Apple TV and lots more. And, of course, there is Roku's recently launched channel, the Roku channel, which features over 10,000 films and episodes. Perfect for lockdown or movie night.
The Roku Channel is free for Now TV and Sky Q users. Otherwise, you can buy a Roku streaming stick to watch this channel. This is the best deal around today...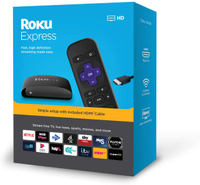 Roku Express | Was £29.99, now £24.99 at Amazon
Use this streaming device to expand your TV watching. It streams HD, 4K Ultra HD, and HDR content with sharp detail and vivid colour, and it's super easy to set up. Plug it in, connect it to your Wi-Fi and you're set. While it does come with a remote, you can use your smartphone to control Roku, too. The remote comes with quick buttons for Netflix, Google Play, Rakuten TV and Spotify.
5 things to watch on Roku
What to watch on Roku for May and June? In order to keep you entertained while in lockdown, we've got five great suggestions of what to watch on the Roku channel in May and June.
For Bank Holiday Monday (25th May) you could start a movie marathon – James Bond or Harry Potter – and spend the three day weekend on the sofa.
June 1st is Morgan Freemans birthday which means it's only right that we watch either Seven, The Shawshank Redemption, Bruce Almighty or Million Dollar Baby.
On the 9th June falls Johnny Depp's birthday which means we'll definitely be looking for Alice in Wonderland, Charlie and the Chocolate Factory or Pirates of the Caribbean.
Father's Day is June 21st so why not watch some of the best on-screen Dads do their thing? Adam Sandler in Big Daddy, Daniel a.k.a Mrs Doubtfire or Marlin from Finding Nemo all win our vote.
Finally, the one and only Meryl Streep will celebrate her birthday on the 22nd June. This wonderful woman has 21 Academy Awards and three Oscars – why not watch Mamma Mia, The Devil Wears Prada or Suffragette to celebrate with her?
More streaming content